LIVING DAYLIGHT
Before we explore the city, let's explore the motor. It's an all-alloy, 32-valve, four-litre bi-turbo V8, sheathed in a pristine 'Morning Frost White' body – but sadly we couldn't get the pop-up missile launcher through customs. It's hard to be a super spy when you draw this much attention to yourself, especially with an engine that growls like a panther when you push the pedal and work through all eight gears, all the way to a respectable 120kph – a cool 181kph less than the DB11's top speed.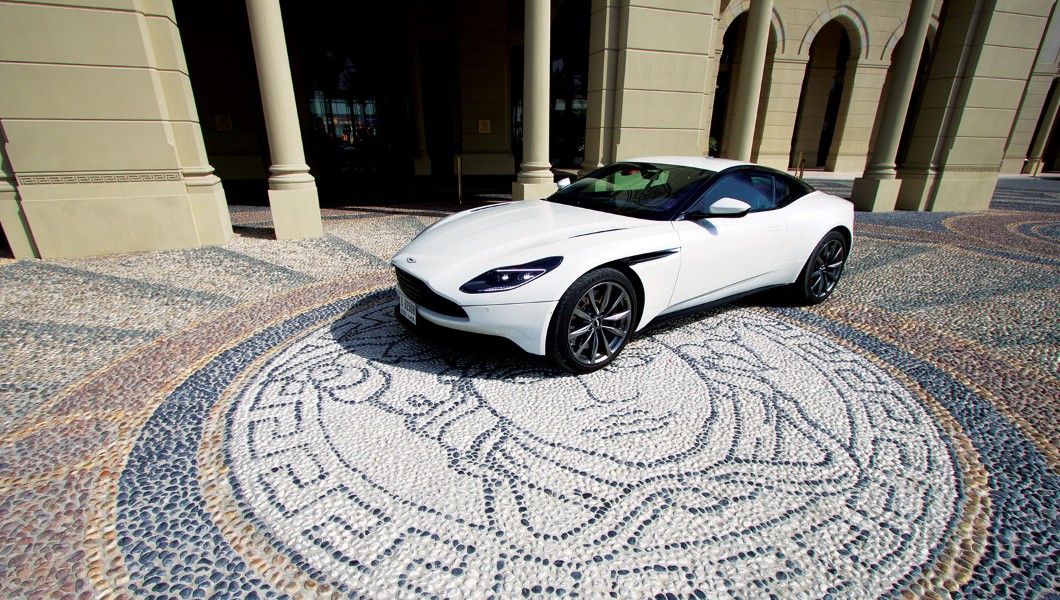 Despite the way some people drive in Dubai, Sheikh Zayed Road is no drag strip, but the ability to leap from 0 to 100kph within four second is useful to blow off some cobwebs on your daily commute, or your weekend road trip. The scintillating British supercar was announced at last years Goodwood Festival of Speed, following the huge success of the DB11 V12 coupe. The two cars are both alike in dignity – and almost all respects – since the V8 is twin turbocharged with an output of 503 bhp, and incredibly nimble handing given that it weights 115 kg less.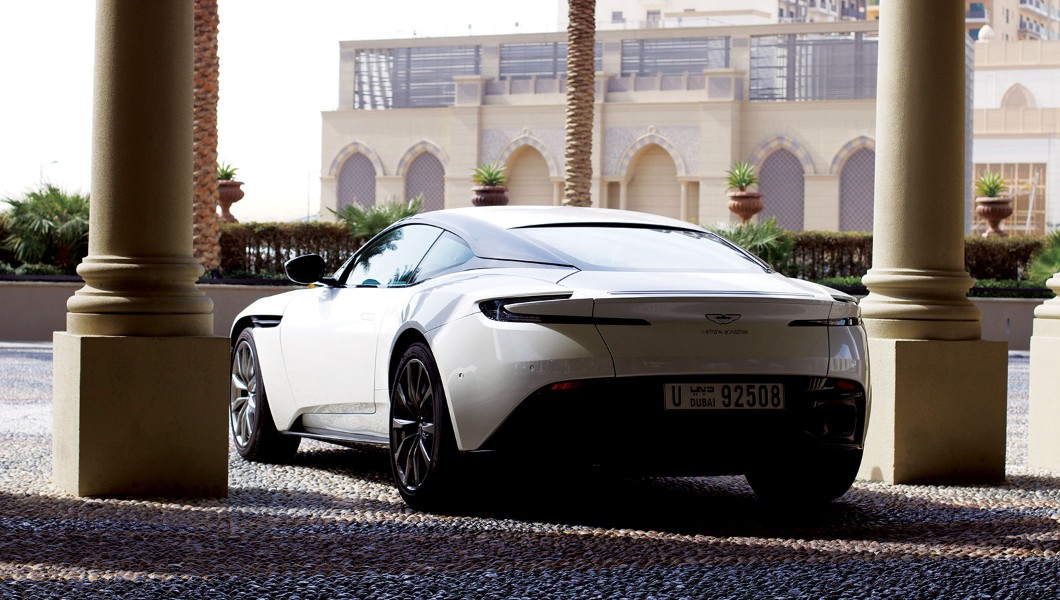 In a city of superhighways, you can drape yourself in the finest suits and tailored shirts but it's not what's in your wardrobe that's going to turn heads – it's what you park in your garage. Whatever your agenda, an Aston Martin DB11 transforms any journey into a destination all of its own, as you feel the plush Indigo Blue leather beneath your derrière and push the pedal of the V8 Coupe.
NUTS & BOLTS:
ENGINE: 4.0 litre bi-turbo V8
TORQUE: 675 Nm
0-100 KPH: 4 seconds
MAX POWER: 503 bhp
TOP SPEED: 301 kph
PRICE: Reviewed model AED 785,000 (US $213,750)
BREAKFAST LIKE BOND
8AM
It's time to fuel up for the day ahead, and what better place to take breakfast than Demoiselle By Galvin at City Walk – one of Dubai's trendiest restaurant and retail districts. The chic and contemporary venue hails from Knightsbridge, London, and is helmed by the renowned Galvin brothers, Jeff and Chris – two down-to-earth culinary maestros that came up working for other star chefs, like Anthony Worral Thompson and Marco Pierre White.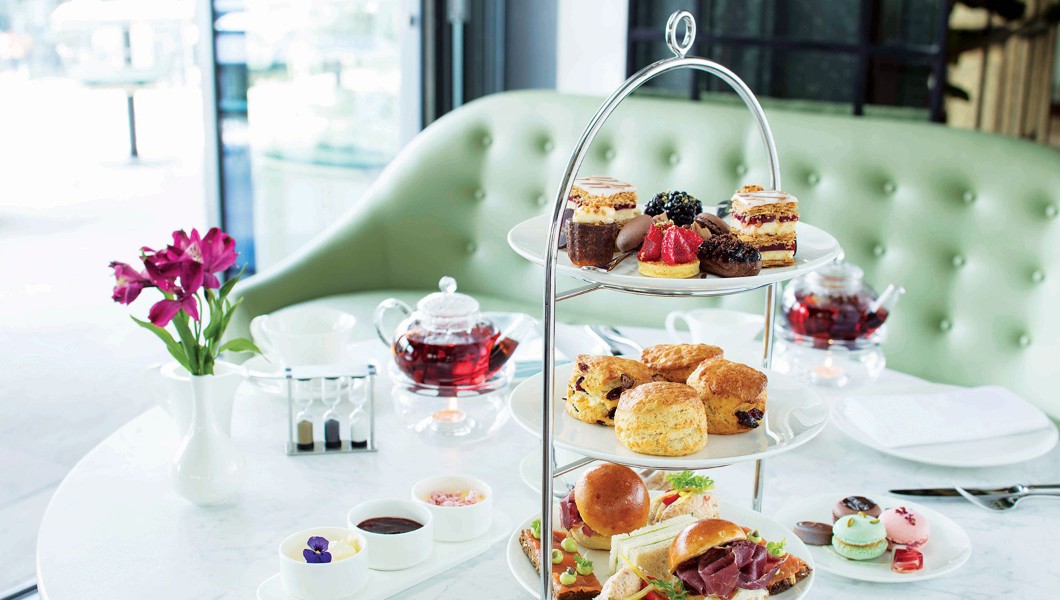 Make sure to tip the valet, stroll past City Walk's quaint British phone box and pull up a chair in the bijou bistro to sample the menu of 'French flavours with an English twist' – a theme so close (yet so far) to our favourite Aston-driving super spy, James Bond, who derives from Scottish-Swiss parentage. There's a hearty selection of déjeuner in the Breakfast À La Carte options, but why not go a bit millennial with the Smashed avocado, poached eggs, crispy veal bacon & toasted Norlander rye bread. Chased down by a strong pot of English breakfast tea – steeped, not shaken.
FROM ENGLAND WITH LOVE
10 AM
You can't defend Crown and country on an empty stomach, and you certainly can't do it without a bit of muscle. After some caffeine and calories it's time to lift, but not any old gym will do, so perhaps another hint of home will inspire a great workout. It's time to hit the Health Club at DUKES Dubai, a five-star property on Palm Jumeirah that was launched as a sibling property to the London original.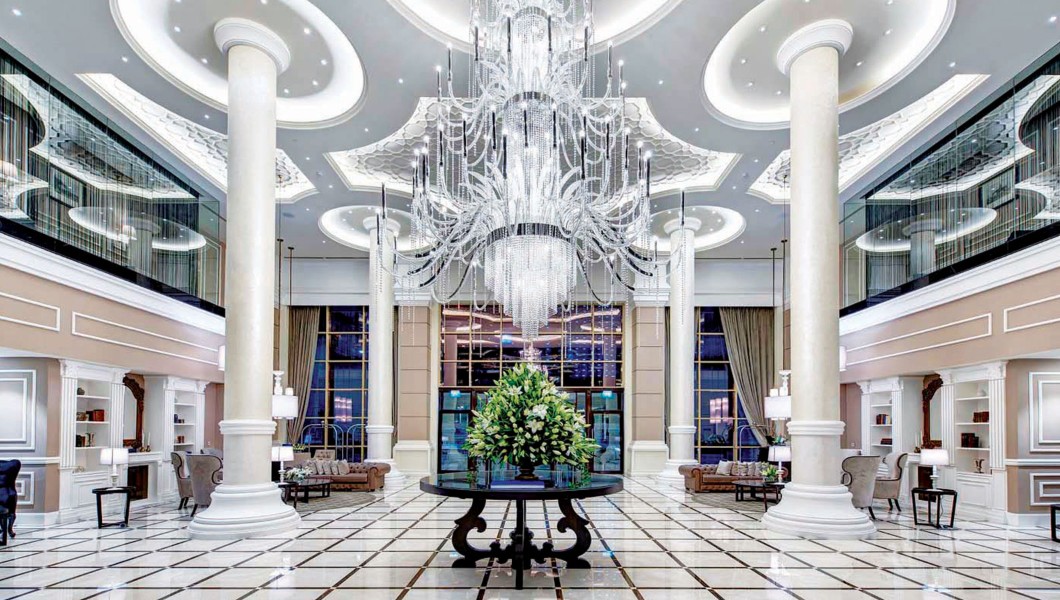 The hotel has a state-of-the-art gym with advanced equipment and weight training facilities to cater for any fitness regime; located on the 14th floor, you can work out to magnificent views of Dubai Marina skyline via the illuminating floor-to-ceiling windows. You're going to have to lift heavy if you want to look anything like Daniel Craig in Casino Royale, but make sure to leave some time for a rejuvenating spa treatment at Dreamworks Spa, located on the third floor of DUKES, where professional masseuse will work their hands and elbows into your sore muscles, getting you limber for the rest of the day ahead with a 90-minute Balinese massage.
I MUST BE DREAMING
NOON
All work and no play makes Bond a dull boy, and there's no point in being bodied up if you can't flaunt it just a little. Thankfully there's a place in Dubai where you can party like it's Miami, Monte Carlo or Saint-Tropez all rolled into one – Nikki Beach Dubai. The urban oasis looks out to an unspoiled stretch of coastline, with timeless all-white décor, sun beds and VIP cabanas, where you can imbibe while the resident DJs spin some tunes and the UAE's scenesters strut around and pose for Instagram.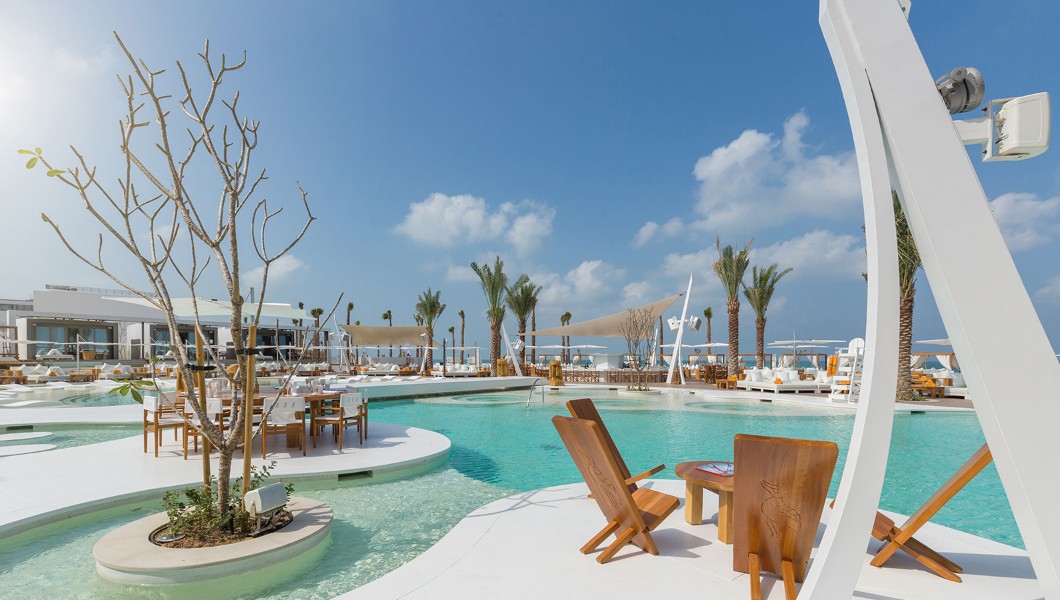 If we didn't have the Aston it would be a liquid lunch of vodka martinis (or something that actually tastes good) before sampling the bountiful culinary offering at Nikki Beach, with delectable small bites, classic, fresh and healthy salads, and signature mains, like the black onyx wagyu striploin steak and Nikki Beach's famous chicken satay. But why not make a few friends by the pool and order the sushi & ceviche boat for 4-6 people.
VIEW TO A THRILL
4 PM
The stylish beach club keeps the party going till 8pm every day, but we've got to make our tee time at the Address Montgomerie championship golf course. It's a fair cruise back across town along Sheikh Zayed Road but another chance to put the DB 11 into top gear and arrive in style. Tucked away in Emirates Hills, the hotel and 18-hole course have evolved into one of the Middle East's most luxurious and desirable golfing destinations.
The course was designed by its namesake Colin Montgomerie, in association with Desmond Muirhead, and provides the player with undulating "links land" style fairways with generous landing areas that can challenge and intrigue all levels of player. One of the signature holes is the par 5 fourth, dubbed the Snake hole for its saddleback fairway, which doglegs towards the green, with two bunkers behind forming the eyes of the snake.
Following a satisfying 18 holes, it would be remiss to bypass Nineteen, the recently revamped and aptly named venue that overlooks part of the course. Take a cold beverage on the terrace and enjoy the views of Dubai Marina as the sun sinks into an increasingly golden hue and the smell of the trimmed grass wafts around in the cooling air. Ordinarily, the restaurant opens for lunch (12.30pm-3.30pm) and dinner (7.00pm till late) but let's just say we had special access for a mocktail sundowner. Drenched in natural light, Nineteen welcomes families, groups of friends and business groups for social sharing platters, with a new menu packed with colour and garden-picked ingredients, as well as a vast selection of drinks and grapes.
WHEN THE SKY FALLS
7 PM
We're a far cry from the UK capital but just a short drive from Capital Club Dubai, the emirate's premier private City Club, located in the heart of the financial district – DIFC. Membership to the club, managed by Signature Clubs International, is strictly by invitation only and only open to corporations and individuals who meet the criteria set by the Board of Governors of the Club. The premises are for the exclusive use of members and guests but, naturally, we're granted special access.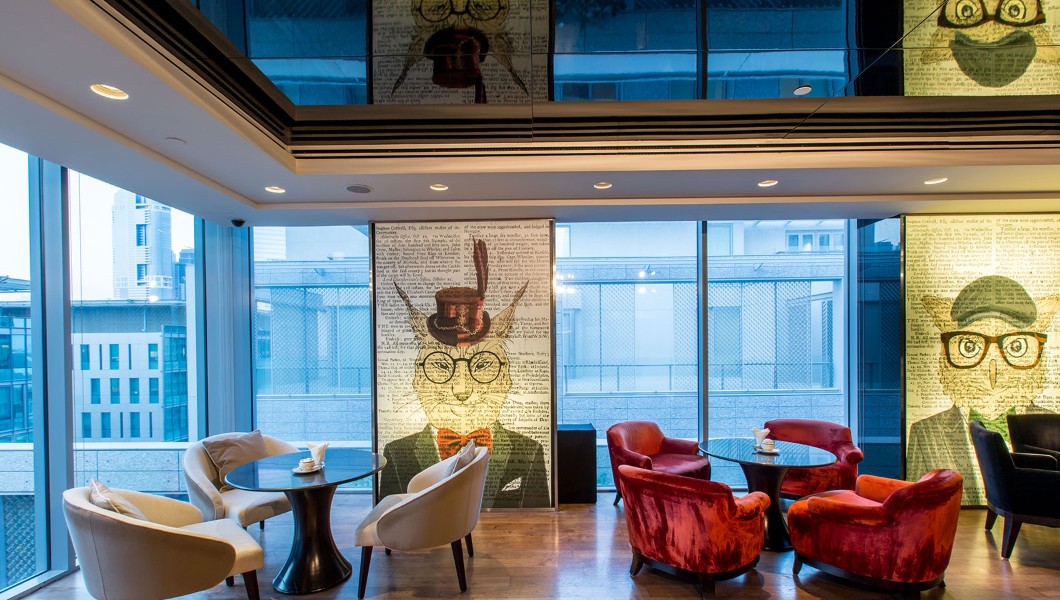 The Club opened in 2008 and now has more than 1,500 members, drawn from leading businesses in the region, who can network professionally and socially; dine and party; and host private meetings. The contemporary club is also linked to over 250 private clubs around the world as part of its reciprocal club network and it's a perfect vantage point to explore the surrounding Gate Village area – a dynamic hub of art, cuisine and commerce, and home to home-grown galleries like The Empty Quarter, a fine art photography gallery that places a focus on the Middle East.
It's the perfect place for a secluded meeting, perhaps to accept our next orders, and as much as the club is a "home from home," it also doubles as an office. There's high-speed WiFi to download your surveillance imagery and a choice of evening venues with the Members' Bar and The Gate Village Terrace, which surrounds three sides of the fourth floor and includes a shisha lounge area. If you were planning to lay low overnight, The Club has four luxurious Junior Suites available for members and their guests – 66 square metre bedrooms that offer the finest amenities and 24-hour butler services.
DUBAI IS NOT ENOUGH
10 PM
Our next destination, however, requires another blast of the V8 engine, to make our final call for the day; Palazzo Versace Dubai. We've toured a variety of Brit-themed establishments, and were prepared for an Italian twist with this hotel, but it wasn't to be. Hidden away on the ground floor, we sneak into Q's Bar And Lounge as the resident band start their second set of the evening. This is Quincy Jones' first ever bar, and a purpose-built venue with living room-like space that features artists and acts handpicked by the legendary producer and his team.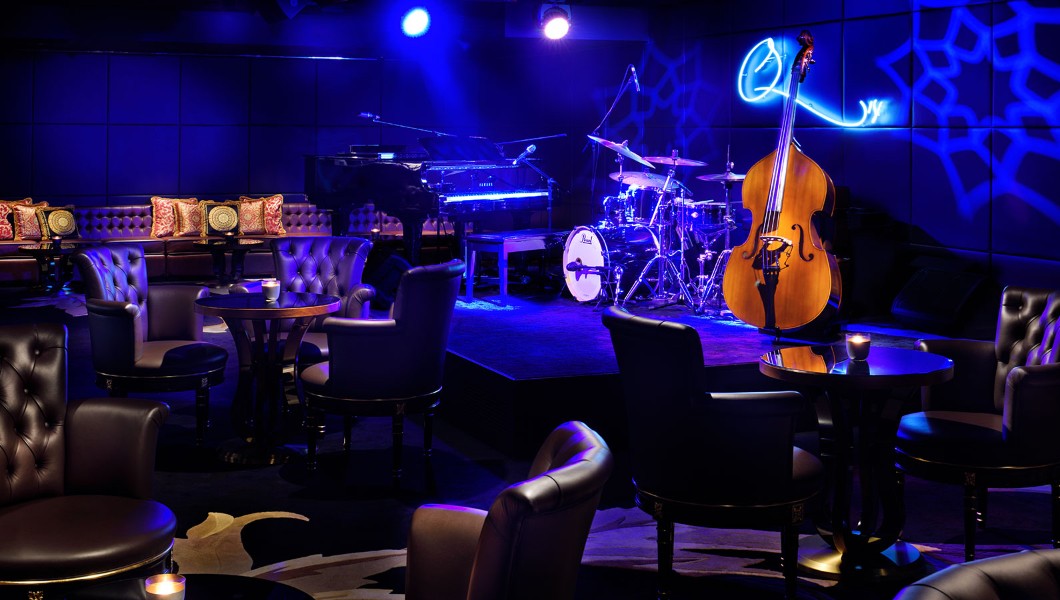 Now that the Aston Martin is valeted away for the night, it's time to sample the range of signature cocktails, all named after Quincy's iconic albums and collaborations, light a fat cigar and tap your Versace oxfords to the beat. For something a little spicy, try the Thriller. Named after highest selling album of all time, the drink consists of Del Maguey Mezcal and Galliano shaken with Caribbean falernum with a touch of homemade chili-sugar and aromatic bitters. With your fiery drink in hand, the intimate – and dimly lit – 80-seater venue is the ideal venue to brood over your next mission.
Stay:
NIKKI BEACH RESORT & SPA DUBAI
Pearl Jumeirah, Dubai
+971 4 376 6000
ADDRESS MONTGOMERIE
Dubai, UAE
+971 4 390 5600
CAPITAL CLUB DUBAI  
Gate Village, Dubai International Financial Centre
+971 4 364 0111
PALAZZO VERSACE DUBAI
Culture Village, Al Jadaf, Dubai
+971 4 556 8888