Things are changing in the Egyptian capital of Cairo. Political unrest in recent years has overshadowed a burgeoning arts scene. But not any more — new and established galleries and hotels are creating more space for local young and established artists to tell Egypt's story.
After five years as the largest online gallery in the region, Arts-Mart has opened its first physical gallery on the outskirts of Cairo. Like its online platform, Arts-Mart The Gallery will continue to connect audiences with Egypt's eclectic arts scene, with its first exhibition, titled The Artists of Tomorrow showcasing the works of up and coming contemporary artists including Aya El Fallah and Mohamed Alba.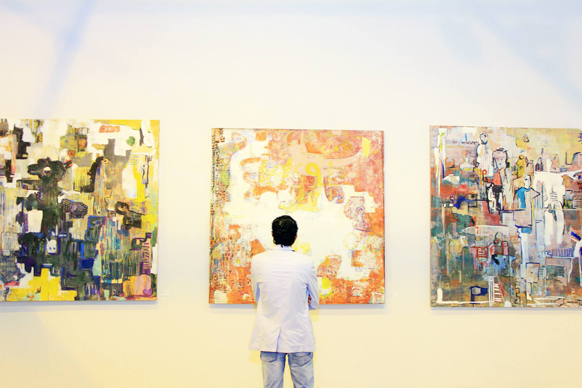 "Whether you are just discovering art or an art expert, we wanted a physical space for our artists to interact with their audience and an exciting setting for our clients to experience," explained Arts-Mart's co-founder, Dina Shaaban.
The gallery's online platform will continue to exist as a store where art aficionados can purchase new limited editions and sell pre-loved work, while the gallery space will introduce festivals, presentations and other special events throughout the year.
It's not the only gallery space in the city showcasing this lesser-known side to Cairo. In the cultural hub of Zamalek stands Zamalek Art Gallery, which has long stood as one of the city's premier spaces for contemporary art. There, a permanent collection of works from established and new talents is presented alongside an exhibition calendar changed monthly.
Even if you aren't familiar with Cairo's cultural hotspots, a taste of art isn't hard to find. In fact, you may not even have to leave your hotel. The Four Seasons Hotel Cairo at Nile Plaza boasts some 200 paintings and sculptures throughout, including several works by the late artist (and Minister for Culture) Farouk Hosny, whose work also appears at Zamalek.
Despite a few years of unrest forcing the cancellation of many arts and culture festivals, visitors can look forward to an art revival in 2015, kicking off with the Downtown Contemporary Arts Festival in March.
Arts-Mart The Gallery's latest exhibition, "Artists of Tomorrow", debuted few days ago, just two months after the art space opened up on December 5, 2014. The collection of works is comprised from seven contemporary Egyptian artists, handpicked for their "style, artistic range, vision and calibre," according to gallery. The artists include Mohamed El Damarawy, Mohamed Rabie, Aya El Fallah, Lina Mowafy, Mohamed El Sharkawy, El Zaeem Ahmad and Omar Abdel Zaher.
Rich in character, the art exhibited documents a variety of themes, from exploring the challenges of residing in the city of Cairo or humorous depictions of Egyptians, to the modern portrayal of the country's heritage. The exhibition will run until February 7.