Over 80 rarely loaned works from two of the world's most highly acclaimed artists will go on display at the Museu Picasso in Barcelona later this month.
The Picasso/Dalí, Dalí/Picasso exhibition commences March 19 and runs until June 28, putting the two masters side by side, offering an insight into how their artworks were shaped by "the currents of their time", according to curators.
Just steps away from the museum is Hotel Arts Barcelona, which itself has a proud and long-standing relationship with the art world, boasting a Frank Gehry-designed sculpture and offering a private art collection as part of its interior design.
In tandem with the landmark exhibition, Hotel Arts Barcelona is offering guests the Picasso/Dalí experience, which includes tickets to the exhibition plus artist-inspired cocktails and tapas at Frank's bar.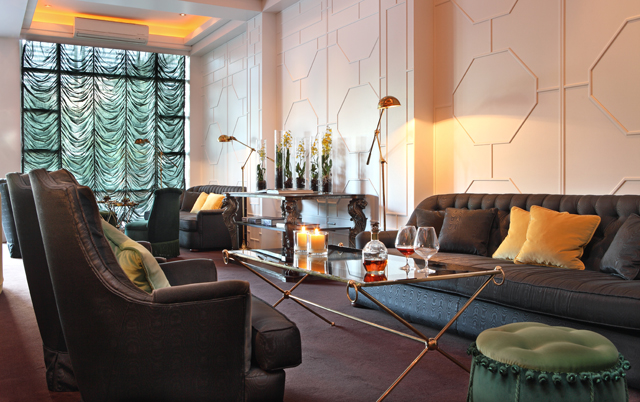 The plush surrounds of Frank's Bar
Drawing inspiration from both artists, the bar has created an innovative Picasso- and Dalí-themed cocktail menu, designed by a team of mixologists. The drinks were influenced by some of Dalí's favourite foods, including watermelon and pomegranate – hence the Watermeloska cocktail, made from vodka, lemon, watermelon, mint, sugar and soda, and also the Salty Dog cocktail, created using gin and pomegranate and presented in a salt-rimmed glass.
Picasso's love of the Mediterranean led to the genesis of the Inspiration cocktail, made using brandy, Lillet, lime and sugar. The cocktail is said to conjure up the feeling of a Mediterranean garden with Lillet, made of macerated citrus fruits and the Spanish orange, being the key ingredient.
The Picasso/Dalí tapas menu suggested to accompany the cocktails includes ración de queso Manchego puro de oveja, a classic Spanish cheese, or Gambas fritas con salsa agridulce de mango as Dalí was known to have enjoyed eating fried fish. He also painted fish regularly under different forms.
The experience at the 44-floor Hotel Arts Barcelona starts from EUR 350 (US $392) and includes one night's accommodation and two tickets to see the exhibition at the Picasso Museum in Barcelona, as well as two themed cocktails and tapas at the hotel's Frank's Bar.
The hotel itself boasts an impressive 20th century collection of works by contemporary Catalan and Spanish artists and is the only hotel in Spain featuring two Michelin-starred chefs, based in Enoteca and Arola.
The artwork on show at the Museu Picasso is composed of over 20 international art museums and private collections, with a focus on paintings, featuring drawings, prints and sculpture.