Paris is famed for its art, architecture and grand hotels – among many other things - and there are few properties than can truly claim to be a bastion for all three. The Peninsula Paris is one of them.
Within the hotel are a unique collection of permanently installed works that have been carefully curated and given residence in the Avenue Kléber address.
To celebrate the hotel-cum-exhibition space, artists such as Xavier Corberó, Ben Jakober and Yannick Vu have been featured in a behind-the-scenes mini documentary to share insights into their creative process and elaborate on the designs that help bring life to the property.
Upon entering The Peninsula Paris, guests can immediately view "Dancing Leaves" (main pic) - a bespoke, hand-blown installation by Lasvit, which features a cascade of crystal leaves, designed as a modern interpretation of the trees lining Avenue Kléber.
Adding a pop of colour, "The World Belongs to Me" is a sculpture by British artists Ben Jakober and Yannick Vu. A concave mirror is surrounded by a rainbow and is displayed inside the courtyard below a model of the L'Oiseau Blanc bi-plane.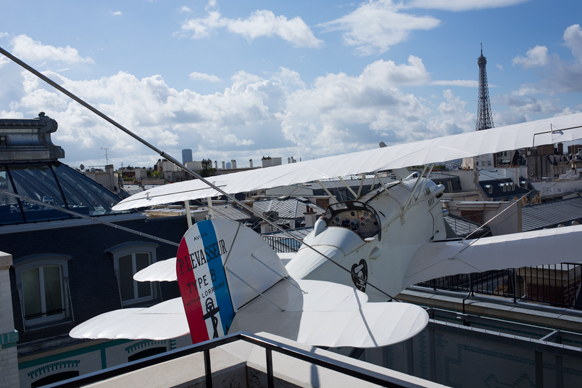 The 800kg stainless steel dome and circular rainbow frame behave like a convex mirror and reflect the entire hotel courtyard, giving guests a complete view of their surroundings.
Another important piece is "Moon River" (below). The sculpture, created by Xavier Corberó, is located in the Portugais Gallery and features a tower of 12 boulders, supporting a large thin marble disc. Inspired by nature, the piece was designed to complement the Lobby's soft natural mineral tones and rock accents.