Todd English looks to the Middle East as he travels through Abu Dhabi to preview his upcoming Olives restaurant, due to open in May at the Venetian Village at The Ritz-Carlton Abu Dhabi, Grand Canal. The US celeb chef, known for his restaurants, books and TV appearances, has also worked with Delta airlines – and believes that in-flight dining is key to competition.
Will your Abu Dhabi opening defer to your other Olives restaurants around the world?
Olives is always evolving and I think we'll introduce some dishes that have more of a spice profile that people are used to in the Middle East, which I actually love – there's some interesting stuff.
We've seen the likes of Wolfgang Puck, Heinz Beck and other big-name chefs set up shop in the UAE – and soon you will too. Is it just the right time?
I think it's the right time. There's no guaranteed success but I think it's about finding and filling a niche that doesn't exist and bringing in something that's a little bit different. I think you have here a certain client that travels the world and know all the international brands and in a selfish way wants to have these brands here too.
In terms of your schedule, it must be a stretch to physically go and scout out new restaurant locations. How do you find time to travel?
I've got a good team around me!
And that team involves a few family members?
My son is travelling with me right now [doing a little bit of everything] - he's a Cornell grad. And [setting up a confectionary store] with my daughter just evolved that way. You never know what your kids are going to do, so you can't dictate they'll be in the family business.
They've certainly been groomed and it's a very natural jump, and it does have its challenges – but it's very rewarding. It was very natural. My daughter designed a cupcake shop and before you know it… I said, "let's open this" because it was so brilliant.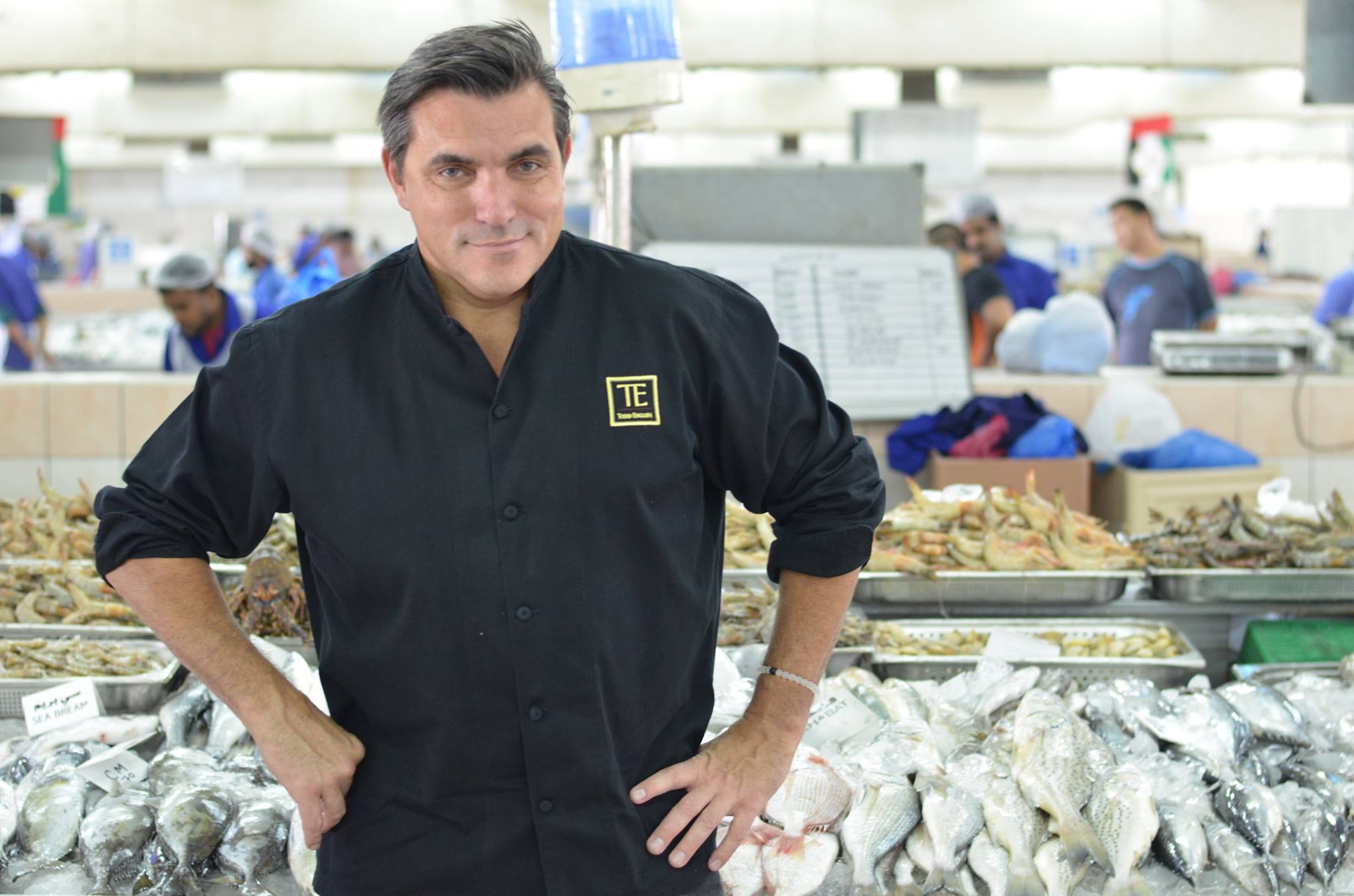 Chef Todd English at a fish market in Abu Dhabi (via Facebook)

In addition to opening new restaurants you also have TV and writing commitments. Do you have a hierarchy of priorities in terms of what you love and prefer?
I keep lists and it's a case of chipping away at everything every day. I can't just say, "I'm going to do this book today" but I can plan on doing it over three months. It's a little something every day.
Are you writing any books currently?
I'm working on a grilling book right now, which is conjunction with the grill I have coming out. We also have my food hall cookbook, which is about market-style food.
You've opened a food hall concept in the Philippines – is that something you'll also take to other markets?
Yes we've had a lot of interest. It's Harrods meets Dean & DeLuca (a chain of upscale gourmet grocery stores) – a market with stations where you can sit and eat all kinds of fresh food around you. You can sit at the fish bar, or the sushi bar, or the pizza bar, etc. I have very experienced partners [in the Philippines] who were very respectful of my brand. I can't really divulge where we might open next but there are locations in the States, Europe and Asia.
It seems like diversity is your forte – will you also expand your pub offering, as per your Las Vegas concept?
Yes, we've got a group that wants to roll that out. I'm not really an eggs-in-one-basket guy. Given the economic thing we went through a few years ago, I'm kinda rebuilding things as they come to see who's real and who isn't.
You're obviously known to combine food and travel…
…food is such a big part of a destination. I have a show called Food Trip with Todd English about finding the coolest place to eat wherever you go. We're going to do another series and I love doing it. We're also looking to do something in the Middle East.
Are there any dining destinations you keep coming back to?
Italy is always up there; Thailand and Vietnam in terms of Asian destinations; I love Paris; and then North Africa – I love Morocco; and Turkey.
In the course of recording the show and travelling for work, has your own cooking been influenced?
Oh, yeah. There's always something I'll see and bring back with my own twist on it.
Are there any particular airlines you favour?
Emirates is amazing; Singapore is amazing; Lufthansa's new 747s; those are the three I love, and Qatar is also very nice. I just judged a contest on ABC Newsline, where we had the executive chefs for Qatar, Etihad and Singapore where they had a cook off. The winner was Alfred Portale who has designed menus for Singapore Airlines.
You're also involved with Delta – how are you helping them?
Even domestic airlines are starting to get better. When I got involved with Delta they were making major cutbacks on food, thinking it wasn't important and that people don't make a decision on an airline because they have better food – but I don't think that's true anymore. I think to compete you have to have good service.
---
Main photo by Haitham El Shazly