13.00

For an effortless journey from Rome or Bologna, book a first-class cabin in one of Italy's high-speed trains. These slick machines reach nearly 300 km/h and will have you at the new Napoli Afragola station in no time. Then slide into the cool interiors of Monastero Santa Rosa's chauffeur-driven transport.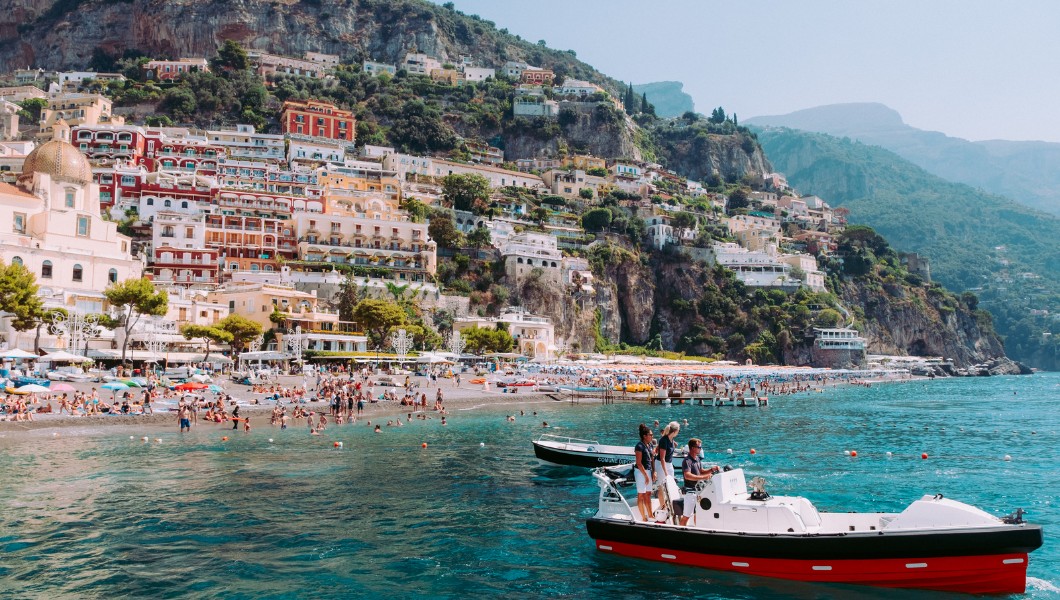 If you prefer azure blue waters to winding roads, arrange a private boat transfer. From here you can see the true glory of the Amalfi coastline: towering cliffs dotted with precariously positioned homes, all wrapped with lemon and olive trees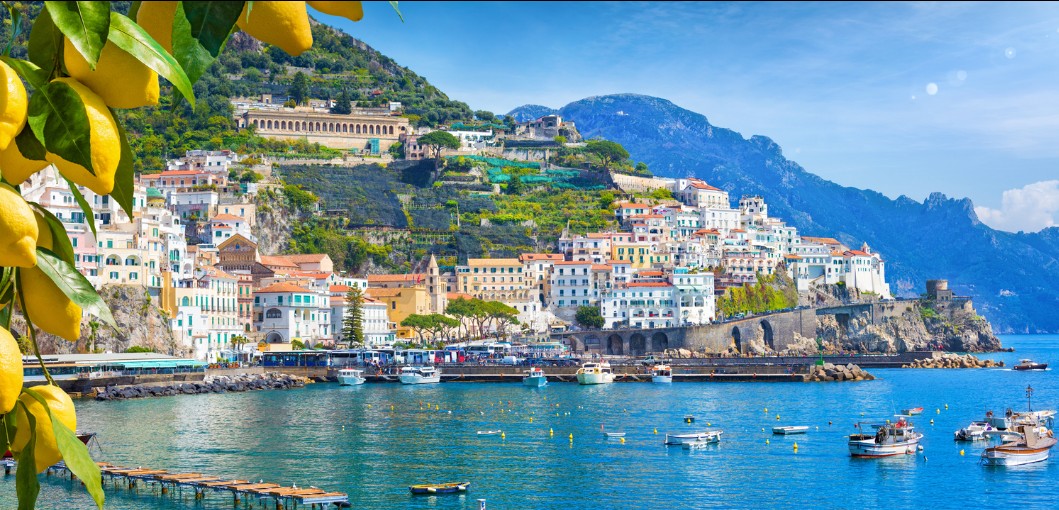 14.00

As you walk through the gate of Monastero Santa Rosa Hotel and Spa, a converted 17th-century Dominican Monastery, you'll be invited to ring a bell. "It's something visitors used to do to alert the nuns of their presence," elegant hotel staff explain. At the doorway there's a wheel. Here you'll be handed herbal juice and told stories about how visitors used to pass treats through. "In exchange, they'd be given medicine the nuns were known for."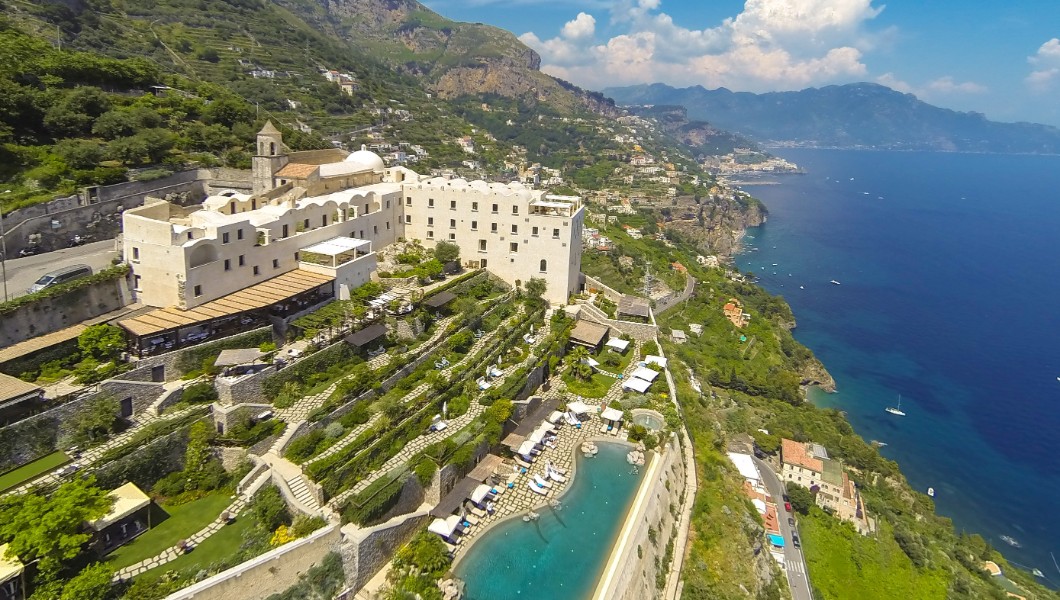 Once quiet whispers of history are shared, you'll be escorted to your first glimpse of Santa Rosa's incredible view: manicured gardens tumbling down steep terraces; an infinity pool stretching towards the ocean; fountains nestled between more than 160 different plants; and boats bobbing on the waters below
To make the most of Monastero's location, book into the Citrus Suite. Out of the intimate property's 20 rooms, the Citrus Suite is one of the few that has its own private terrace, plus an extra living area. "It still only suits couples, not exactly families," says Ferdinando Alfano, Monastero Santa Rosa's director. Until recently, Monastero was exclusively an adultonly hotel, but things have changed with Covid.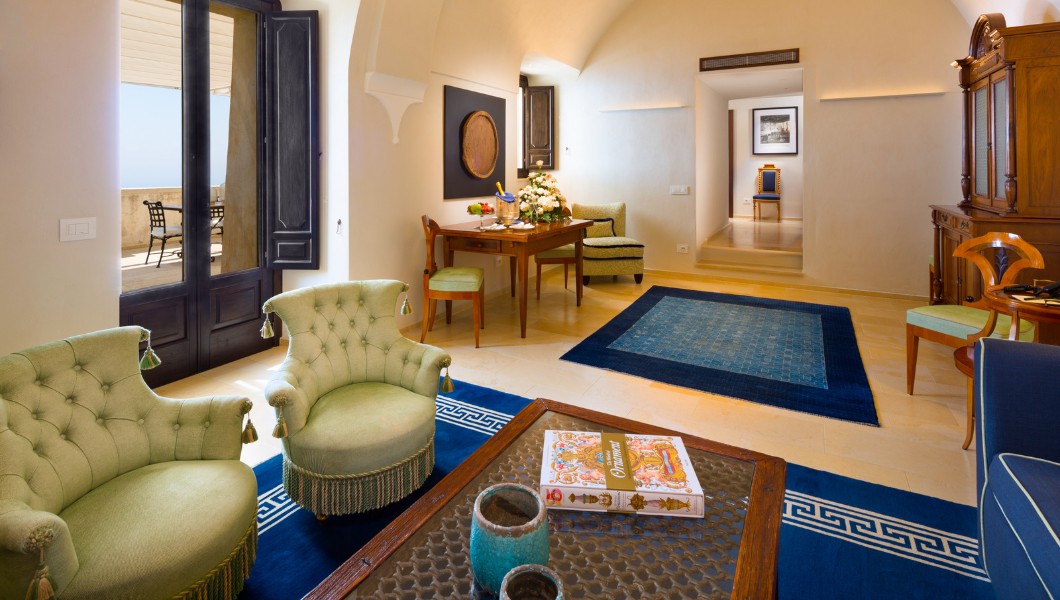 The luxury is unmistakable here. Beds are fitted with Italian linen. Ortygia bath products from Sicily fill the bathrooms; American owner Bianca Sharma wanted something that felt good and soft in the hand, staff explain. It's also Sharma who thought through the bathroom's lightings, and feminine touches come out in the fluffy bath towels, the antique mirrors, even the steamer in the closet.
While it will be tempting to linger in the Citrus Suite with windows flung open to stare out across the sea, head back into Amalfi instead. Staff can arrange chauffeured transport on request (free of charge), and Amalfi is just a winding three-mile drive away. There is also a helipad nearby.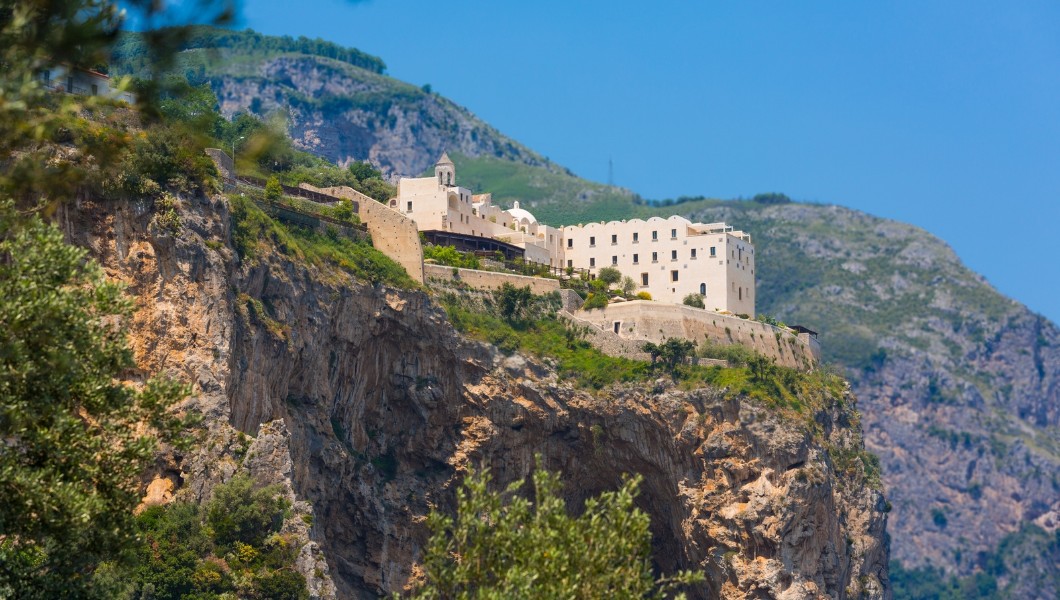 15.00

Walk along Amalfi town's cobblestone streets for a bit of local shopping. At La Scuderia Del Duca Amalfi, you can browse and purchase bambagina, the thick, handmade paper created in Amalfi since the 13th century. Originally constructed by tearing rags apart and pounding them into fibres in stone tubs, the paper was used by dignitaries and nobles. Now only one paper mill in Amalfi creates the luxurious sheets.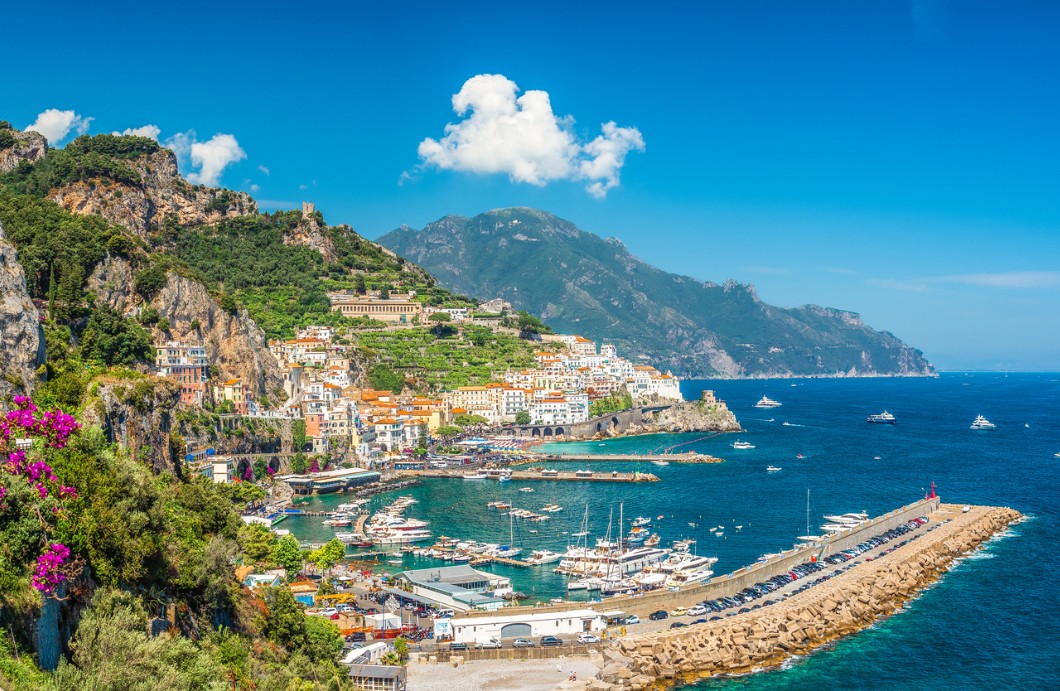 Just a few steps away, La Caravella Art Gallery, an offshoot of the Michelin-starred restaurant next door, sells elegant ceramic pieces. Donkeys are a reoccurring theme; known for transporting lemons, they're considered a good luck symbol in the region.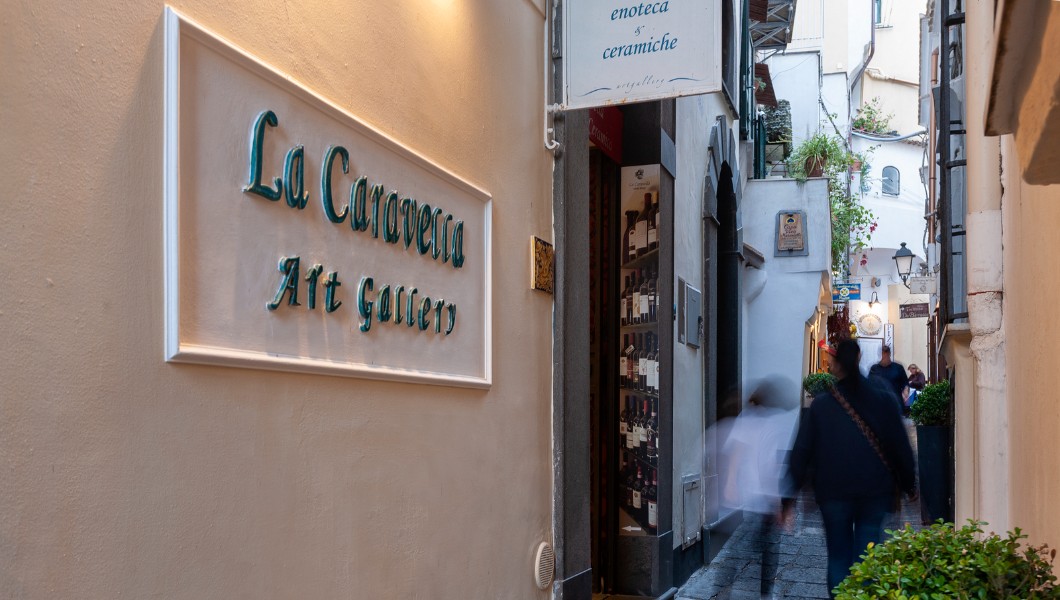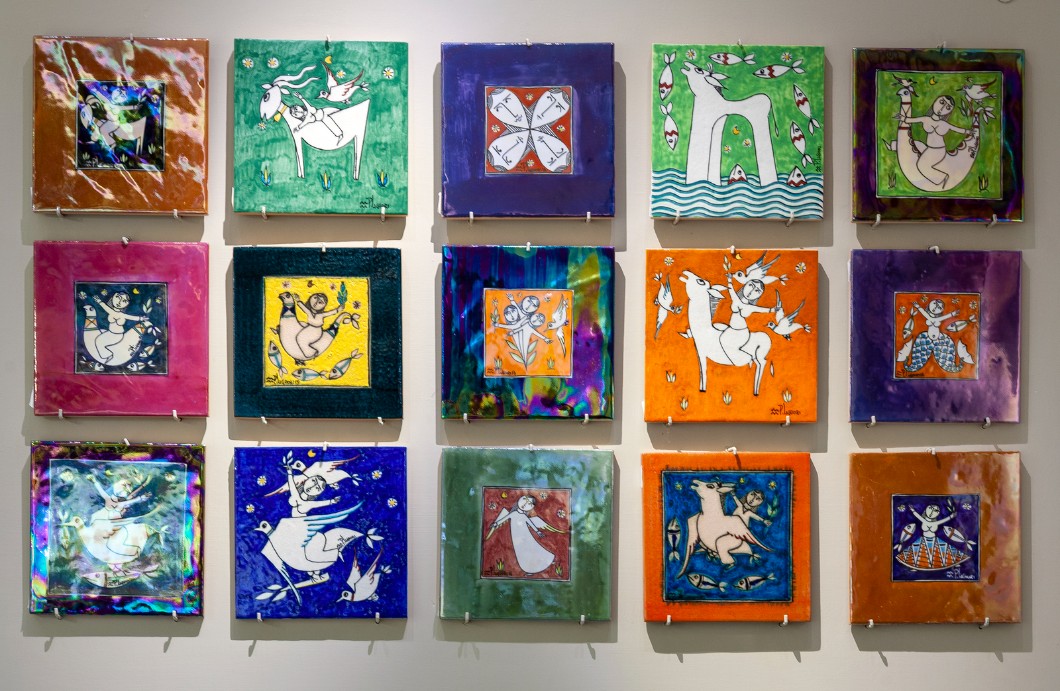 It's impossible to escape the ubiquitous lemon in Amalfi – and you wouldn't want to. The scent of these giant lemons hangs in the air. It also makes up the starring dish of Southern Italy's First Michelin-Starred restaurant, La Caravella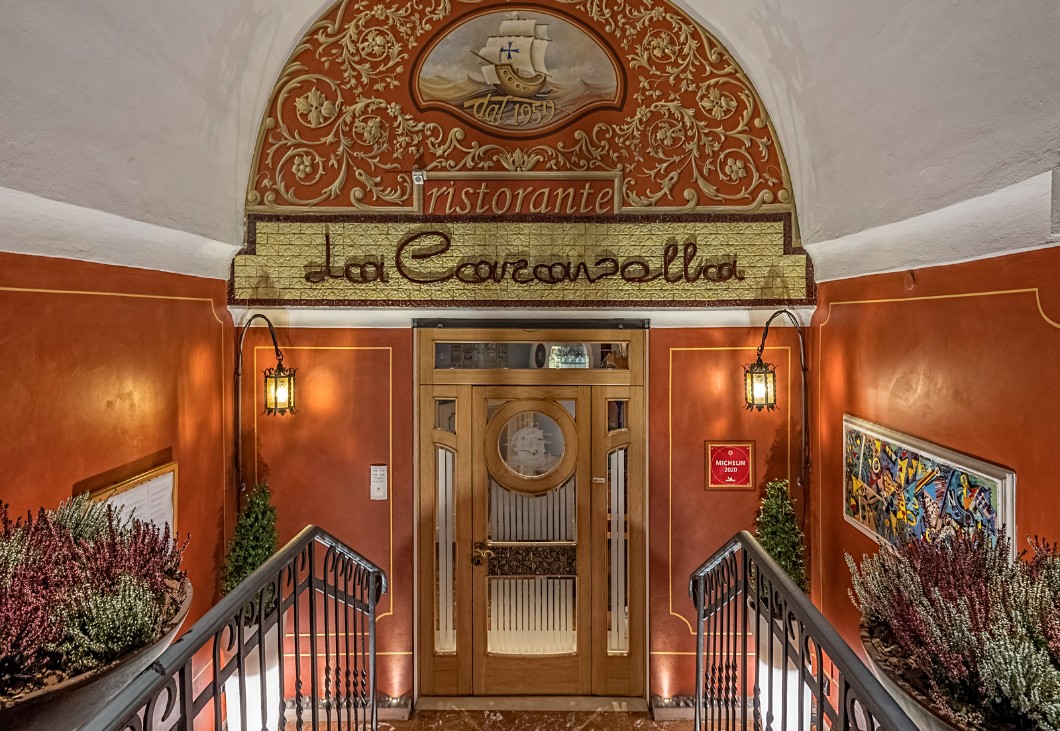 When you're done shopping, stroll along Amalfi's side streets. Plenty of limoncello shops sit shoulder-toshoulder with sandal boutiques and gelato stores, and the atmosphere is charming. Be prepared with strong shoes, as the entire area is filled with winding stairs.
17.30

It's impossible to escape the ubiquitous lemon in Amalfi – and you wouldn't want to. The scent of these giant lemons hangs in the air. It also makes up the starring dish of southern Italy's first Michelinstarred restaurant, La Caravella. Stop in this charming venue and order a plate of lemon soufflé, then stay to explore the restaurant's famous pieces of art. Expect frescoed ceilings and famous sculptures.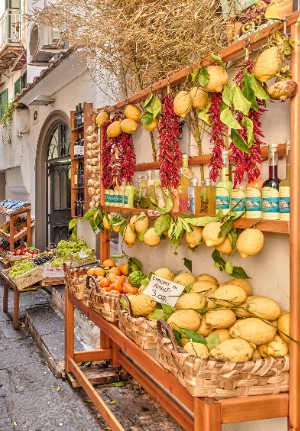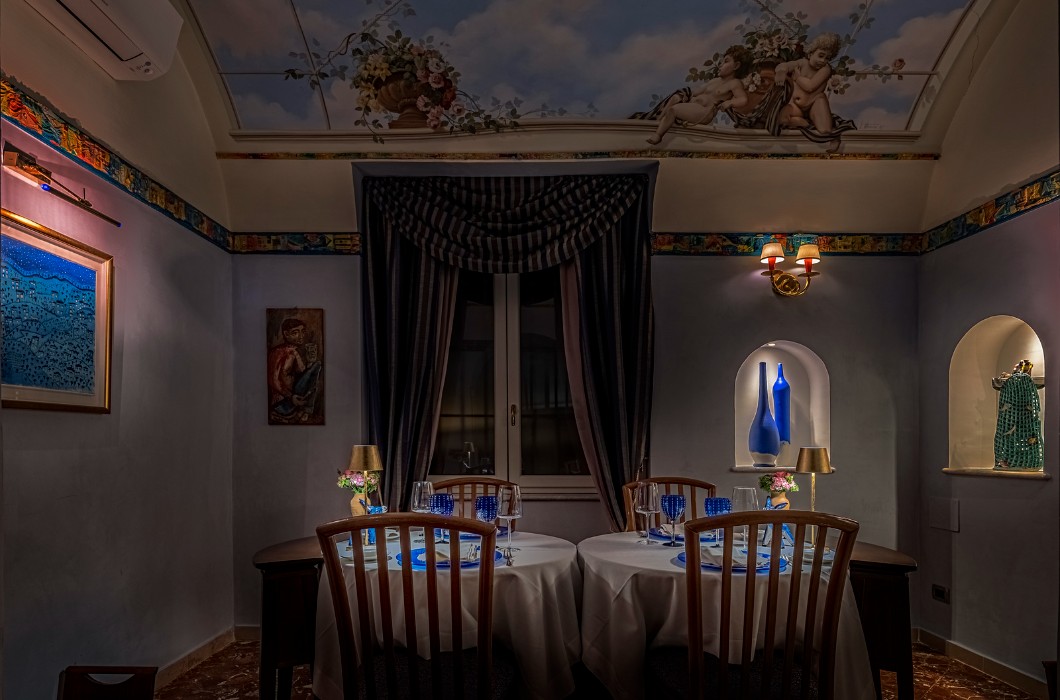 18:30

As the sun begins to set, stroll towards the iconic Cathedral of Sant'Andrea, Amalfi's 9th-century Duomo. This historic structure was designed for the Apostle Saint Andrew. In 1206, the saint's remains were brought to Constantinople, in 1208 construction was finished, and today the Arab-Norman structure draws hundreds of visitors.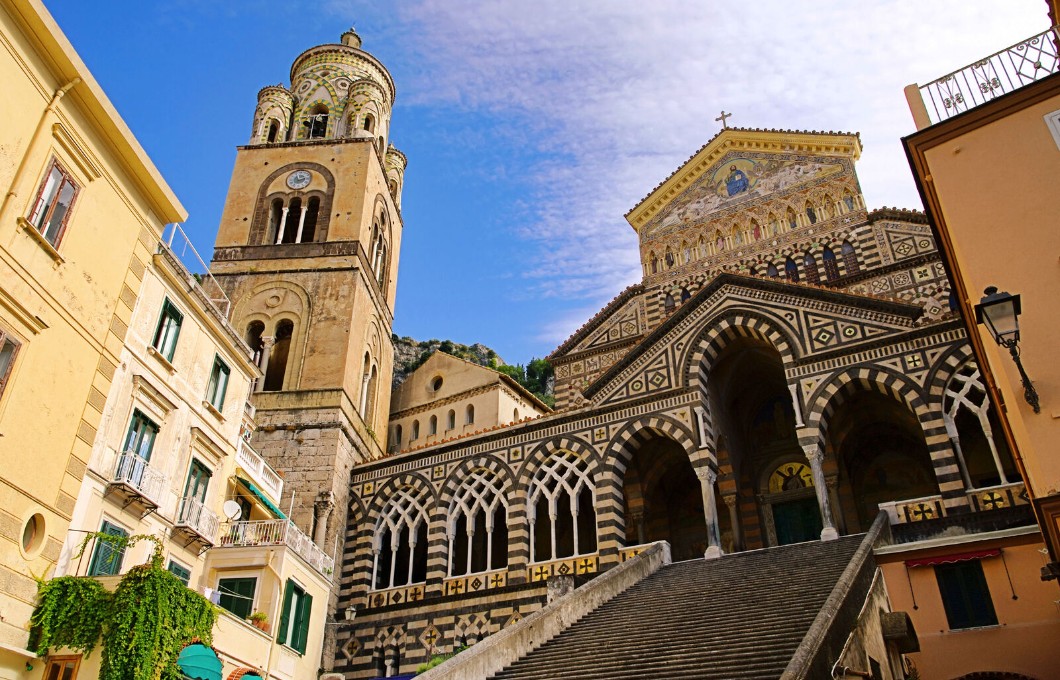 If you feel like a climb, make your way up the seemingly never-ending steps to the Duomo's entrance. Inside there's a stunning golden ceiling that's worth the excursion. Or head just next door to Amalfi 1830 cafe and order a baba cake filled with rum, another dish typical of the region.
20.00

After dark, stroll along the coastline to Ristorante Lido Azzurro Amalfi, one of the finest restaurants in Amalfi. This waterfront venue mixes high-end food with family-owned charm. Ask for a table in the corner. From here, you can watch super yachts and gazzo boats (traditional wooden boats) bobbing gently in the harbour. Parents Antonio and Simona and their two children serve up plates of fresh squid stuffed with capers, zucchini flowers filled with ricotta cheese, and seared tuna served between delicate lemon leaves. An extensive wine menu and plenty of warm banter from the owners mean guests linger for hours.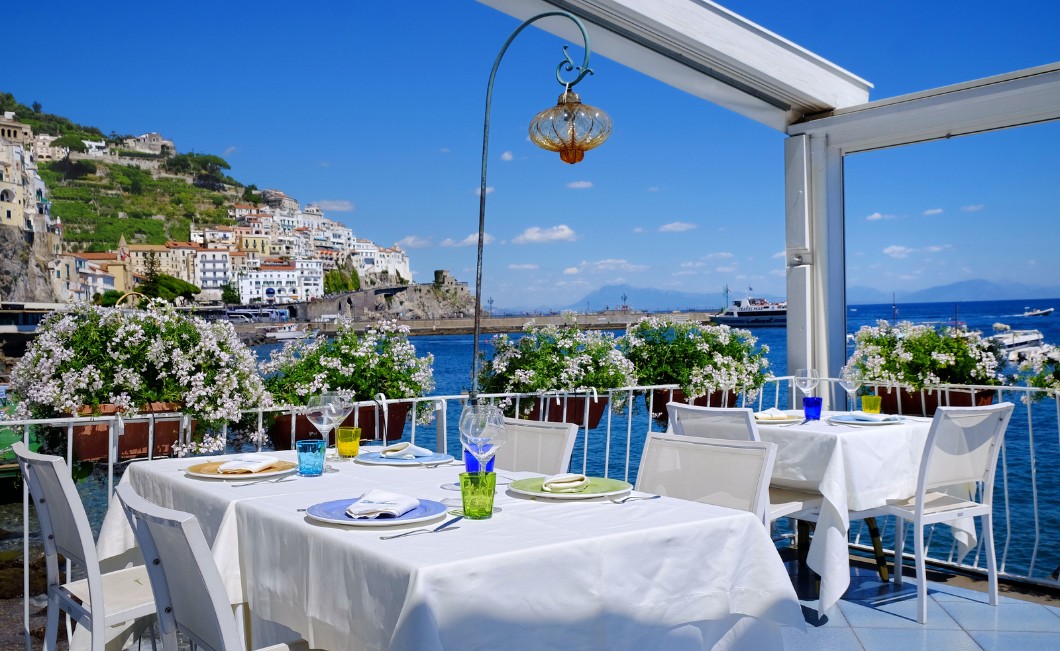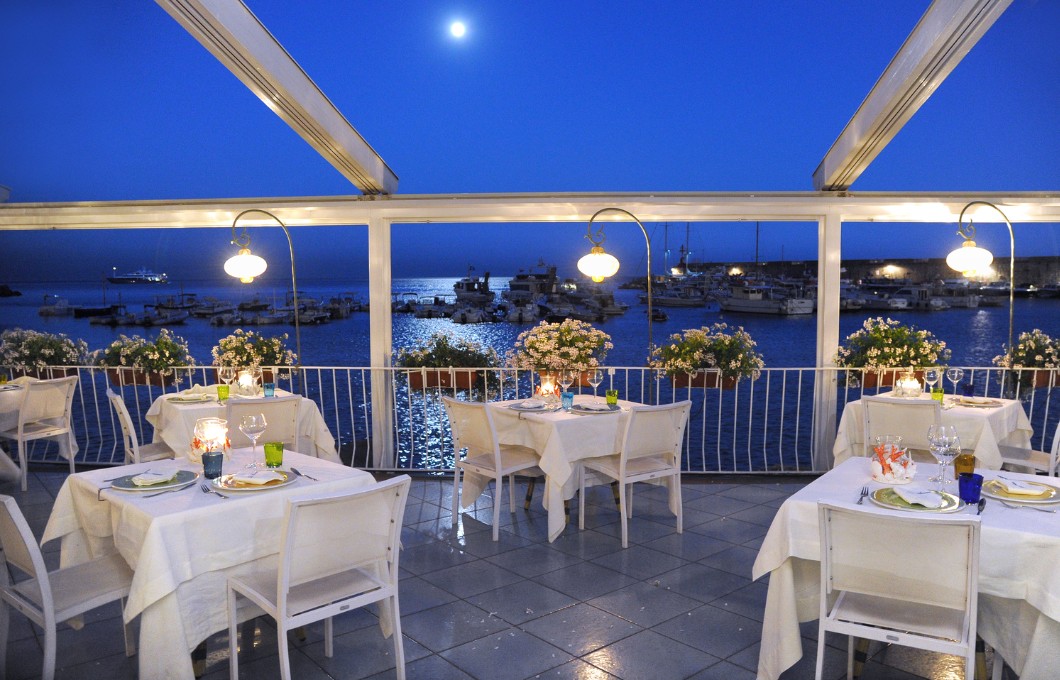 23.30

For an elegant evening's end, make your way to Monastero Santa Rosa's amber-lit bar. Rafael, the bartender, makes herbal teas with ingredients fresh from the monastery's own organic garden – perfect for sipping while playing a game of chess. When the tea is done, Rafael offers guests the chance to cut their own lemon fresh from one of the property's many trees.
9.00

The terrace breakfast at Monastero Santa Rosa is a personalised and languid affair. Food is served to the table on cheerful ceramic plates painted with 'buon giorno!'. Little touches – like the lack of white tablecloths, or the playful mix of bowls and mugs – are deliberate. Staff explain how the goal is to make Monastero feel warm and friendly – a little bit like a high-end home.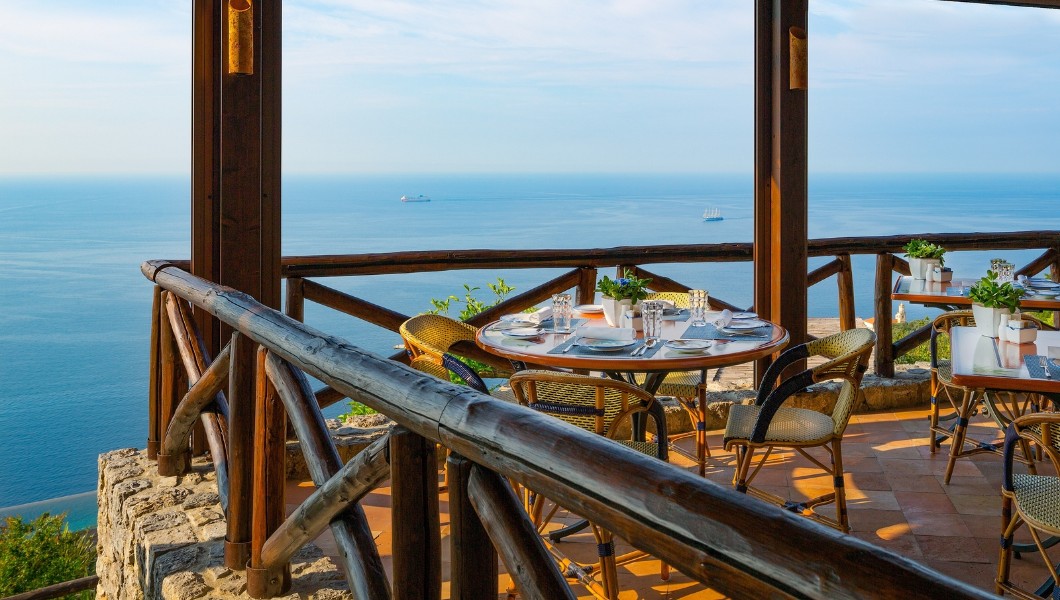 As you sip fresh lemon water and eat plates of local meats tucked between warm breads, be ready to chat with chef Christopher Bob. Known for manning Monastero's Michelin-starred restaurant, Bob weaves between tables in the morning with entertaining stories about the local area and the food choices. Granola, he explains, was inspired by a trip to New York and is now created entirely in house. Mozzarella cheese comes from a buffalo farm in a nearby village. Local, organic and homegrown is a priority. "It's something our founder was doing years ago," he adds.
As you sip fresh Lemon water and eat plates of local Meats, be ready to chat with Chef Christopher Bob, as he weaves between tables In the morning, with entertaining stories about the local area and the Restaurant's food choices
11.00

No visit to Monastero Santa Rosa is complete without checking into the property's exquisite spa. This 17th-century space preserves the property's original vaulted ceilings and rustic walls, creating an atmosphere of escaping entirely from the present. If you're travelling in a duo, book into the Spa Suite for a truly decadent experience. This 80sqm two-floor multi-room space offers curtained wet-dry beds for body scrubs, then a separate area for massages. Afterwards, staff serve glasses of 'medicinal' red wine. Kusmi tea is also offered for a calming introduction to the rest of your day