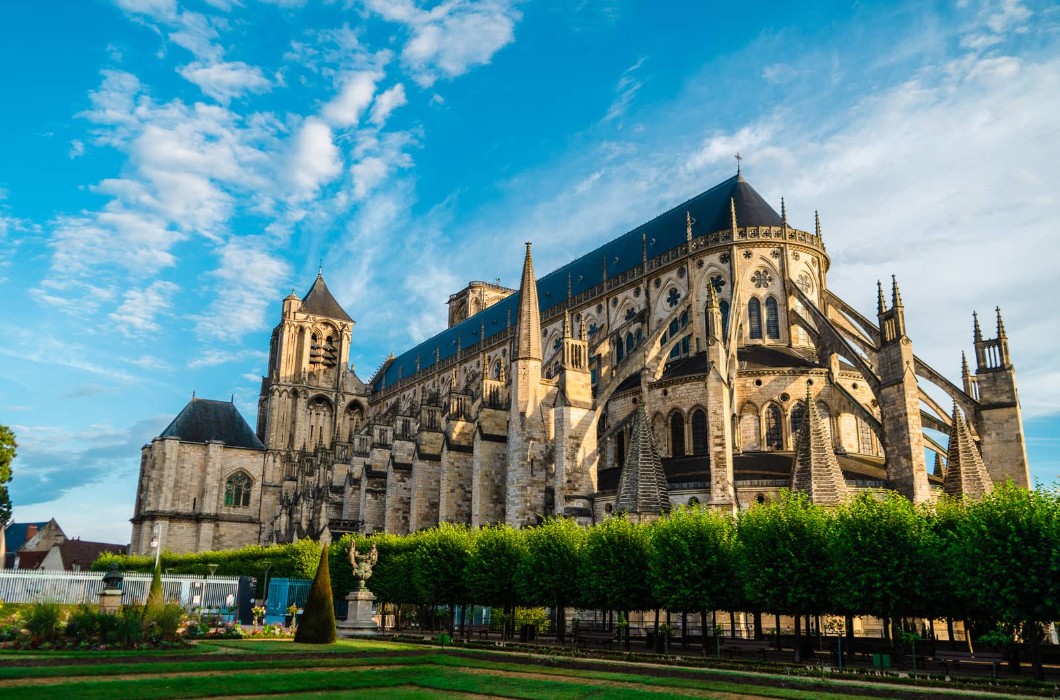 In France's castle-studded Loire Valley, amongst the gardens of Hotel Château du Grand-Lucé, just an hour from Paris, my daughter and I sit beneath blossoming apple trees and fight over a piece of crunchy baguette. Damask pillows, arranged by our loyal valet, adorn the blanket that holds our picnic basket. Comfortably ensconced, we nibble toothsome bits of our chef-prepared, gourmet, al fresco lunch, as I wash each bite down with tiny sips of bright, mineral-y, local Sancerre wine. From nearby, 18th-century Greek-inspired statuary (a gift to the estate from Louis XV) appear to watch us hungrily. In awe, we admire the landscape that surrounds us. As elegant and artistically executed as a Persian carpet, an 80-acre garden unfolds. Flowering rose bushes waft their perfume our way. Geese honk a serenade. Horses whinny. The grass below us is deliciously silky. On occasion we lie flat on our backs and study the shapes made by billowing clouds. Timelessly enjoyable, this moment might be a sunny day in 1750.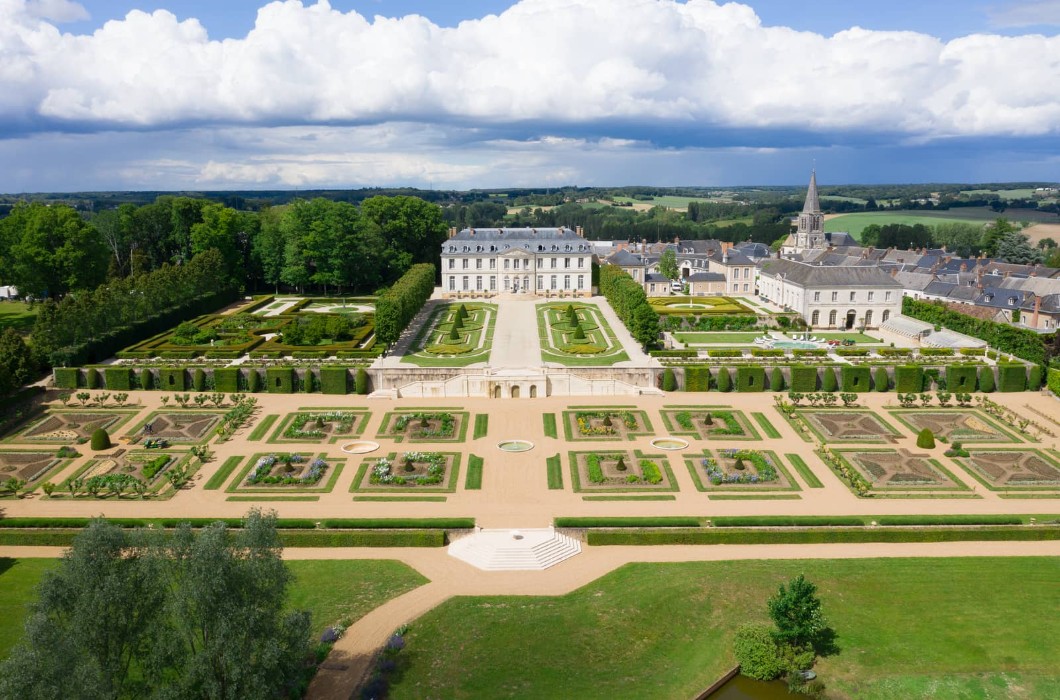 As we negotiate the final bite of bread by tearing it in two and topping each portion with a tender chunk of chicken, capped by a juicy slice of vine tomato, we ponder those who may have picnicked on this lawn before us. This great estate drew a covey of Age of Enlightenment literati – including Voltaire and Rousseau – who came to share ideas in a salon-like atmosphere. Perhaps, they tussled over picnic remains as we do? From our perch on a hill, we survey the estate's storybook woods, a microcosm of what the Loire Valley itself offers via its expansive nature and storied architecture. Here, we see mazes, serpentine paths, orchards, and an inviting swimming pool, as round as a full moon. The chateau, however, dominates the horizon. A white wedding cake of Neoclassical grandiosity, it was built in 1764, by Baron Jacques Pineau de Viennay, a preferred advisor to Louis XV, as a monument to the times. Lavish, boastfully opulent and awash with the era's most au courant design trends, the chateau surely niggled the egos of de Viennay's peers, the myriad bygone French royals who saw the Loire Valley as their bucolic getaway region, their entitled escape from Paris' hectic pace.
Now refurbished and reimagined centuries later as the elegant 17-suite Hotel Château, the retreat continues to manifest the baron's stylish bravado. The great house brandishes original and period interiors: Versailles-patterned oak floors, tapestries and other artwork, immense fireplaces, sumptuous fabrics, Chinoiserie-painted walls and 17-foot ceilings. Of course, tweaks have been made. The stables have become a ballroom, the circular pool was an 18th-century fountain now repurposed, and the staff carry Louis Vuitton pochettes and don Ray-Ban sunglasses.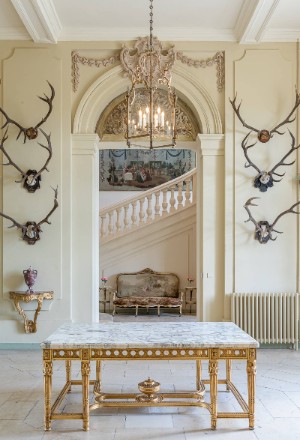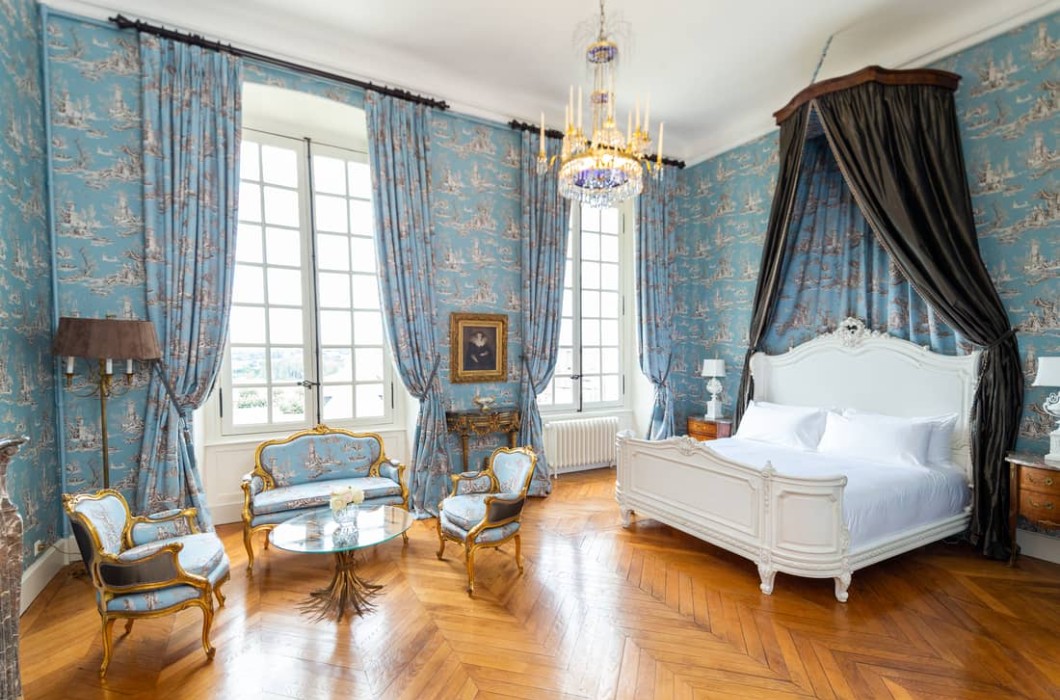 But overall, Hotel Château embodies the veritable spirit and charm of the region – a place people travel to today in order to pore over Renaissance chateaux, to taste world class wine, and to connect with nature, just as the regal set did in the past. With ease, Hotel Chateau deftly conveys guests into the UNESCO-listed valley's palpable fairy-tale. It's an exemplar base for exploration and repose.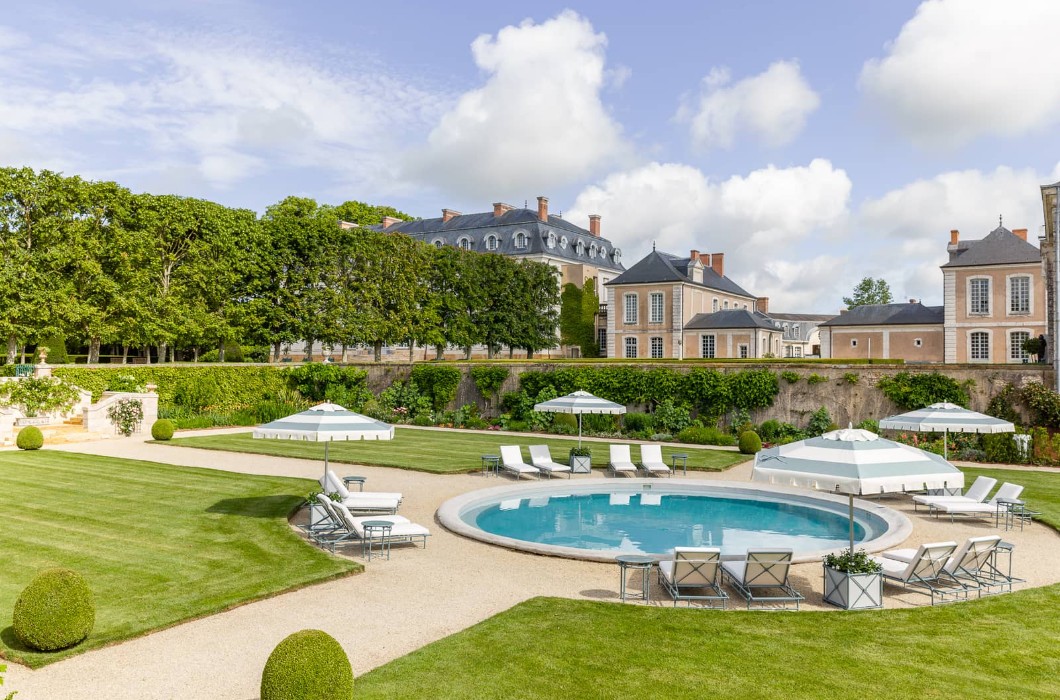 While we could linger as princesses within Hotel Chateau's walls for days, the able valets urge us outward. Not just into the village of Grand Luce itself (so quintessentially intact we expect to see Beauty and the Beast's Belle and Gaston on the streets), but beyond, through the countryside for various road trips to peruse the famous chateaux. My daughter and I have been here together before. Some years ago, we joined my mother for a three generational attempt at learning French. Under the tutelage of the magnificent Coeur de France Language School, we settled into the celebrated, medieval hill town of Sancerre, renowned particularly for its crisp white wine and intensely creamy Crottin De Chavignol cheese. Comfortably, we holed up in a glamorous apartment in the upper floors of the school's four century-old chateau, the former home of a well-heeled aristocrat. Known as La Thaumassière, the building lies conveniently at the village's heart. But each day all we needed do was descend the ornate spiral staircase to attend our one-on-one tutorials. Following our daily studies, we would habitually sashay about town, practicing our nascent French, making mistakes, but wholly determined to embrace the village, its environs, and the lyrical language. In turn, Sancerre accepted us. Perhaps the affable residents were impressed at how we so voraciously and fearlessly sought idiomatic success, stumbling earnestly, sometimes red-faced, through every conversation.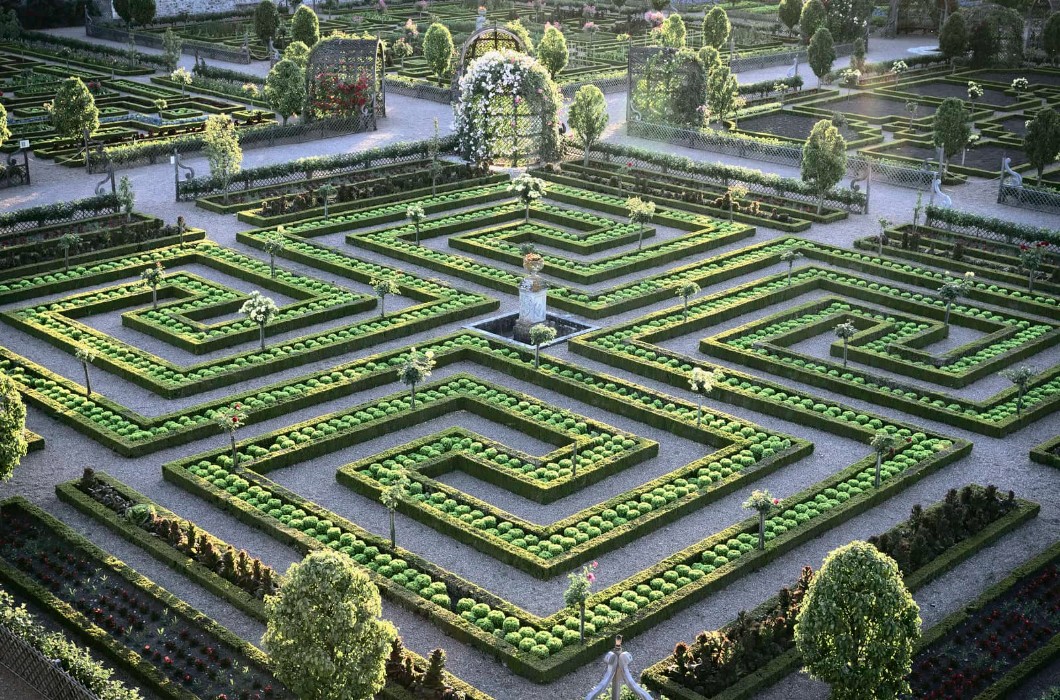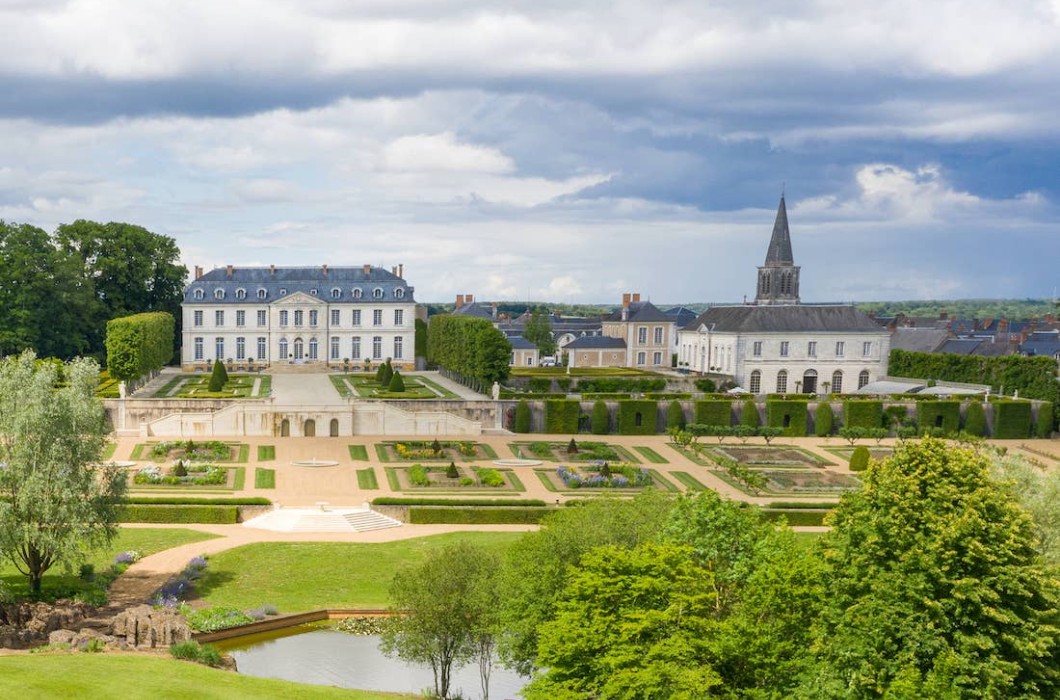 Sancerre, acclaimed by gastronomes for its wine tasting options (it has 300 wine growers and includes 7,413 acres in its appellation) and top-notch restaurants (such as famed, Michelin-starred Restaurant La Tour, set within an ancient tower), spirals up a hill, looking a bit like a snail's shell. Both day visitors and longer-stay epicureans can wander the town on foot discovering gourmet nooks, wine-tasting rooms, bakeries and fromageries. The jaw-dropping view of the valley glimpsed from Sancerre's highest point previews a wondrous panorama of paths to be hiked, a river to be canoed and chateaux aplenty. Legendarily, Julius Caesar stood here, watchful for enemies. While in residence, we took full advantage of Sancerre's offerings, whether shopping for art supplies or lingering over coffee in outdoor cafes in the village's main square. Of course, my mother, found her happy place in the village beauty shop, making friends with the stylists, proving that often travel (and practicing French) is as much about connecting with the residents as seeing the sights.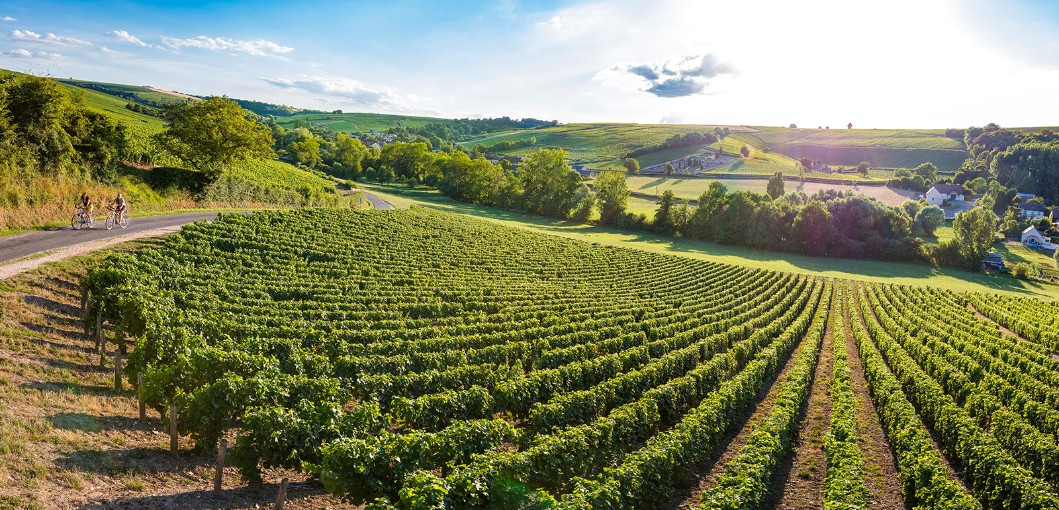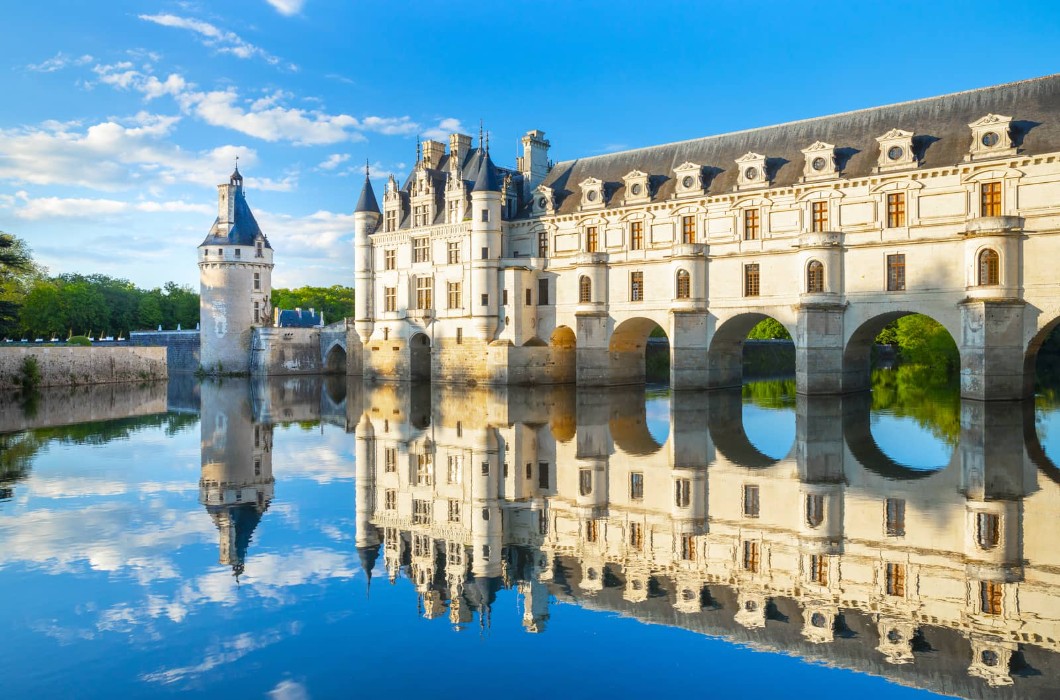 My daughter, now an adult, and I reminisce about our Sancerre immersion, speaking to one another in halting French as we drive away from Hotel Château du Grand-Lucé in our red, sporty, rented coupé, a picnic basket (packed with plenty of bread – and other comestibles) at our feet. More than 20 chateaux tempt, but we've chosen three: Château de Chenonceau for its history (Queen Catherine de' Medici lived here in the 16th-century) and the way it bestrides a river; Chateau de Brézé, replete with a drawbridge, moat and subterranean caves (it's not impossible to believe unicorns might roam here), and the eye-popping Chateau de Chambord, said to have inspired the castle in Beauty and the Beast.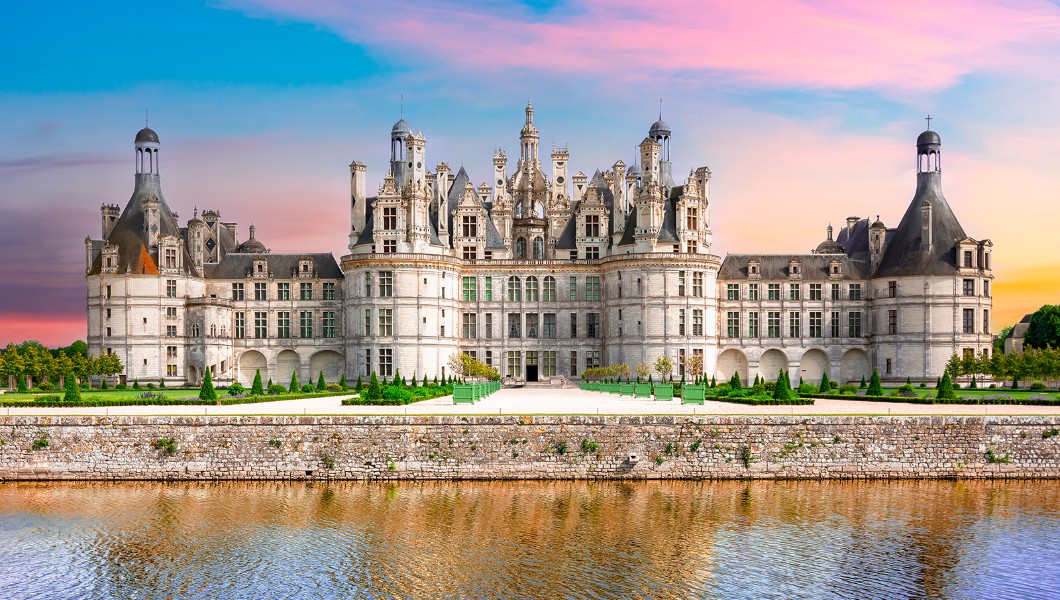 The French nobility of yore retired to their Loire Valley castles to soak up the benefits of nature, still a preoccupation for today's travellers to this leafy, pastoral region known both as the Valley of the Kings and The Garden of France. Happily, we follow suit. There's pedalling along the region's plenitude of trails (Hotel Château du Grand-Lucé offers loaner E-Bikes), trotting horseback though characteristic villages, in the shadows of castles and amongst primeval forestland (Try Touraine Cheval for guided rides that include lunch in a classic Loire cave and wine tastings), walking tours through vineyards, hot air ballooning over the velvety patchwork below and sunset cruises on the River Loire in Montsoreau, to name a few options.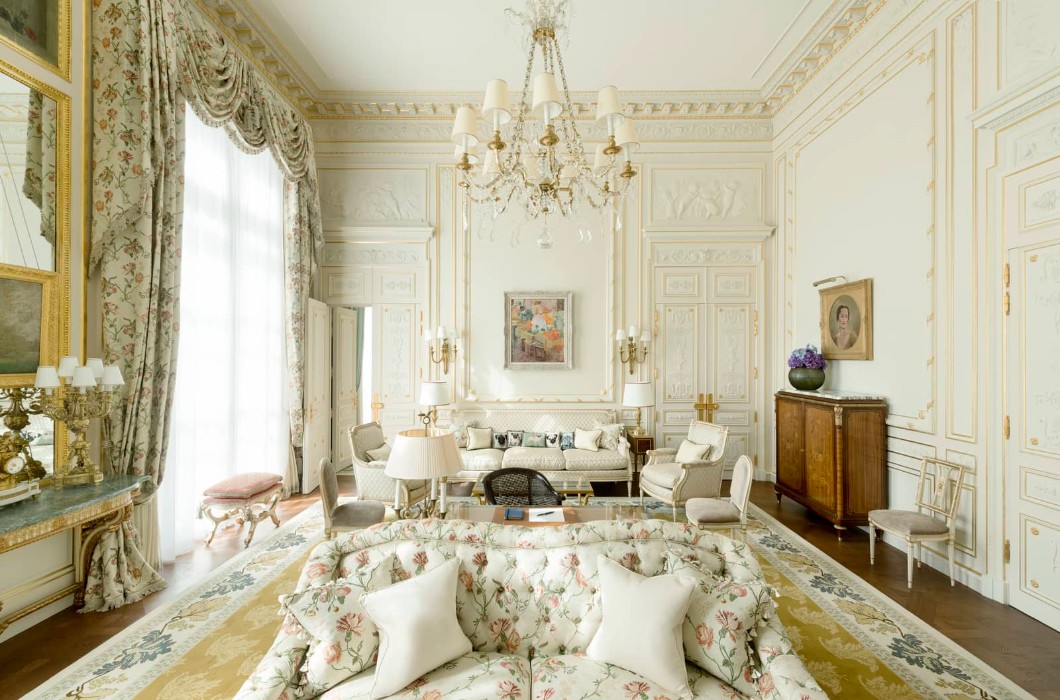 When it's time to go, we leave the countryside reluctantly, as sorrowful, no doubt, as the haut monde of past times on their way home to Paris. Though sorry to leave this mythic castle and vineyard-flecked green belt, we're trading its rural delights for the glitz of the legendary City of Lights. Back into the hubbub doesn't sound too bad. In fact, Paris, so close to the Loire Valley, makes the perfect bookend segue after time spent gallivanting like baronesses in the meadows. Paris, as the truism goes, is always a good idea. En route, I reason to myself that though leaving the lush Loire behind, there's no reason to feel morose. The rooftops of Paris await. And there's no better rooftop than that which covers the Ritz Paris, a beacon on Place Vendôme, the first hotel in the world to offer guests (circa 1898) en-suite bathrooms, telephones and electricity.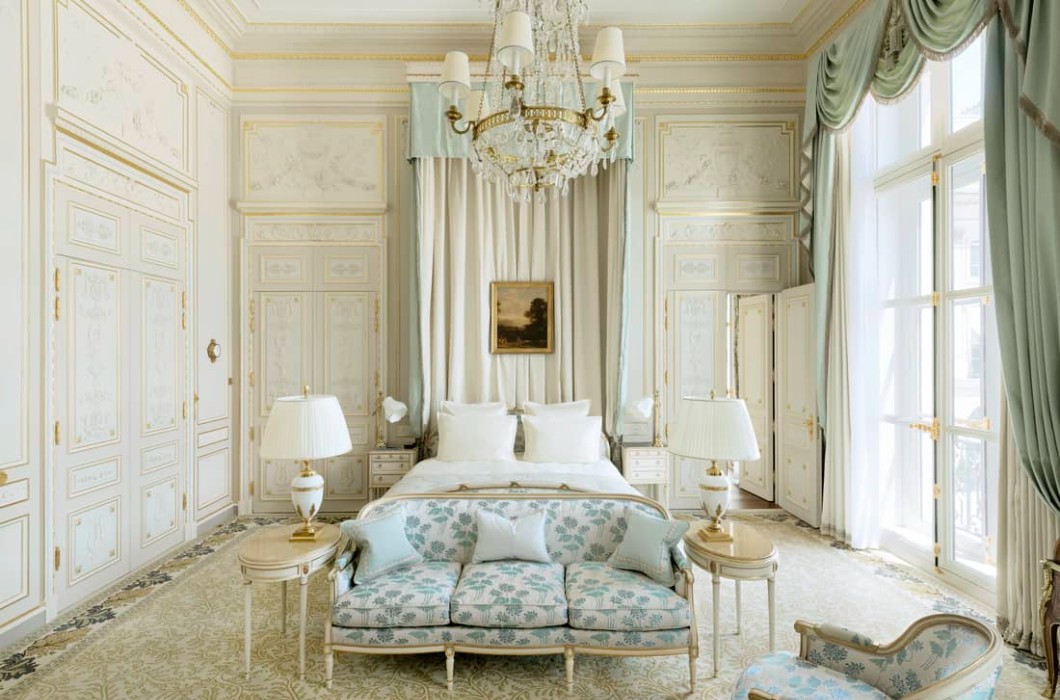 It's not such a stretch to swap The Valley of Kings and all those castles for a stay at the Ritz, seamlessly transitioning from country to château to city palace, as did the Age of Enlightenment's elite on return to the capital. On arrival, we're enveloped by its surfeit of shiny marble and ornate perfection, as a coterie of uniformed debonair employees come to my aid. As a modern traveller, I'm grateful that the founder César Ritz built the hotel of his dreams so that it, too, could be the hotel of our dreams. It's a place we should all stay at least once in our lives – ideally numerous times.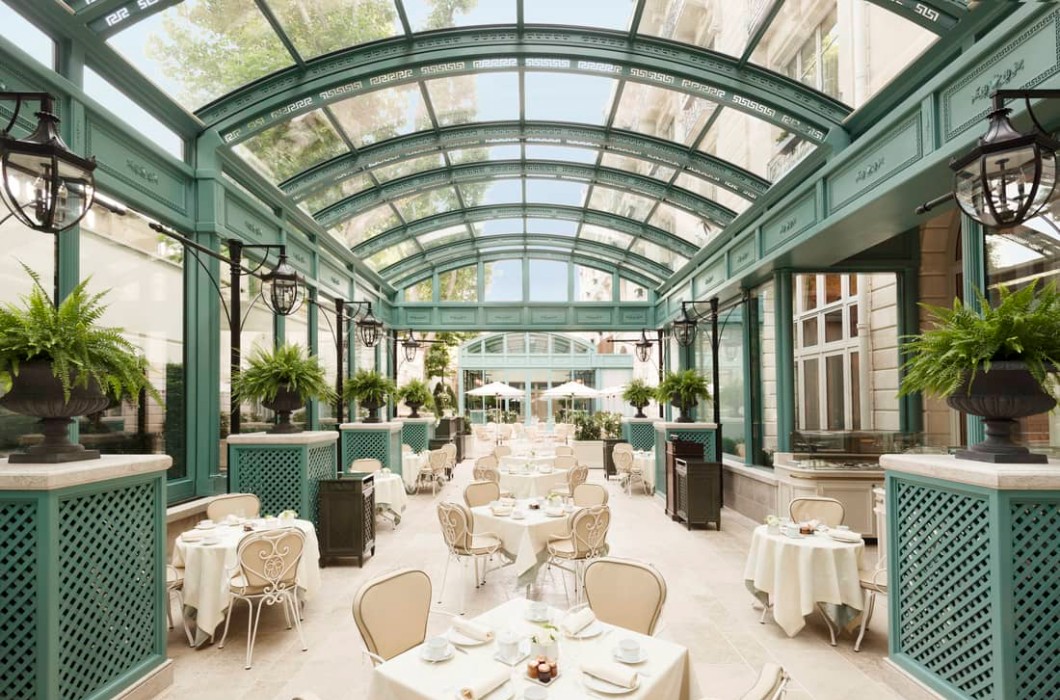 Apparently, we're not the only ones enamoured by the golden swan faucets, the canopied beds, the signature peach-coloured towels (César Ritz swore they were more flattering to the visage), the touches of gaufrage velvet and the (original) gilded light switches. Coco Chanel checked in and remained for the next 34 years, though her actual apartment stood just around the corner. Her sanctum, now memorialised as a rentable eponymous suite conjures her exotica and soulfulness with crystal chandeliers, Venetian mirrors, and Coromandel lacquered screens, not to mention drawings (reproductions) by Karl Lagerfield and photographs by Cecil Beaton. "Luxury must be comfortable," she said. And, somehow the Ritz Paris achieves easy elegance, as does the city of Paris itself.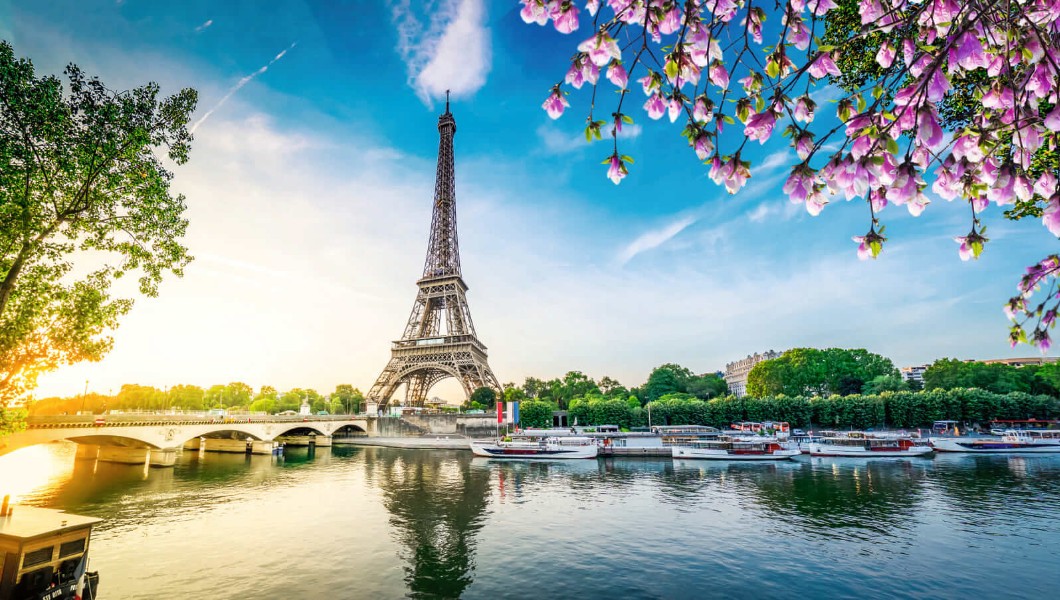 Ernest Hemingway, a loyal fan, for whom the speakeasy style bar now is named, quipped: "When in Paris, the only reason to not stay at the Ritz is if you can't afford it." Hemingway made it a retreat (there's also a suite named for him), as did F. Scott Fitzgerald, Teddy Roosevelt and Greta Garbo. Marcel Proust, who scribbled assiduously daily in what now reigns as the Salon Proust might not have written his major works without the hotel's cosseting support. And, we wouldn't have king-sized bathtubs if King Edward VII of England hadn't gotten stuck in a tub, a misfortune which led to César Ritz instituting the oversized soaking tubs that exist today.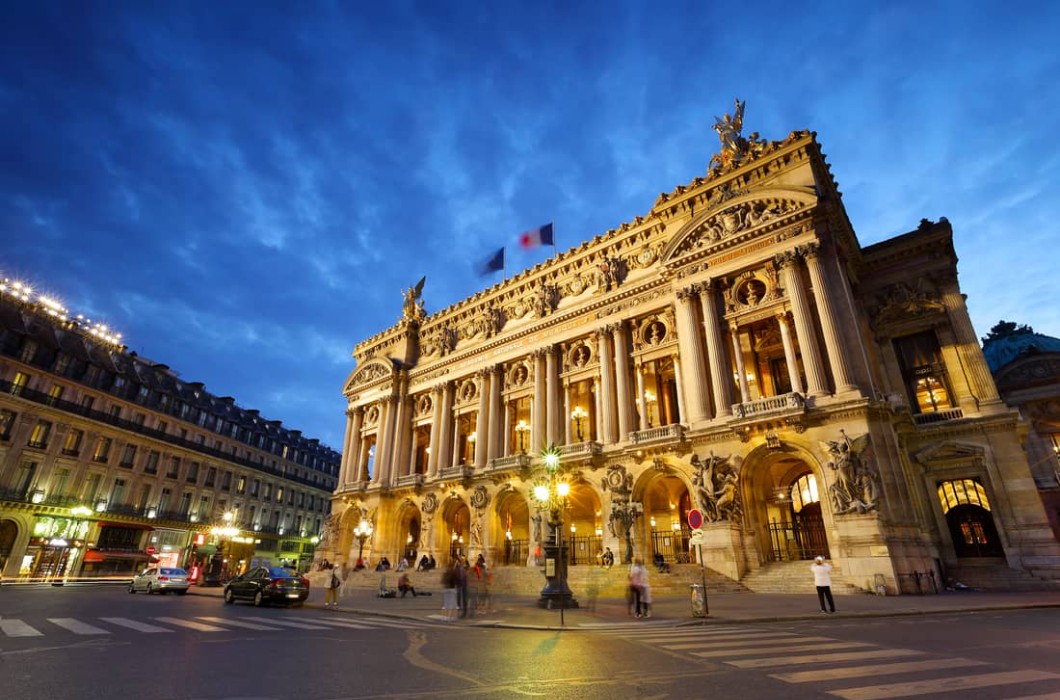 But the Ritz Paris isn't all stories from the past. It's the sort of place where you make your own history. Each day you can step into Paris' Right Bank and visit sites such as the Louvre, the Eiffel Tower, the Opera, Musée D'Orsay, Notre Dame – they're all within walking distance, as are a slew of Michelin-starred restaurants (such as Sur Mesure par Thierry Marx at Mandarin Oriental and Pur' – Jean-François Rouquette at the Park Hyatt), art galleries (take a look at Gagosian) antique stores (have a rummage through the exquisite Yveline Antiquités) and upscale shops of the Champs-Élysées and Rue St. Honoré. Even a walk along the Seine makes the heart sing.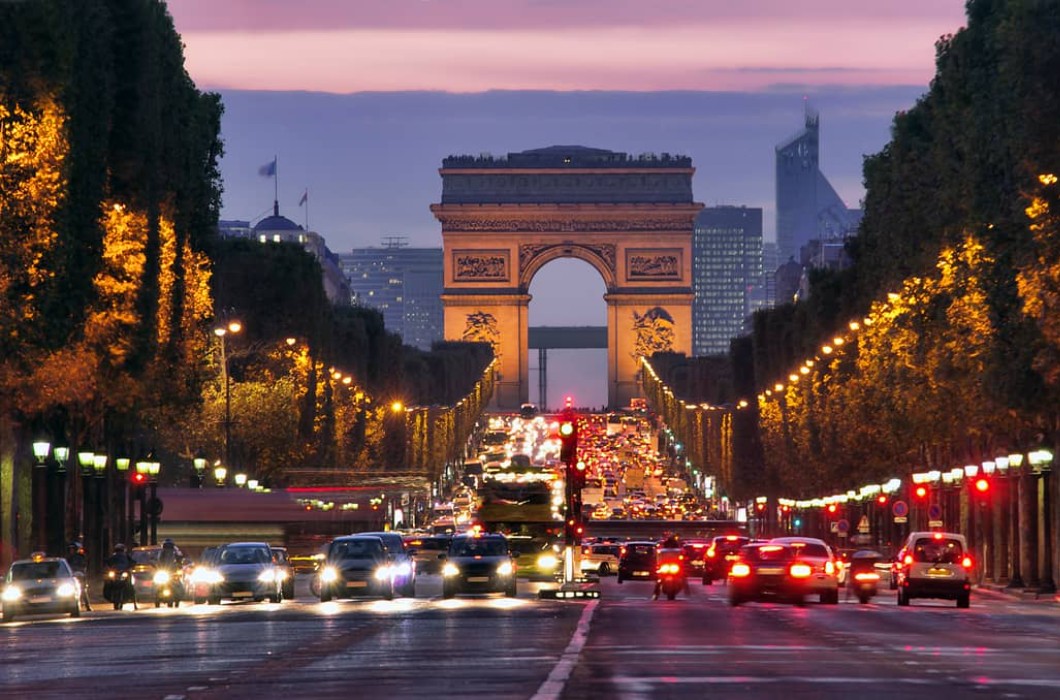 But let's conclude with visions of chewy French bread and moan worthy pastries, found across Paris in tiny boulangeries and irresistible patisseries, such as the Ritz's own Le Comptoir. Even the vitrines of these alluring institutions evoke the artistry and grandeur of Paris. But what if you could try your hand at making them yourself with true French flair? Wouldn't that be the true souvenir? Enter Ritz Paris' Ritz Escoffier, a cooking school for professionals and amateurs alike. Classes run the gamut from one day pastry baking courses to laudable 28-week extravaganzas, resulting in Master of Gastronomy certification and a Ritz Escoffier Culinary Arts Diploma. We don't have time to try them on this trip. But we'll be back, ready to put on our toques. After all, we wouldn't want to keep fighting over the bread.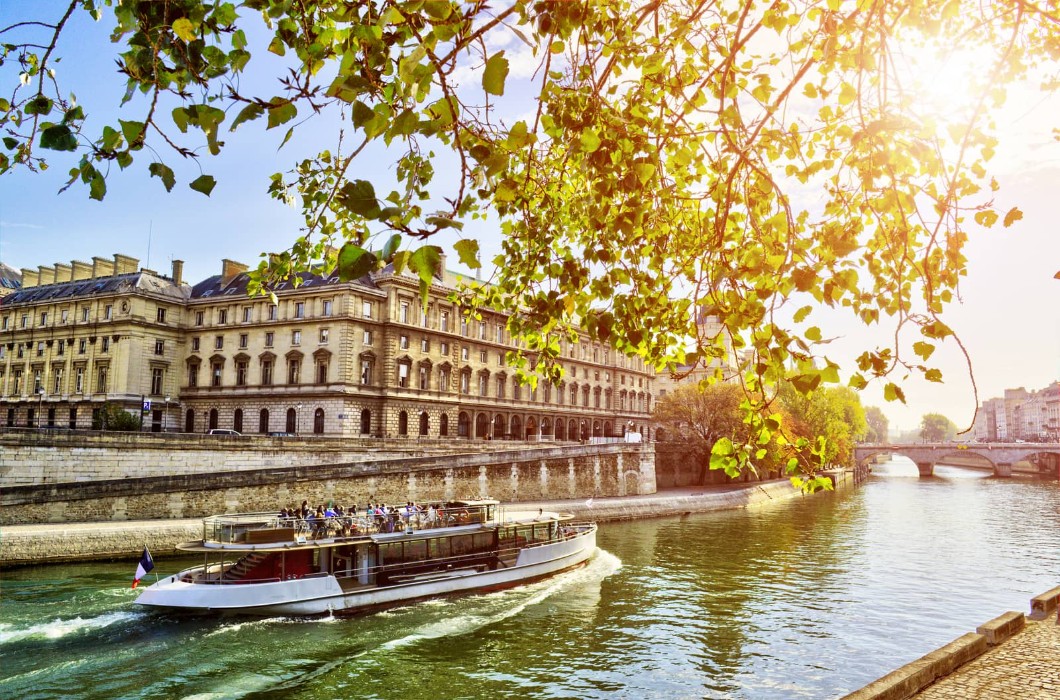 Stay:
WHAT: Hotel Château du Grand-Lucé, Loire Valley, France
TEL: +33 2 55 484 040
WHAT: Ritz Paris, Paris, France
TEL: +33 1 43 163 030