Corfu may be better known, Paxos may appeal more currently to the in-crowd but Kefalonia is very evidently less spoilt and has more peace, charm and authenticity.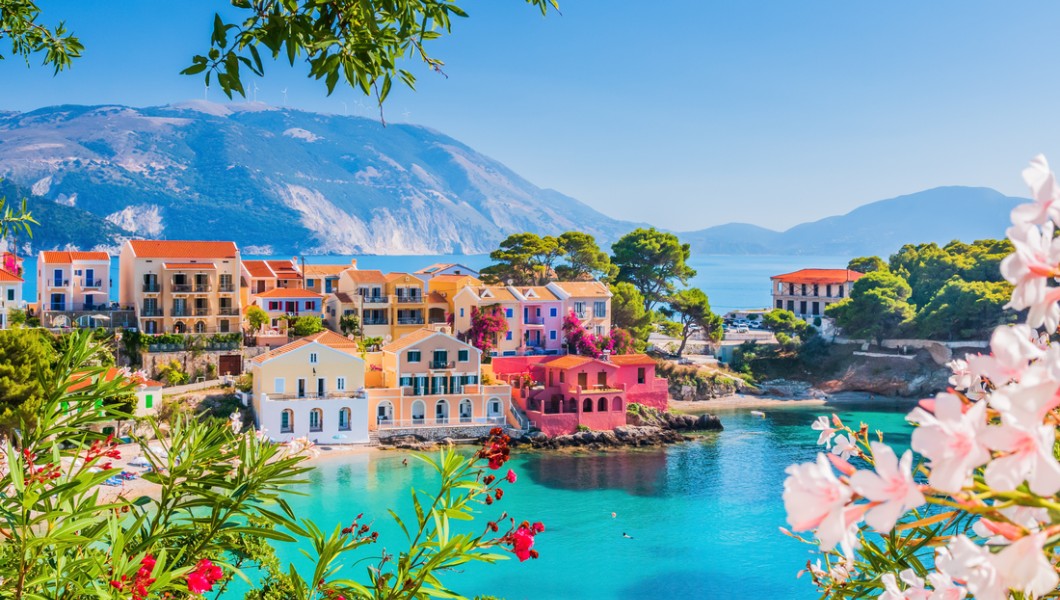 From the airport, to reach the north of the island, rather than the quicker but barren, mountainous route I took the corniche, a scenic coastal road, to immerse instantly into the local vibe with the sea to one side and tavernas to the other. As I gathered height, I looked down upon the fish farms with their nets of sea bass in front of Argostoli the capital town with her terracotta roofs which have aged so well in their uniformity.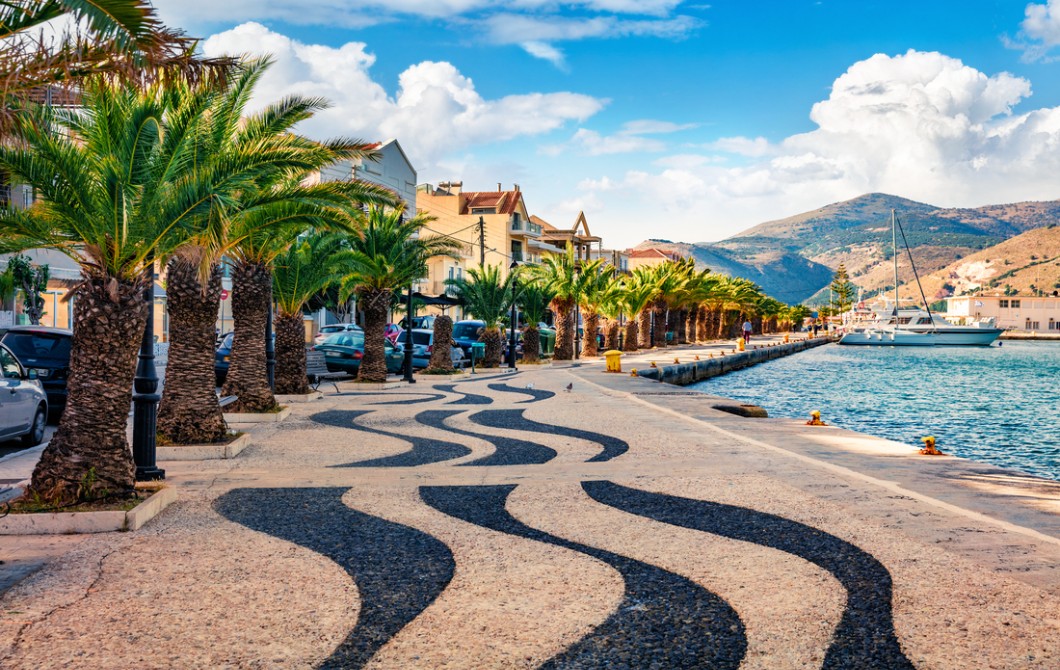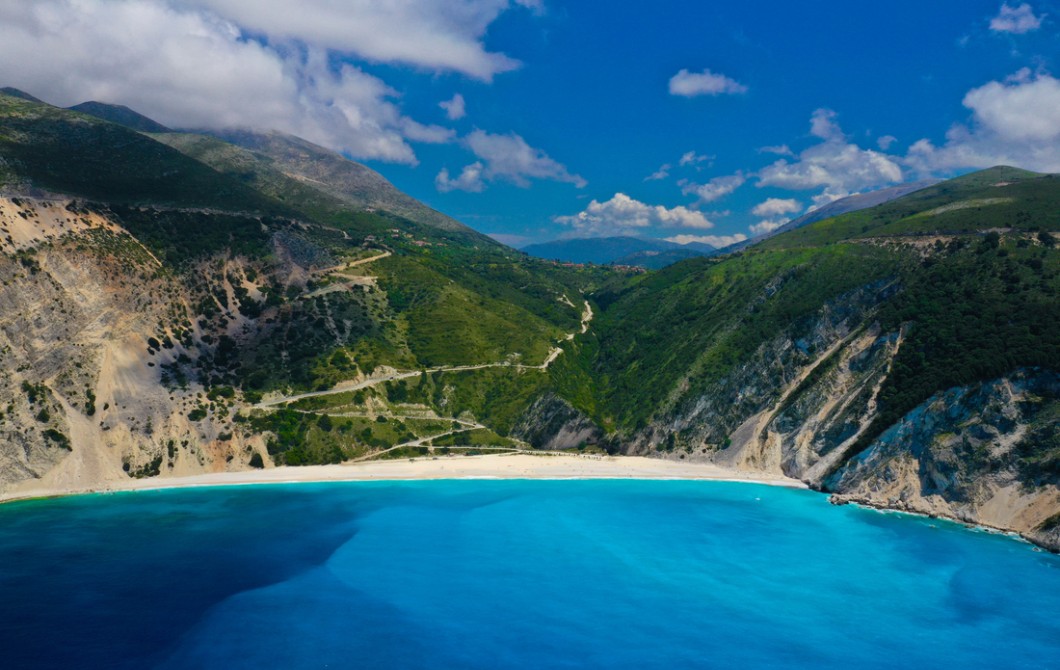 Later on, at a vertiginous drop, I couldn't help pulling over to get a glimpse of the glorious beach at Myrtos. How wonderful to surrender en route to the goats of different colours and faces that live on this road, tinkling their bells as they experience the day's cool and shade before the night's heat from the tarmac. I reached my destination, a northern fishing village called. Fiscardo.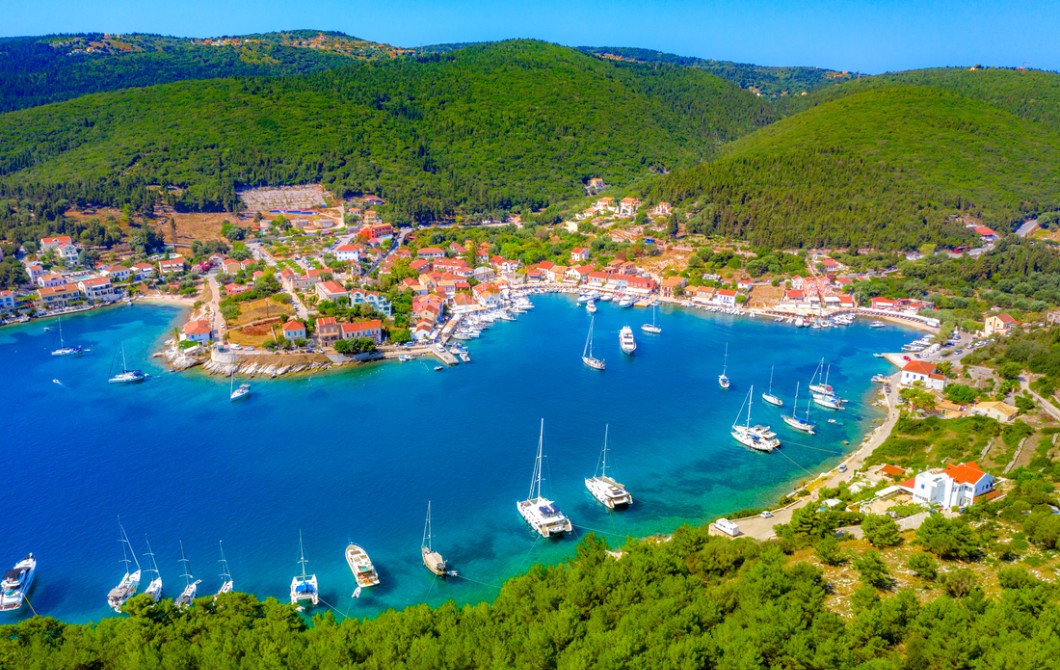 It faces Ithaca, the home of Odysseus, and is a yachties' paradise. If some perhaps in the bigger boats come to see and be seen then there are no nightclubs here. It's a place for relaxation and repose, for the reflection and appreciation of the unspoilt harmony of land and sea. They moor in the evening to disembark from a dinghy or rowing boat onto terra firma and come and dine at one of the many restaurants on the quay or to flick the hangers of the many tasteful boutiques offering beach wear and dresses or else buy gorgeous pots of flower and thyme honey beside the shapely bottles of local olive oil.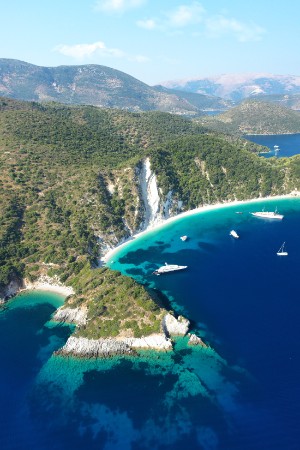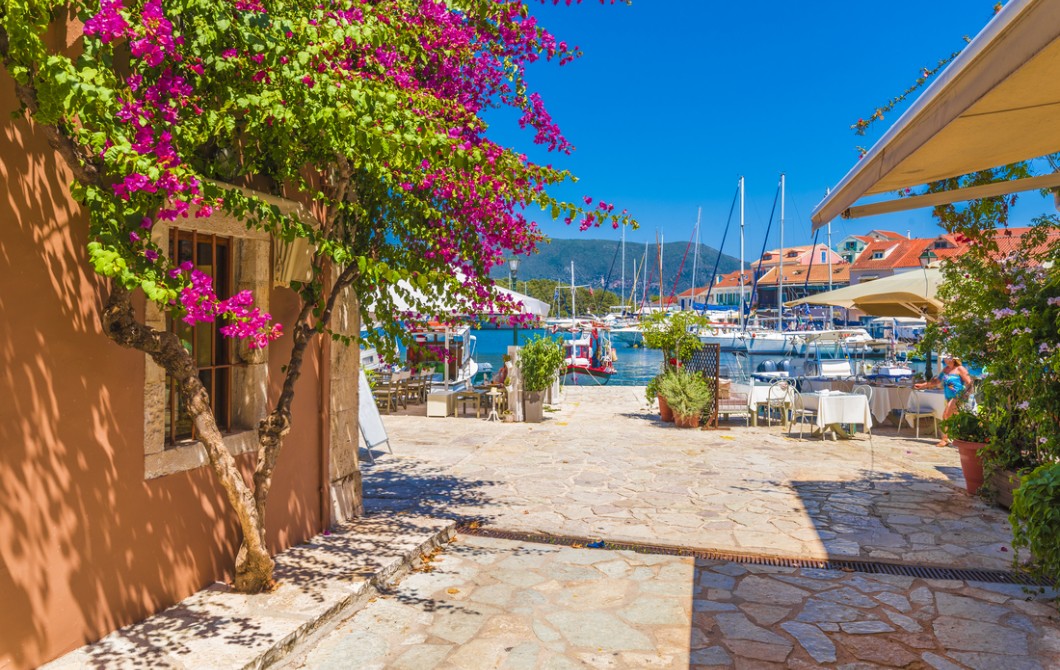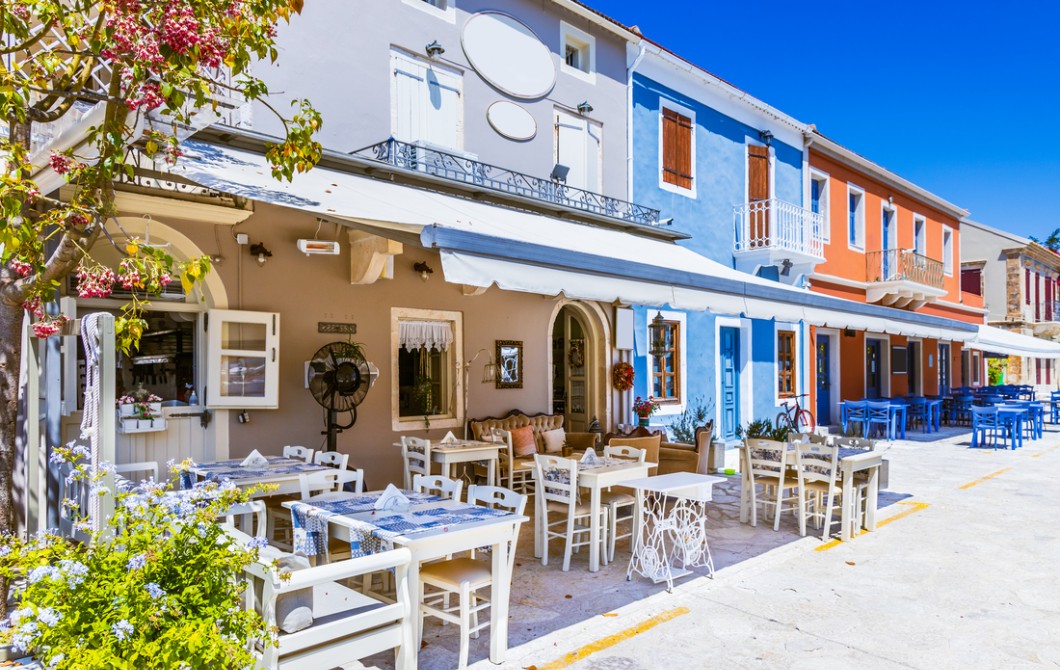 A five-minute drive or twenty-minute walk from Fiscardo and perched high up overlooking the sea is the imposing, impressive façade of where I had the pleasure of staying for a week: namely the Almyra Hotel. It's run with grace, charm and efficiency by the classy and educated owner Elina. Affectionate and tactile she puts a reassuring arm around their new guests who are treated as an extension to her family.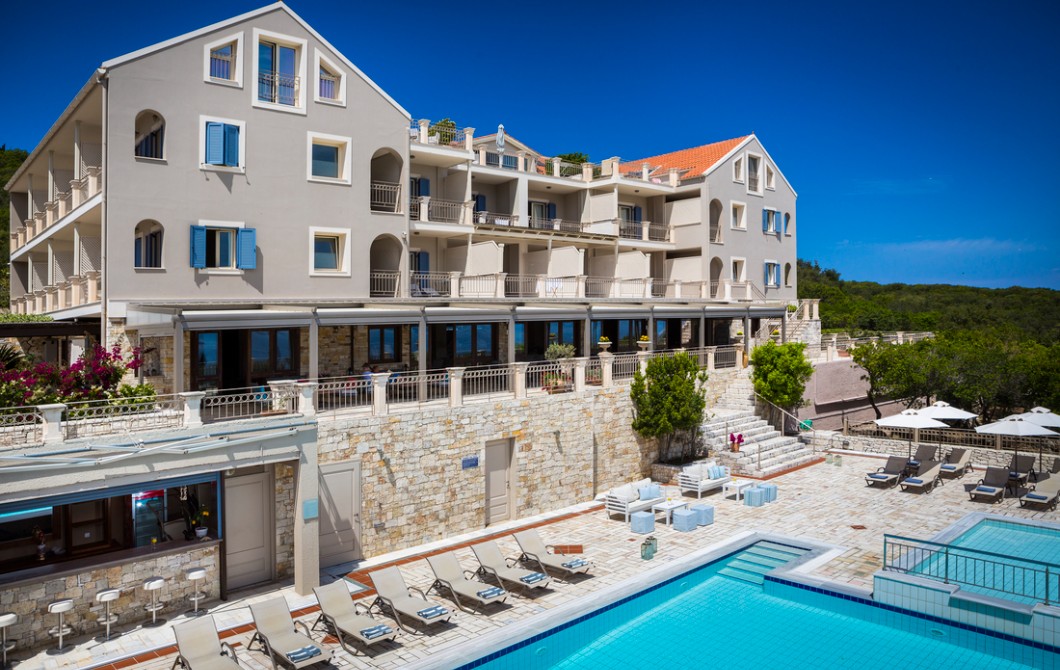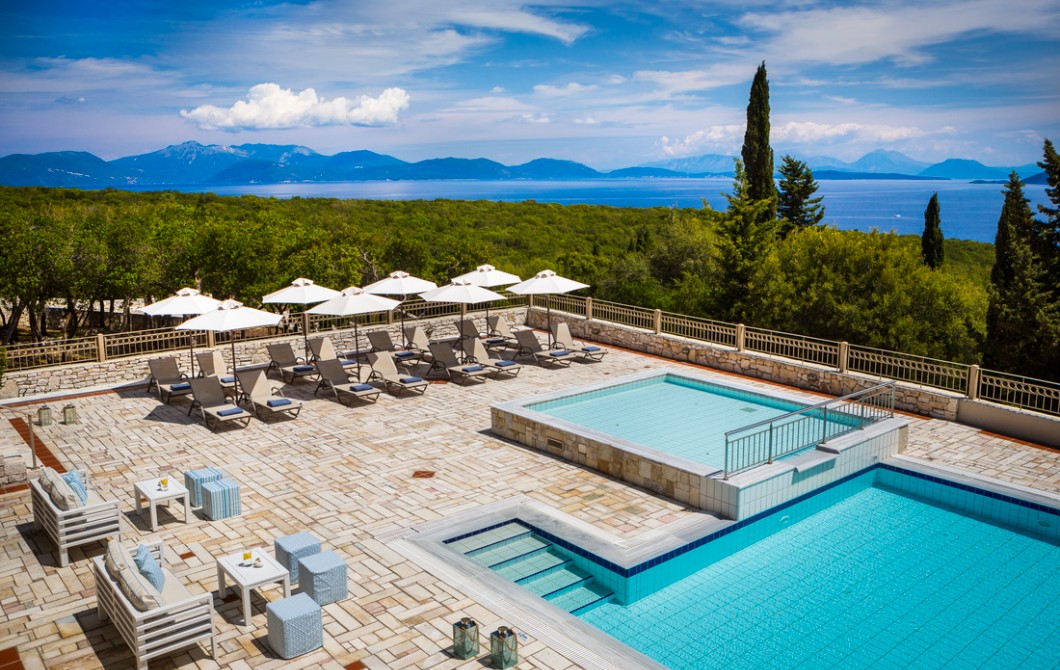 It's a perfect boutique size: intimate, well-designed and ideal for its staple clientele of couples though typically they bring their children in August. There's a minibus shuttle to deliver and collect from the harbour the guests who are equally keen to have come from other routes down different beaches and coves and share their adventurous discoveries with each other.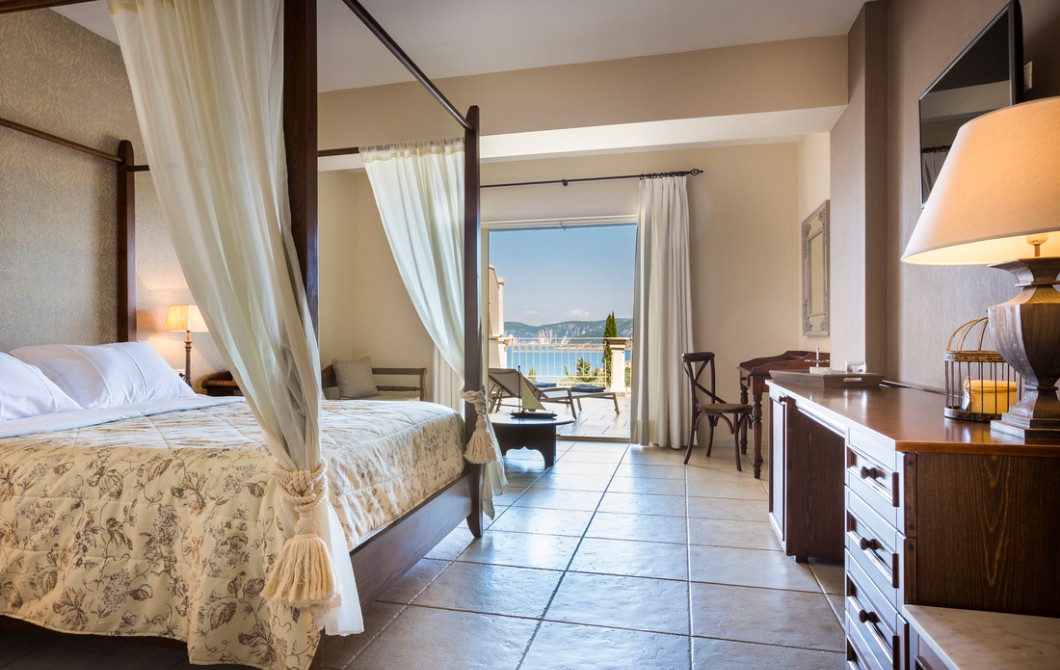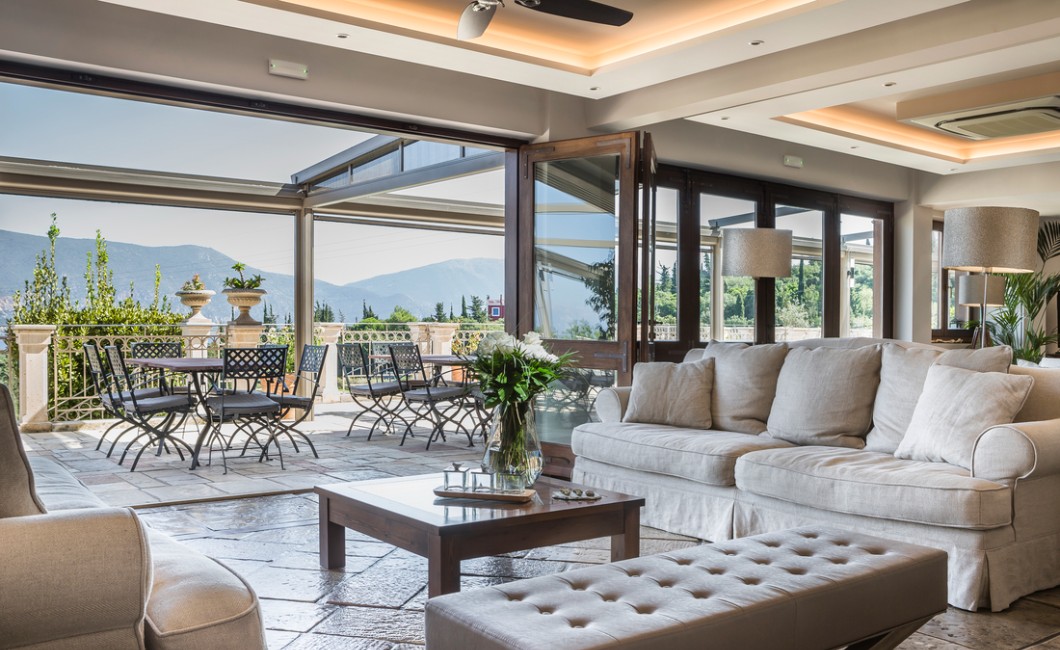 From my hotel another day I went on my own short walk down to Emblisi beach where there's that lovely variety of coloured water from teal to turquoise and a stunning panorama of Ithaca and the mainland beyond. Just as in many seascapes sailing boats in the distance give the scene movement and here in the bay it's also peopled by garrulous women who don't appear to draw breath as they swim out in pairs to chat away.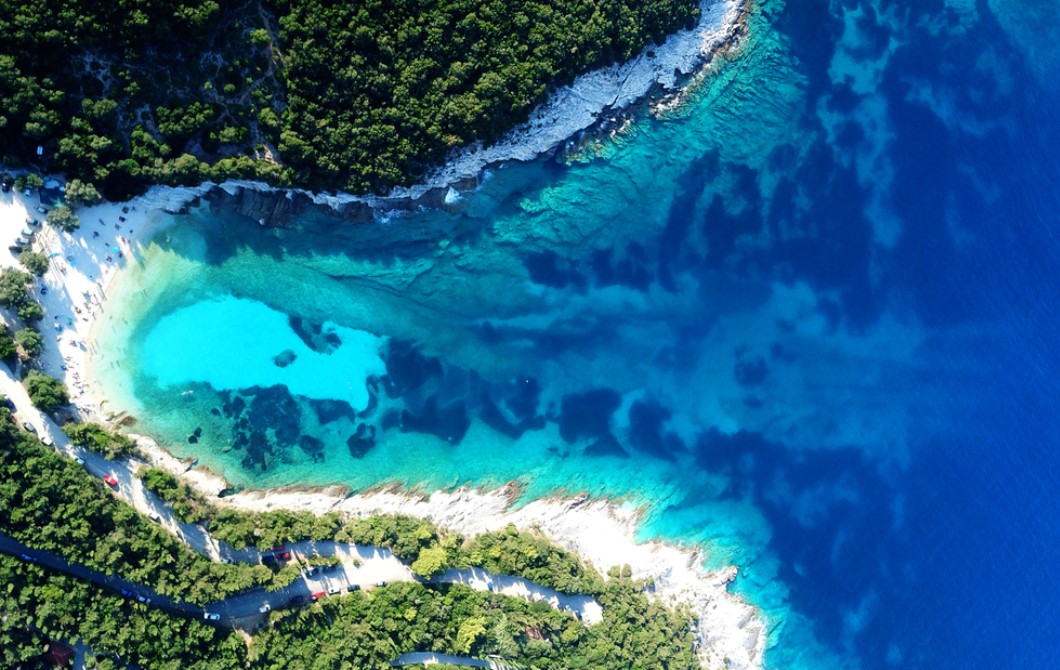 That night I went to the restaurant Tassia, established in 1972 and now the oldest in the village. It's strongly linked to the Almyra hotel as it's run by Polychronis and his sister Tassia. The latter stands prominently in front of her own outdoor table-cum-desk reviewing her list and managing matters like a conductor with her score. Each night is a performance that she busily coordinates and orchestrates. She's the local celebrity having written two recipe books on Kefalonian dishes promoting exotic delights such as kidonopasto (a quince pâte) and barboule (caramelised almonds).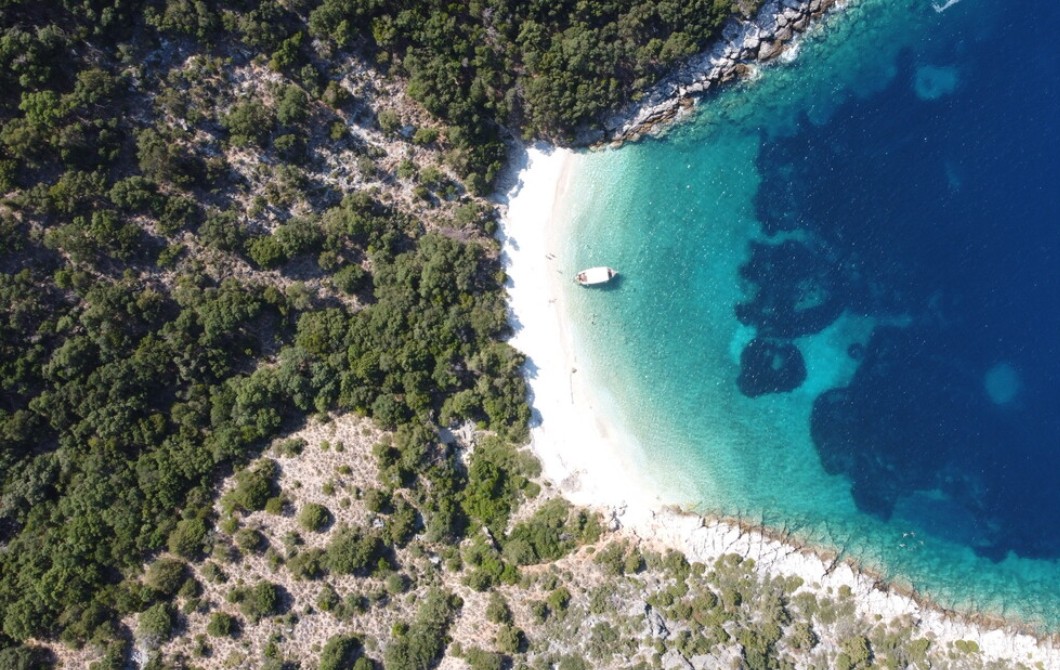 For a wonderful full day's excursion I strongly recommend a boat trip with Ionian Discoveries. Having stood on the shore for several days admiring and envying those out at sea, what better than finally to come aboard with the owner Fabio who took me across the two-mile stretch of sea to Ithaca, whose mountainside has a long white scar from its zigzagging roads. He takes people snorkelling and across the day he pointed out to me grey and white herons, a school of baby grey mullet, turtles, cormorants, octopus and starfish.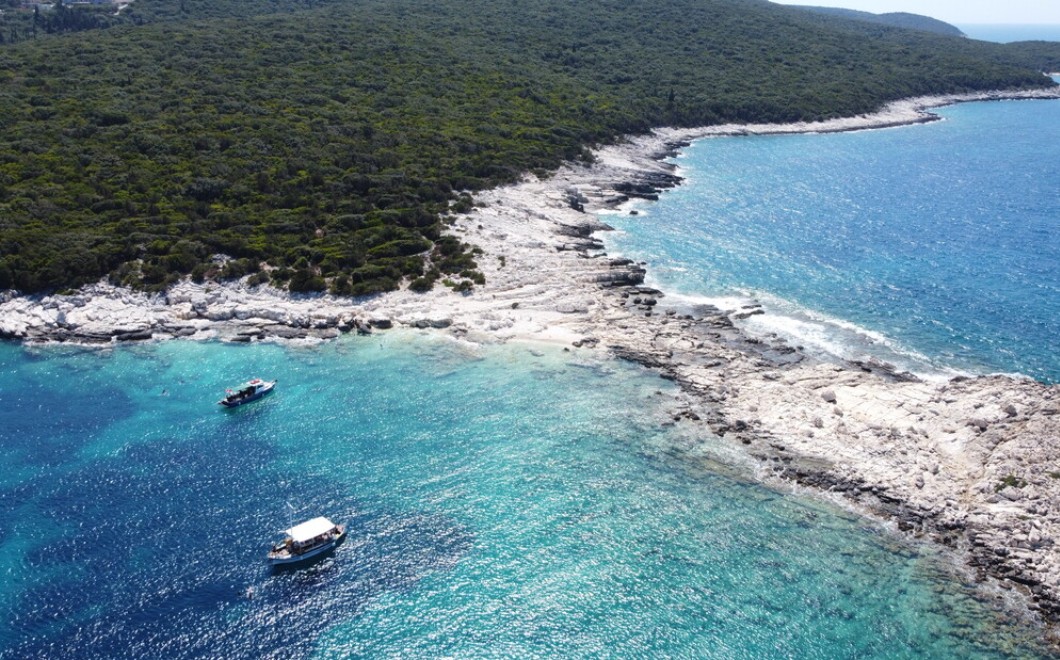 Another night I had supper at one of the waterfront restaurants called Roulas. It has its distinctive floral motive with calming white neutral colours as a backdrop. The lovely elephant breath, warm mid-grey exterior is extremely elegant as are the white chairs, tables, shutters and windows with their delicate Greek lacework. There was even a small shop to lure me inside beside the kitchen where the magic happens.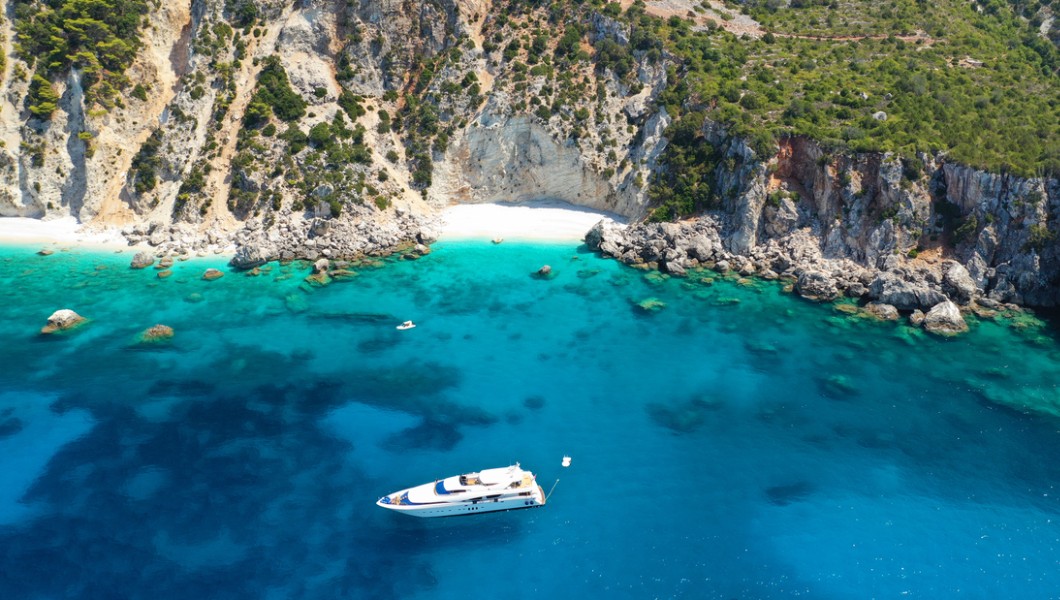 Many scholars consider Kefalonia Odysseus's real home as opposed to the legendary neighbouring Ithaca. Certainly the island is named after Odysseus's great-grandfather and is very much at ease with its providence. Local life presides over the touristic giving it a languid timeless vibe. The men, in true Mediterranean tradition, sit about in their cafés, animated and gesticulative, putting the world to rights as I watched one shepherd, complete with crook and sheepdogs, herding his flock of two hundred at sundown as their bells chimed in the breeze. A pure and perfect setting of pastoral harmony.
Such was her magnetism that within two weeks I was lured back to this enchanting island. This time to the southern half, beneath her mountainous ridge, her bays of golden sand and her view of the neighbouring island of Zante.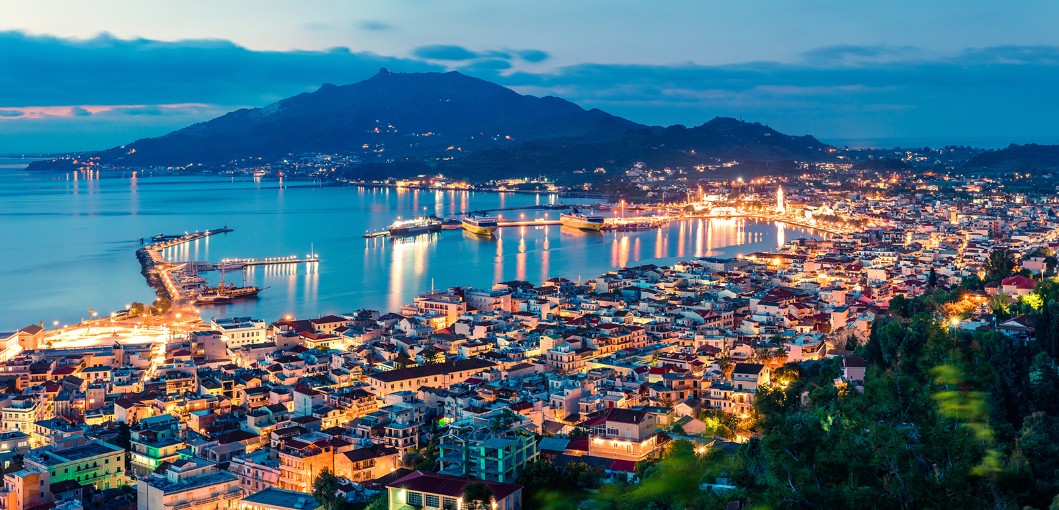 For the island is blessed, of course, for the majority of the year by the warmth of the virtually guaranteed sun, which is still penetrative in September though mercifully not sapping. And there's the clearest of vistas across the water and the cleanest of golden sandy beaches along this southern coast where the land and sea complement each other like two knights on a chessboard.
One night I walked down a steepish road in reverent silence to Denis Seaside Restaurant. For the most romantic of strolls under a canopy of bright stars I began my descent to hear and then finally see the waves lapping the shoreline. I chose well with one local favourite: yoghurt with thyme honey and walnuts followed by the grilled prawns. I could have all too easily had any of the desserts of orange pie, lemon brûlée or poached pear but went instead simply for hot chocolate laced with brandy.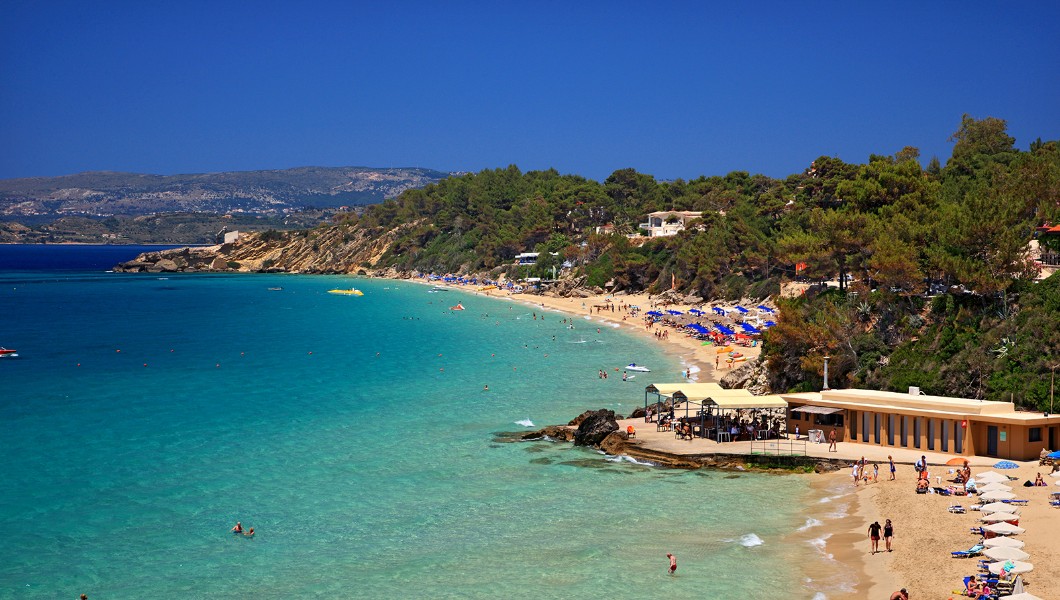 It was to this Livatho region, as it's known, that the poet Byron was drawn, staying at Metaxata where he used to sit on a rock and enjoy the spectacular view. His lover Lady Caroline Lamb called one morning at his apartment but he wasn't home so she grabbed his book lying on the table and wrote 'Remember Me' on its first page prompting him to respond with his two verses 'Remember Thee' in a somewhat bitter rejoinder.
At Lourdas beach, one of the key attractions of this southern coast, I could enjoy the full coastline where row upon row of unfurling waves crashed into separate bays. I found watching these waves as mesmeric as the differing colours of the water that changed from Egyptian blue to mazarine, from turquoise to teal.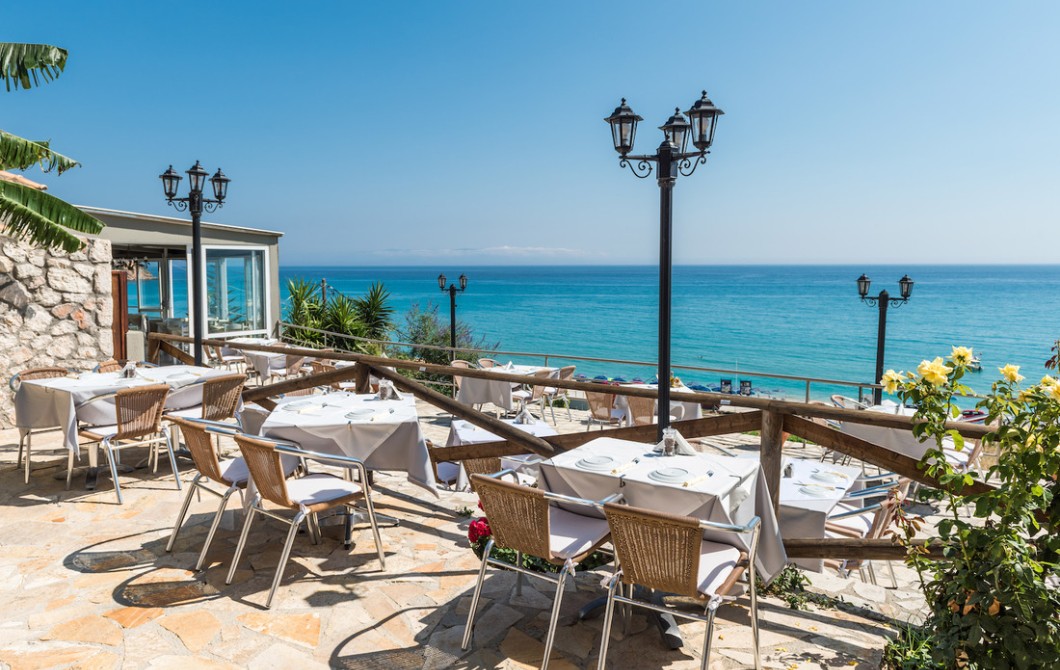 Here one evening I climbed up from the shore to Lorraine's Magic Hill. How good it is to be somewhere that attracts tourists but is still under-developed, where prize plots of land are still allotments and not high-rise buildings and where it's all still based around the lives of the locals.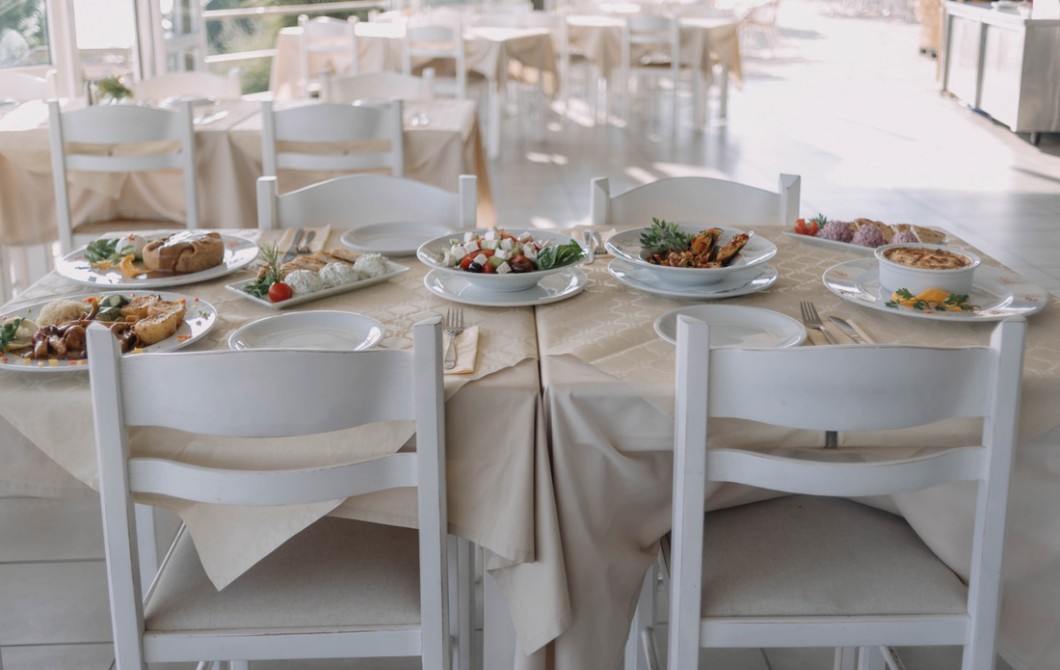 Here I was a hosted by the charismatic and very welcoming Lorraine. Her passion is evident in her declaration that "if you love what you are doing it shows". Indeed the food from her Magic Hill comes either from the sea or the restaurant's organic gardens and its allotment.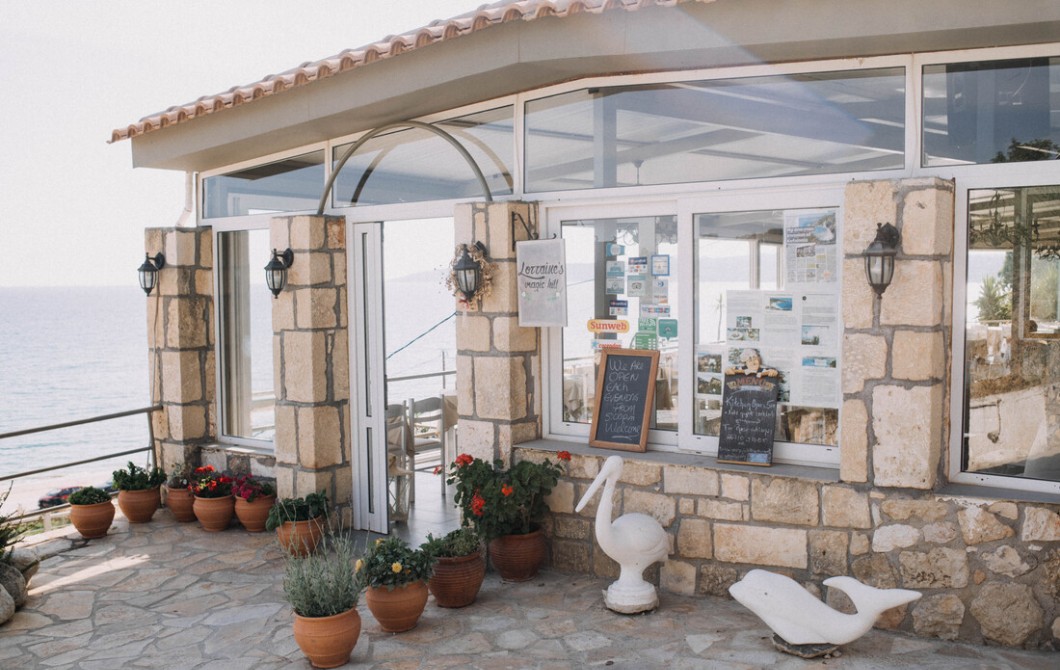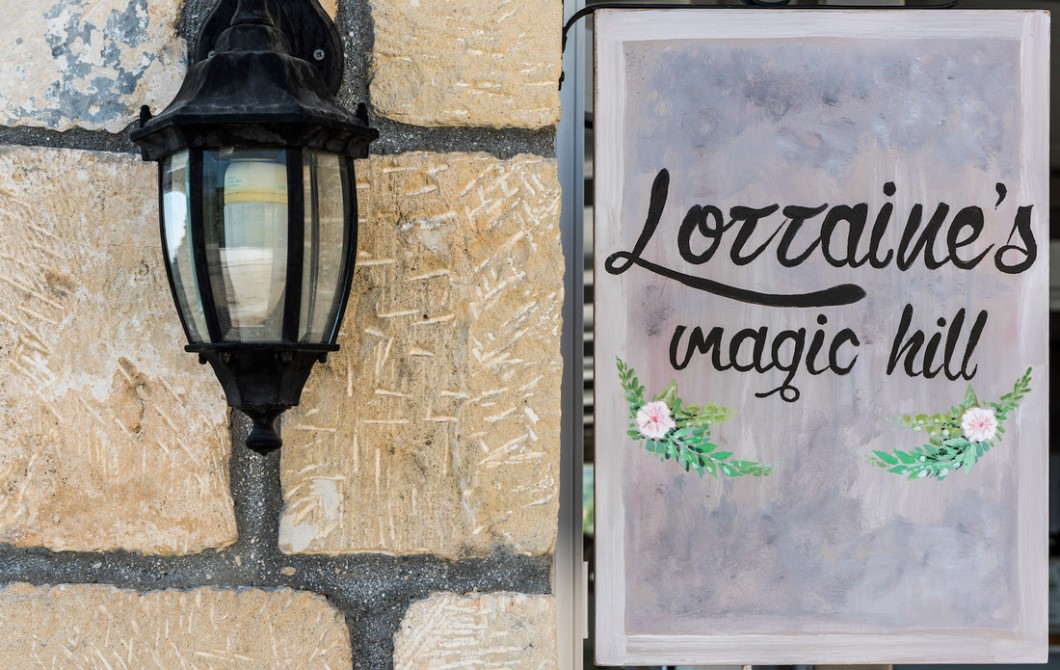 My advice for all purses and groups: be you couples or families is enjoy this stretch from the airport to Lourdata. For beyond are the ports of Sami and Poros and the resorts of Katelios and Skala where the hotels, villas and apartments are less lovingly composed, the beaches less golden and the water less swimmable. April and October, the two bookends of the season, are the ideal times to go when it's not too hot and yet is wonderfully peaceful.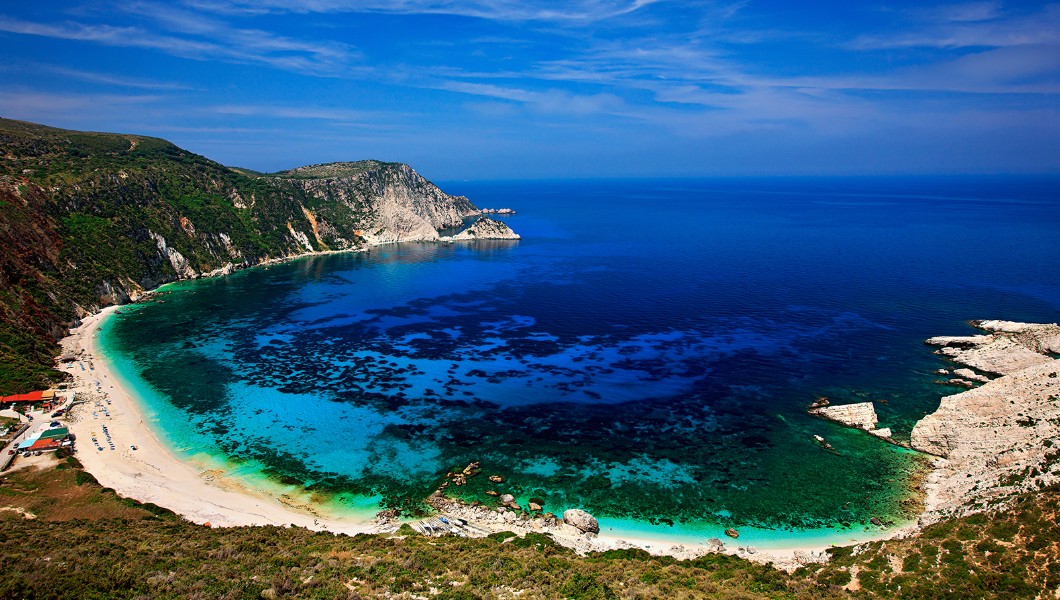 Having previously recorded my experience of Kefalonia's 'northern niches' in Fiscardo and 'southern shores' in Lourdata I just had to complete my exploration of the island with the 'western waves' of Paliki. Paliki creates a unique geographic shape with its long gulf beginning at the wetlands in the Bay of Livadi, a protective environmental area, gently then to emanate into the Ionian Sea. Here again I was to savour a completely different landscape and feel from the rest of the island. Pronounced and protruding were bluffs and bumps, clumps and humps amid fertile hills that grew out of a clay soil ideal for vegetation and with a green that is remarkable, rather like Puglia, for the southern Mediterranean.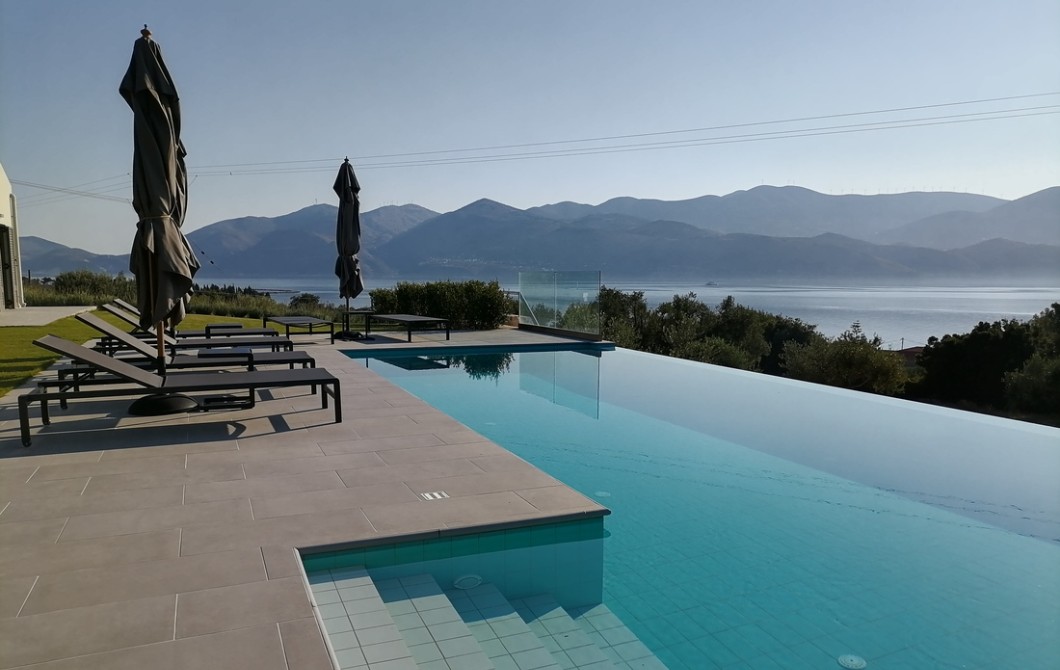 This mazy contoured landscape with its mini-peaks and plains took me right back to my childhood and the maps of The Hobbit. Newly-finished and where I was fortunate enough to stay, is Elia Villa, a swish villa and in walking distance of Lixouri, the local town. It has a supreme setting beneath a craggy bluff and backed by gorgeous groves of olives whose woody aroma, from being picked and scorched, proved the most joyous of welcomes. It looks out to a mesmeric panoramic prospect across Kefalonia's major gulf that possesses as much grace and serenity as the Italian Lakes. Here seagulls hover over fishermen's boats and ferries glide like swans with a constancy in stark contrast to the ever-changing light from sunrise to sunset. For, as the heat departs, the pink sky arrives over a teal or turquoise water on which the moon then reflects and towering above which are the hills and Mount Ainos beyond. A prize position for such a zen gem.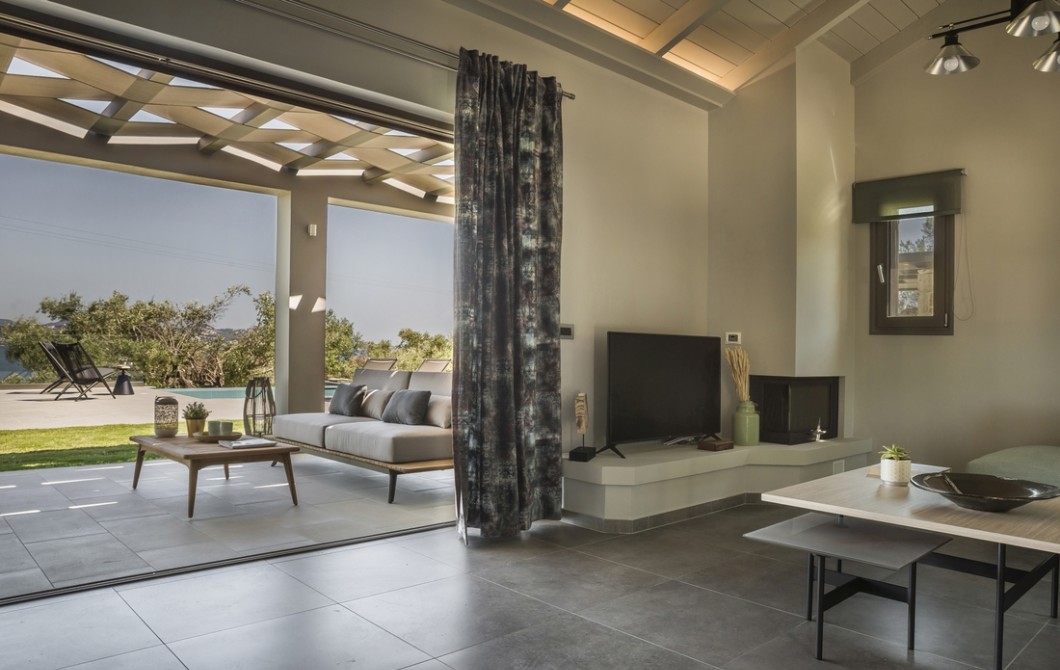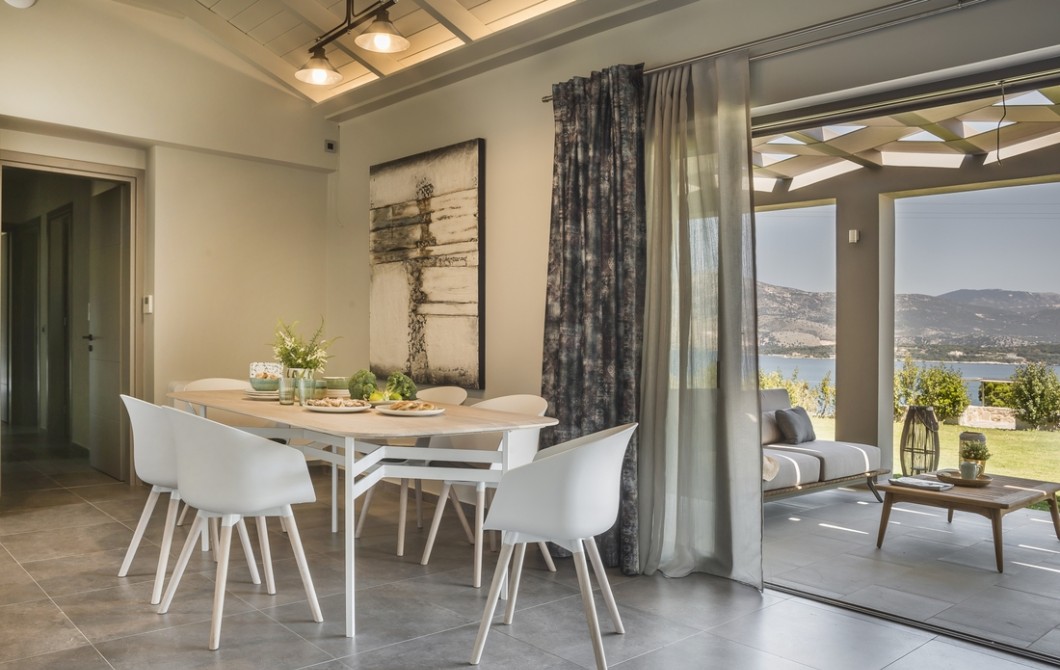 I stepped out of the widened doors to the patio where inside meets outside with seamless continuity. The infinity pool actually finishes in front of olive groves from which at night crickets whistle like referees to combine sublimely in that Mediterranean way with a full galaxy of stars.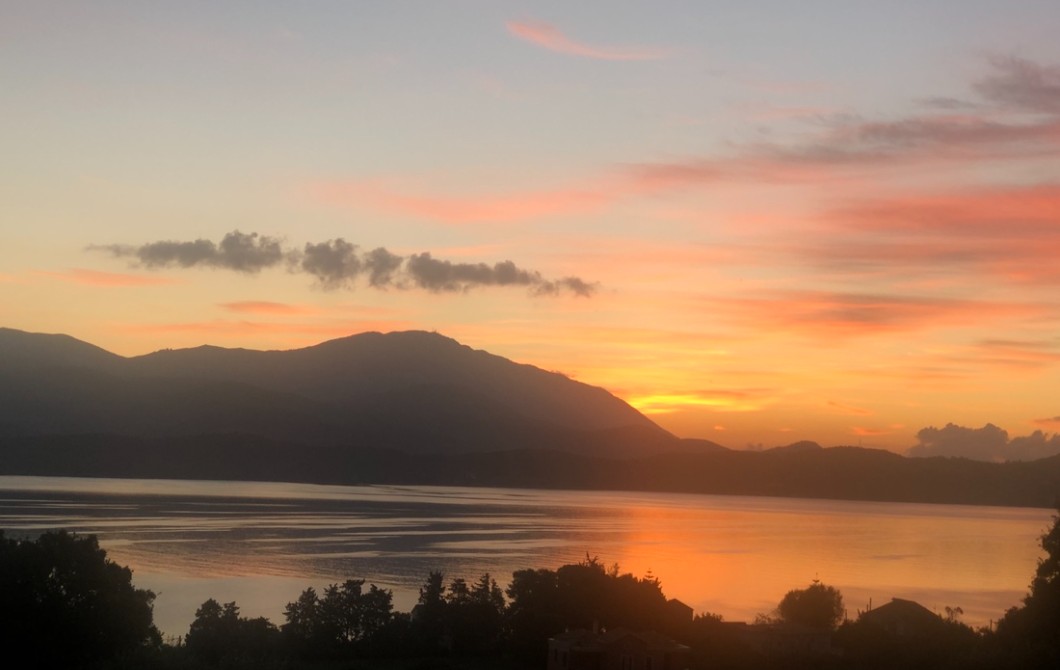 Alongside the port I came to the excellent restaurant Bella Mangia. This hidden gem is special in Paliki in offering an Italian dimension and it's perfect for families as the kids could have a pizza while the parents enjoy restaurant food. What joy to discover that my sea bass, perfectly grilled, moist yet crisp, had come fresh from the neighbouring fisheries.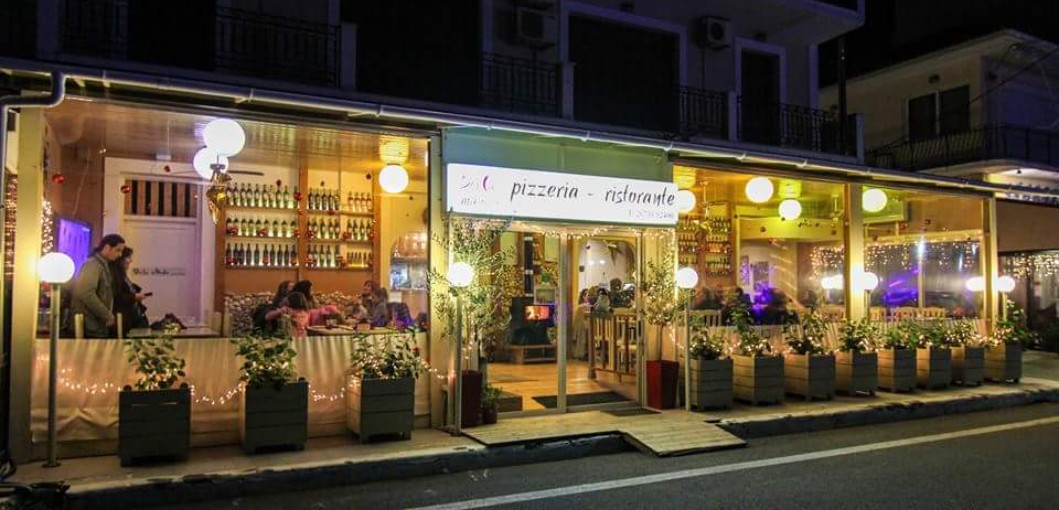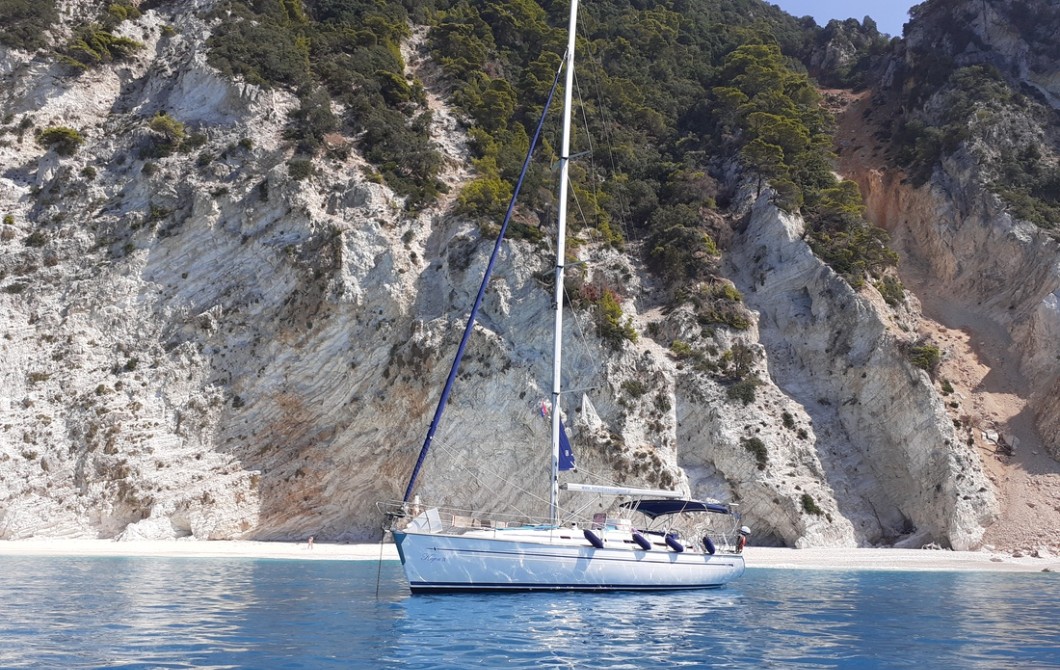 Also on the portside was the restaurant Akrogiali, meaning coastline, and true to its maritime character were old wooden beams above pictures of the harbour and ships from the old days. Here I tried the 'spanakopita', a favourite, comprising of spinach and feta within its flaky filo pastry beside a codfish with potato and garlic mash. I could imagine sitting out in mid-summer on the roof terrace, above diners spilling out onto the street, to watch people alighting from the ferry and local kids trying out their push bikes.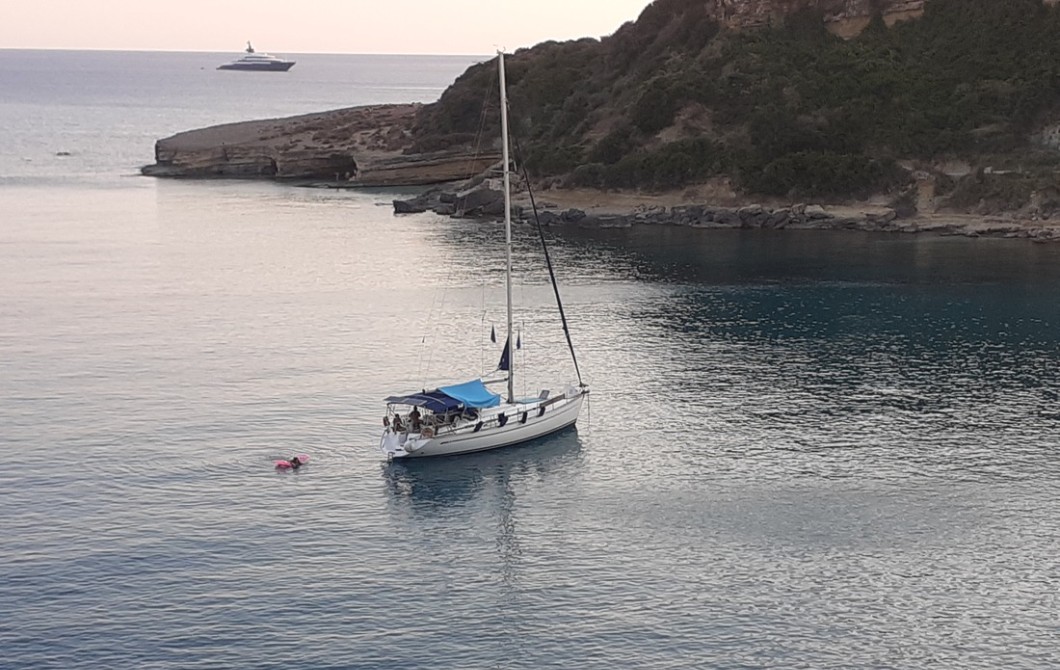 Another day I went with Kefalonia Sailing Point, whose charming skipper Nikos Hionis was clearly at one with his 44 foot-long yacht. He has won inter-island prizes for his mastery of the sails and knows the Ionian Sea like the back of his well-wrought hands. Accomplished, humourous and unobtrusive, Nikos makes the perfect host to take you on one of his lengthy trips. He took me out from the inland and across to the uninhabited 'Rabbit Island' an on to the golden and fabulously long strand of Xi beach. To crown such a special outing, on returning through the gulf, I chanced upon a school of dolphins flipping joyously back from the food that spills out of the fish farms of Argostoli to dance majestically and magically before the sunset.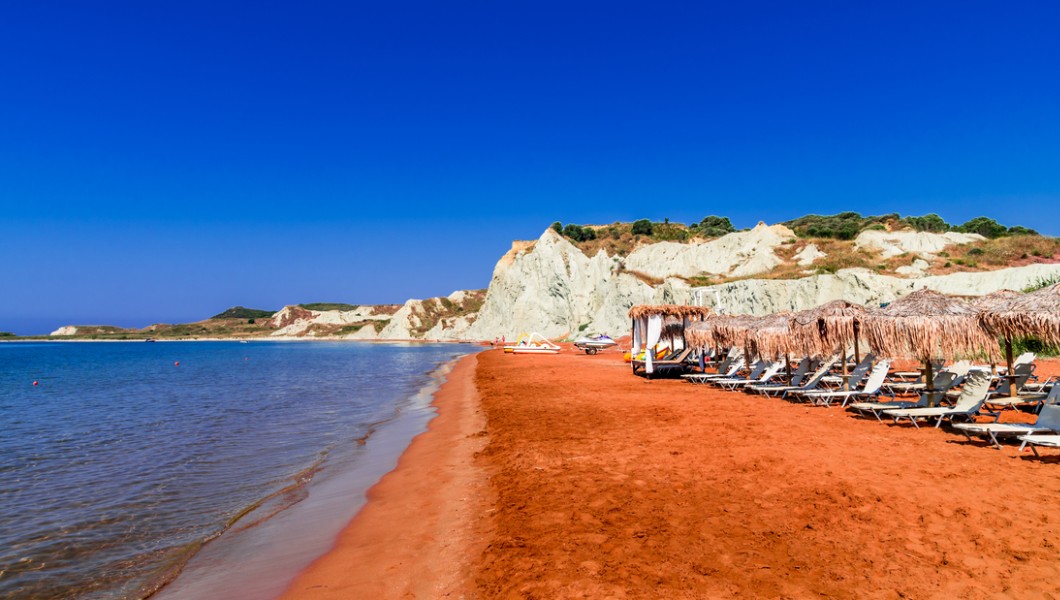 The beach Xi (pronounced 'Chsi'), named after the Greek letter whose shape it resembles, is the ideal length for a proper walk beneath cliffs of white argillaceous cloying clay, a smear for spa-going types upon their skin for its natural ingredients. The beautiful red sand changes mesmerically into a spicy colour at dusk from ginger to both cinnamon and cumin while the sunsets provide extra magic over what Homer described as the wine-dark sea perhaps with Kefalonia in mind.
I must go back, whenever but soon!