They call it The City of Peace, but it was war that inspired the rise of Sharm el-Sheikh. After occupying forces twice took control of the former fishing village – during the Suez Crisis of 1956 and then again in the Six Day War of 1967 – an enhanced naval presence inspired commercial development of the area. Before the land was handed back to Egypt in 1982, there was already a marina hotel, a nature field school, several diving clubs and a promenade that exists to this day. Then began the indefatigable ascent of "Sharm", a city that quickly mushroomed in popularity both in and out of the Arab World, with Russians, Brits, Germans and Italians leading the charge, flocking to dive and imbibe in the golden Sinai sunshine.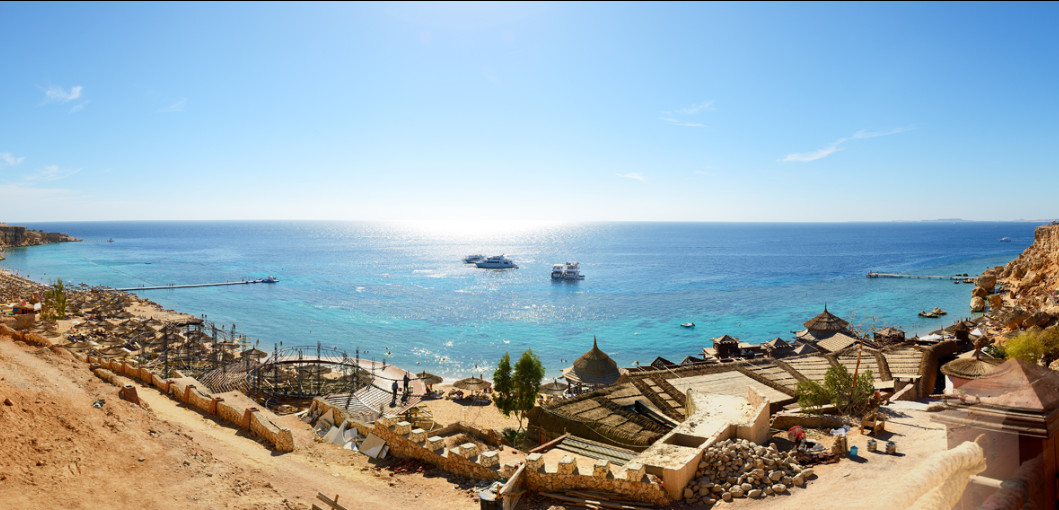 The exotic appeal created a formidable destination, and it's not hard to see why. Long stretches of natural beachfront, incredible coral reef diving, lively nightlife and investment from the world's top hoteliers. Between 1982 and 2000, the number of resorts jumped from just three to a total of 91, with more than five million people flying into Sharm el-Sheikh International Airport annually. The rise continued until a devastating terrorist incident in 2005 – the deadliest in Egypt's history, which deeply dented tourism numbers. Recent years saw the honeypot lose more ground to other diving locales as new resorts vied for attention and air travel continued to become more affordable, but Sharm somehow stood its ground until another fateful incident just over a year ago.
On October 31, 2015, Metrojet Flight 9268 crashed to earth due to a terrorist incident. The inbound flight from Saint Petersburg dominated the 24-hour news cycle around the world, sending a left hook to the local resorts' booking. Within a week, all British and Russian tourists were repatriated. A follow up hit came when UK media claimed that some five-star hotels were scanning guests' luggage with "dummy" devices, fuelling the fear for holidaymakers, tour operators and government travel advisories. Sharm el-Sheikh suffered a knockdown, with hotel occupancy plunging throughout 2016, down 70 per cent according to the tourism ministry's own stats. But a year on, the resort town is showing resilience. While the UK government maintains a ban on flights to Sharm, airlines from Germany, Belgium and Turkey are once again jetting to Egypt's premier resort and it's not all doom and gloom – certainly not on the ground. Holidaymakers line the beaches during the day and fill the shisha cafes at night. Sharm has maintained its buzz and energy, with tourists displaying a breezy confidence in and around the destination. The spirit is somewhat reminiscent of Beirut, which has seen its fair share of turbulence, but remains en vogue as a city escape full of charm and revelry. Here, in the Sinai, it doesn't feel like defiance, it simply feels like a holiday town.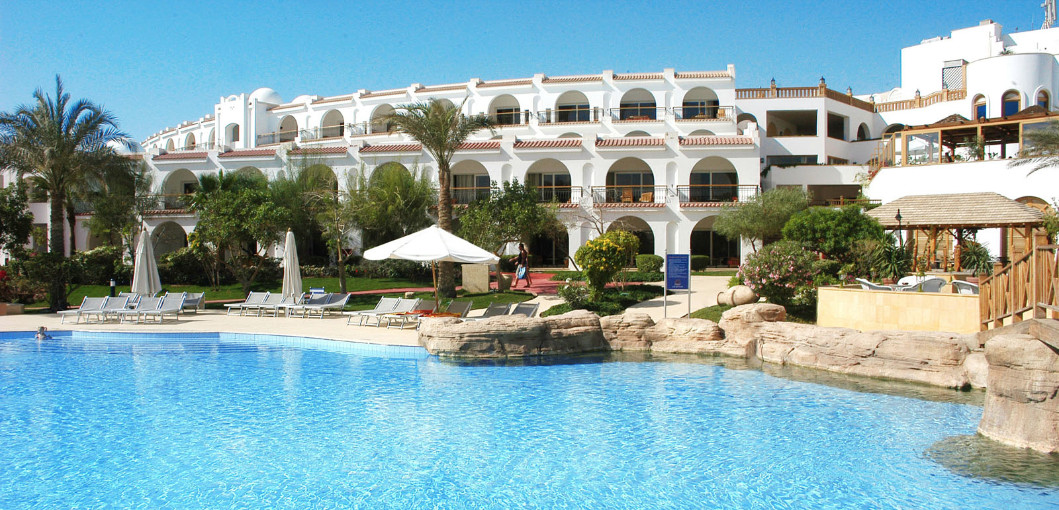 My recent stay was at the SAVOY, a five-star resort adjacent to SOHO Square entertainment centre at the heart of the city. The vast and sprawling complex shows just how heady things were in the halcyon days, up until the early 2000s, with an amalgamation of four properties straddling the beachfront; Villas; Royal Savoy; Savoy and Sierra. Checking into a pool-view room, there was a clear emphasis on volume, having strolled past seemingly countless chalets, kiosks and restaurants (I counted a total of 28), but the pristine room showed an enduring attention to detail. After a splash at the beach, and a hard sell from one of the hotel staffers for a shave and a haircut – I retreated back to freshen up for dinner. Attempting to book a table at Asian dining venue "Eest" warranted no less than five forwarded calls, complete with hold time, before finally being advised, "Ah! But Eest is closed on Mondays." Alas. Rolling with the eccentric chaos of the place (or should we call it charm?), I ended up sampling the buffet venue, which does a roaring trade each and every night, and enjoyed some French brasserie fare at L' Entrecôte, which belongs to the connected Royal Savoy Villas, also appearing to have some joie de vivre about it.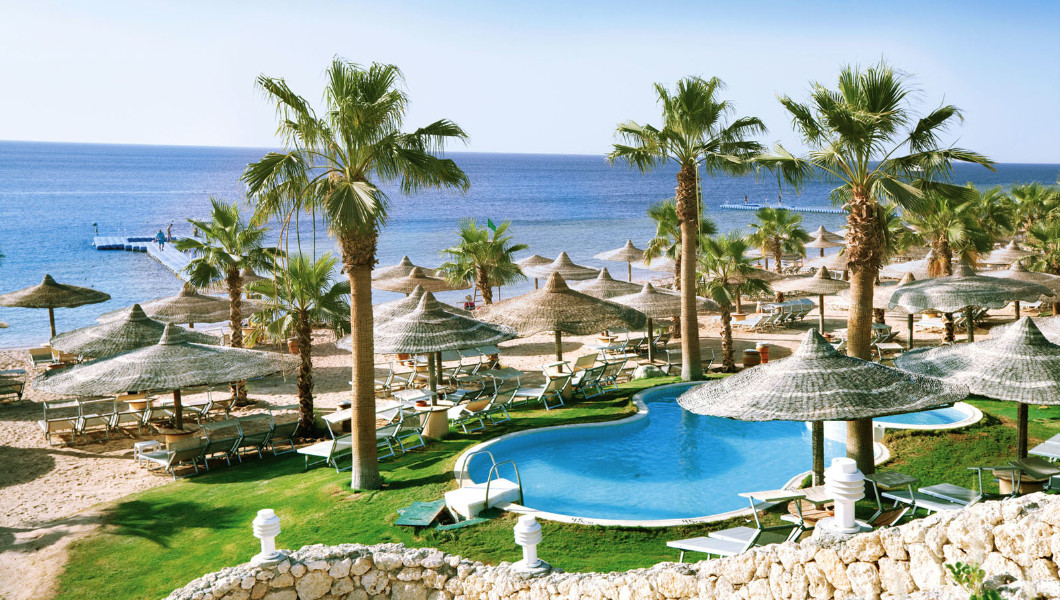 After travelling to Cairo, I craved the feeling of space, so to satiate my need for headroom, I visited nearby Ras Muhammad National Park. When the Sinai was placed back in Egyptian hands and tourism began to grow in the early '80s, the park was designated as a no-go area from fishing and protected from urban sprawl. Until then, some fishing techniques had even included dynamite, which didn't exactly go hand in hand with coral reef preservation. We should be thankful to the Egyptian Environmental Affairs Agency who listed the marine reserve in 1983. Essentially a peninsula on the peninsula, the name literally translates to "Mohammed's head" as the nearby cliffs appear like the profile of a bearded man's face, complete with horizontal strata for the nose and bearded chin.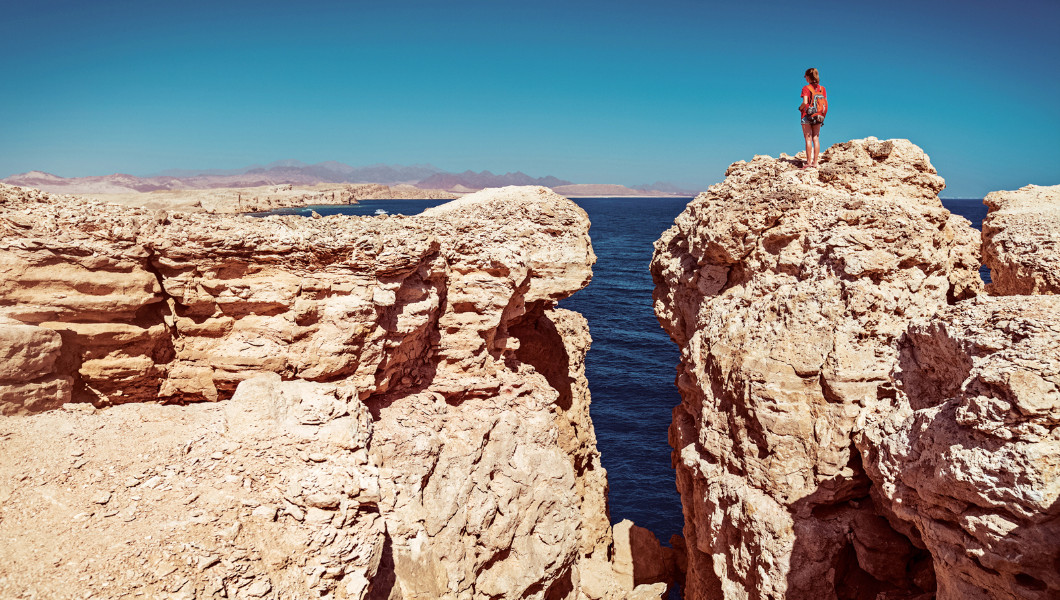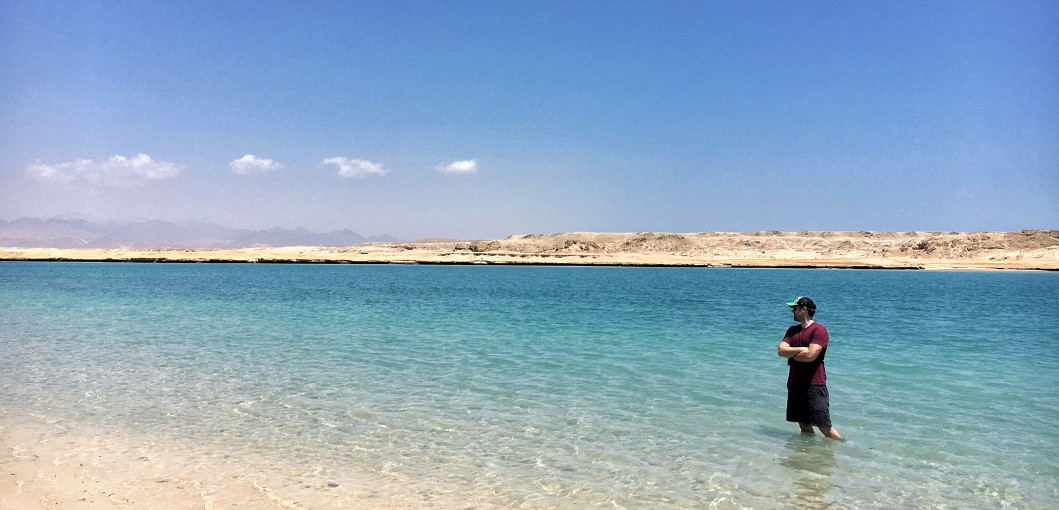 In these natural surrounds, space is assured, with 135-square-kilometres of land and 345-square-kilometres of water, including magnificent lagoons and reef diving sites. From mangrove turtles to leaping dolphins, the outstanding site is a stunning contrast to nearby night haunts like Naama Bay, which transforms into an '80s throwback at nightfall with a high street packed with neon-lit refectories and majlis-style karaoke/dance joints. By day, however, Sharm's neighbouring town purrs more gently, with a steady trickle of glass-bottom boat tours, hovering inches above some of the most bulbous coral formations in the world. A far cry from "Brits abroad" in their Primark bikinis, some veiled women bathe in the shallow water – something my guide revealed is technically forbidden in the region, as to not upset the fragile European arrivals any further.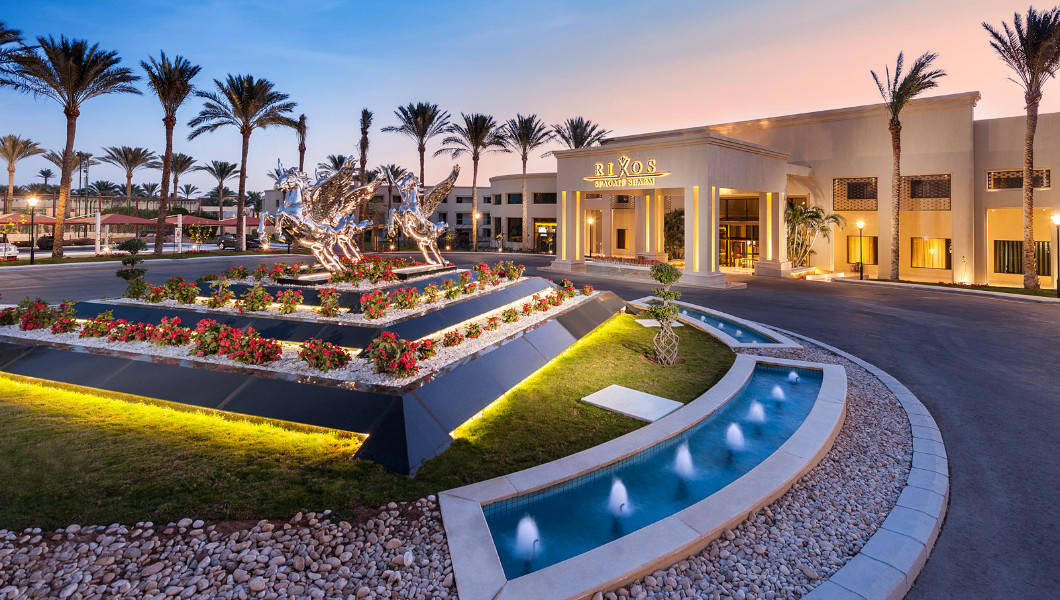 On that note, I covered up just a tad for a visit to Rixos Seagate Sharm, the newest five-star opening in the Red Sea region, complementing the pre-existing Rixos Sharm el-Sheikh and neighbouring the area's Amwaj and Radisson Blu properties. What sets the opening out from the crowd is the resort's "Ultra All-Inclusive Concept (UAI)" concept, which extends to all 783 rooms, suites and villas. The deal means indulgent bliss from beginning to end, with food, drinks and activities all available and included in your given rate. With extensive Rixy Kid's Club facilities, nine restaurants and eight pools on your doorstep, you'll be tempted to stay on site, but the resort's crowning jewel is truly the Rixos SPA.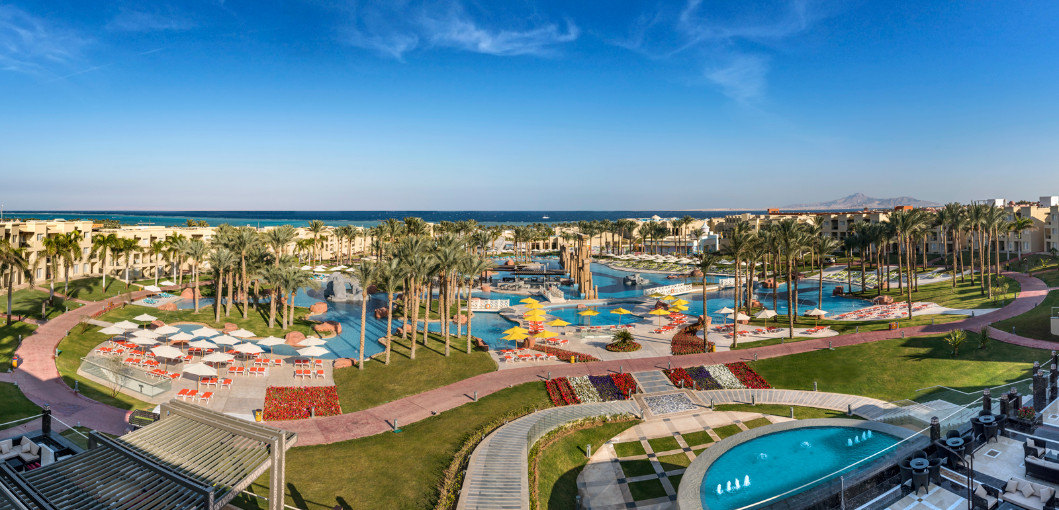 The large facility houses Asian- and European-style massage treatments, as well as pristine (practically brand new) steam rooms, saunas, a Jacuzzi, and a stunning hammam-style Turkish bath where guests can sample a traditional foam massage, or opt for a distinctly less soapy Thai, Balinese or Indian offering. The magnificent new-build has suffered from horrendous timing, having been due to open summer 2016 with a packed house. As it turned out, the mostly Russian and British clientele (and their respective tour operators) were dissuaded by aforementioned tragic events.The biggest reaction from Egyptians when hearing about my trip to Sharm – a mixture of Cairo and Alexandria residents and UAE expats – is "why Sharm?" The legacy destination has it draws but some of its stiffest competition is domestic. Locals are flocking to Egypt's "North Coast" region like never before. Just a couple of hours drive from Cairo, the Mediterranean strip has seen increased traffic in recent years, with second home ownership spring boarding tourism developments, such as the luxe Seashell North Coast villas and chalets in Sahel.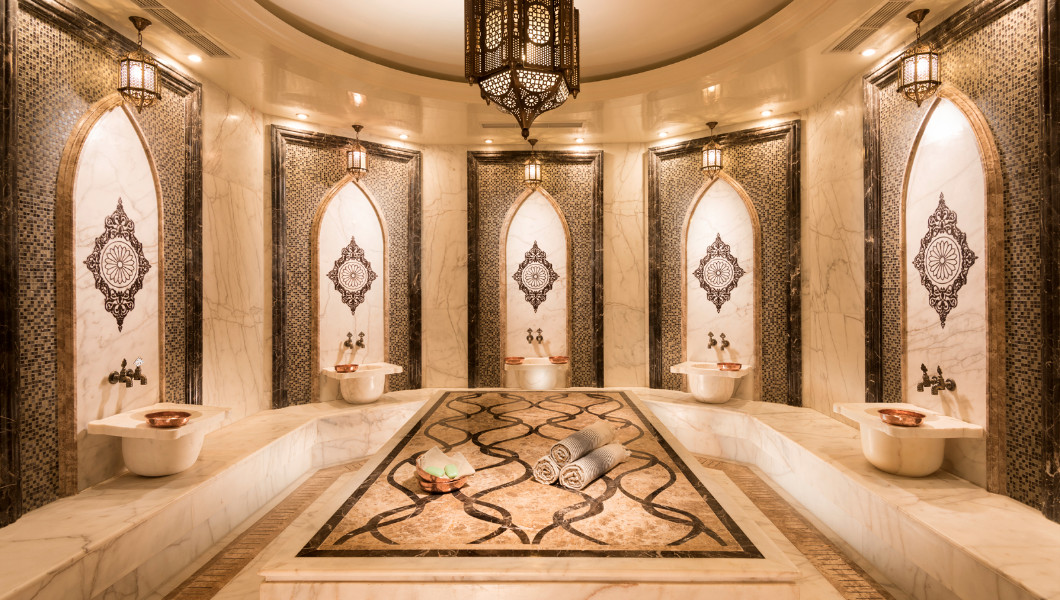 Further south, the neighbouring El Gouna is perhaps Sharm's most formidable opponent, occupying a small stretch of coast across the Suez. Despite nearby Hurghada having its own security concerns after a January 2016 knife attack re-ignited Egypt's tourism woes, Gouna has appeared to up the cool factor as the choice for weekending millennials and New Money antics. With 18 hotels, including a Steigenberger and a Mövenpick, and two 18-hole golf courses, it's a laid-back leisure destination with frequent flights and shuttles operating from Hurghada International Airport. Despite the rise of new alternatives in Egypt's north and south, many holidaymakers apparently still find some charm in Sharm, though it remains to be seen how the Egypt's former tourism king fares in a brave new world.
Stay:
SAVOY
+20 69 3602500
www.savoy-sharm.com
Rixos Seagate Sharm
+20 69 3710 130
www.seagatesharm.rixos.com