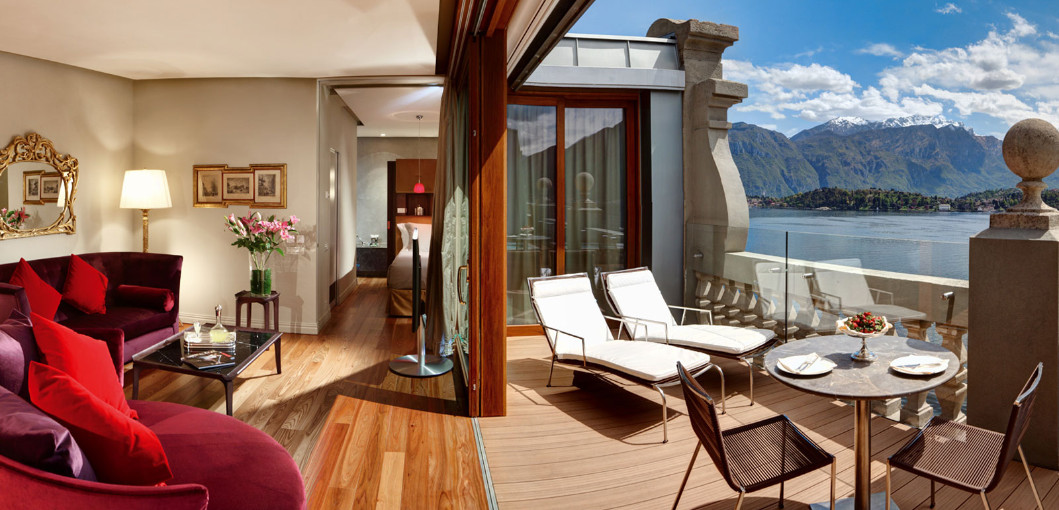 The moment I walk into Saraceno, an alluring boutique tucked into a winding, cobblestoned street in Bellagio, perhaps Lake Como's best-known waterside hamlet, I feel my heart sing. It's a diminutive shop, artfully curated and set up in such a way that every point of view awakens the senses. Helmed by owner, jewellery and textile designer, Silvia Saraceno, who worked with Giorgio Armani for 18 years, Saraceno draws me in magnetically. Surrounded by an array of colour and texture, I experience the same ardour I feel when reading a poem that speaks to me. It's the wow I note when looking at a canvas painted by Vermeer. It's La Scala, alight with full costumes and wigs. I can't explain it any other way. I'm not a shopper. But I know when I've experienced the real deal.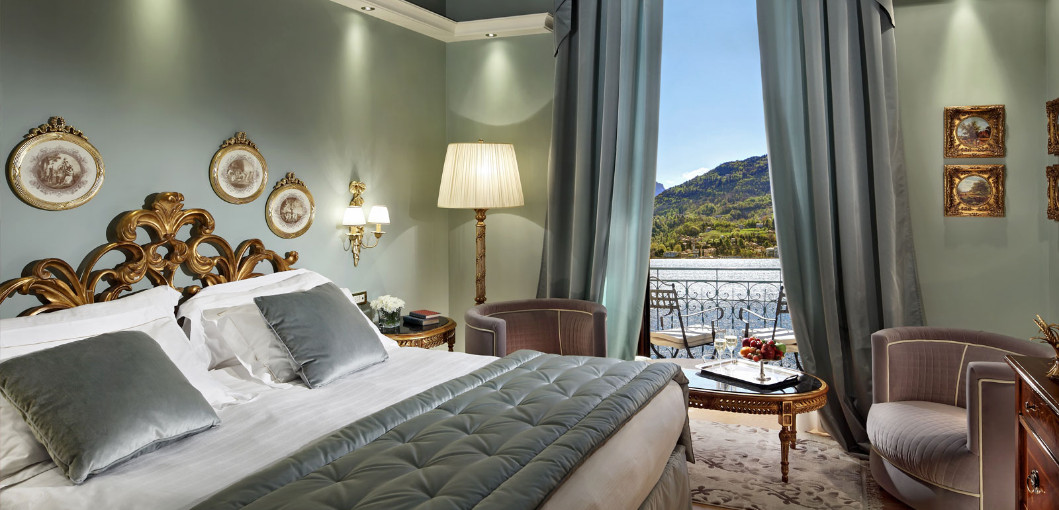 Resin bangles in a multitude of hues and thicknesses, clunky and perfectly imperfect, carpet counter tops, their irregular shape an emblematic presentation of wabi-sabi, the Japanese aesthetic concept that honours transience and flaws. Purses hang from ceilings, shiny silk scarves, folded, pop out amid other handmade jewellery – from necklaces to earrings. Italy, known for its style and panache, is encapsulated in this graceful store. The entire nation exudes a soulfulness that goes beyond appearances, and in Como that is distilled mythically. From old to new, in restaurants and hotels, on people's feet and around their necks, from buildings to beverages, aesthetics prevail. But it's more than adornment. It's not about showing off for anybody else or dressing to impress, and it's certainly not about being trendy. In Italy (and especially along Lake Como), what you wear, how you craft something, the way you plop the gelato scoop into the cone, all conveys a deeper message. Style, for all Italians, is how you live; it's how you share your deepest self.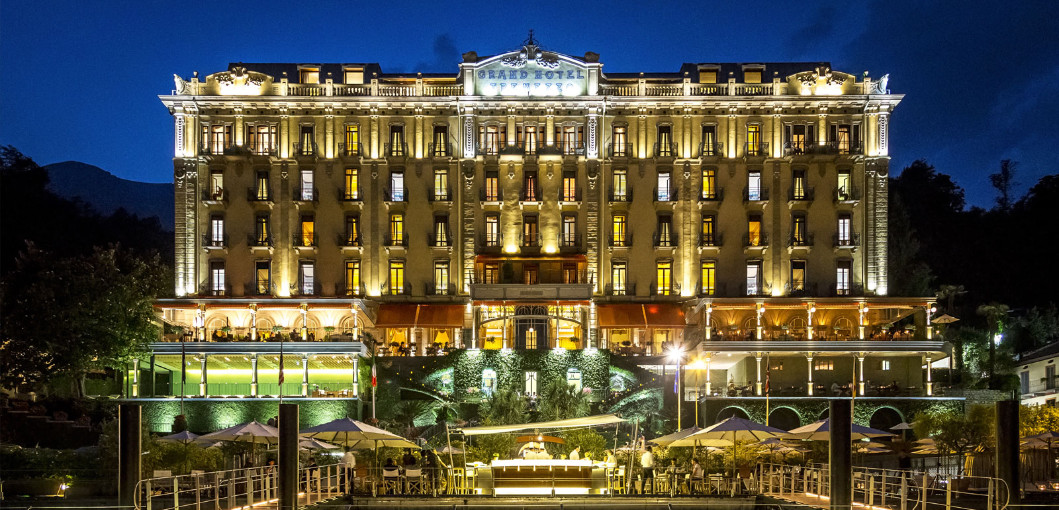 More than in Milan, where certain streets yield flagship stores that brim with designers, many now known the world over, Lake Como has a natty chic. As if to match the terrain, and the authentic tenor of the people, the sophisticated lake-scape has long been home to artist ateliers, top haberdashery stores, shoe boutiques, and one-of-a-kind fashion. Lake Como, an hour from Milan and at the foot of the Dolomites, is a place that the poet Percy Blythe Shelley described as exceeding "anything I ever beheld in beauty". Over time, this has been reflected in the pink and yellow art nouveau and belle époque architecture that comprise villages and myriad villas, which line the shores, structures channelling the romance of ancient civilizations, flaunting Greek, Roman – even Gothic – elements, all peppered with a plethora of perfumed gardens.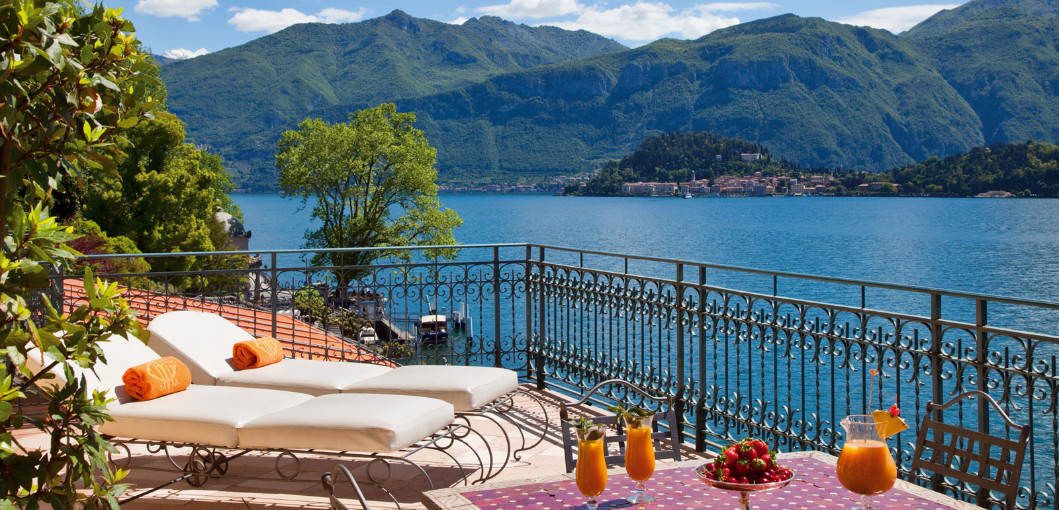 A popular refuge since Roman times, the Y-shaped lake, fringed by pine-tree-speckled mountains, harbours undulating roads that frame crystal-clear waters and careen through tunnels and along rocky precipices. They're the sort of streets made for driving red Ferraris or yellow Lamborghinis (both car brands made in the nearby region of Emilia-Romagna) with the verve and confidence of James Bond. Even so, the destination is best known today as a stellar spot to sail, windsurf, speedboat (in season) and be seen in al fresco cafés that tumble from characteristic villages to spread out over the shoreline – institutions where cheerful, white-cloth covered tables and waiters clad in de rigueuer tuxedos bring coffee in china cups and tiny, fragile glasses of Piedmont-made white wine to well-dressed patrons. Madonna has had a house on the lake, as has Richard Branson and Gianni Versace, too. But Como's most beloved denizen today is George Clooney, now the father of twins and husband to a stylish, Italian-approved wife. Residents say it isn't uncommon to run into him having a snack and nattering with locals in any number of small town bars. Though maybe it's lake legend, I like to believe it to be true, and it's worth the effort to drop into a few cafés, belly up to the bar, and order some snacks in the hope of a sighting. Even if you don't meet George, you're sure to become acquainted with somebody else just as disarming.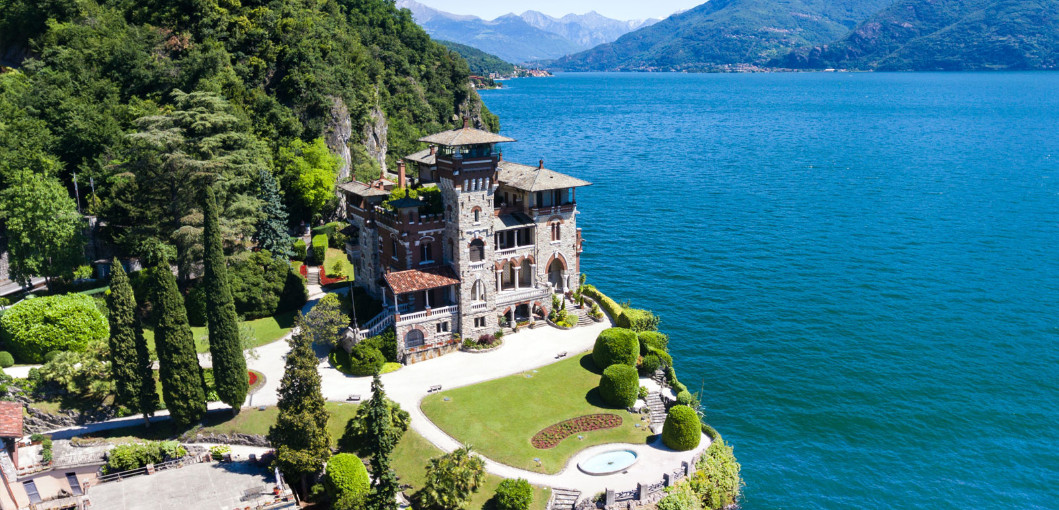 I spend April on Lake Como, turning a rooftop corner suite at the lavish Grand Hotel Tremezzo into my office. A workspace (and playground) with a view, this family-owned hotel bursts with fashionable Italian pizazz. An art nouveau palace with plenty of history, the hotel manages to honour its heritage but reinterpret grand rooms and guest suites with eye-popping style and modern élan. I can easily imagine Greta Garbo, a fur stole wrapped around her neck, her silk skirt dancing in the breeze, presiding among the great rooms here. Once a frequent guest, she now has a lake-view suite edged with an ample terrace named for her. I feel Garbo's spirit as I hobnob about the hotel, current-day celebrities and other elite guests occupying the palace's nooks and crannies around me.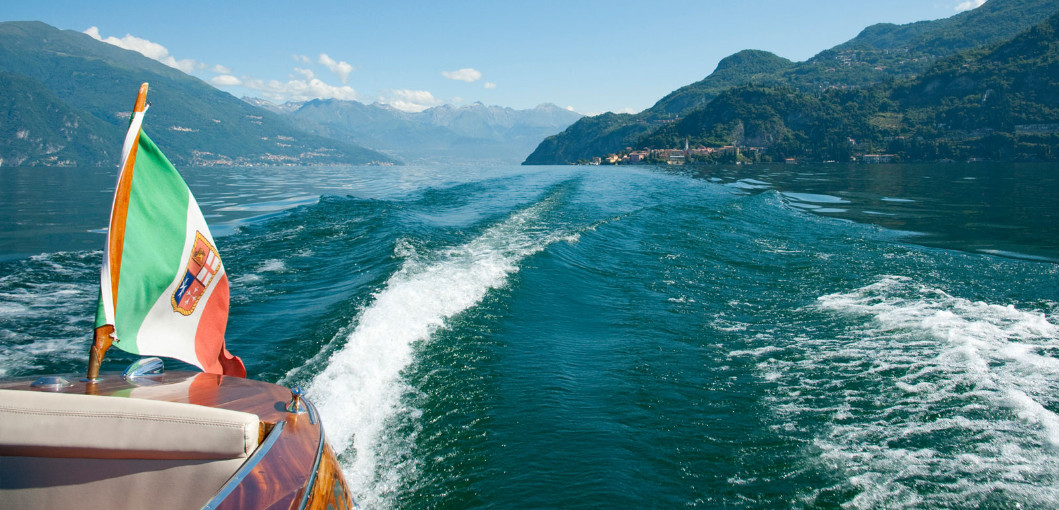 catching as a dowager empress, this palazzo rises beside Lake Como's mirror-like, cobalt waters on the edge of the tony, yet traditional, village of Tremezzo. With an ESPA, a red Alfa Romeo Spider for car aficionados to borrow, various restaurants that appeal to gourmands, and fragrant, old-fashioned gardens, the hotel brandishes two swimming pools. One pool – in the back, private and ensconced amid flowers and greenery – is the place to read novels and nap. The other – Olympic-sized and literally floating atop the lake, surrounded by a platform, and edged by a hip, happening bar – immerses one in Como's summer party vibe. Swim a few laps, rearrange your bikini, catch some rays in a lounge chair, and watch the boats and their revelling riders whoosh by. A handsome waiter won't waste much time before dashing over, his deftly balanced tray holding offerings such as piles of panini and twinkling flutes of Prosecco.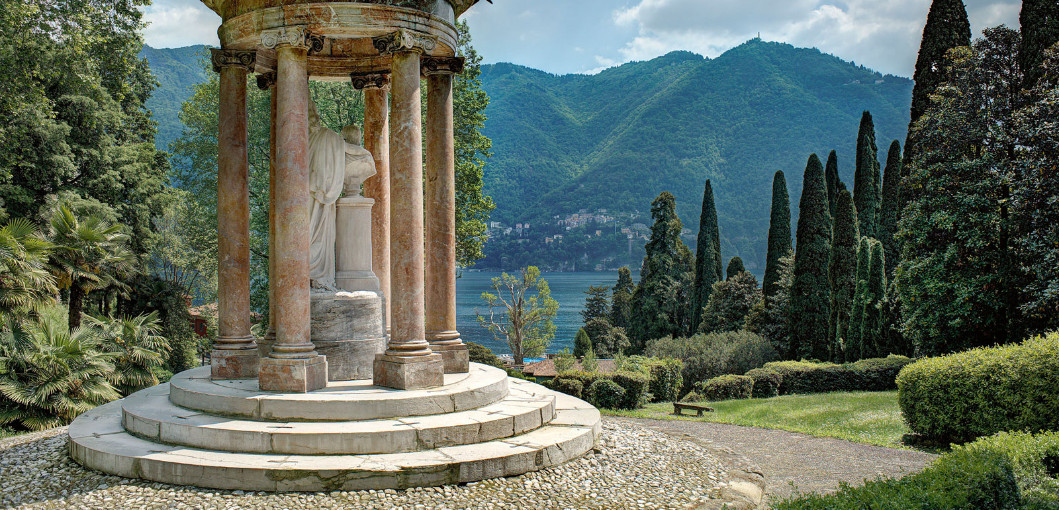 As you might expect, Grand Hotel Tremezzo (as do other top properties along the lake) has its own launch. The boat, a vintage Venetian motor launch named Ruy, is sheathed in mahogany, and comes outfitted with a skipper and guide. With the water spraying your face, the sun warming your shoulders and the villas flitting by like a fast-forward film as you traverse, it remains the best way to immerse in the Como consciousness. Silk scarf waving in the wind, large black sunglasses in place, you'll blast across the lake in classic style, all the while gazing sideways at other boaters. Plan an itinerary as I did with the help of a captain and the hotel's concierge. To explore Lake Como in style, visit Villa del Balbianello, an ornate 16th-century palazzo which punctuates an island mid-lake. Casino Royal and Star Wars: Episide II – Attack of the Clones, among other movies, were filmed here, but you'll feel like a movie star yourself as you pose along the villa's ramparts, with village vistas and glittering water behind you.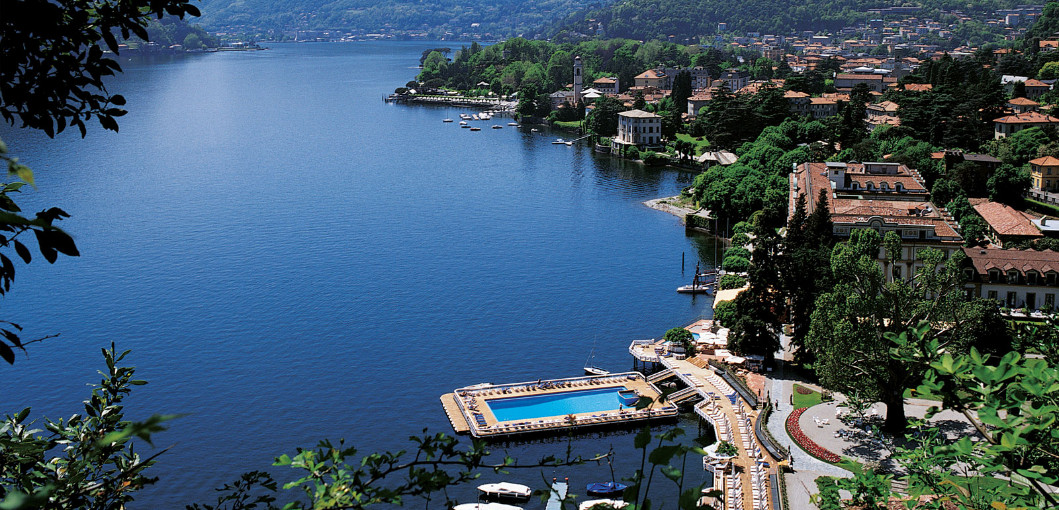 Finish a breathtaking morning jaunt with a long, lazy lunch at Locanda dell'Isola Comacina, a rustic restaurant which crowns another island. There, owner Benvenuto Puricelli will give you his best table with a view, and whisper anecdotes about his many storied guests, from Brad Pitt to Stella McCartney. After multiple delectable courses (the menu has not changed since 1947, and includes an enormous wheel of Parmigiano-Reggiano, from which piquant chunks are gouged out and placed on your plate), Puricelli will ring a bell to announce the finale: a dessert course involving a fiery cauldron, his recounting of the island's curse, and a ritual to undo it, with diners participating in the fun.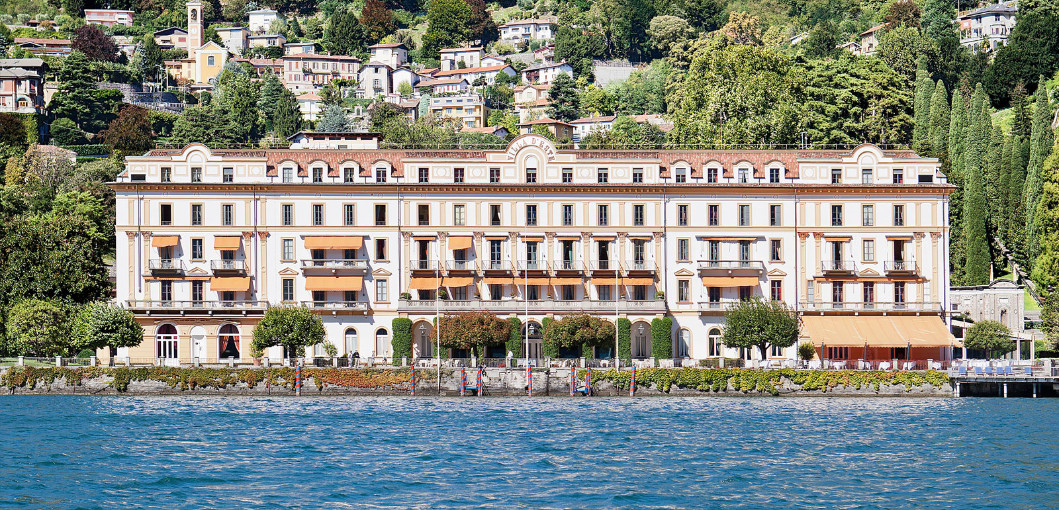 While you're likely to fall in love with whatever village you choose as your base, you'll enjoy exploring some of the others that mark the shore, as each has a distinct vibe. Idyllic Bellagio, called the "Pearl of Como" lies where the lake's two legs intersect. Griante, on the west, proffers miraculous views of the region; Menaggio's pedestrianised shopping area draws throngs; and Varenna, sometimes called the "hidden village" boasts two spectacular villas, Cipressi and Montastero. While in Cernobbio, enwrapped by 25 acres of manicured park, Villa d'Este has long been the summer playground and home to empresses, queens, cardinals and aristocrats. With the vibe of an ornate private home, it hugs Lake Como and channels old-world elegance.
After some days of lakeside life, you may feel the need for urbanity's buzz. Perhaps you've painted too many versions of Lake Como from your rooftop suite, toured too many ornate villas, or searched too frantically for George Clooney in Como's cafés. When that happens, fill your suitcase with bangles and scarves from Saraceno and head to the big city – Milan, Italy's haute fashion capital – and stay at Bulgari. Oozing swank, quintessentially a metaphor for the world's most sophisticated fashion hub, this hotel lies in the heart of the city but manages to stay hidden, like a secret garden. Modernistic, with stylish rooms, and be-seen oases, such as the Dom Pérignon Lounge & Raw Bar, this hotel is a couture shopper's dreamscape.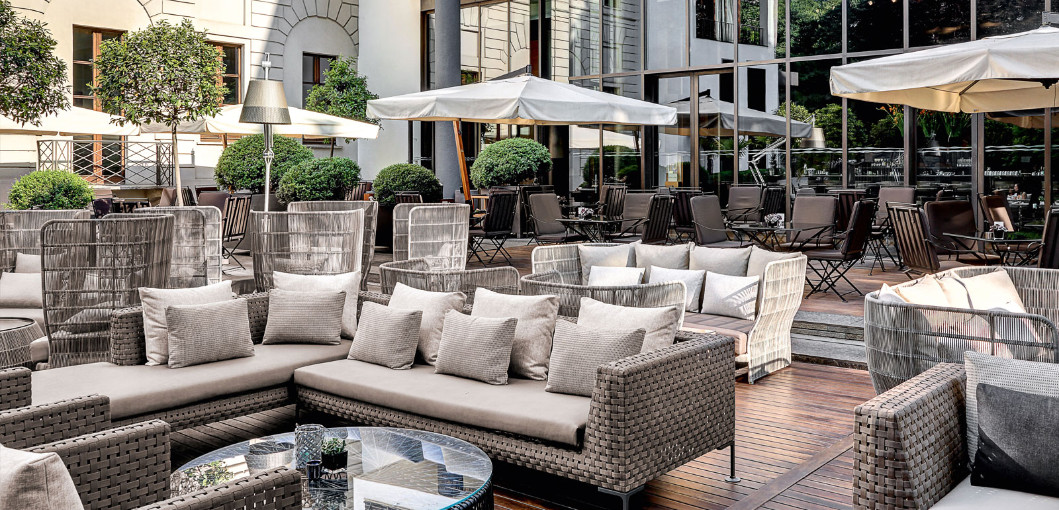 After a visit to the Duomo and a pilgrimage to see Leonardo Da Vinci's "Last Supper" (should you be so lucky to procure tickets), spend a long afternoon on the Quadrilatero della Moda, the fashion district, home to the world's premier style houses. Along the square and its tributaries (Via Montonapoleone, Via della Spiga, for example), lies a bevy of the best: Prada, Armani, Versace, Valentino, Ferragamo and more. End your evening with a front-row seat at La Scala, Italy's historic opera house, where the architecture brings as much wonder as the well-executed performances. Whatever you do, wear your bangles from Saraceno, and keep your eyes open. You still might run right into George.
---
Stay:
Grand Hotel Tremezzo
+39 0344 42491
Villa D'Este
+39 031 3481
Bulgari Hotels & Resorts, Milan
+39 02 805 8051