With more than 8-million inhabitants and traffic jams that rival Sao Paulo's, it's no wonder Bangkok can seem intimidating to a first time visitor. All too many tourists bypass this dynamic, exotic and cosmopolitan city, slip on their Havaianas, and make a beeline for one of Thailand's 8,000 islands or 2,000 miles of coastline. But who's to say you can't enjoy the best of both worlds, with a few days of cultural immersion in the capital, capped off with some R&R on one of the country's famed beaches? My destination of choice is Phuket's eastern shores, said to boast some of the last idyllic and unspoiled views on the rainforested, tourist-sullied island.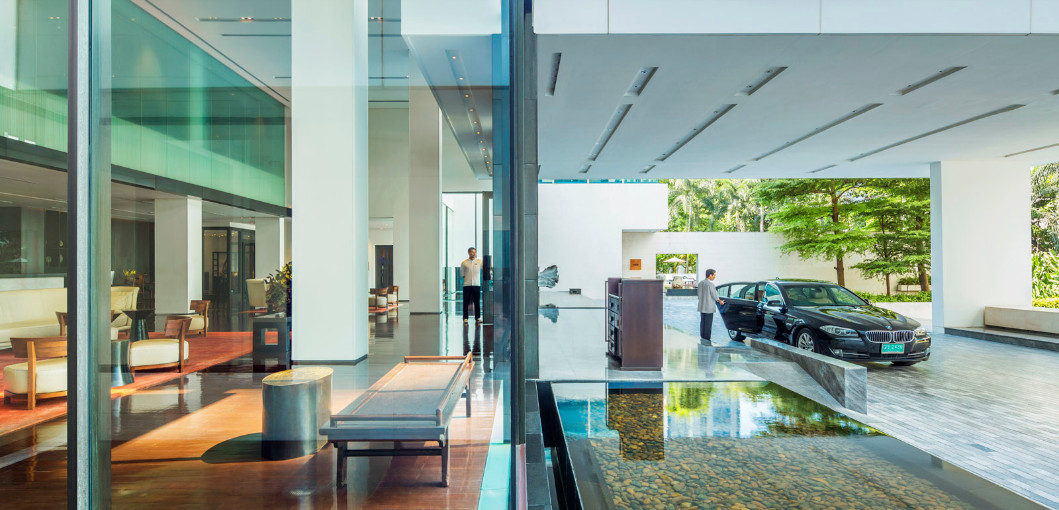 SANCTUARY AND THE CITY
Any bonafide traveller knows that the key to nailing the city-slash-beach holiday is doing it the right way around. So I dive straight in to the chaotic, bewitching city of Bangkok first, which doesn't take long to sweep me up in its relentless energy. There's no denying that the Thai capital is an assault on the senses. Thankfully, I'm quickly transported to another plane of relaxation as I arrive at COMO Metropolitan Bangkok, an urban oasis near to Lumphini Park and the city's embassy district. As the entrance doors part, I'm engulfed in the scent of eucalyptus, peppermint and geranium (the COMO brand's signature scent) a welcome antidote to the traffic-choked air outside.

An army of stylish staff, kitted out in black uniforms by Comme des Garçons, usher me through the light-flooded lobby, where I'm greeted with a chorus of 'sawàt dii!' (a common Thai greeting). The discreet luxury hotel, a sister property to London's Metropolitan, is a far cry from its former use as a YMCA building. This is largely owing to design guru Kathryn King, a Singaporean interior architect, whose East-meets-West design concept is refreshingly non-bling by Bangkok standards. Staff wear Armani footwear and there are Giorgio Armani designed bathrobes in the guestrooms; cues to King's background, spent styling boutiques for fashion luminaries such as Miyake and Dior.

Some of the hotel's 169 rooms are amongst the most generously proportioned the city, with the smallest starting at 26 sqm. My suite is all clean lines, outfitted with teak furniture, a makha-wood parquet floor and a soothing palette of coconut and cream, with a handful of oriental antiques rendering an aesthetic of restrained, modern Thai elegance. The goose-down duvet and 500-thread count Egyptian cotton linen is all-too inviting for a jet-lagged travel writer, so I opt for the oversized limestone bathroom's walk-in rainforest shower, which promptly jolts me out of my soporific state.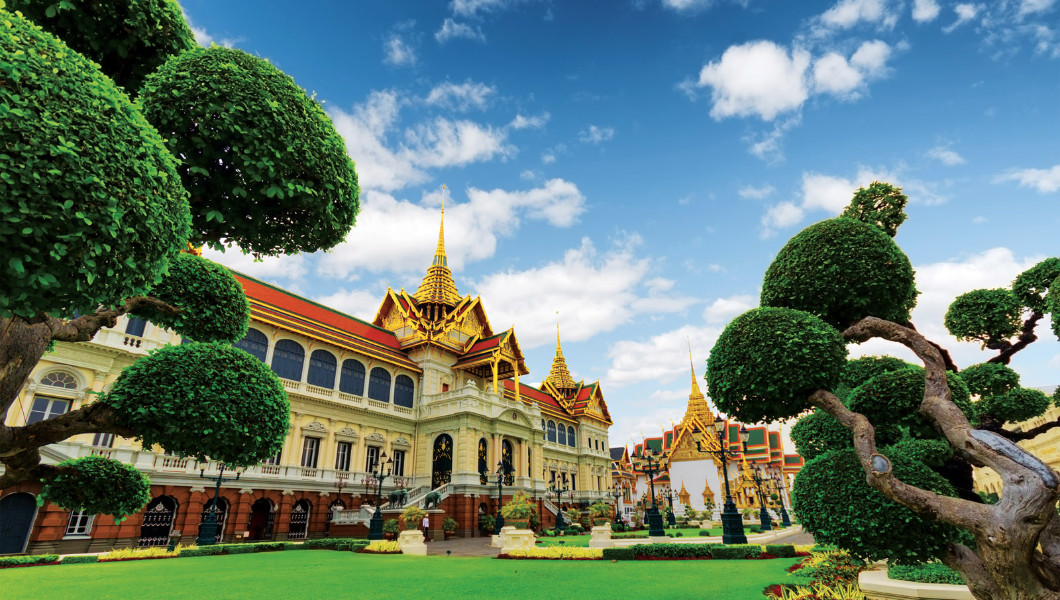 Keen to exploit my newfound verve, I leave my COCO cocoon for the big city lights. A 10-minute taxi ride takes me to Sathorn Central Pier on the bustling Chao Phraya River, also known as The River of the Kings. Public ferries, cruise boats and heavily laden rice barges converge on Bangkok's main aorta, which meanders past the city's most noteworthy sites, while offering a glimpse into local life. My traditionally-adorned, private long-tail boat (which you can pick up at most floating docks), glides by elaborate temples, crooked houses and the occasional floating flower barge, before dropping me at Tha Chang Wang Luang Pier. From here you can take a leisurely walk to the city's most famous landmark; The Grand Palace. This vast, 200,000 sqm, Asian-European style palace complex is a vision of regal splendor.

Built in 1792 as the royal residence of the Thai King, it has been seat of the Thai royals for over 150 years, and is still used for official ceremonies by the current king. Within its fortified perimeter walls, porcelain mosaic-tiled pillars, gilded roofs and 18th century murals vie for your attention, whilst lawns and leafy courtyards offer respite from the heaving crowds. Its showpiece is the reclining, Emerald Buddha statue (Wat Phra Kaew), carved from a single block of jade, and said to be one of the most sacred sites in the country.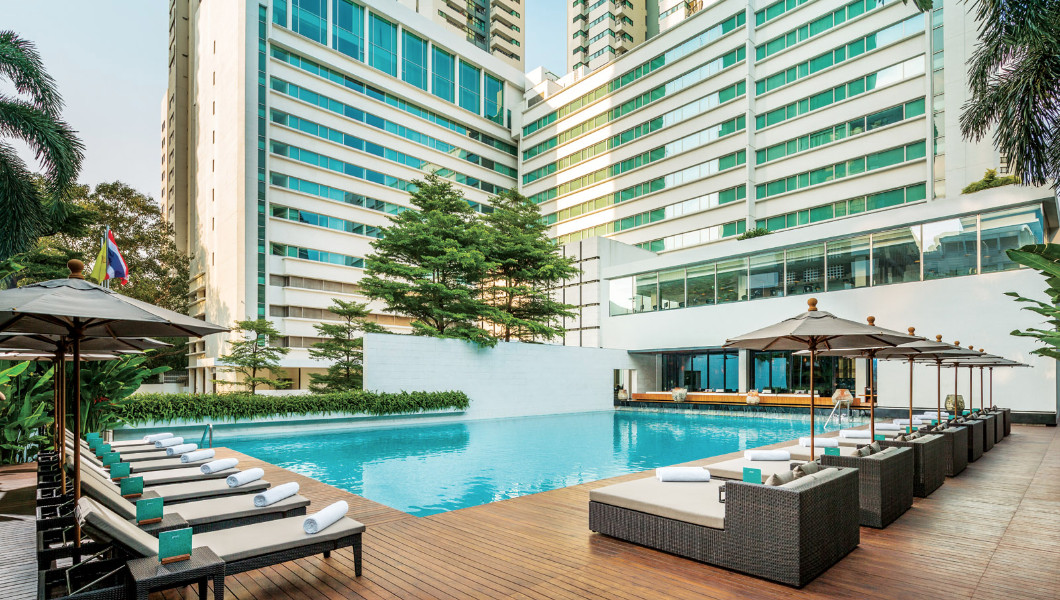 With a groaning stomach, I hop into a VIP tuk tuk (the breeziest, and often speediest mode of transport) to the city's street food mecca, Chinatown, which was settled in the 1780'sby Chinese merchants. Being one of the largest Chinatown's in the world, its maze of gold shops, temples and markets can be overwhelming, so it's wise to get your bearings on Yaowarat Road – the main throughfare. As I stroll past Chinese pharmacies and charming old shop houses, vespers weave in and out through incense-cloaked air, while street-side chefs tempt me with steaming wanton mee and sticky rice desserts. If you're feeling frazzled, seek solace in one of the many temples or historic coffee shops, like Yi Sheng, which has been serving up aromatic brews since 1927.

With my cultural and gastronomic cravings more than satisfied, I retreat back to the COMO Metropolitan for some mental quietude. Between the daily roster of tai chi and yoga, its holistic spa and Glow café's organic eats, it's difficult to feel anything but zenned out at this urban sanctuary, which, in keeping with the brand, has a steer towards wellbeing. I take up afternoon residence at the pool, flanked by double-bed sun loungers, and staffed by attendants who ward off dehydration with watermelon and lemongrass-scented cold towels.

EASTERN PROMISE
It doesn't take long for me to shake off the city and slip into an island state of mind, as we carve through swaying palm trees on the impossibly scenic 30-minute drive from Phuket's international airport to COMO's Phuket property, Point Yamu. Dramatically positioned on a craggy headland overlooking the Andaman Sea, the 106-room resort lies on Phuket's east coast; the less-traveled side of the island. My first impressions of its modernist and unremarkable exterior are soon forgotten in the huge, open-sided lobby, which wows with n centerpiece of floral-decorated, stacked wooden coffee tables, set beneath swaying lobster-trap lampshades.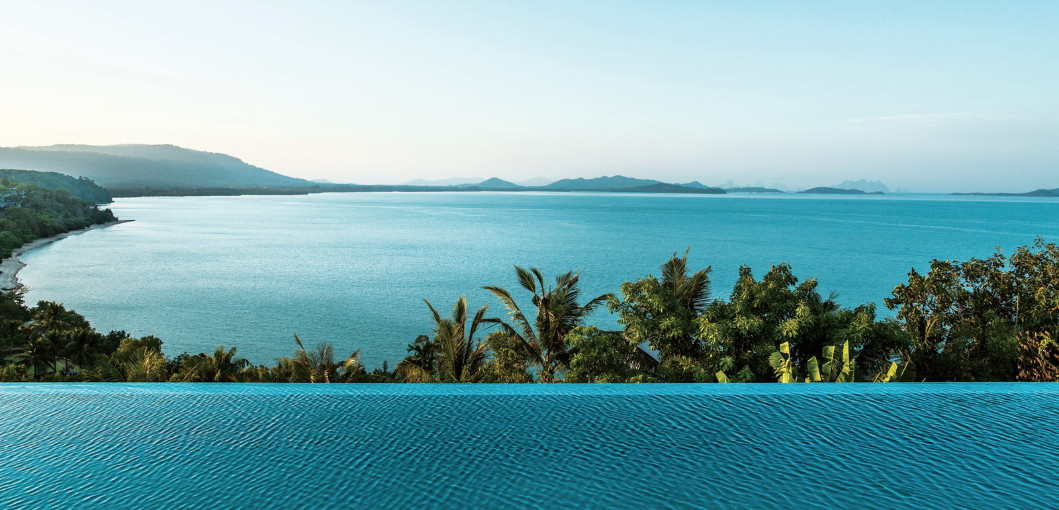 With a welcome hibiscus refreshment in hand, I'm whisked to my Bay Pool Suite via a series of rather austere, grey corridors. Thankfully, colour comes flooding back the moment I step foot in my suite, with bright aquamarines that recall the sea and burnt oranges that take a cue from Thailand's Buddhist culture. The décor's contemporary look is the work of Italian designer Paola Navone, who combines Mediterranean-inspired styling with thoughtful indigenous touches, like Buddhist water bowl offerings used to store toiletries. The aquamarine tiled bathroom, anchored by a huge circular bathtub and illuminated by a chandelier of suspended lights, is sure to impress design buffs. Equally insta-worthy are the floor to ceiling windows, which frame a private infinity pool that lures me in for a pre-lunchtime, cooling dip.

Poolside La Sirena restaurant is the perfect spot to indulge in some dolce vita, and vitamin D, I discover. Wood fire pizzas and antipasto platters are on the menu, as well as COMO's signature, cleansing Shambhala spa dishes, such as pineapple and poached aloe vera salad and cocoa and cashew cheesecake, best washed down with one of their therapeutic wellness juices. The real draw, however, is the view. Beyond the 100-metre infinity pool are views over Phang Nga Bay, a UNESCO World Heritage Site of four dozen limestone karst outcrops, immortalized in the 1974 film, The Man with the Golden Gun.

While the resort may not fulfill all your Bond fantasies, it can turn you into Robinson Crusoe, well, for an afternoon at least. On the uninhabited island of Rang Yai, the resort has a private offshore beach club reserved exclusively for guests. After being shuttled to the pier, we board a speedboat for a 15-minute voyage across the bay, where a secluded swathe of chalky sand, ensconced in tropical jungle awaits. There are 13 private pavilions, a saltwater pool, two spa treatment rooms, a restaurant and water sports centre that are more than adequate for a modern-day luxury castaway. Back on dry land, I try out one of the resort's more pulse-pumping complimentary activities, a Thai boxing class, which is held daily on the lawn. Thailand's centuries-old national sport, which has been around since the 16th century, is a great way to work up a sweat, and gain a deeper understanding of this ancient martial art form.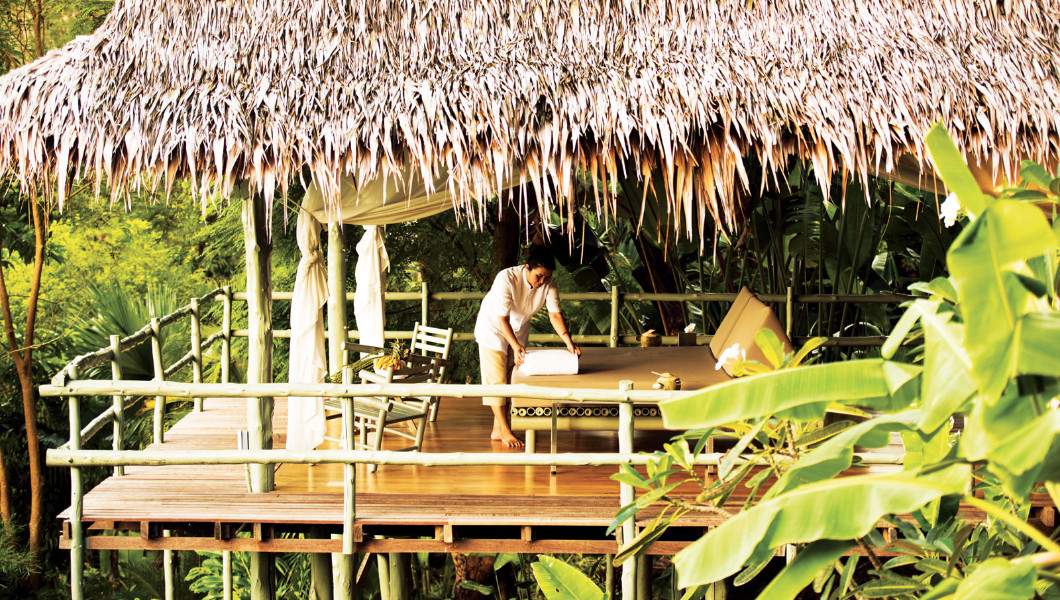 Inspired by Paola Navone's use of Sino-Portuguese interior flourishes, I dedicate my last 24-hours to exploring Old Phuket, which is the only colonial township of its kind in Thailand, and dates back to 1511. Phuket's history has been shaped by tin mining, which gave way to a unique cultural mix of Siamese, Chinese, Malay, Indian and Eurasian, known as 'Baba' or 'Peranakan' heritage. The area around Thalang, Dibuk (which translates as 'tin') and Krabi Roads is one of the city's most timeless quarters, where terraced shop houses (dwellings of Chinese owner-traders who lived where they worked) line the streets.

Some of the best-preserved Chinese row houses, or Sino-Colonial style architecture, can be found along Thalang road, connected by a series of arcades under which you can walk. Many have been re-imagined as artist-owned studio-galleries, boutiques and hipster coffee haunts, but the facades are worth the trip here alone. Their pastel-painted louvred windows, glazed tiles and elegant stucco edged pillars should be enough to convince you that Phuket isn't just a one-trick (beach) pony.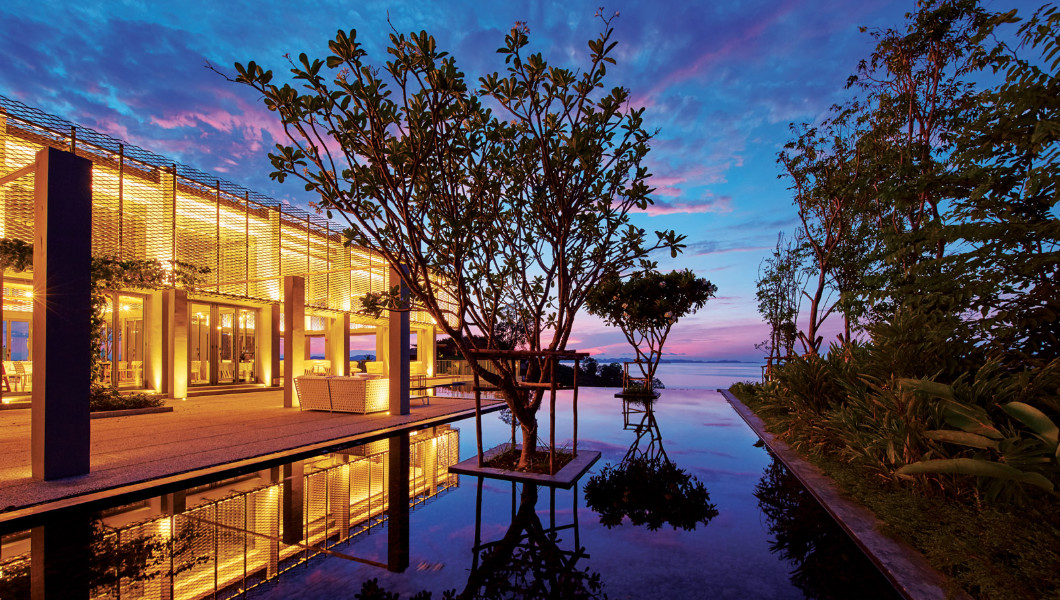 As the sun sets on my penultimate evening in Thailand, I reflect on my whirlwind week over sundowners at the resort's Aqua Bar. This little slice of Andaman paradise has restored my faith in an island that has been over-run by tourists; its laid-back charm and bountiful nature perfectly offset Bangkok's chaotic mix of old and new. Just three days ago I was following my nose on a tour of Bangkok's Chinatown, and tomorrow I'll be enjoying the island hopping wonders of Phang Nga Bay. A country of wonderful contrasts I muse, best enjoyed with a little bit of sand between your toes and a cultural appetite to take on the capital.