I'm standing near Place Madeline on a rainy March night scouring my purse for the carnet of metro tickets I had only just purchased. The deeper I dig, the more bizarre the objects I uncover. My daughter, her expression both quizzical and triumphant, reaches into my pocket, shakes her head sadly, and procures the tickets. "You are hopeless!" she exclaims. "How do you ever get along without me? I don't think I should let you travel alone." Grateful, I grab her by the hand and we race to the metro entrance. All the while I think about the truth of her somewhat admonishing, rhetorical question: How do I get along without her? There once was a time when I captained our journeys, but now, my daughter – my absolute favourite travelling companion – has become the pro. Wasn't this my goal when I packed her up as a babe, and lugged her through the great cities of Europe? I knew it would be life-changing, mind expanding, and absolutely fun; what I didn't know was how it would impact her maturity, self-sufficiency and sense of self. Europe – especially Paris – for kids might well be the greatest child-rearing tool of them all.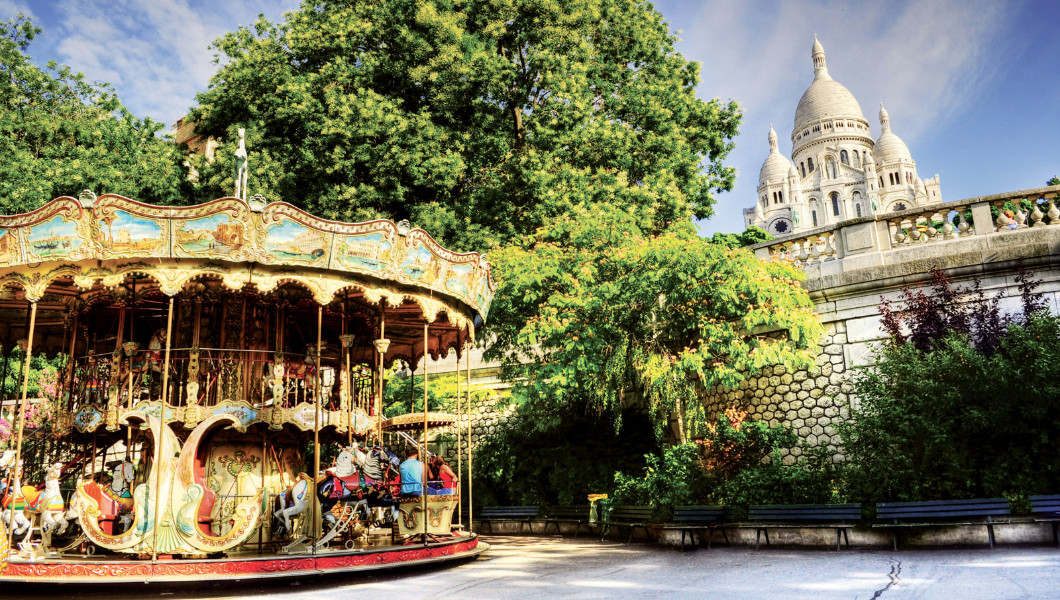 My daughter and I began going to Paris twice a year when she still travelled by stroller. By the time she was six, she had fallen so passionately in love with the golden city, that she scolded me for the fact that we didn't live there. At age eight, with authority, she could tutor her friends on what to do when they visited. This involved her opinion on the best merry-go-rounds in the city (the antique one at Jardin du Luxembourg and the double decker at Montmartre), what to eat (crêpes slathered with Nutella, or croque monsieur sandwiches, Bertillon ice cream from the flagship on Rue Saint-Louis en l'Île, and macarons from Ladurée), what to drink (thick, hot chocolate at Angelina, near the Louvre), where to see the Mona Lisa, her favourite painting at the time, though she's long since moved on to Vincent Van Gogh's work and, thus the Musée d'Orsay. She even has opinions on where to stay, and is quite smitten with Hotel Le Meurice, probably because Yannick Alleno – who just won three Michelin stars for two restaurants simultaneously – once personally made her an off-menu green salad as tall as a tower and a simple plate of steak frites. Across from the Jardin des Tuileries, home to the British-style Bar 228, lorded over by William Oliveri, head bartender, this stylish hotel is a must for fashionistas. But all you really need to know about this one-time palace is that Salvador Dali was a former resident.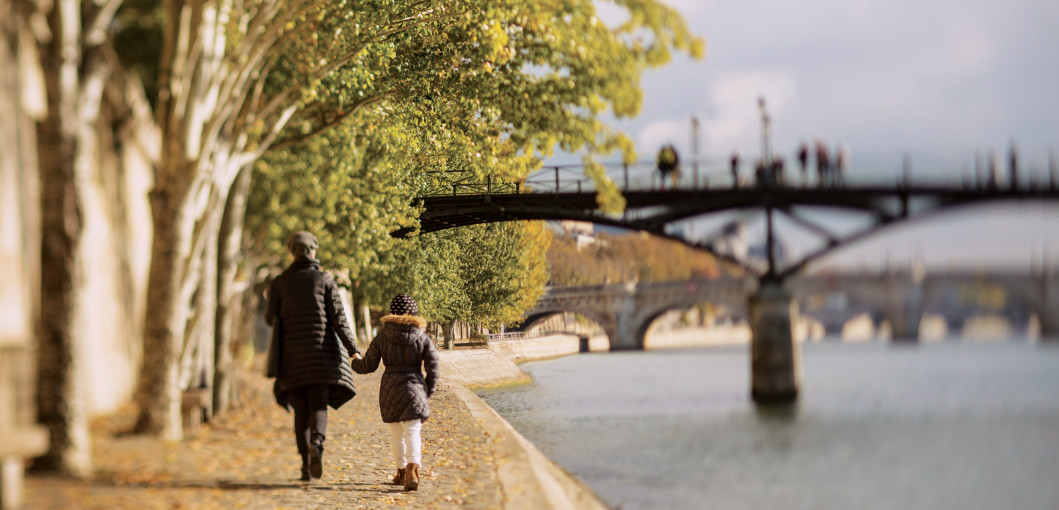 My daughter is also a fan of Four Seasons Hotel George V for the flowers – long-styled with glamorous flamboyance and architectural élan by superstar artistic director Jeff Leatham. With the publication of the 2017 Michelin Guide, this dazzling property, just steps from the bustling Champs-Elysées, became the first luxury hotel in Europe to be home to three Michelin-starred restaurants (True confession: I've stayed for a weekend and never left the hotel). She also swoons over the history and views at the exotic, swank Shangri-La Hotel, Paris. The jaw-dropping former home of the Napoleon Bonaparte's grandnephew, Prince Roland Bonaparte, this regal stay offers suites with ample views of the Eiffel Tower, a Michelin-starred Cantonese restaurant, Shang Palace, and easy access to the fashion houses along Avenue Montaigne.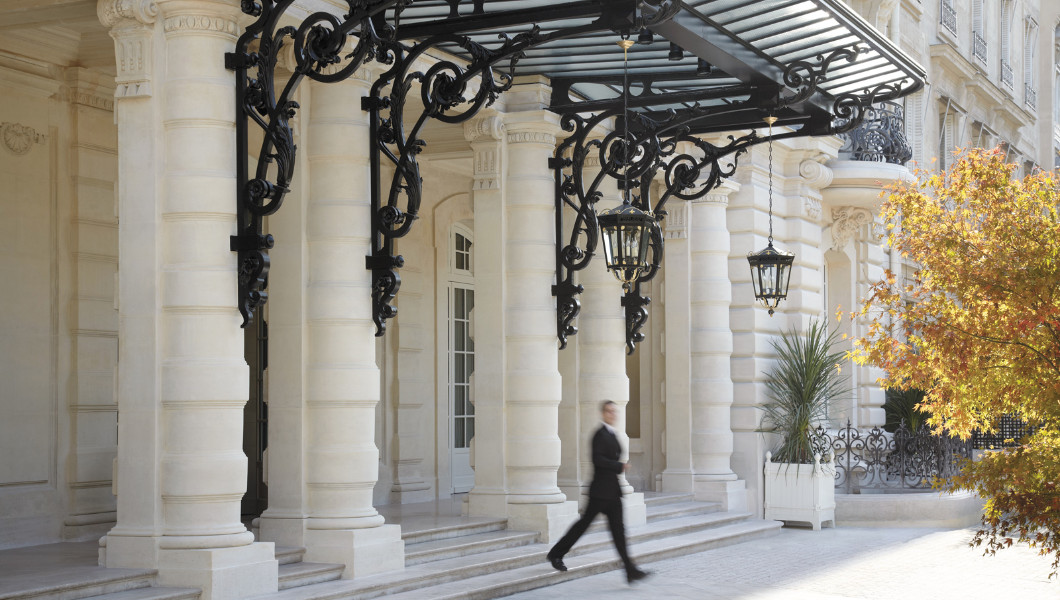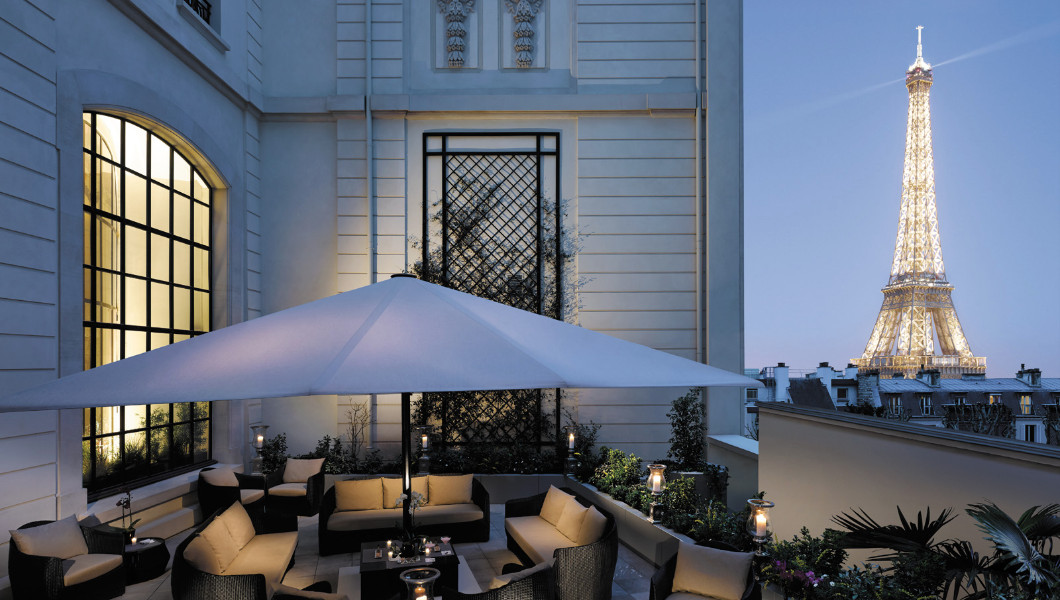 Though Paris has become friendlier, like most big cities with harried denizens and an urban rhythm, it can feel cold. In spite of my awful French, I find that travelling to Paris with my daughter warms people up. Drawn to her bold fashion statements, fearless attempts at beret positioning (read: rakish angle), and clear passion for the city, Parisians open their doors for us. With her, I never have to wait in a museum line; instead, we are approached by security and allowed to enter first. At markets and boutiques, she is ushered into the back room and given chocolate; and along the Seine, she is smiled upon and called "jolie," again and again. With her, sites and sights that I had long taken for granted, such as the Lady and the Unicorn tapestries at the Musée national du Moyen Âge (formerly the Cluny), came to life again. A walk in Le Jardin du Luxembourg suddenly becomes a chance to sail miniature boats in the pond, not just a place to cut through on the way to somewhere else.

A visit to the top of Notre-Dame de Paris to see the chimerae, in spite of the long line and the abundance of steps, casts us into a fairy tale. The pastel-stained fingers on the artists at Place du Tertre suggests the talent of Henri de Toulouse-Lautrec. And, a ramble through the (rather frightening) catacombs, among a chattering, terrified group of Japanese tourists, becomes a memory we titter about years later.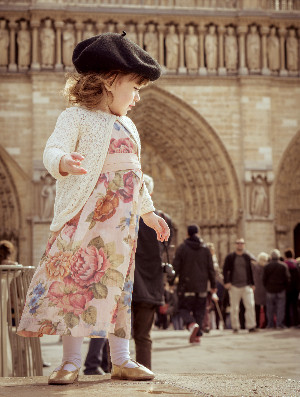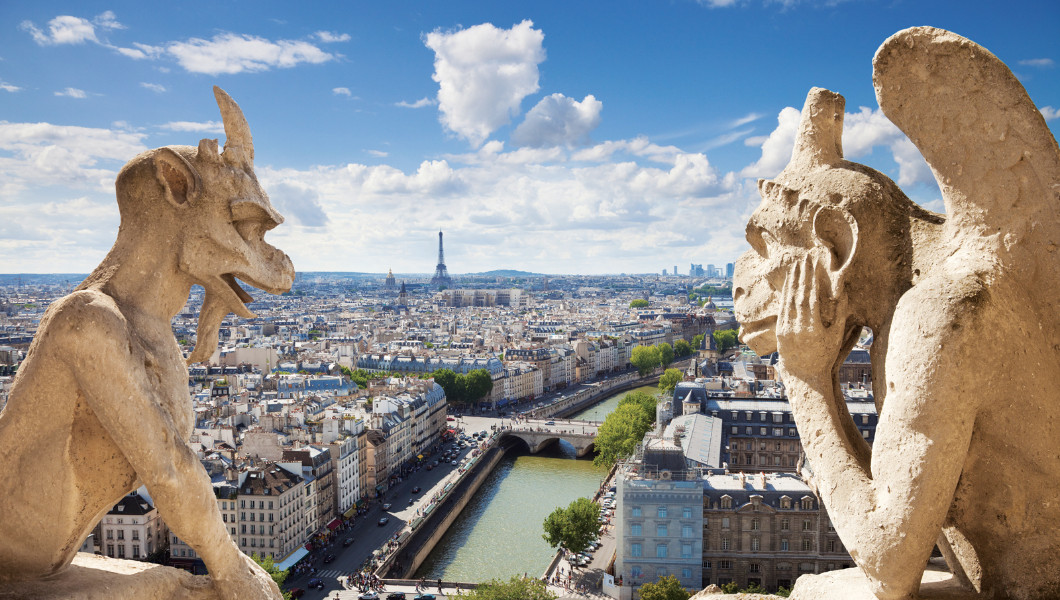 One particular day stands out, and encapsulates Paris for me. We'd spent it admiring the dogs that seem to serve as mascots in boutiques and art galleries around town. It's something I love about the city – the way a bullmastiff will gaze out the door of a bakery or a golden retriever will need to be stepped over to enter an atelier. They are living, breathing accessories that enliven family-owned businesses, such as the unique shops along my favourite street, Rue Jacob. That day, Paris had seemed particularly pooch profuse. We noticed pups popping from purses, mutts riding with masters on the train, and even sat next to a large German Shepherd at a prominent restaurant. From his own chair, he slurped seared foie gras from a china plate, as his mistress demurely sipped champagne and chatted with a chapeau-wearing friend.
That wasn't the coup de grâce, though. We finished the afternoon with the best canine moment of all near the bouquinistes, where we perused the riverside bookseller vendors for vintage magazines and antiques. Just after we purchased a first-edition book of poems by Leonard Cohen at Shakespeare & Co, we had a close encounter with the most chic dog on earth – a ribboned pink poodle. Even his nails were painted fuchsia. It seemed the quintessential Paris moment somehow, an intersection of fashion and art de vivre. When I asked if we could photograph the dog, the Parisian couple who had him on a leash replied: "Only if we can photograph the beautiful, little mademoiselle." And so it became a kind of fashion shoot, one that gathered a small crowd. A child, in love with Paris, side-by-side with a dapper dog. Half-French, half-English exuberances shared between a mother and a pair of dog owners, telephone numbers exchanged, the feeling that all people really do have something in common everywhere, and finally, the realisation that all it takes to unite them might actually be as simple as a child and a dog.