As far as travellers are concerned, there might not be a more sought-after city in Europe than the Portuguese capital, which is in the middle of a tourism renaissance, especially in the luxury sector. To entice affluent jet setters, Lisbon – previously more popular among backpackers thanks to a robust hostel scene – has been newly invigorated with high-end hotels, fine restaurants, and incredible shopping.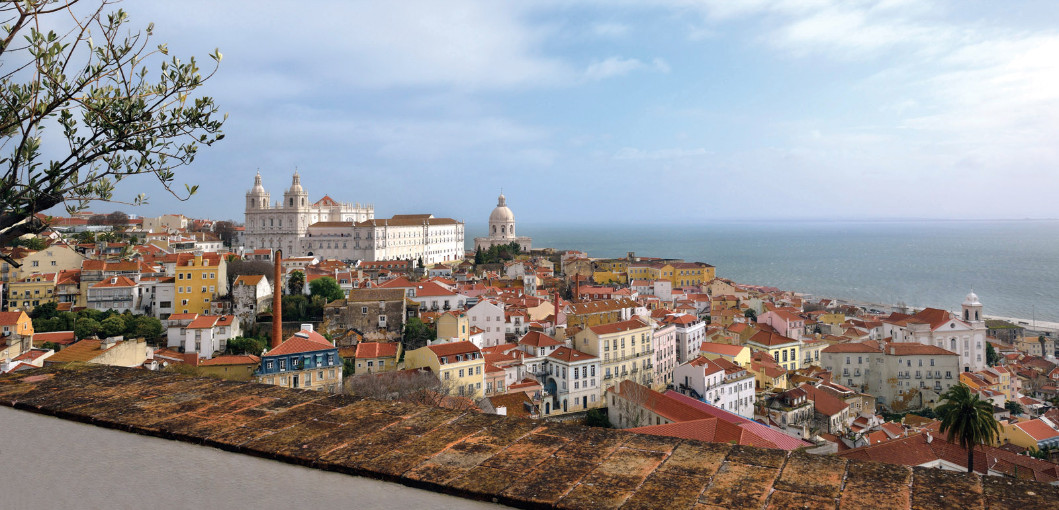 Lisbon's Belém neighbourhood, located west of downtown, has always been an on-the-beaten-path tourist haunt, with several of the city's most visited landmarks, Jerónimos Monastery, Belém Tower, the Discoveries Monument, and Pastéis de Belém, home to those cult-status egg-tart pastries (R. Belém 84-92; +351 21 363 7423), luring many to venture to this less central district. But last spring a shakeup occurred when a cool new restaurant-slash-cultural hotspot opened right by the Discoveries Monument.
The artsy Espaco Espelho d'Agua (Av. Brasília 210, Belém; +351 21 301 0510), with its sleek art deco architecture perched right by the river, is truly the first trendy destination in touristy Belém. The space is the perfect modern hang-out. While the simple, mostly-white foundation provides a clean-lined palette, there are striking visual cues everywhere thanks to the beautiful vertical garden by the bar as well as the bright Sol LeWitt mural in the dining room. The kitchen, too, is a bit of showpiece, considering its chefs are globally inspired by Portugal's Imperial past. Dishes like savoury pastries spiked with curry shrimp or chicken spiced with peppery baiano from Brazil share menu space with more traditional Portuguese staples including bacalhau à bras, a plate of cod fish with scrambled eggs.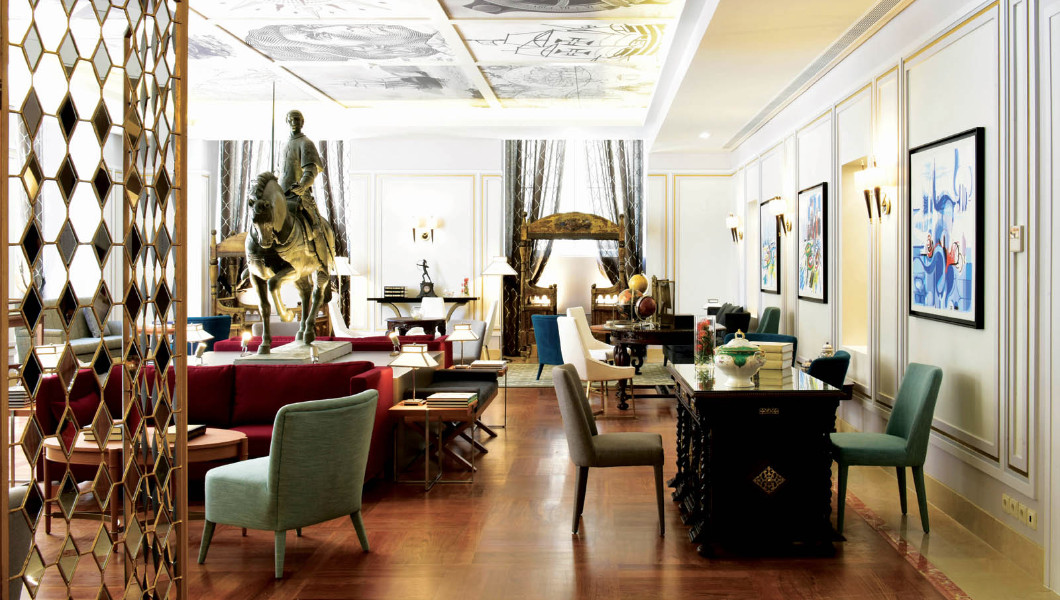 Espaco Espelho d'Agua has certainly seduced visitors to Belém to extend their time in the neighbourhood beyond the perfunctory hour or so it would take to see the sites. But the recently unveiled five-star hotel Palácio do Governador is giving luxury globetrotters even more reason to not only visit Belém but to make it their home-base. Palácio do Governador's ancient building – Roman in origin, parts of which date as far back as 1st-century A.D. – houses just 60 individually designed rooms over five floors. Its transformation into one of Lisbon's premier chi-chi hotels was overseen by local architects Jorge Cruz Pinto and Maria Cristina Mantas and interior designer Nini Andrade Silva. All over the property is evidence of the trio's commitment to preserving the past as a means to create visual depth. This is especially true in the public spaces where vaulted brick ceilings and walls lined with stunning azulejos seem to perfectly complement the blue-velvet armchairs, modern steel decorative installations, and glamorous mid-century modern lamps.
One of the biggest perks to a stay at Palácio do Governador is its Felicitás Spa. Sadly, very few hotels in Lisbon are outfitted with spas, which makes this nearly 1,207-square-metre relaxation haven (with its pool sauna, and spacious treatment rooms) all the more special. Back in downtown Lisbon, the roughly year-old Pousada de Lisboa is better located right in front of Praça do Comércio, the main riverfront plaza packed with travellers and locals. From here, almost all of the city's best restaurants, shops, and sights are within walking distance or a just brief car ride away. The yellow-coloured Pombaline palace (previously home to the country's Ministry of Internal Affairs) with 90 guest rooms feature an old-meets-new design ethos that dominates much of the Portuguese capital. With almost every building in the city centre a protected piece of architecture, it's hard to find anything that doesn't adhere to this style.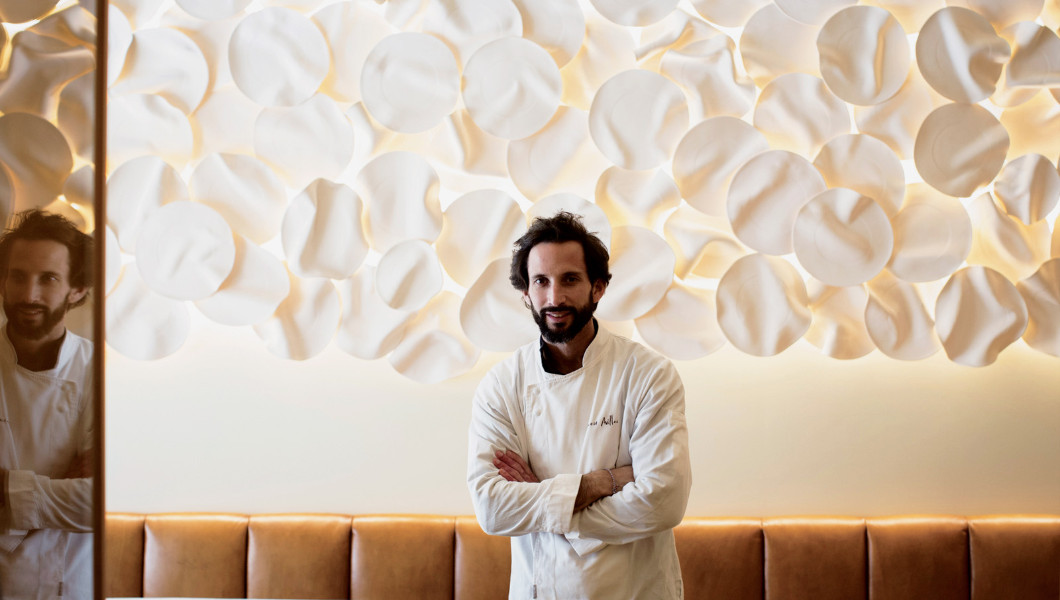 This synergy in aesthetics is a particularly lush one at Pousada de Lisboa. The main lobby, for example, mixes contemporary velvet chairs and abstract paintings with Imperial-looking antiques from intricately carved wood trunks reimagined into a concierge desk to sculptures of royalty on horseback. Elsewhere are fabulous stained-glass windows – ideal for a well-liked Instagram post. Entry-level rooms here are stylish if perhaps small, and upgrading to larger suites (there are duplex units, for instance) not only offers space but also striking decorative flourishes like stand-alone marble bathtubs or the all-wood interiors of the Dom Pérignon Suite.
Less than a kilometre from the hotel is Belcanto (Largo de São Carlos 10, Lisbon; +351 21 342 0607), one of Portugal's most famous restaurants from acclaimed chef Jose Avillez (above). For foodies, the neighbourhood of Chiado is largely dominated by beloved Avillez, whose five restaurants are all within seconds of each other. Belcanto, his two Michelin-starred haute-cuisine hotspot, has just undergone a design refresh in March 2016 (closing for two months). The impossibly cosy dining room's smooth leather seats, plush olive chairs, and glossy oversized chandeliers deliver contemporary earthiness to the space, but there are now more forward-thinking elements, too, like the installation of what looks to be melted ceramic plates (conceived by Avillez along with local ceramicist Cátia Pessoa) that serves as a focal point on one of the walls.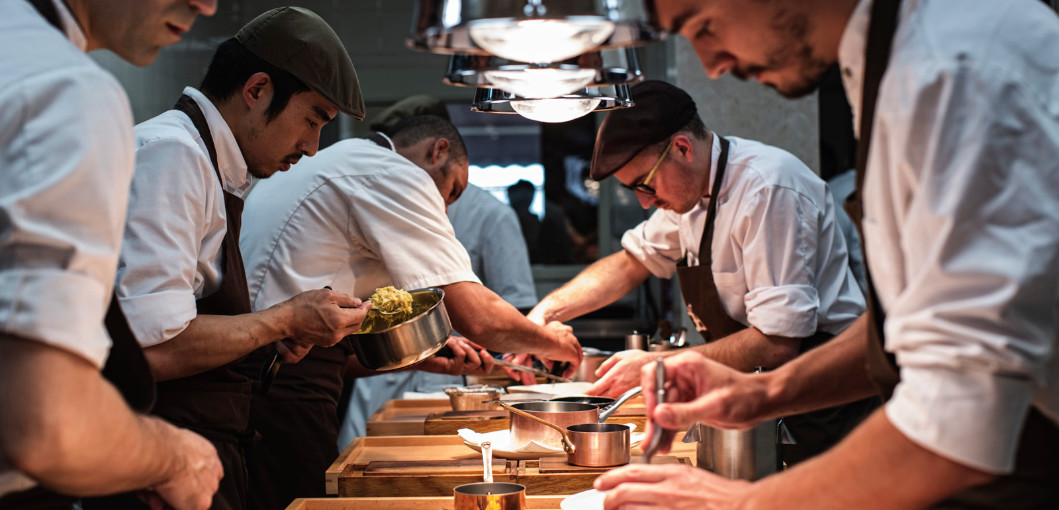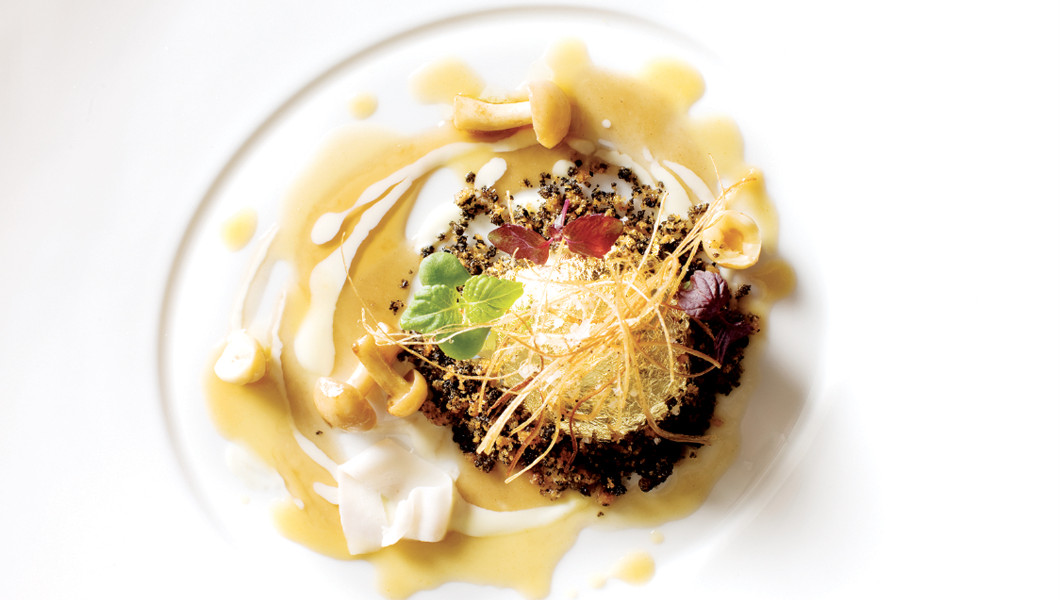 Despite its upgraded look, the best reservation in Belcanto is still the chef's table inside the kitchen, where guests can get up close and personal with the team that has made this restaurant one of the must-eat destinations in the entire country. At Belcanto, Avillez uses traditional Portuguese ingredients in new-fangled, whimsical recipes. The end products are delicate, rich in flavour, and full of texture. Take the starter, poetically named The Garden of the Goose that Laid the Golden Eggs – a poached-egg dish that includes truffle juice and mushroom stock plus breadcrumbs dyed with cuttlefish ink and an edible gold leaf. It's just one example of how the kitchen creates a world of fantasy with every course, treating diners to a singular culinary journey.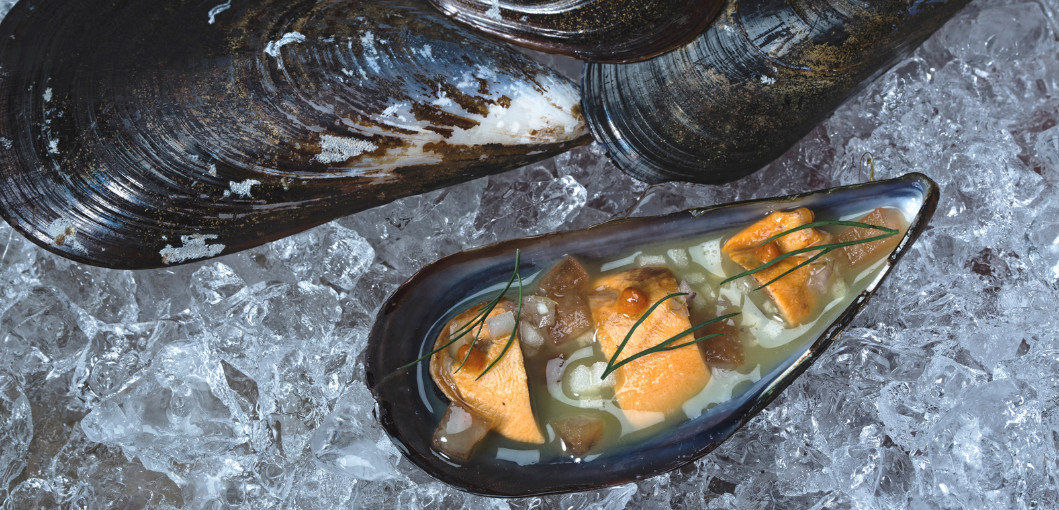 Belcanto's only been around since 2012, and a table here has never easy to secure, so many might say that the 2016 makeover was unnecessary, but it hints at how rapidly the luxury scene in Lisbon is propelling forward. And indeed, the city has seen an influx of new upmarket dining establishments that are offering exceptional, unforgettable meals. Last year, Top Chef Portugal winner Alexandre Silva opened Loco, an intimate dinner-only restaurant in the quiet neighbourhood of Lapa (R. Navegantes 53; +351 21 396 1851). Here, chef Silva and his team present two tasting menus, a 14-course discovery meal and an 18-course (minimum) Loco feast – there is no set line-up and everyday, the chefs create a brand-new combination of dishes that serve to highlight how seasonal ingredients can modernise Portuguese cuisine. One evening, a precious bowl of crab resting on a seaweed broth leaves a lasting impression; on another a sliver of carrot drizzled with elderflower impresses beyond expectations.
Long-time fans of the Portuguese capital who are familiar with its largely wine and beer-drinking culture might be surprised to learn that a cocktail scene is steadily blooming all over the streets of downtown. For a while, Cinco Lounge (R. Ruben A. Leitão 17A, Lisbon; +351 914 668 242) was the only consistently great place to grab a drink, but the last year or so has seen newcomers such as Double9 in Chiado (R. da Misericórdia 78; +351 21 248 1480), with a curious focus on tea-based libations and a gastropub-style menu from Michelin-starred chef Joachim Koerper. (He received a star for his other Lisbon restaurant Restaurante Eleven.) At Double9, Koerper focuses on shared plates that reference Portugal, the Mediterranean, and even Brazil, where he has an Eleven restaurant, too.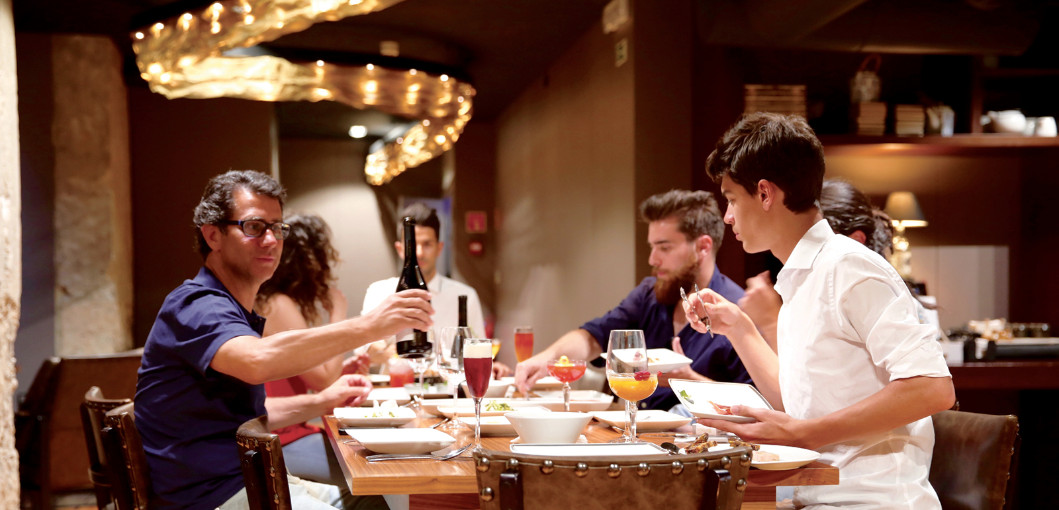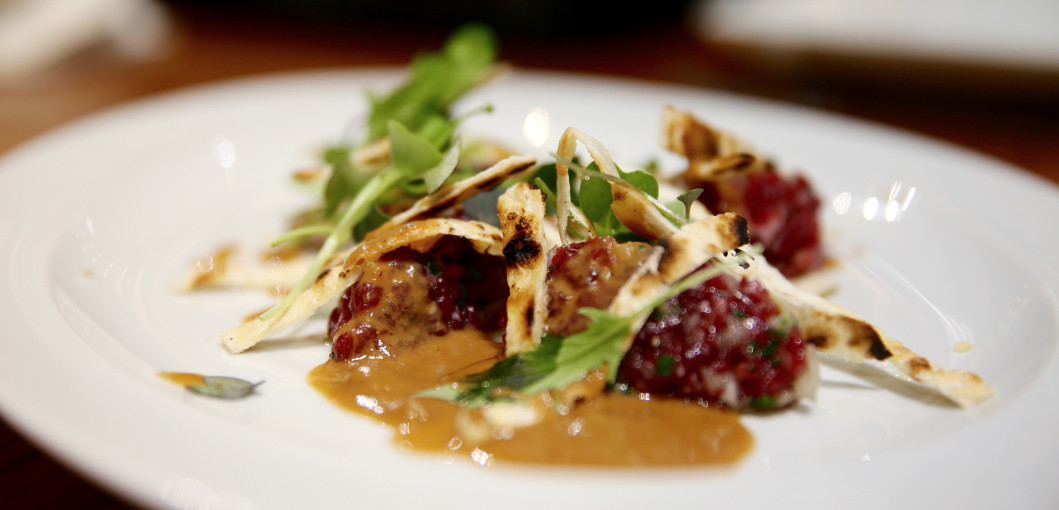 Elsewhere in this lovely city, what's more luxurious than a day of shopping? In Lisbon, this means braving the sometimes slippery streets of Avenida da Liberdade, or Portugal's answer to Fifth Avenue. This boulevard's world-famous Calçada Portuguesa, the renowned pavement designed with pictures and emblems, has been so smoothed down by shoppers and sightseers alike, that it can prove to a bit tricky to navigate if you're not careful. But the street does add a totally unique visual setting to time spent visiting its glistening storefronts. The usual suspects (Prada, Vuitton, Hugo Boss, etc.) are all here, but pay a visit to multi-brand boutique Stivali (Av. da Liberdade 38B; +351 21 380 5110), which just unleashed the first Chanel outpost in the country with a store-within-a-store dedicated to the classic Parisian label.
A few doors up the Liberdade inside the Tivoli Forum is Otro (Avenida da Liberdade, 180; +351 21 606 2636), a small, sexy perfumery swathed in black and gold. Its varnished shelves are stocked with handcrafted fragrances that you won't find in any ordinary shop such as Clive Christian, Olfactive Studio, Eighty & Bob, and more. Indeed, it's the choice spot to select your next signature scent. And for even rarer finds, leave this area for Baixa's José Baptista antique store (Rua Áurea 166-170; +351 213 859 068). Family owned for three generations, this treasure trove of a shop is brimming with Portuguese gems that go back centuries. You can find silver items (candleholders, tea sets) and objet d'art for the home, but why not elevate one of your fashionable finds with a unique bauble from the vast jewellery inventory at Jose Baptista? On any given day, perhaps you'll come across a head-turning 18th-century Chrysolite ring or an art deco bracelet made with platinum, diamond, pearl, and emerald.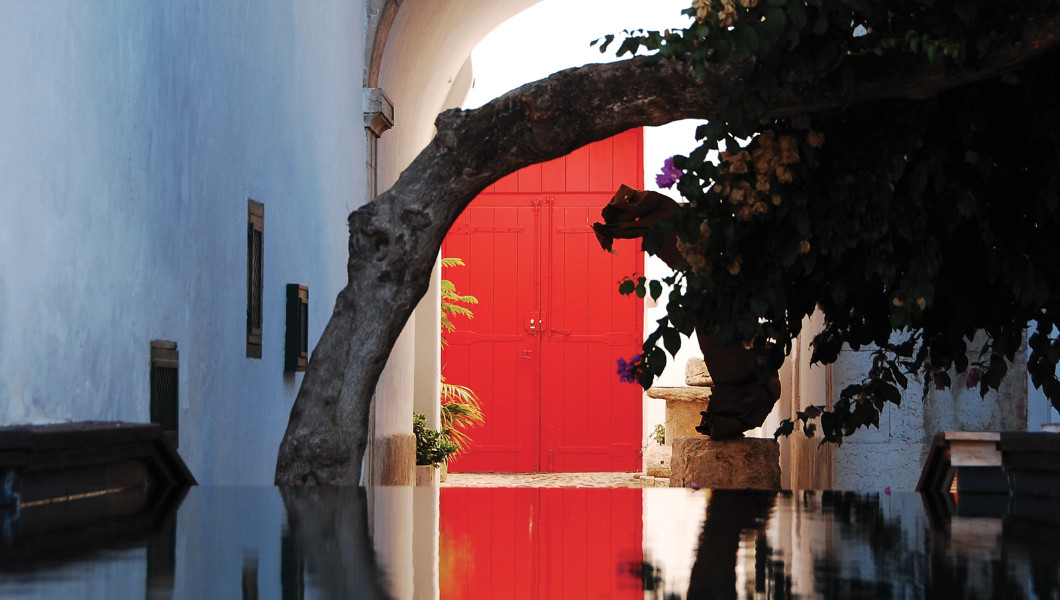 Considering Lisbon's up-and-down topography, all this gallivanting around can get admittedly exhausting, which is why despite its ancient provenance, Palácio Belmonte remains the most atmospheric hotels in which to unwind. This 10-room hotel in Alfama has Roman and Moorish beginnings, which means walls are thick enough to shut out the tourist din that can overwhelm its neighbourhood. Any room here is fabulously decorated with azulejos and antique furnitures, but the latest showstopper is the summer unveiling of the renovated Amadeo Souza Cardoso Suite. Some 396 square metres in size with views of the city, the river, and the serene on-property pool, there might not be a more transporting room to book in all of Lisbon, especially when you consider the all-marble bathroom and the terrace surrounded by the floral garden. If you were staying in town long enough, it won't hurt to reserve a full day to unearth the delightful secrets of this suite and of the palace itself. For Palácio Belmonte, this is just a hint of what else is to come as it prepares to open a new spa and upgraded dining venues. That's the way it is in Lisbon, every subsequent visit reveals a new side to a city on the rise.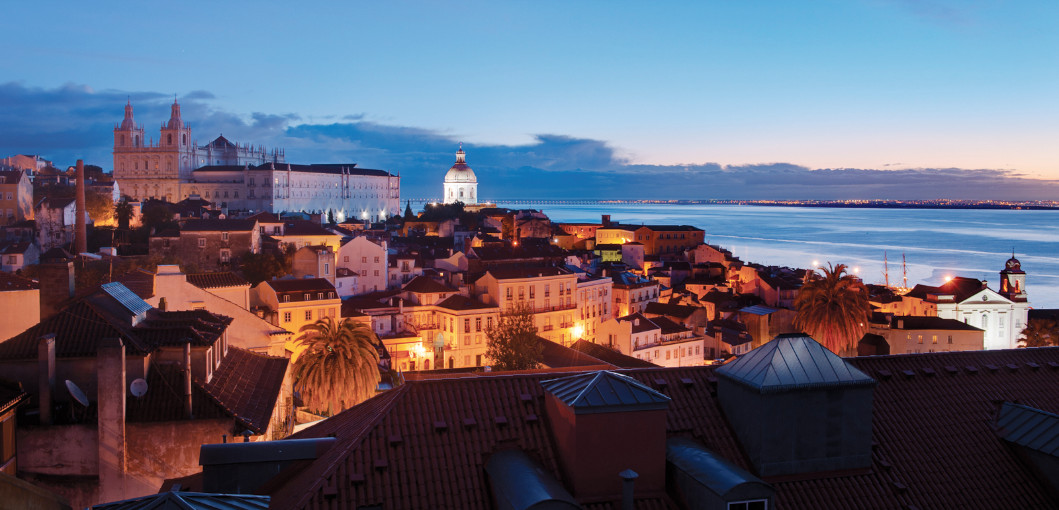 Palácio Belmonte
+351 21 881 6600
www.palaciobelmonte.com
Pousada de Lisboa
+351 21 040 7640
www.pousadas.pt
Palácio do Governador
+351 21 246 7800
www.nauhotels.com