Despite living in the Middle East for more than five years, the prospect of travelling to Saudi Arabia felt a bit like preparing for my first mission to Mars. To elaborate, I live in Dubai, have very dear Saudi friends and am completely accustomed to seeing throngs of our westerly neighbours arrive en masse during national holidays. Yet the idea of spending actual time in "The Kingdom" somehow felt otherworldly.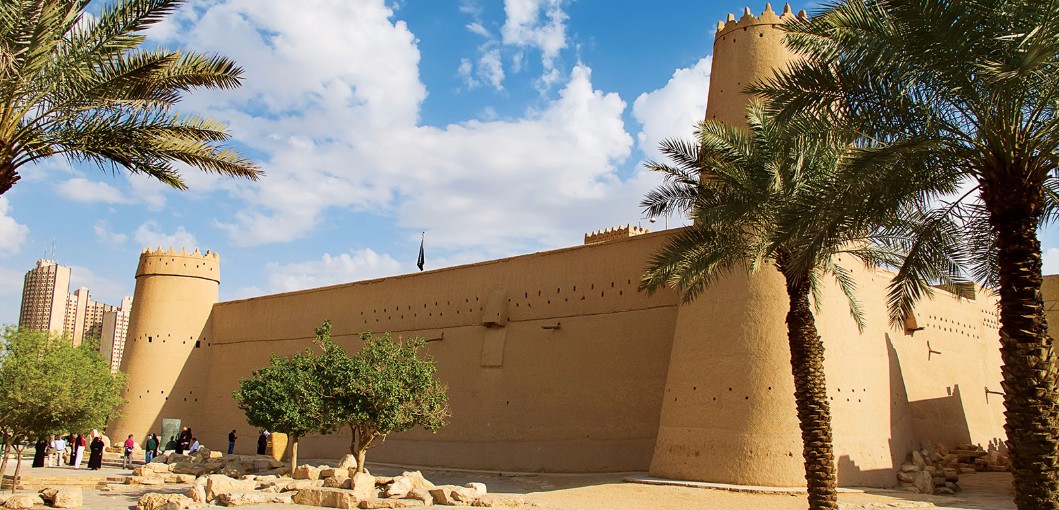 Indeed, my opportunity to visit the kingdom didn't occur through a tourism visa application – because they simply don't exist, yet – but via an invitation to the first-ever King Abdulaziz Camel Festival, held this year in March (www.alaibilfestival.com). It was an email from my editor that received a rare triple-take, and one that sparked a rather zealous and positive RSVP. Why? Because I was curious to experience just how different Saudi Arabia really is – and also, because I'm rather fond of camels.
DESERT BEAUTIES
First impressions are important, but I realise that judging an entire nation based on a slightly provincial camel festival is a bit like judging the entire United Kingdom based on Crufts – that'll be the world's most prestigious dog show, for those not in the know. Joking aside, there are parallels. Dogs are legitimately "man's best friend" to many of my countrymen, though camels are even more part of Saudi Bedouin culture, past and present – and they also make for a pretty decent burger.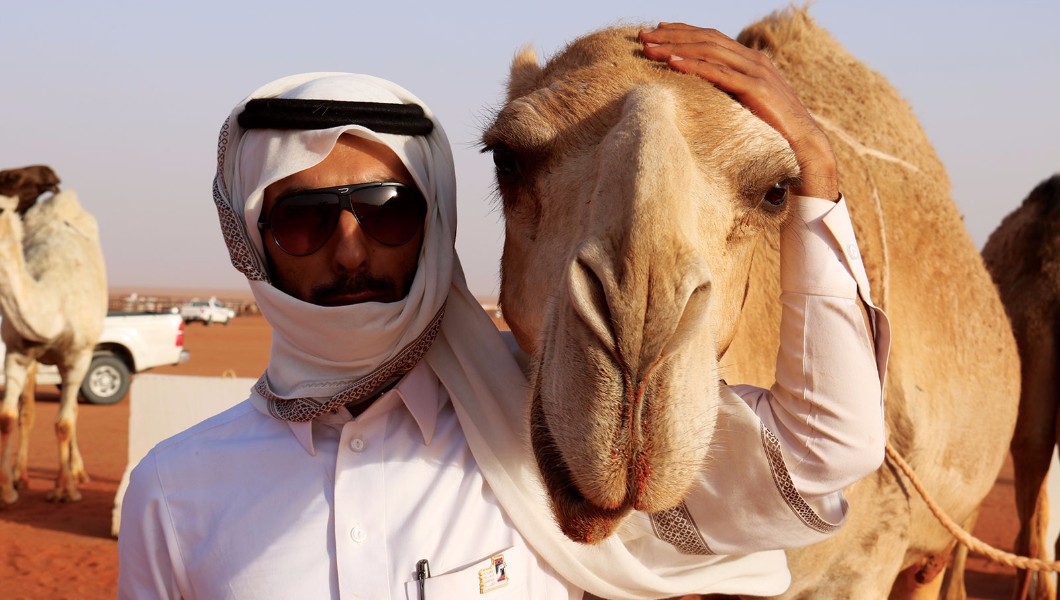 The camels I see, however, are not destined for the chopping block. They are far too beautiful, I'm told. The multiple-acre festival comprised on-stage traditional music, indoor and outdoor market stalls selling traditional wares, military memorials, Bedouin tents (complete with falcons) and a very thorough museum, demonstrating the history and extent of camels in Saudi civilisation. But the crux of the new annual "Camel-chella", an hour's drive north and east from the capital, is the month-long beauty contest. Farmers and owners from every corner of the kingdom have brought their fittest and finest for a chance to win big. The scale and the stakes are no joke, with this year's prize money extending to SR115 million (US$30.66 million) for the winning entrants; muscular one-humped dromedaries with well-manicured feet and heavy bottom lips that have long succumbed to gravity. Despite being hastily knocked together, with infrastructure and facilities knocked together in mere weeks, the regal event drew crowds of up to 35,000 on its busiest days, building to the climactic finale when King Salman himself appeared to witness the cream of the crop.
A BIGGER VISION
To outsiders like myself, the event is an endearing celebration in a theocratic bubble, and a jigsaw piece of an important puzzle. The Crown Prince, Mohammad bin Salman, is spearheading Vision 2030, a five-pronged strategy to reduce Saudi Arabia's dependence on oil and diversify its economy with a war chest of well over a billion dollars to develop the kingdom's service sectors such as health, education, infrastructure, recreation, and – most notably – tourism.
Sightseeing for anyone without a GCC passport is currently restricted to resident expats, visiting businessmen (emphasis on the gender pronoun) and devout Muslims fulfilling their hajj and umrah duties. In fact, for a country that doesn't yet allow secular tourism, a significant portion of the GDP (just under three per cent) arrives via the dual holy cities of Mecca and Medina, which could soar to $20 billion within the next few years, according to the Council for Economic and Development Affairs.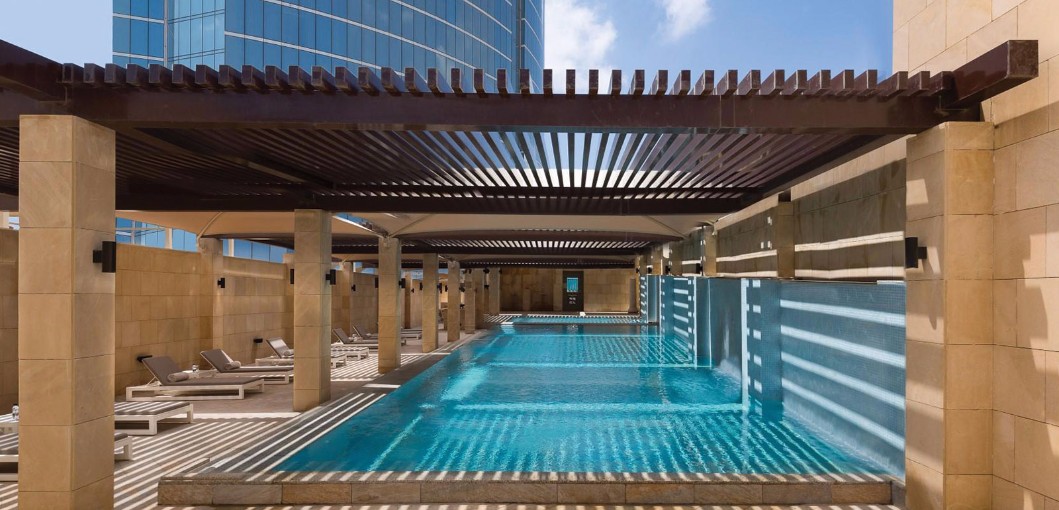 BIKINIS AND BURKAS
Meanwhile, the Crown Prince has unveiled plans for a Red Sea resort "governed by laws on par with international standards", which many open-minded locals have hailed as a triumph; and a progressive use of some of the country's small Maldives-esque islets. Yet despite its congestion issues, the capital city is arguably already primed for an influx of holidaymakers, with a swathe of five-star hotels and a regionally renowned fine-dining scene (minus the adult beverages). The city is a long way from a sea breeze, with the frizz-inducing humidity of Dubai and Abu Dhabi replaced by a lip-chafing dry heat, and summer winds closely resembling a high-end hairdryer. But despite being 400 kilometres from the coast, Burj Rafal Hotel Kempinski doubles up as a desert oasis, with a world-class spa facility and rooms to match. Resense Spa is the first in the kingdom to offer equally separated gym and spa facilities within a five-star luxury hotel, perfectly balancing facilities for ladies and gents.
The word "oasis" actually comes from Saudi's neighbours to the west – the Ancient Greeks borrowed waha from the Egyptian Coptic language and thousands of years later we're still interpreting what that word represents – and Kempinski has done a fine job. The spa is also directly adjacent to the outdoor pool lounge and restaurant, Skylight, where guests can have an al fresco, à la carte experience under a starry canopy, while surveying the city below. And perhaps if you combine your mocktail with the dizzying heights of the lounge venue, it might even seem as if you're imbibing something a little stronger.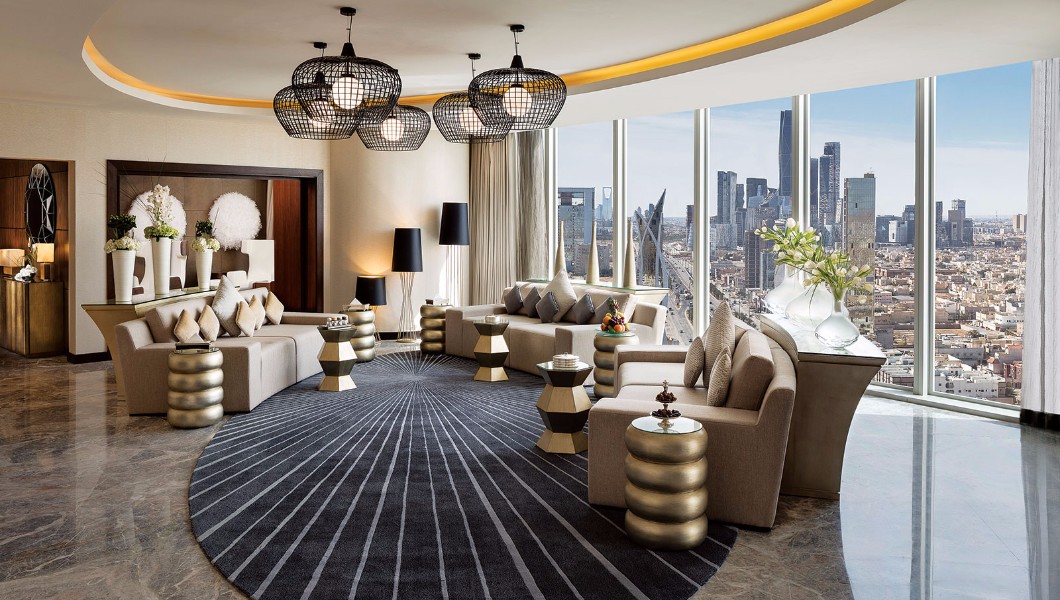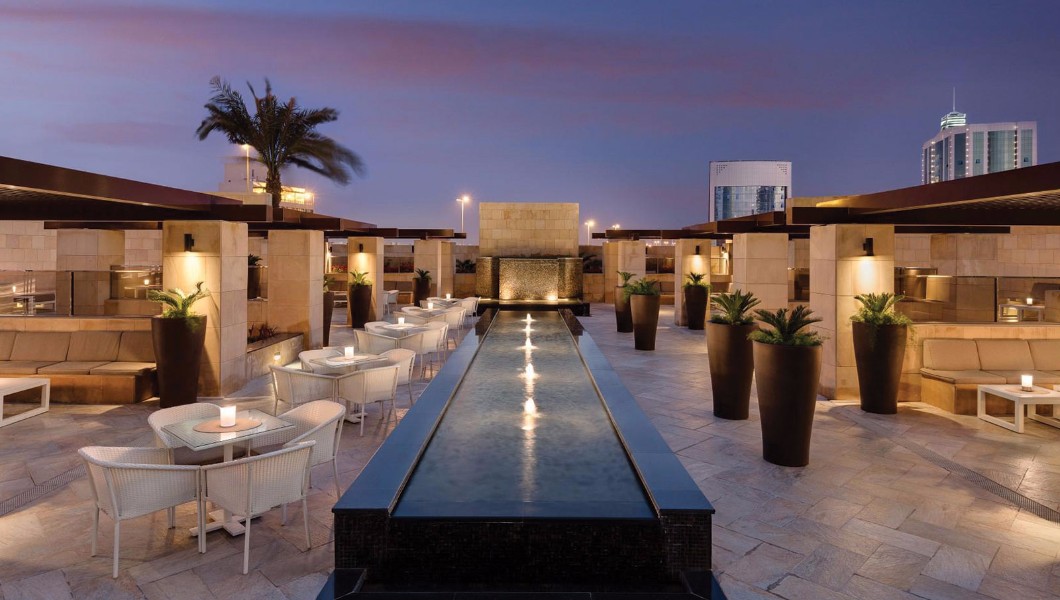 No newcomer to the city's five-star scene, the Riyadh's first Kempinski houses 349 rooms and suites over 23 floors, with five dining destinations, including its signature Ottoman fine-dining restaurant, Tugra, and all boast an ultra-luxe ambiance within Riyadh's tallest residential tower. That's in part due to the references to Najdi architecture; similar to the Nubian heritage of Egypt, the hotel's interiors evoke styles associated with Najd, Saudi Arabia's central heartland – home to 28 per cent of the population and retaining its own language and aesthetics. If you've seen the modern tattoo trend of clusters of small triangles and long straight lines, then chances are it will look somewhat familiar.
THE NEW RIYADH
Driving through the city's centre and suburbs presents an interesting dichotomy; not quite the classic rich-poor divide evident in any big city, but a past-future aesthetic. In central areas, pristine SUVs sail over elevated highways past lofty skyscrapers dressed in neon hues, with suburban villa life dotted all around, yet some dustier corners certainly lack a feeling of modernity, ranging from quaint throwbacks to fatigued, crumbling sections in need of attention. It's not at all surprising for a city of six million plus.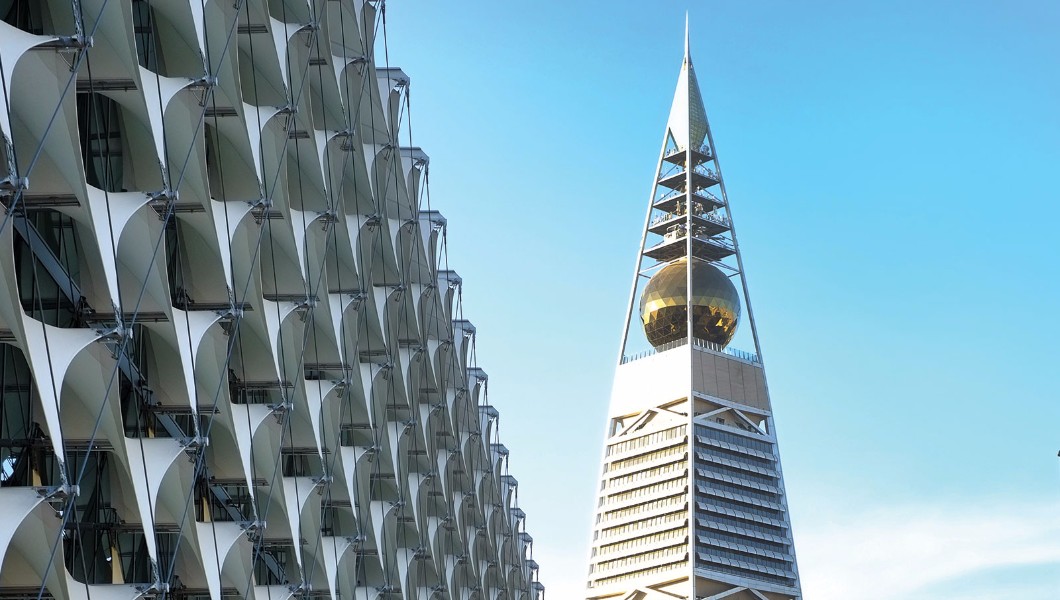 Not far from the hotel is an interesting slice of the "New Riyadh" vibe – The Boulevard (+966 11 4880840; www.theboulevard.com.sa). On the wall of a pristine cross-fit gym, a neon sign beams "Hello Riyadh, you're looking beautiful today", and the rooftop pool deck gives a commanding view over the new complex on Prince Turki Ibn Abdulaziz Al Awwal Rd. I choose another vantage point from the "bachelor's only" section of the adjacent Caffe Bene (www.caffebene.com.sa), a home grown coffee joint where I awkwardly ordered a shisha, not realising hookah pipes are banned in Riyadh. Despite the segregation, men and women proverbially rub shoulders in and out of the boutique outlets, mini art galleries and the site's upcoming boutique hotel will no doubt be a hit, when it's finally unveiled.
The Boulevard's hipstery edge is a nice contrast to the city's broad high streets, such as Prince Muhammad Bin Abdulaziz, which holds a glowing strip of eateries in the Sulaimaniyah district. The area has evolved to become an extension of the neighbouring downtown area, and packs a bit of a different flavour since the majority of its residents are "Al Sham"; meaning either Syrian, Jordanian or Palestinian.
Aside from the fast food chains you'd find in any city, it's the go-to area for the best, authentic Levant cuisines. There's even an Egyptian presence that adds to the dynamism and a sense of light-hearted community. My heartfelt thanks go to the charming and oh-so-hospitable Riyadh-based influencer Yousef (@jo0sef on Instagram), who donated an evening of his time to showcase the city – not at the behest of anyone, just a kind offer following a chance meeting in Salalah, Oman. My recommended eatery was Le Relais de l'Entrecôte (+966 11 461 5058; www.entrecotesaudi.com), a French franchise with a set menu of steak, green salad and fries. While the dessert options are a little more varied, the specialty is unsurprisingly special, and the garlicky taste of the continent turns out to be a perfect complement to the bustling city life.
WHAT HAPPENS NEXT?
Yes, there are hotels, spas and good food aplenty, but for a city that carries so much reputational baggage it's hard to see how many curious folk will venture to Riyadh, unless they have pre-existing connections or other reasons to pass through – especially with the country's Red Sea coastline and lush hilly areas being clearly more compelling draws. Most European cities have their macabre elements, from the Tower of London's dungeons to the mass mausoleums of Auschwitz, but the infamy of Riyadh's "Chop Chop Square" and its public beheadings is still very much part of the present, and it's hard to ignore.
Despite the religious police (the Commission for the Promotion of Virtue and Prevention of Vice, known as Mutawas) being stripped of their powers to arrest, many will no doubt be cautious to approach, particularly women of course, who still famously cannot drive or leave the country without the consent of a male guardian. Those rules are likely to change as the Vision 2030 plan takes shape, though the roadmap to becoming a fruitful tourism destination could feasibly take much longer.

I pause at the thought of including a disclaimer in my reflections on Riyadh, but I do fully realise this experience was all through the lens of a straight, white male. Even when you leave identity politics (and actual politics) at the door, Saudi Arabia is simply not quite like other countries; in terms of both its sheer size and populace it dwarfs all of its Gulf and Levantine neighbours. Only open for tourism if a religious pilgrimage is involved, it carries a cultural swagger unrivalled in the region. Whether or not it's eventually humbled by an eventual shift away from crude oil – or thrives from opening its doors to the world – all remains to be seen.

A wise man once said, "Don't judge a person by where they have been but by where they are going", and if I may make a sweeping judgement, Saudi Arabia is lunging in all the right directions with its goal of eventually becoming a leisure destination. My own personal experience also turned out to be rather profound. It was one of cultural pride, forward-thinking leadership and generous hospitality, and I left with no doubt I would return to witness a great nation in transition.