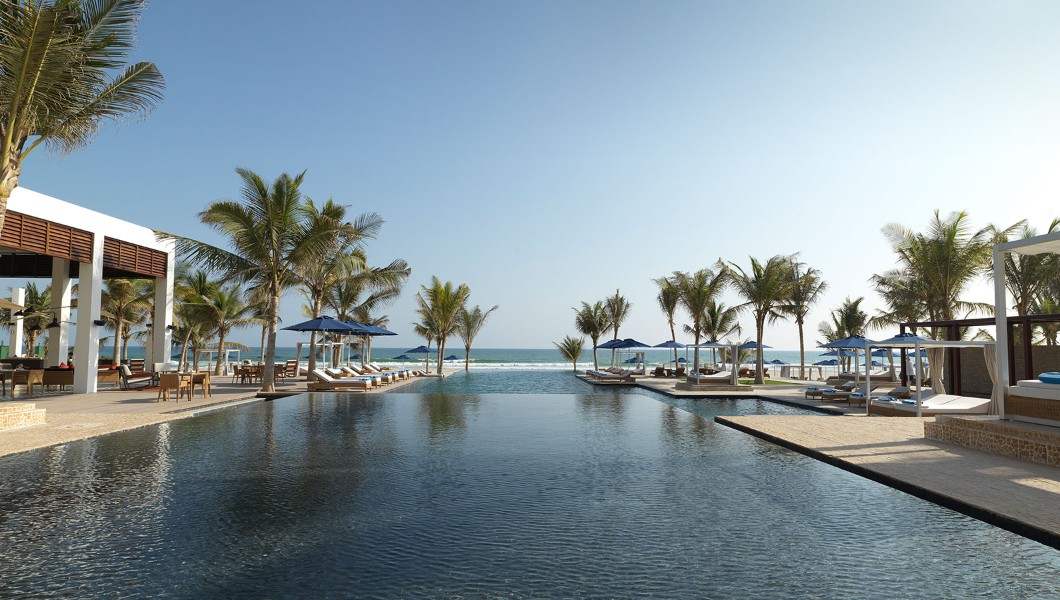 CULTURAL IMMERSION AT AL BALEED RESORT BY ANANTARA, SALALAH
It's a tricky balancing act: blending utter luxury and authentic cultural influences into one seamless resort experience. Al Baleed Resort Salalah by Anantara, nestled between a long beach and a lovely freshwater lagoon on the coconut-fringed, frankincense-scented south coast of Dhofar, Oman, gets it profoundly right. Here, traditional Omani design and architecture have inspired the village-like construction of the resort, with its sweeping archways, central whitewashed main building (with 40 rooms) and 96 villas. The 88 one- and two-bedroom pool villas, spread amongst the surrounding coconut trees, boast traditional flat roofs, private entrance and intimate courtyards. Modern luxuries abound – think temperature-controlled villa pools and blissful Anantara Spa rituals, featuring indulgent indigenous ingredients such as frankincense. The annual Khareef Festival (mid-July to August) celebrates monsoon season with concerts, traditional performances and cultural displays; a wealth of archaeological sites, imposing coastal forts and vibrant traditional souqs beg to be explored; and guests can also trek through the mountains, catch fish for dinner, join a sunset yoga session, or simply swim in the ocean outside their beachfront villa.
PRICE: from US $281 per night for a Premier Sea View Room.
AVAILABLE: year-round.
---
REKINDLE THE ROMANCE AT JUMEIRAH MESSILAH BEACH HOTEL & SPA
Sometimes, all it takes to rekindle the flame is a little luxury seaside escape. Throw in some Kuwaiti hospitality, decadent fresh seafood dining and some much-needed downtime on the beach, and you'll be seeing stars. Nodding in agreement? You may want to check out the Romantic Stay Package at Jumeirah Messilah Beach Hotel & Spa, located in the Messilah beach district on the south coast of Kuwait City. Checking in here means checking out of everyday life and stresses for the duration of your stay. With inclusions such as fresh flowers on arrival, 24-hour check-in-and-out, airport transfers, romantic cake, and in-room breakfast (is there anything more romantic than a bathrobe-clad breakfast in a hotel bed?), you'll have not a care in the world, other than focusing on reconnecting with your partner. The package also includes a daily set three-course dinner at SALT Restaurant, which specializes in seafood and international cuisine.
PRICE: from US $592 for the Grand Deluxe Room and US $669 for the Deluxe Suite.
AVAILABLE: year-round.