I feel the buzz and excitement of South Korea's capital city, Seoul, as soon as I leave the gleaming air-conditioned buildings of ultra-modern Incheon airport, one of the largest gateways in Asia, on board the AREX train as it speeds towards the centre of town. South Korea's capital is a state-of-the-art cityscape of gleaming glass, stone and steel tower blocks, some of them offices, some apartments and many of them hotels, which dwarf the traditional wooden houses in labyrinthine cobbled alleyways, where tiny villages huddle together as though for protection from the march of modernity. It is this mixture of historic and new which has won Seoul a UNESCO City of Design title. When I leave my temporary home, the stunning Lotte Hotel Seoul, near Myeong-dong in the city centre, to explore my surroundings, I'm immediately amid a sea of neon signs, each trying to outdo the next with their attention- seeking colours and brilliance. Equally brilliant are the glittering designer stores, selling all the familiar luxury brands, plus some I have not come across before. Wandering the endless array of crowded streets and alleyways, there's plenty to discover. Here a fragrant coffee shop, perfect for a short pit stop, there a neighbourhood street food stall doing brisk business.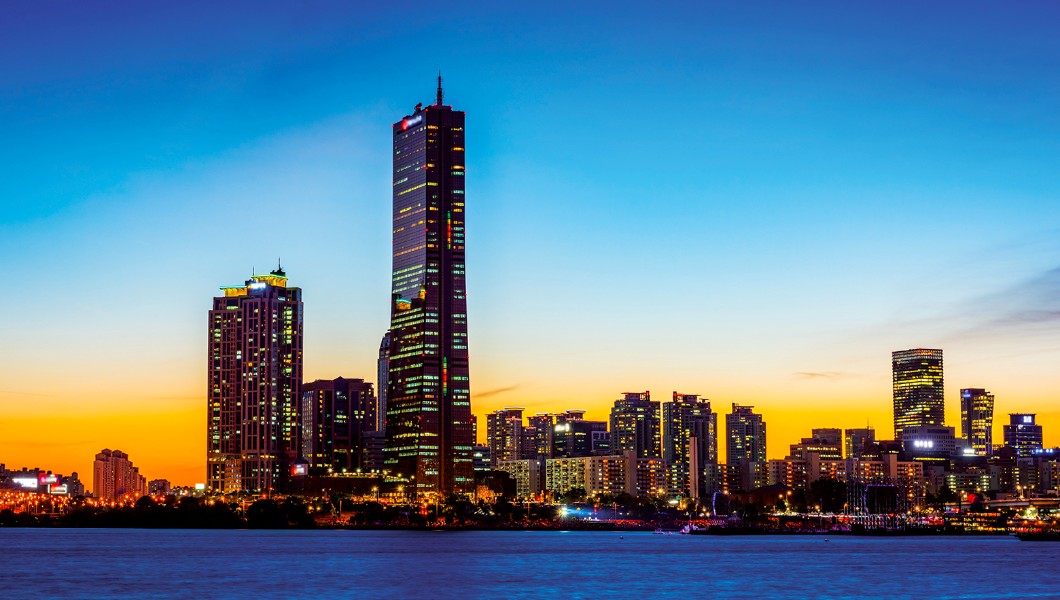 As I risk getting completely lost in all the excitement – turning corners, exploring tiny alleys and quiet squares – I come across historic palaces and temples and always markets – survivors of South Korea's "quickly- quickly" culture in which time is money. It's at this frenetic rate that Seoul has become one of the world's most ultra-modern and forward- thinking metropolises, with excellent public transport, which is just as well, given the extreme gridlock traffic jams for which the city was once notorious. When I first visited Seoul some years ago, it was not uncommon for visiting business travellers to rent a car and driver by the day so they could be dropped o at meetings or lunch, and then be picked up later by their driver, who would have found nowhere to park but would have spent his time circling road-clogging traffic that makes rush-hour in a European or North American city look like a fast- owing traffic system by comparison.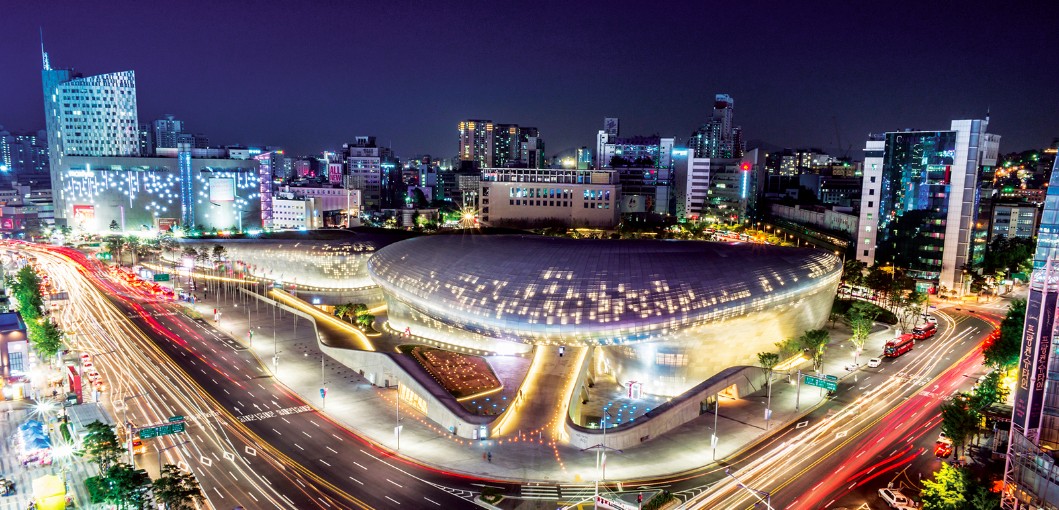 Now, though, I am pleasantly surprised at how the use of cutting-edge technology, such as Wi-Fi virtually everywhere in the city, makes Seoul an almost e ortless destination to visit, whether you are there for a holiday or on business, perhaps in one of the main sectors, which include telecoms, vehicle manufacturing, steel, shipping and petrochemicals. Although I find it di cult to imagine as I gaze on some of the most ultra-modern architecture on the planet, I reflect on the fact that Seoul has been occupied since the Paleolithic Age. Indeed, it was first mentioned in official documents back in 18BC. Thanks to constant fighting, however, the real making of Seoul didn't start until the 12th century, when King Sukjong of the Goryeo Dynasty built a palace. It wasn't until the late 19th century, after hundreds of years of isolation from the outside world, that Seoul opened up to foreigners and began a programme of modernisation, during which it became the first city in East Asia to install such amenities as electricity, running water and telephones, and entered some boom times as a result. Trade helped to fuel Seoul's rise and by the start of the 20th century, it had become one of the cleanest and most modern cities in the Korean Empire.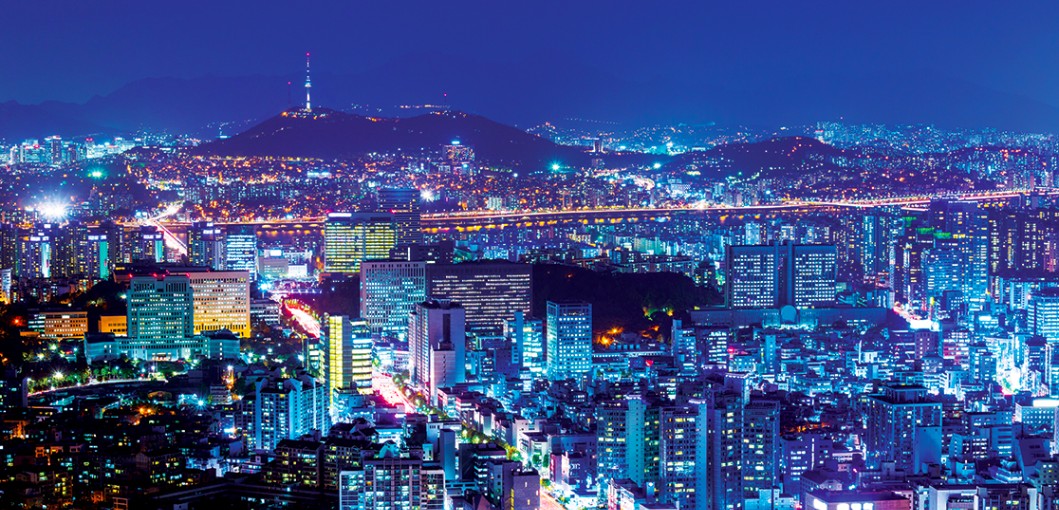 This happy period didn't last for long, however, as dark clouds gathered and the Korean lands were absorbed into the Japanese Empire in 1910, which is where the country stayed until 1945, suffering severely during World War Two. But there were even harder times to come. With Korea divided between North and South and tensions running high, Seoul's citizens were forced into a second war in 1950, which when it ended in 1953, left much of the city destroyed. It was the intensive building efforts in the years that followed which laid the foundations for the spectacular city Seoul has become. And then there was the added boost of hosting the Summer Olympics in 1988 and the World Cup in 2002 which allowed Seoul to tell the world that it was properly back in business as the ultra-modern city I am now enjoying.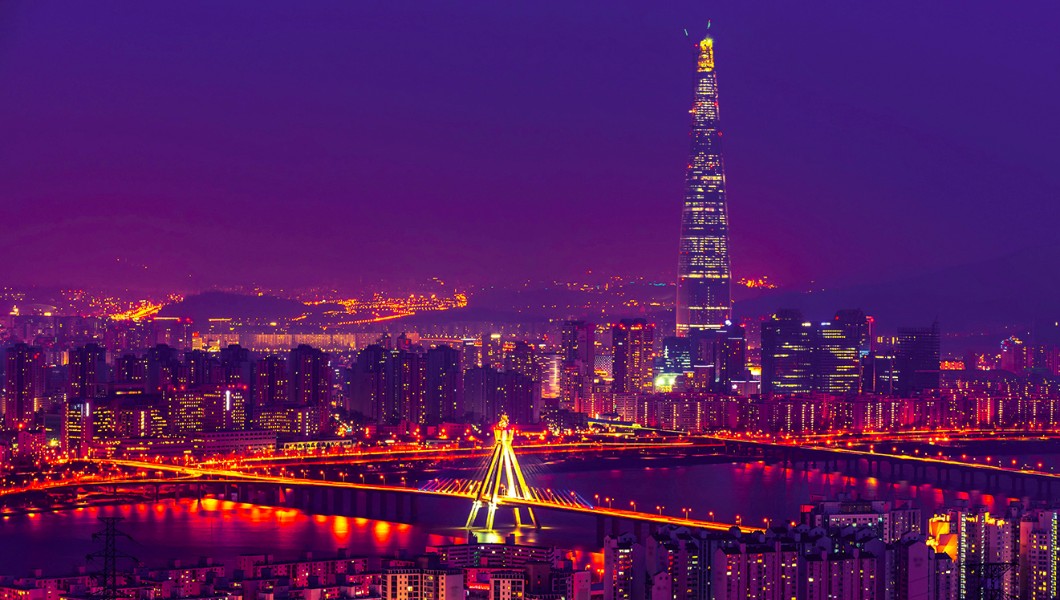 In spite of the frenetic pace and the worship of everything modern and up-to-the-minute, it is refreshing to remember that Seoul still truly has an Asian heart. I can see it and hear it beating in the city's spectacular and very distinctive and aromatic food. I head for the area around the Han River, which flows through the city and is where I know I will find several great cafés, as well as the opportunity to cross some of the bridges from where there are spectacular river views.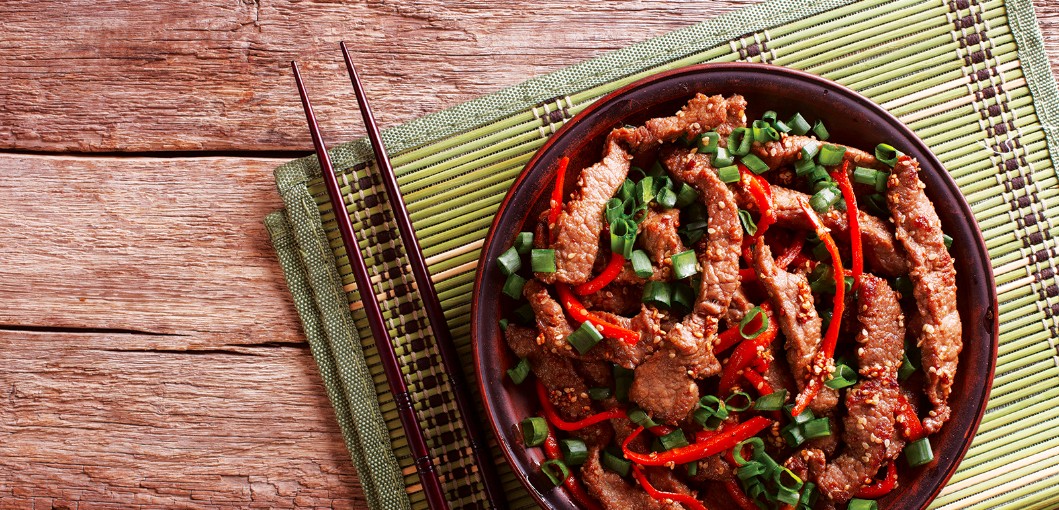 My pre-lunch drink is at Noeul Café (Dongjak Daero, Seocho-gu), which has an outdoor terrace from with views towards the Banpo Bridge and the N Seoul Tower. Then I follow local recommendations and head for lunch at Tosokchon (5 Jahamun-ro 5-Gil, Jongi-gu; +82 2 737 7444), a traditional Korean restaurant which was said to have been a favourite of the late South Korean president Roh Moo-hyun. I opt for the ginseng chicken soup, which has been slow cooked for hours, and as furniture is Korean-style, I sit on a cushion placed on a heated floor, the traditional Korean way of eating. Sadly I don't have time to visit one of the traditional tea houses where you can watch cultural performances at the city's five elegant palaces, so head instead back to my hotel, via a quick browse around the high-end shops of the Myeong-dong area where, it is said, more than one million shoppers visit throughout the day and often well into the night.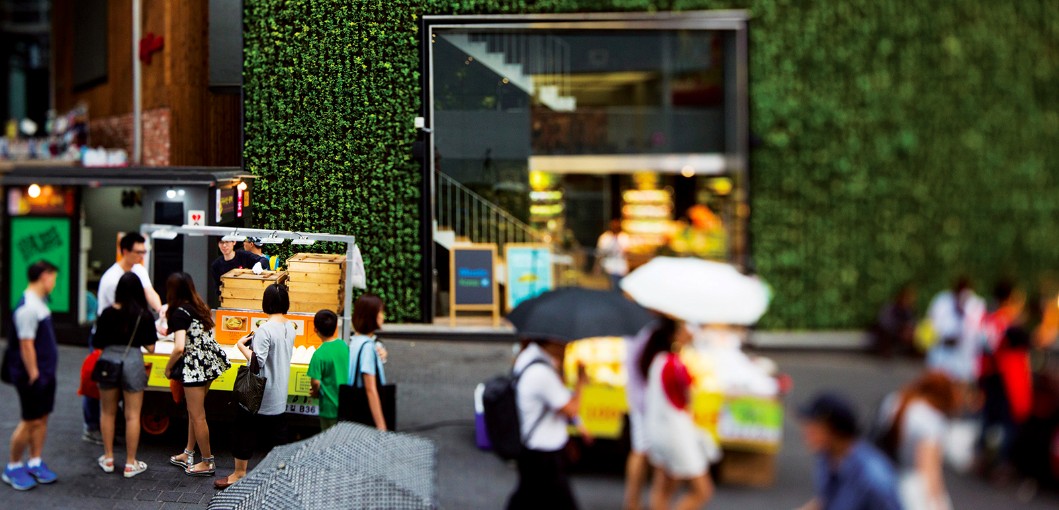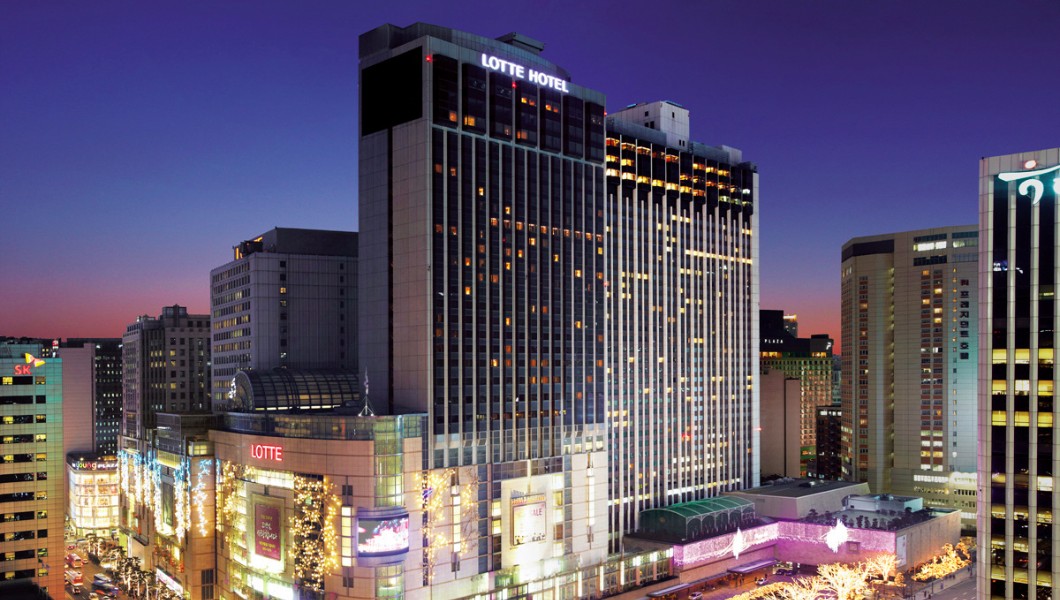 My choice of accommodation, the Lotte Hotel Seoul, firmly in the five-star category, is thought by many to be the best luxury hotel in the city. And they may well be right. With no fewer than 1,120 guest rooms, it has virtually everything you could possibly wish for in a top hotel, or to be precise, actually two hotels in one. The Lotte is made up of a main building and a new wing, both of which have been subjected to the design expertise of four leading international companies. Just in case staying in the best hotel in town is not enough, I could also have opted to use the Club Floor, providing the perfect environment for business, and there's even a dedicated Ladies' Floor designed specifically to provide everything women guests may want. The vast choice of restaurants is headed by Pierre Gagnaire à Séoul, overseen by the French master chef himself. I just wish I had time to use some of the many other facilities on offer too, such as the Sulwhasoo Spa, the gym and the swimming pool, not to mention the golf range and sauna. There's even an in-house art gallery and the hotel's own museum.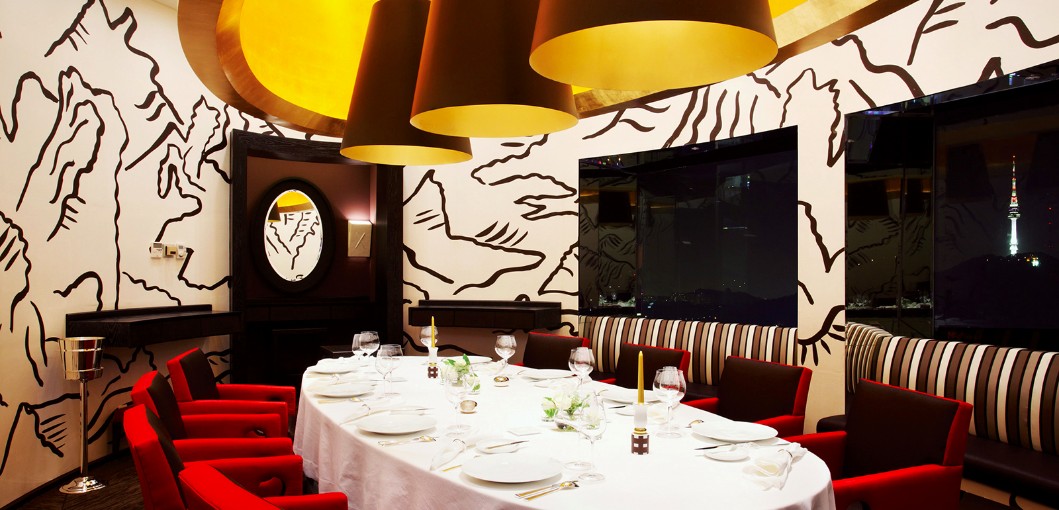 But speaking of museums, it's time to head out again to continue my exploration of Seoul's many must-see attractions. There's the Gyeongbokgung Palace and Changdeokgung Palace, among the "Five Grand Palaces" of the Joseon dynasty; the Bongeunsa Buddhist temple founded back in 794 and rather more up to date the N Seoul Tower, which, at 236 metres, is the highest point of the city. You may, if you wish, buy a ticket to the viewing gallery. Or you may, like me, decide it's time to make some plans for the evening. Seoul after dark is one of the most exciting places you could hope to be as the neon signs take over, beckoning you to visit a mind-blowing selection of bars, restaurants and nightclubs, some more salubrious than others. Among the most popular areas are neighbourhoods such as Gangnam, Itaewon and Hongdae, which lure in visitors with not only hundreds of restaurants but also some of the city's best nightlife. In an effort to blend in with the locals I start the evening with a visit to one of the suljip – Korean-style wine bars which can be found all over the city, but you have to be careful. The idea is that locals will offer glasses of liquor to each other but you should never fill your own glass.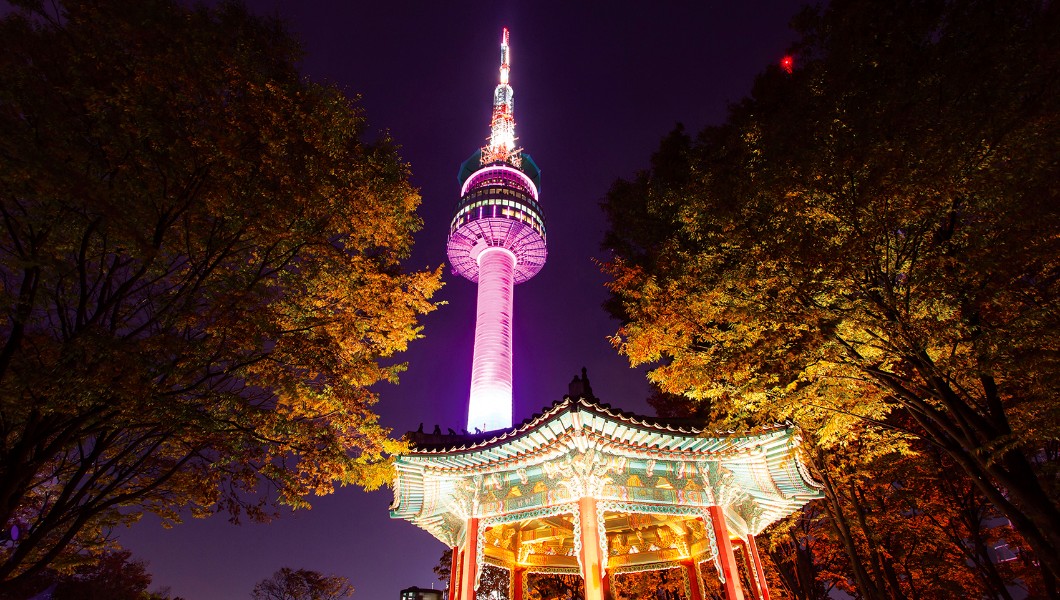 It's great fun provided you don't overdo it. When it comes to dinner I really am spoiled for choice, Seoul is a dream come true for foodies with everything on offer from street food at the popular pojangmacha (covered wagons) to Michelin-starred cuisine. They may be an acquired taste but kimchi (fermented spicy cabbage) and Korean ginseng are valued by locals for their health benefits. Other popular traditional dishes worth trying include bulgogi (barbecued beef) and kimbap (rice and vegetables wrapped in seaweed). At Gwangjang Market, for example it's possible to graze your way along hundreds of stands, sampling delicious snacks such as bindaetteok (deep-fried mung-bean pancakes), a specialty of the market. Others, such as pigs' trotters, intestines and pickled baby octopus, may be slightly less appealing. For me this time, though, I simply cannot resist the best of the best, so I head back to the Lotte Hotel and the wonderful French restaurant Pierre Gagnaire à Séoul, where the menu features a superb selection of classic French dishes created with Korean-inspired ingredients. I met the great man when I had a rather long and very memorable lunch at his Paris restaurant and I have to say this Asian edition stands up well. So much so that I decide Seoul's nightlife, tempting as it is, will simply have to wait for another time.