When it comes to the luxury hotel scene in Dubai, there's always a new kid on the block. The emirate's own "Visit Dubai" website lists an immense 126 five-star properties, with a handful of newcomers poised to join the party before the skies light up for the launch of the eagerly awaited Expo 2020 event – so it's unsurprising that many of us are left talking about the weather, instead of "just another luxury hotel in Dubai".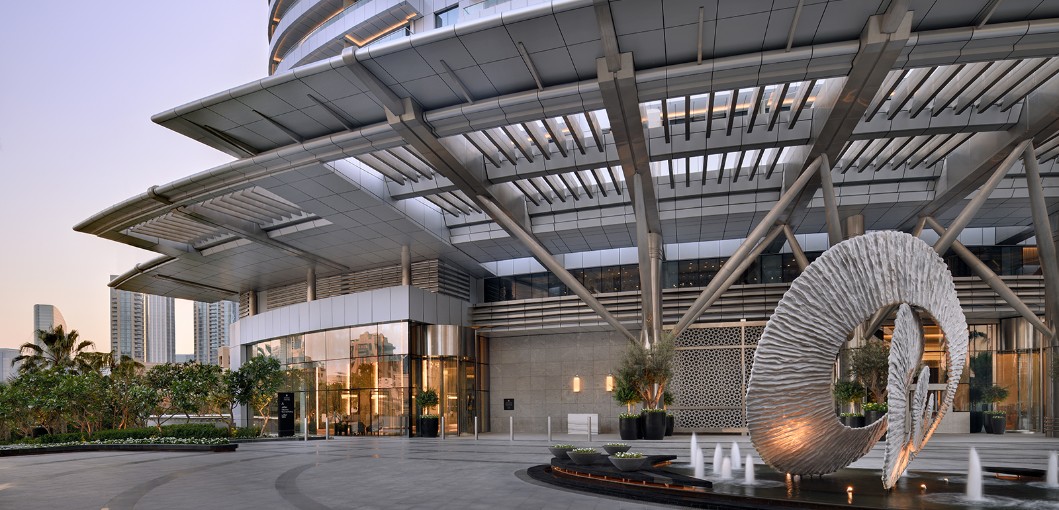 But when you're faced with an embarrassment of riches, so to speak, there's always something that stands out; a gem of such quality that it's set apart. In this case, Dubai has been enriched by the re-emergence of the glistening Address Downtown, an iconic property that opened this summer after a lengthy hiatus, with an inspired reimagining as a lifestyle property, with a light and fresh aesthetic from toe to tip.
Home away from home
It's been a brief few years since the flagship Address property closed its doors, yet the hotel's exterior architecture is unchanged and unblemished, maintaining its lofty, futuristic appearance, adjacent to the capacious Dubai Mall and facing the soaring Burj Khalifa beyond The Dubai Dancing Fountain. What's emerged from the proverbial chrysalis is a transformation that's entirely on the inside.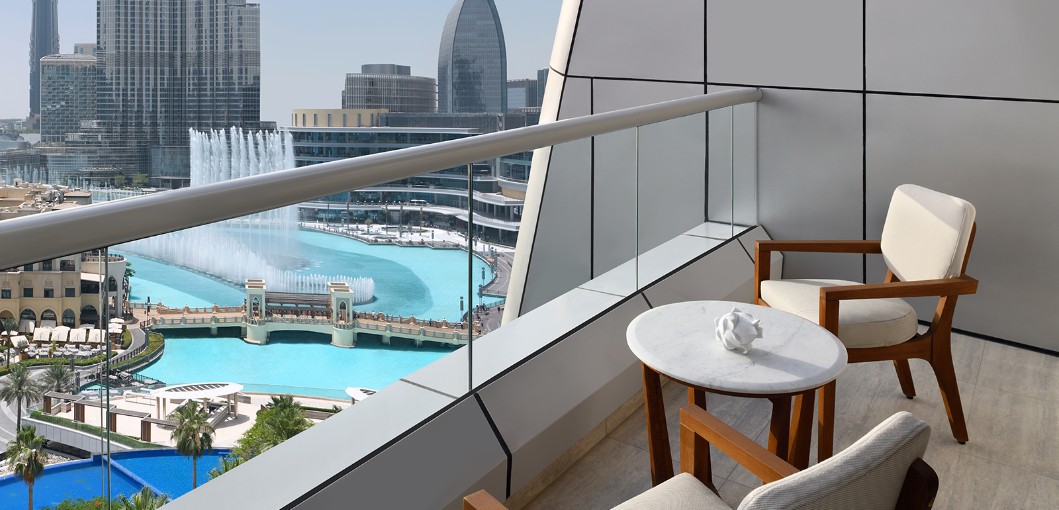 Entering the 220-room property feels a bit like walking into a dream home, if you can picture *that one* in all the magazines that seems just too good to be true. Well, aside from the 63 storeys and legion of attentive staff. Expect to be bombarded with beaming smiles upon arrival, and during the entire stay, from the warm welcome of the valet team to the attentive check-in team, starting your stay on a high note, fitting for a 302-metre tall building.
The lobby is illuminated with natural rays bouncing off the light-toned walls and oversized (yet somehow subtle) artworks. The public areas are truly gallery-esque, with scores of exquisite pieces adorning the walls, adding pops of texture and colour throughout, with a level of thought and attention given to the décor that was highlighted by none other than Caroline-Jane Houston. The hotel's General Manager, an incredibly esteemed figure in the world of hospitality, also explained the labour of love behind the hotel's reopening, updates and revived appearance.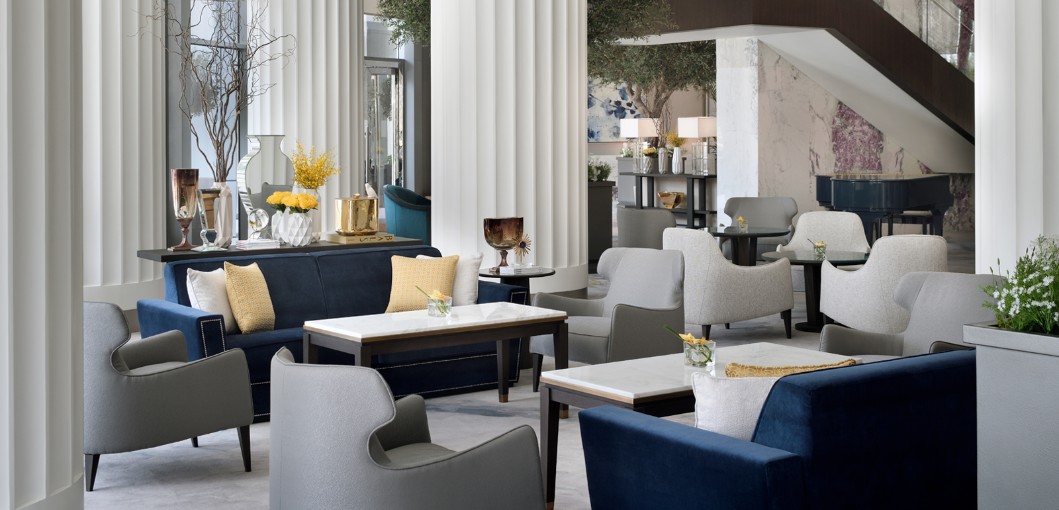 Love transforms
"I think for everybody involved in the project, it really was a personal investment. It wasn't just a job. It was a true love, everything about this hotel," she explained, in her Irish lilt, revealing that the US-based art curator was flown in to personally place each item, working in tandem with the interior design team, New York's Meyer Davis, to establish the look and feel of the hotel, both day and night.
In the pursuit of a refreshed identity, beyond the décor, the Address Hotel opted to rework the interior and, in doing so, remove the pre-existing ballroom. But Caroline-Jane elaborated a little on the hotel's evolved DNA: "We use the word lifestyle but what does it actually mean? It means different things to different people, but the intent and purpose has always been accessibility."
"I believe that we are the trendsetters – we have always been the trendsetters when we opened this hotel," she adds, documenting some of the key changes in the building's layout; moving the gym and spa to the 6th floor, increasing accessibility with an exclusive entrance for the wellness facilities, as well as lowering the Qix Kids Club from the 13th floor, making it more accessible from the club lounge and easier to access in general.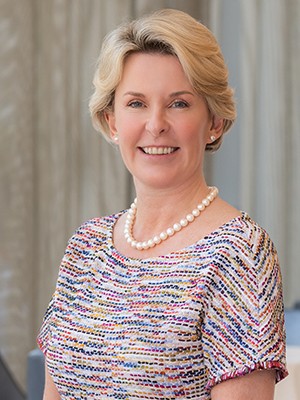 "I don't believe there's many club lounges in the world that have a dedicated kid's club," explained the GM, adding family is the most important part in anyone's lives, especially in the GCC market. "They like the kids around them but if they want to have meetings or breakfast, the kids are being well looked after literally next door. So that opens things up, giving those little USPs that maybe we wouldn't have had before."
Another key update was the opening of the residents' elevator, which was previously blocked off: "That was again a very big thing. These people have lived with us for eight to nine years, so you don't want to change too much."
Dining destination
Whether or not you decide to book a staycation in the heart of Dubai, local residents are certain to have a flavourful experience at Address Downtown. Keen readers will have spotted that we previously featured the hotel's signature eatery; aptly named "The Restaurant". The round-the-clock venue has already made a name for itself, vaunting an Anglo-French fusion menu almost as delectable as the view of the dynamic fountain show and luminescent Burj Khalifa.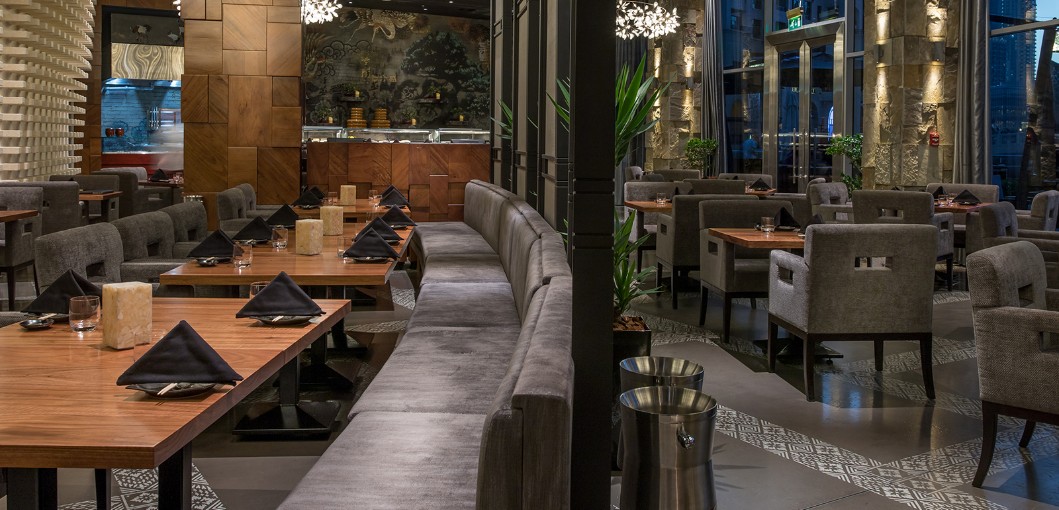 Other options are equally memorable, such as the sizzling new steakhouse accessible from the lobby. STK Downtown with its Instagram-worthy menu, in addition to a yet-to-open New York City-style garden terrace, and interior design flourishes in true STK fashion, with a wave-like ceiling fixture, cherry blossom furnishings and a VIP carpet area reminiscent of big city high society events. Carnivores should start sharpening their knives for the 1.1KG USDA Prime tomahawk steak, or perhaps the more modest 680g T-bone – with plenty of options available for those not so partial to slabs of juicy red meat.
Attempting to not skim over the elegant Cigar Lounge, or the upcoming California- and Asia-inspired Zeta, perfect for refreshing al fresco "ubertails" – to name just two – the culinary highlight is perhaps the immersive and intoxicating Katana, a robata and sushi bar adjacent to the hotel but on the lower "fountain level" plaza, between Souq Al Bahar and The Dubai Mall.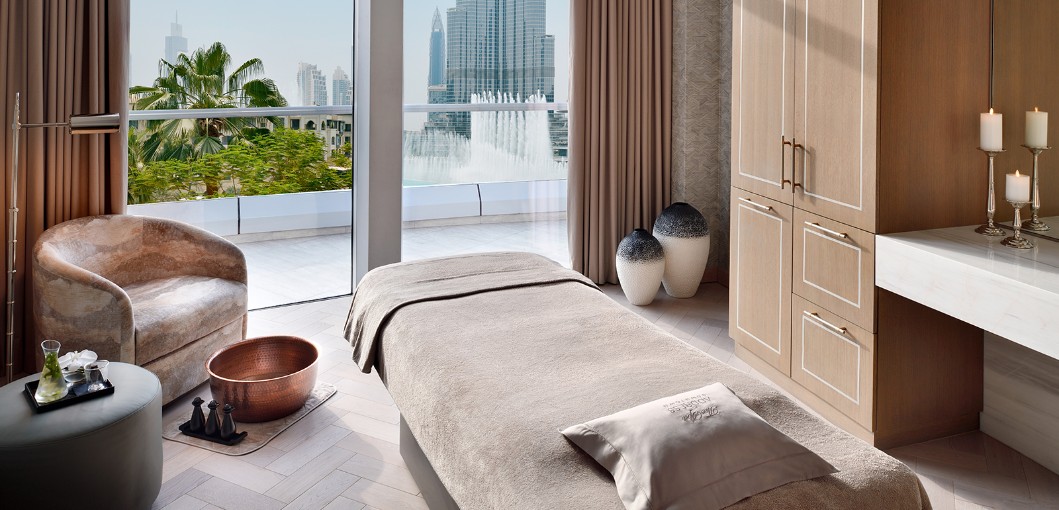 Just like its sibling venues in LA and Chicago, the immaculately designed restaurant presents traditional Japanese cuisine in a bold new light, with a rich and varied menu that covers classic Japanese staples, with vibrant interpretations, and a drinks menu to aid digestion throughout. The modern "Japanese tapas" options will soon be made available as part of a sophisticated Friday brunch experience. Come winter, diners will be delighted a surprisingly affordable package, with the option of 14 sake labels, as well as shisha for those who enjoy some hubbly bubbly.
Rooms with *that* view
A lot's already been said about the inimitable views of the world's tallest tower and the surrounding Downtown neighbourhood, but there's an abundance of visual appeal in the rooms themselves. Our stay was in one of 29 glistening Premier Fountain View Room; 70 square metres of stylish space, culminating in a plush king size bed and a spectacular balcony area, perfect for basking in the sun.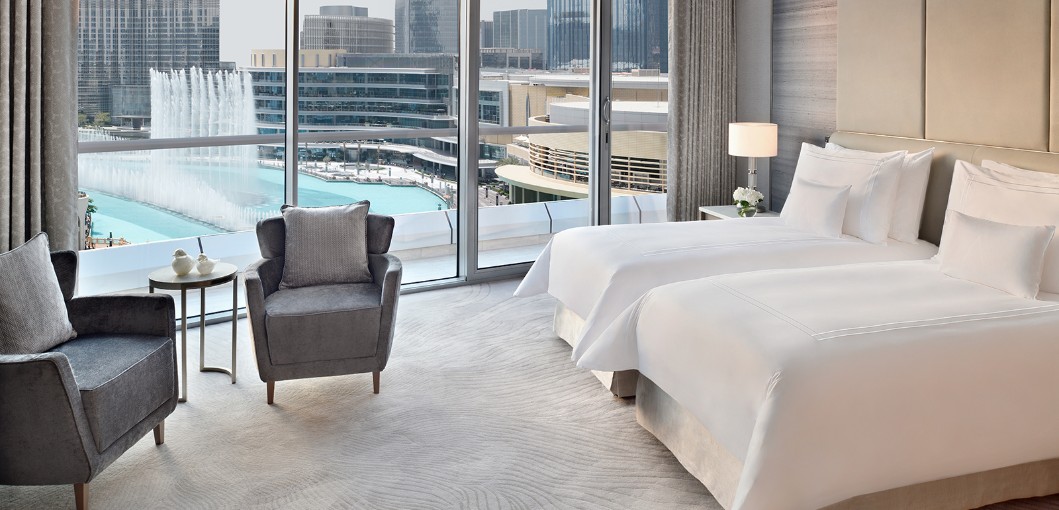 The modest hallway flows past a desk and vanity area, complete with a bulb-lined mirror, reminiscent of a Hollywood dressing room. The facing marbled bathroom is decked out with a spacious rain shower, soaking tub, double sink and bidet, equipped with fluffy towels and snug robes for maximum in-room relaxation. To top it off, there was even a platter of sweet treats, all quickly washed down with some help from the Nespresso machine.
Of all the 15 room categories, none are as lavish or spacious as the Signature Royal Suite, a duplex abode with three bedrooms, three bathrooms and a statement spiral staircase connecting the two levels. Flowing from the impeccable living spaces, the ample kitchen is replete with all the necessary appliances for a fully domesticated experience, with an even larger balcony and, you guessed it, incredible views.
Every day we can be better than we were yesterday. I genuinely believe we have to keep pushing ourselves from within, as individuals and as team members.
Arrive and unwind
There's nothing quite like the pool at Address Downtown, with a unique vantage point, allowing you to soak in the cool waters while you peer into the heart of the bustling district. The wide selection of loungers even permeates the pool, allowing you to literally dip your toes while you simultaneously soak in the sunshine and the water. The urban oasis also includes a Pool Lounge that serves an enticing selection of meals and beverages and will soon be bolstered by poolside venue Zeta.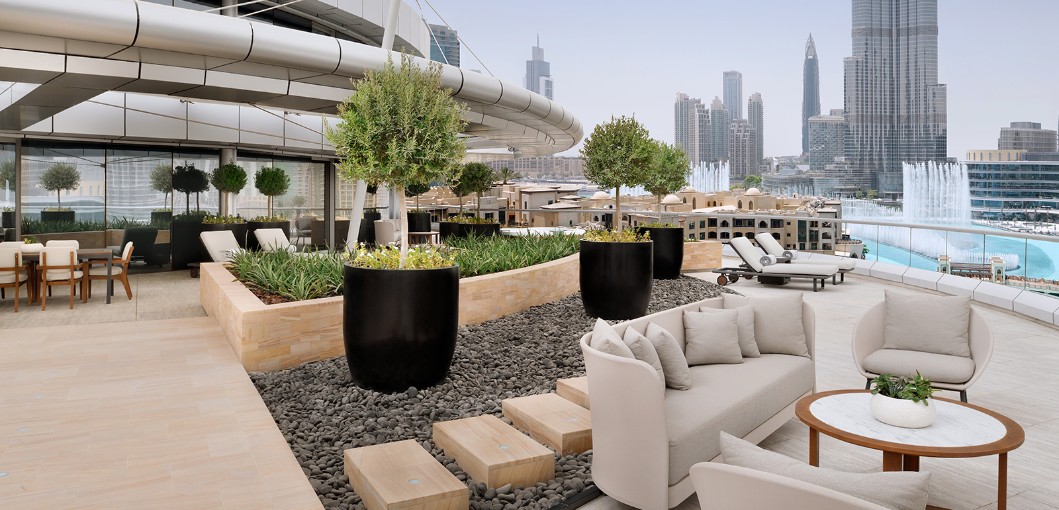 For a more executive experience, Club Suite guests can enjoy exclusive access to the Club Lounge, which dishes out international cuisine, as well as a meeting room where up to 10 guests can meet and conduct business, with up to five complimentary meals, including breakfast, offered throughout the day. Club tier guests also have access to a dedicated 24-hour concierge, with complimentary limousine transfers to and from the airport, as well as a pre-check-in facility and personalised reception. So if you're wondering how the hotel could possibly improve, rest assured, Caroline-Jane Houston is asking herself the same question each and every day.
"What can we do better?" asks the relentlessly meticulous leader. "That's very much, I believe, our philosophy each and every day. We are never good enough and every day we can be better than we were yesterday. I genuinely believe we have to keep pushing ourselves from within, as individuals and as team members."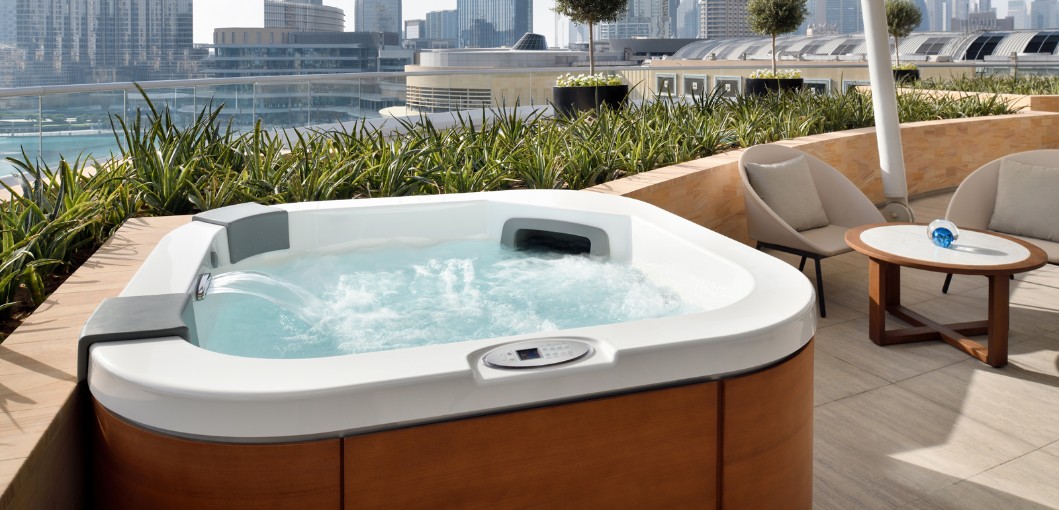 "Yes, the team come together to deliver the whole package but it is individuals who you will connect with over the next few days. For many of our guests, these are the people who will create those special moments. I'm not a "romantic". It's about consistently delivering what we have to deliver and remembering what our guests like and what they don't like."