Even though I live in London, I keep going back to the wondrous city of San Diego. First when I was 18, fast stripping the cushioned existence away from my sheltered schoolboy years; enticed by what the States in the 1970s seemed to offer and seduced by all that was bigger, more instant and convenient. I had driven right across the country and of course could go no further. It's interesting how an ocean is both restrictive and liberating. And then I returned at 21, then 25 and finally at 54. And this last time was perhaps a vain but rather glorious search to rediscover my youth. I think this lifetime allure of San Diego has to do partly with the Pacific Ocean, the giant, minatory presence of swirling waves and bracing winds but also the upbeat, 'can-do' philosophy of the 'Californian Dream'.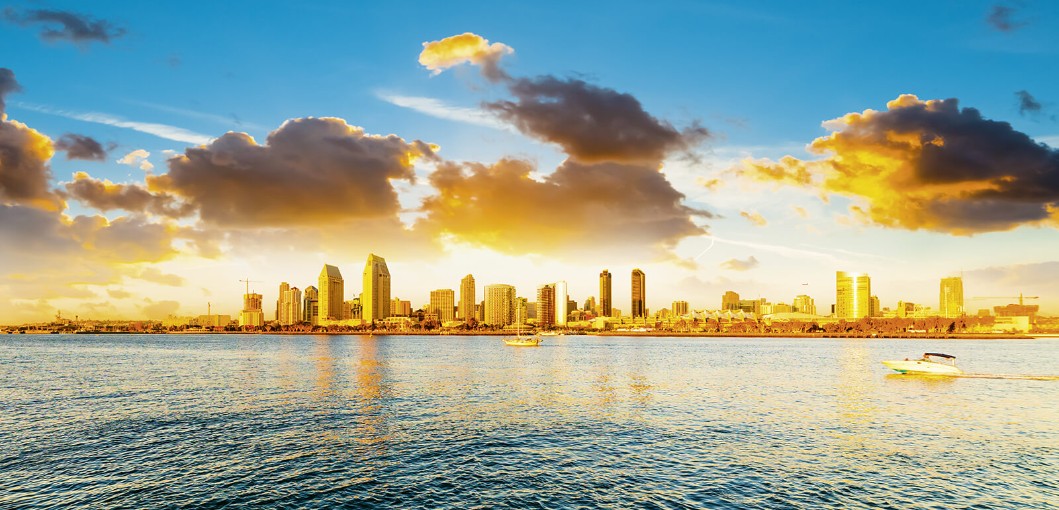 I remembered vividly the boardwalks in the seventies with hazardous skateboarders, the lifeguards' lookout posts and the volleyball nets. All before the advent of joggers. This is a city proud of its surf culture and located in Belmont Park, and right by the boardwalk, is 'The Wavehouse' with its two simulated wave machines. Here I admired seven year olds mastering the art of ducking and diving. For 'Cowabunga' is indeed the well-known shout of elation for surfing down a superb wave but I learnt, from sitting in the many bars and cafés that line the boardwalk, a whole new vocabulary.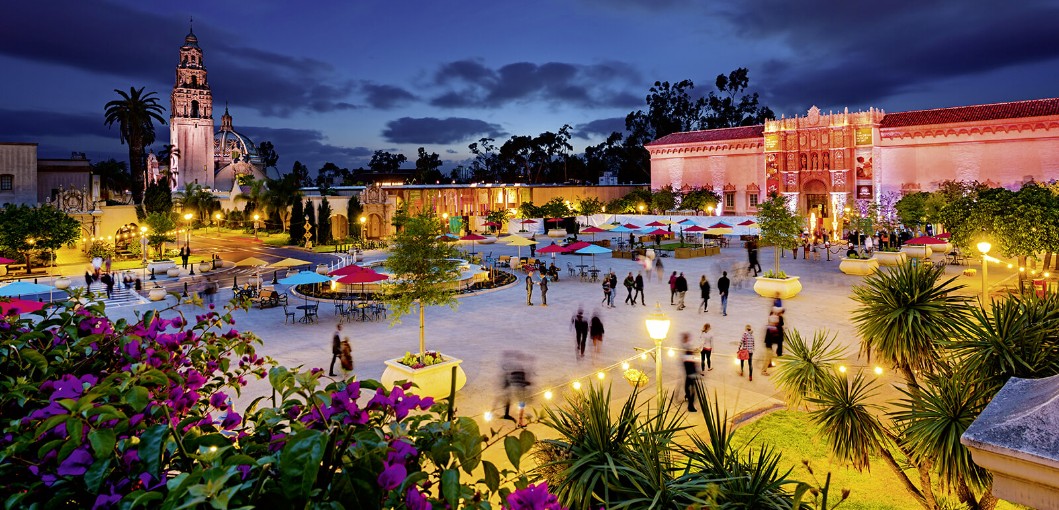 There's a rich and specialised jargon amongst the surfers. 'Hang five' means to ride with the toes of one foot hooked over the front of the board. And 'knots' are a real status mark signifying the bruises and cuts gained from battling the waves and the board. However some of these 'shark biscuits' – their term for novice surfers – are clearly yet to earn their stripes. I love the notion of 'rubber arms' for those surfers who turn to catch a wave, making all the paddling movements, but never really go anywhere. Some perhaps will never gain distinction but full marks to them for persevering. 'Grubbing' is falling off your board while a 'frube' is someone who doesn't catch a wave for the whole time they're in the water.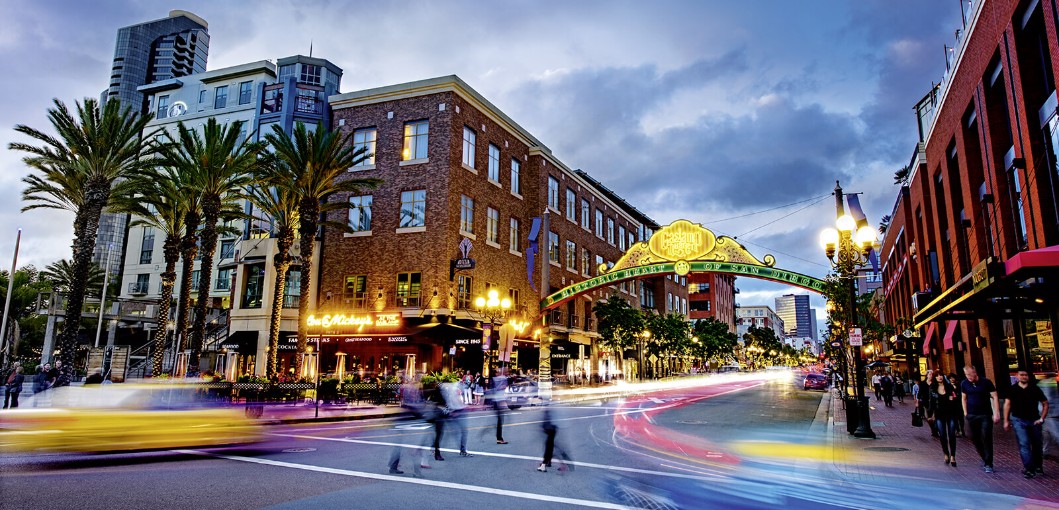 Then some male surfers, it would seem, are just happy to pose with 'shubie' being someone who buys surf gear and clothing but doesn't surf and then there's the 'hodad' a show-off who hangs around surfing beaches, boasting of his exploits and trying to pick up girls but who has rarely, if ever, tried to surf. For a different sort of action you have to drive downtown to the Gaslight Quarter, as the tourists call it, or 'Gaslight District' as the locals prefer. It's the historic area spread over 16 walkable blocks that 's full of restaurants, bars and nightclubs. I treated myself one evening to a particularly special menu at Osteria Panevino on Fifth Avenue, where the chef and owner Vincenzo Lo Verso told me of his Sicilian origins from which he got his inspiration and passion for cooking. The décor harks back to his homeland with little curios on the walls. I marvelled at how the Italians make such delicious meals out of sometimes the most basic ingredients as I savoured the peas in my 'pappardelle coi bisi'.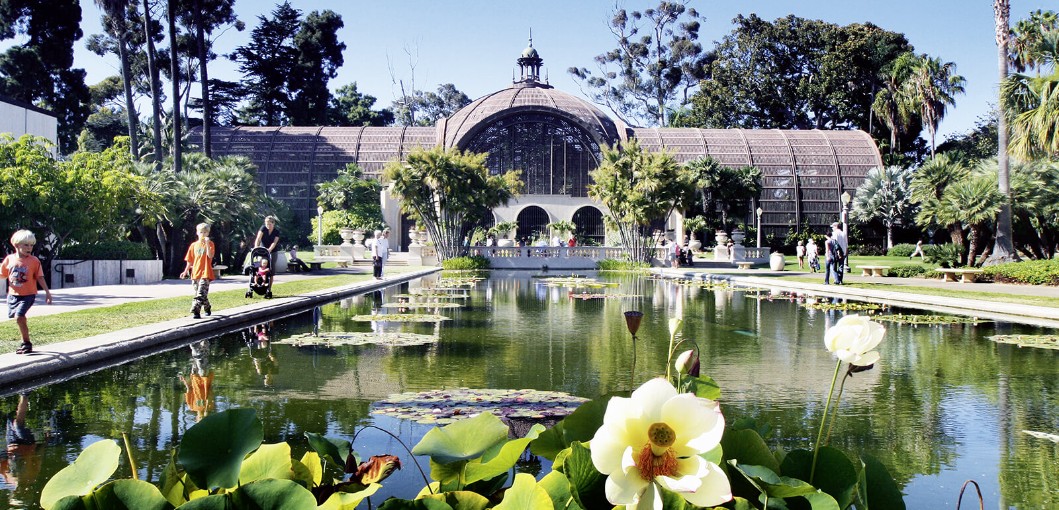 Here I stayed at the impressive luxury Andaz San Diego hotel. All very plush, comfortable and blooming with mod-cons with a wonderful roof top pool and restaurant affording a view right across town. My room was stylish and contemporary with a neutral décor. All thoroughly thought through. And it was from here that I took the 'Trolley Light Rail' system. The sleek bright red carriages slid along the streets and it's the chicest of all public transport systems. It even runs to the border with Mexico, whose neighbouring influence naturally spills over into a distinct 'Cali-Baja' culture found in both the local architecture and food.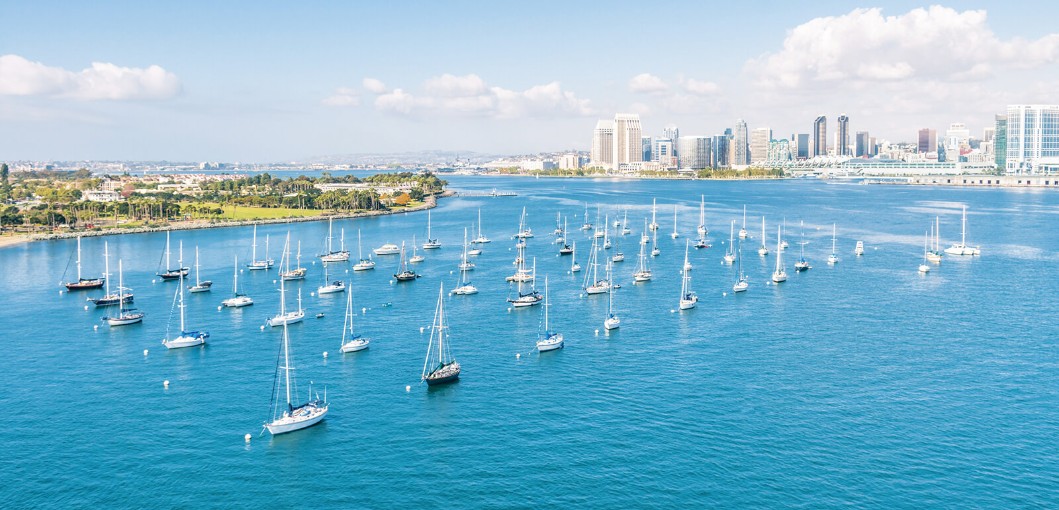 For I had come downtown also to visit the world famous zoo in its prime spot in Balboa Park. Amongst varying landscapes to befit the animals' natural habitat you go up respective peaks and down troughs either by foot, buggy or the giant double-decker tour bus. It's best to arrive early as many of the animals are most active in the morning though apparently some perk up again in the afternoon. It's quite a theme park in that particularly American way with endless explanations, guides and maps peppering the experience and areas with names like "Elephant Odyssey' and 'Absolutely Apes'. Indeed I loved the monkeys, as well as the koalas and especially the snow leopards. What beauty they have in disguising their savagery.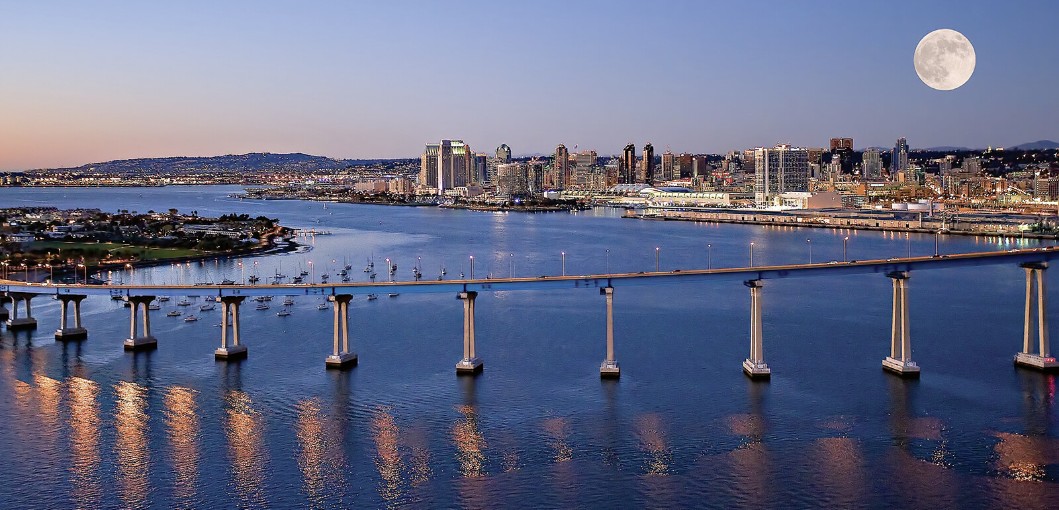 With her deep harbour, San Diego is home to the US Pacific Fleet and naturally much is out of bounds and beyond even my preying journalistic eyes. But I could at least witness whole communities built around this industry housing crew-cut types sporting a clean-cut fashion last seen in the 1950s: the decade before the advent of 'SoCal's', Southern California's, "Fun fun fun 'til her daddy takes the T-bird away" or so go the famous Beach Boys' lyrics.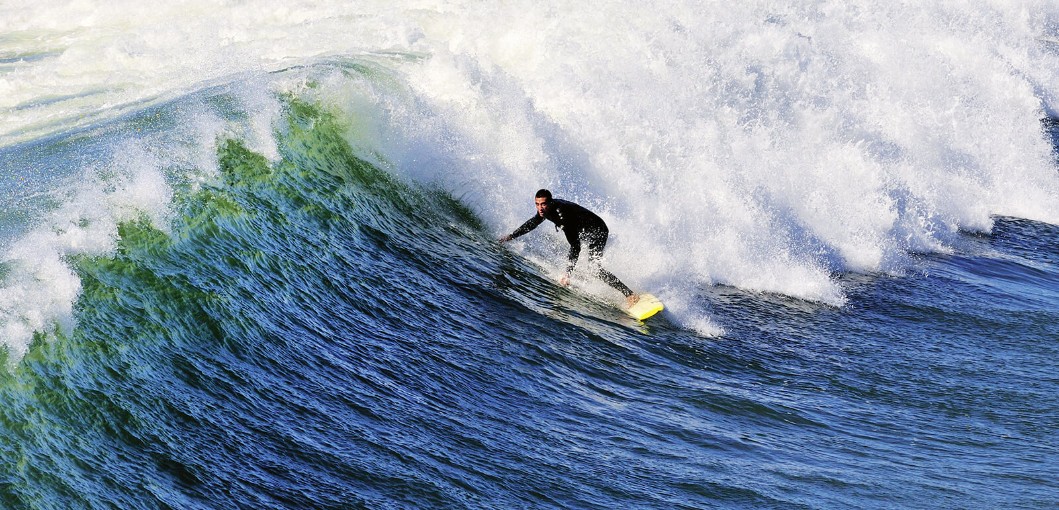 I booked into the Bahia Resort Hotel, Set amongst the coves and basins of Mission Bay it proved perfect as a base for driving downtown or walking along the manicured boardwalks of the beach and bay where I peered into the holiday homes. These slick, clinical temples of relaxation were decked out with well-stocked massive fridges, spongy couches and giant television screens. "All set" as they say, for the 24 hour beach culture.
I delighted at Sea World, a short drive away, in the delight that two children showed as they watched dolphins be fed chunks of fish by the trainers as a reward for their extravagant leaping display in their live show of which 'One Ocean' seemed to be the best. Such were the lyrical movements and playful antics of these bottlenose dolphins. I love Mission Bay. It's a man-made saltwater lagoon and a hive of activity. It's where I walked, bathed, cycled and dog walked with a friend along its perimeter and peninsulas. And I was lucky enough to see the grey breast of a California least tern, as they're now tragically highly endangered birds.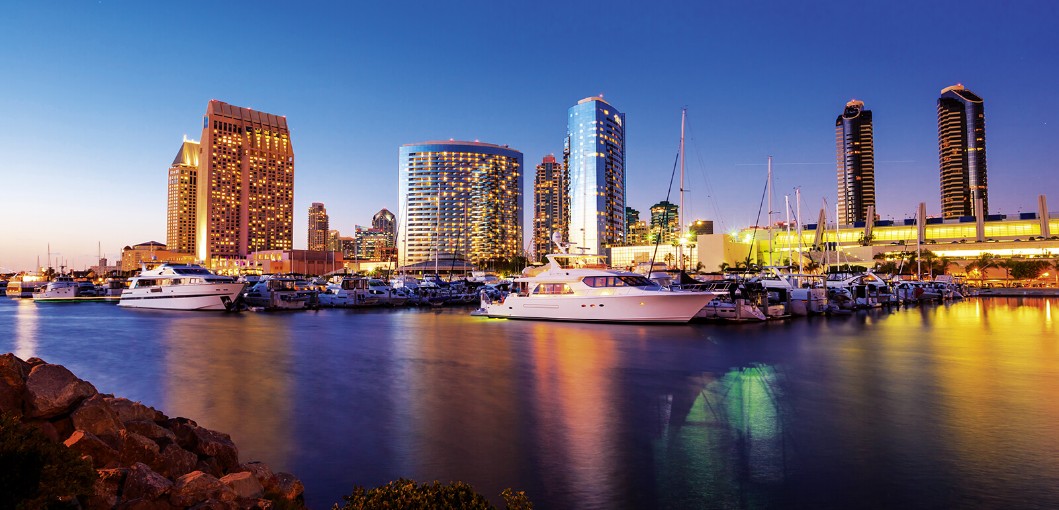 I stayed next at TOWER23, named after the adjacent lifeguard lookout point. It's a contemporary seafront hotel with a fresh, clean-cut structure for which it's all about the location. For it's right by the Crystal Pier, a prominent landmark set within the waves, and looked out over the ocean and at the dancing dolphins. And it was here that I took real pleasure in rediscovering my student years of knowing how to sit back and soak up the sun and the sea air and frequent the nearby Duck Dive on Mission Boulevard with its lounge featuring surf videos beneath a wavelike ceiling along with a menu that offered a perfect brunch.
Driving along a charming cornice, north of Pacific Beach, I reached the prosperous suburb La Jolla, pronounced 'La Hoya' and meaning 'the jewel'. It sits atop cliffs with the ocean on three sides and is well-to-do in the manner of London's Hampstead or Rome's Trastevere. Luxury homes a plenty with stunning ocean views to match. It was even serving café lattes back in the '70s.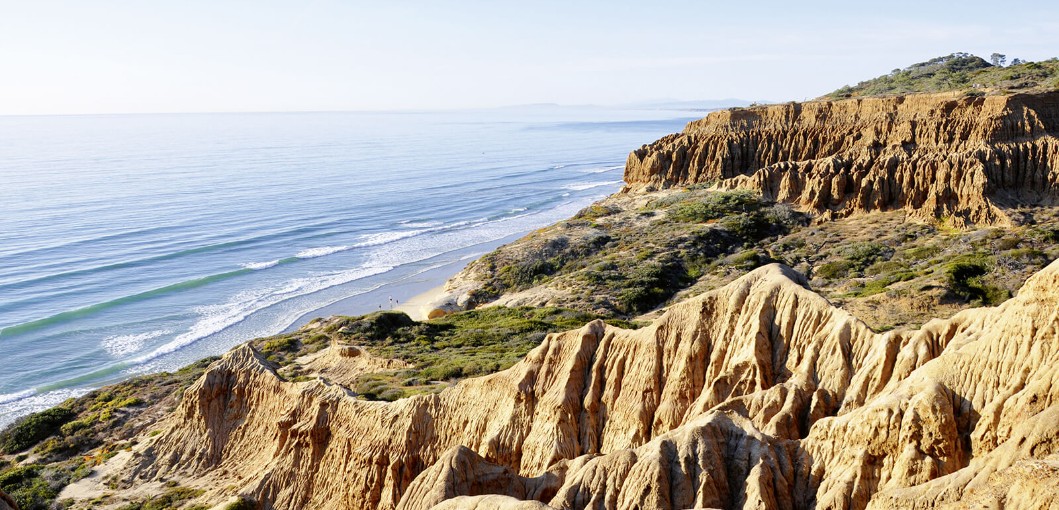 For I had come to the renowned Scripps Institution of Oceanography. Unquestionably a world leader in its field of cutting-edge research. Here, at its Birch Aquarium, I came face to face with lovely aquatic creatures such as a rescued Loggerhead Sea Turtle, some Moray eels and two wondrous seahorses revelling in their ecosystem. Here on the coast there's a habitat for seals and dolphins and a giant, underwater kelp forest. I paddled my way out to explore the otherwise inaccessible caves to have that primal moment of delight as I spotted darting bright orange garibaldi fish and leopard sharks.
I then took myself a few miles further up the coast to Torrey Pines whose 'Natural Reserve' tempted me with its rich choice of walking trails along its dramatic cliff-top setting with sweeping views of the ocean and where steep sandstone gullies have eroded into wonderfully textured surfaces. For tips I recommend the following: be ready as elsewhere in the States to tip for virtually everything. I needed all the gall I could muster to countenance that surly lack of appreciation that comes from the unrewarded outstretched palm of a hotel porter.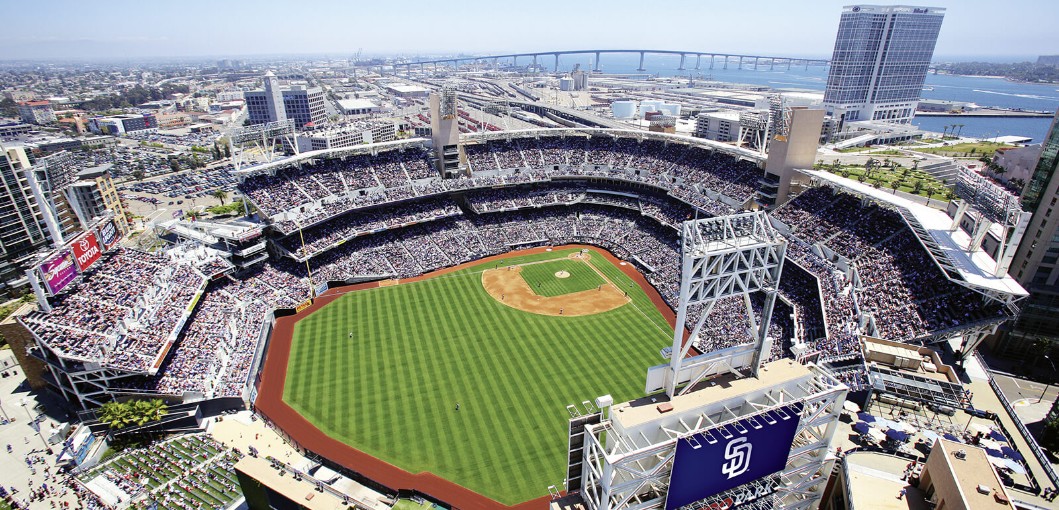 Take lots of sun cream and a hat to respect the sun's potency and a fleece for the winds that come off the ocean. In the summer swells come from the south and southwest and in the winter the north and northwest. It's all about packing light layers. June to August is when most people go, but, as the weather is temperate all year round, I recommend going between December and February when the beaches are least crowded. San Diego for me has refreshingly changed little. Though I would be kidding myself no doubt that the same was true of me 30 years on.
Stay:
Andaz San Diego - A Concept by Hyatt San Diego, California
+1 619-849-1234
Bahia Resort Hotel San Diego, California
+1 858-488-0551
Tower23 Hotel San Diego, California
+1 858-270-2323