Shochu's rich history in Japan dates back hundreds of years. The distilled spirit is made from a wide variety of base ingredients such as sweet potato, rice, or buckwheat. The diversity of base ingredients results in a wide array of flavors and aromas, and it can be consumed at a variety of temperatures. Shochu is so prevalent in Japan that it is made in every prefecture in the country; the same cannot be said for saké. Shochu, which is often mistaken as a high-alcohol drink, is often thought of as a Japanese vodka, but unlike most distilled spirits that come in at about 40 percent alcohol, many shochu are only 25 percent. Shochu is often mixed with water, meaning the alcohol percentage drops to about 15 percent, or about the same as a glass of wine, shattering images of a high-octane drink.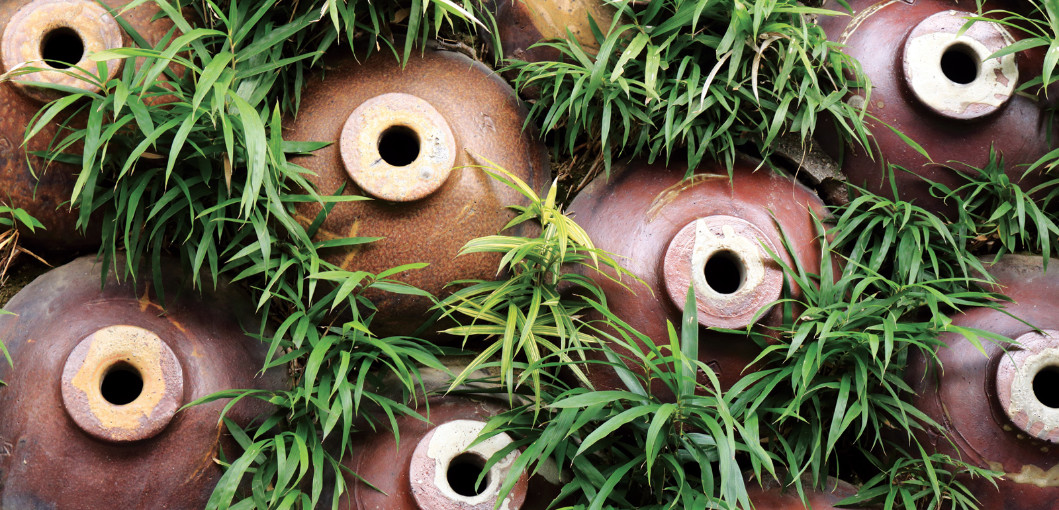 Today's shochu is far removed from multiply distilled, korui shochu. Long associated with overworked salarymen looking for a cheap drink after a hard day's work and usually used as a mixer, korui shochu is made from cheap ingredients with little unique character. What is now enjoying a renaissance is the top-quality honkaku shochu or single-distilled shochu, which is in a different league altogether. Shochu is a drink that can be consumed hot or cold, straight or on the rocks, and often with water. In the humid Japanese summers, ice-cold shochu makes the heat bearable. Cold winters are quickly forgotten when one warms up with a shochu that is mixed with hot water.
Depending on the base ingredient, shochu can range on the palate from clean and crisp rice to rich and funky sweet potato. It can be aged in a tank, ceramic pots, or in wooden barrels, giving it tannins and a toasty aroma. Shochu is also a food-friendly drink, and the heart of understanding the spirit is seeing it paired with regional dishes. Notably, the southern part of Japan, Kyushu and Okinawa, offers up unique dishes made from regional ingredients. There is no need to make a special trip to the southern region, however, as shochu restaurants in Tokyo feature local dishes, like pork belly simmered in a sweet-soy broth, deep-fried fish cakes, and a fermented tofu that is like an intense blue cheese. Awamori is shochu from the tropical Okinawa and is an integral part of the island culture and cuisine. Awamori can run up to 45 percent or more, so best to enquire what the alcohol is before ordering a glass.
Be sure to ask for honkaku shochu, and to ask for regional dishes, request kyodo ryori. Another great word to know is osusume, which asks the server for their recommendations. Shochu can now be found throughout the city from high-end hotels to casual drinking spots. As it is still unusual to see non-Japanese asking for a glass of shochu, diners are often warmly received when ordering the drink. Don't be surprised if the neighbours at the next table take you under their wing to guide you through this celebrated spirit.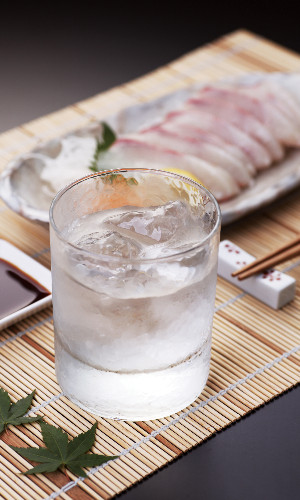 4 PLACES TO DRINK SHOCHU IN TOKYO: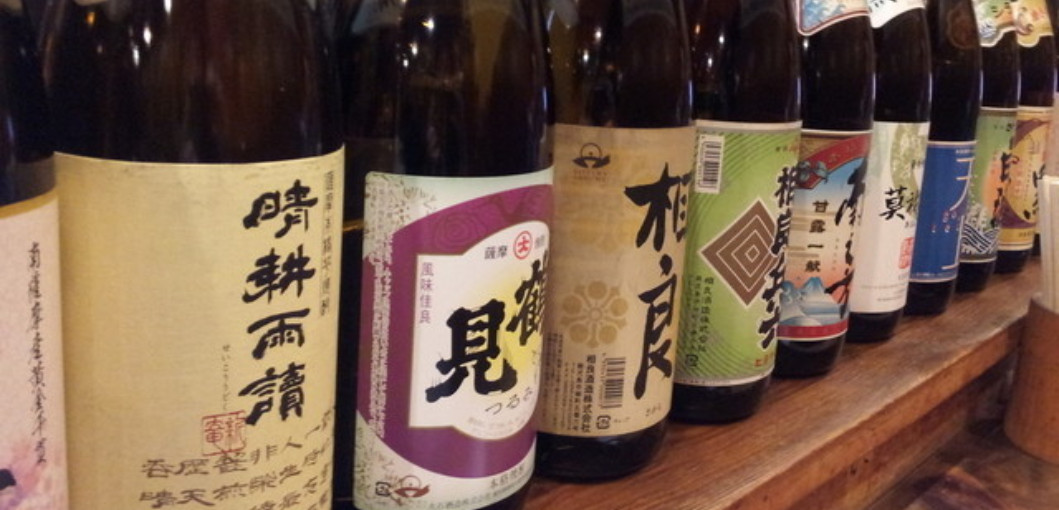 1. Bettako Ikebukuro
On the northwestern side of Tokyo is Ikebukuro station. Two large department stores anchor the area, which is surrounded by many affordable ramen shops and drinking pubs. Bettako is a popular izakaya specialising in shochu and shochu-friendly regional dishes. The shop is just minutes from the station on a back side street. Diners are warmly welcomed and ushered to either the counter or a side table in this casual pub which will take you back to your summer camp days. This very local spot where it is best to just leave yourself in their hands. Just say "omakase" and let them bring out tapas-style small plates of regional dishes like horse sashimi (basashi), grilled beef tongue, and simmered offal. Classic pub dishes like potato salad and grilled skewers of chicken meat, liver, and heart are always popular. At Bettako, be sure to ask for some maewari shochu, which is diluted with water in advance, creating a smooth drink. Most restaurants don't go to the bother of doing this, so it is a unique opportunity to try it this way.
Hasegawa Bldg., 1-42-17 Higashi-Ikebukuro, Toshima-ku
+81 3 3987 7982
---
2. Koujikura Ginza
Koujikura is in the heart of the city near Yurakucho station and across the street from the Peninsula Hotel. Koujikura specializes in the cuisine and shochu from the Kyushu and Okinawa. The menu in this basement restaurant includes many regional dishes that are traditionally paired with shochu. Seared katsuo, skipjack tuna, deep-fried Satsuma-agé fish cakes, karashi renkon Japanese mustard with lotus root, rafute pork belly simmered in a soy broth until tender. Everyone will love the deep-fried chicken namban with tartar sauce. Umi budou is a sea vegetable from Okinawa that look like micro-grapes that burst with the flavor of the ocean. The sea grapes should be paired with the harusame awamori as they are from the same area. There is a big selection of sweet potato, barley, rice, black sugar, and awamori. Koujikura's house cocktail is a highball of shochu and soda on the rocks. This is a nice way to ease into the spirit for novices. Here you can also try unique shochu like the minty shiso or the nutty chestnut.
Chiyoda Bldg. B1, 1-6-4 Yurakucho, Chiyoda-kutel
+81 3 5510 5577
---
3. Zen Shinagawa
Zen is located in the Shinagawa station building called Atre. The bar counter faces a backlit wall lined up with magnum-size shochu bottles. The menu is of Japanese dishes including sashimi, grilled fish, sushi and tempura. There are also a few course options for dinner, which is easy and offers a variety of dishes. The shochu list is extensive and includes a wide variety including sweet potato, rice, black sugar, and barley. The staff will help to suggest if a shochu is better on the rocks or warmed up with hot water.

Zen carries the rare style of shochu called hanatare that is the first draw from the distillation tank, hence high in alcohol and dense on the palate. Hanatare shochu will be like a smooth gin and should be sipped and the aroma taken in. Zen also has a barley shochu, Naka Naka, on their list, which is aged in a ceramic pot, allowing it to breathe and soften up. Drinking in the station building makes it easy to catch the train for your journey home.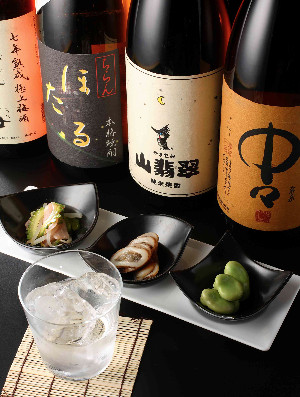 Atre Shinagawa 2F, 2-18-1 Konan, Minato-ku
+81 3 6717 0925
www.granada-jp.net/restaurant/thezen/

---
4. Peak Lounge Park Hyatt Tokyo
The Peak Bar at the Park Hyatt Tokyo is a respite in the busy city and an excellent option for a quiet cocktail. The unobstructed view from the 41st floor of the Park Hyatt overlooks the city and Tokyo Tower and the Sky Tree. The dramatic setting is thanks to the high glass ceiling, bamboo forest, and lights softened under Japanese washi paper. Savour the aroma of the barley, rice, or sweet potato shochu.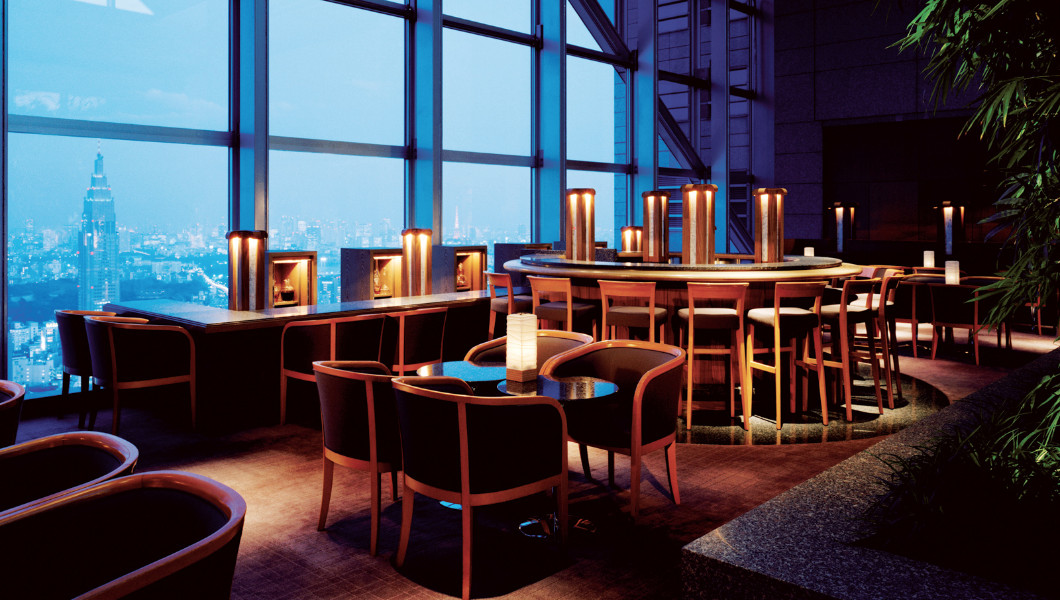 This is a rare chance to try Western cuisine with shochu, which goes surprisingly well. European cheeses or spiced mixed nuts for a lighter selection, or crispy chicken and truffle parmesan French fries, for a heartier pairing. The Danryu awamori is aged in an American oak barrel, giving the awamori a light color and whisky-like notes. Danryu is also an aged awamori, called ku-su, meaning it has been aged for more than three years, rounding out the harsh notes that often come with young awamori. This awamori should be slowly sipped. The intimate setting calls for lingering.
Park Hyatt Tokyo, 41st Floor, 3-7-1-2 Nishi-Shinjuku, Shinjuku-ku
+81 3 5322 1234
www.tokyo.park.hyatt.com/en/hotel/dining/ThePeakBar.html