Walk through the doors of Bombay Brasserie and it hits you all at once: the vibrant colours covering the walls, the hive of activity in the open kitchen, and the intoxicating aroma of Indian spices that fills the air. Here at Taj Dubai's signature restaurant, sensory overload is part of the experience.
Dubai typically does Indian food well – it's enormous population of Indian expatriates providing both the supply and the demand for many of the city's hundreds of restaurants. But for the signature restaurant at a hotel belonging to an Indian hotel brand as prestigious as Taj, expectations are seriously high.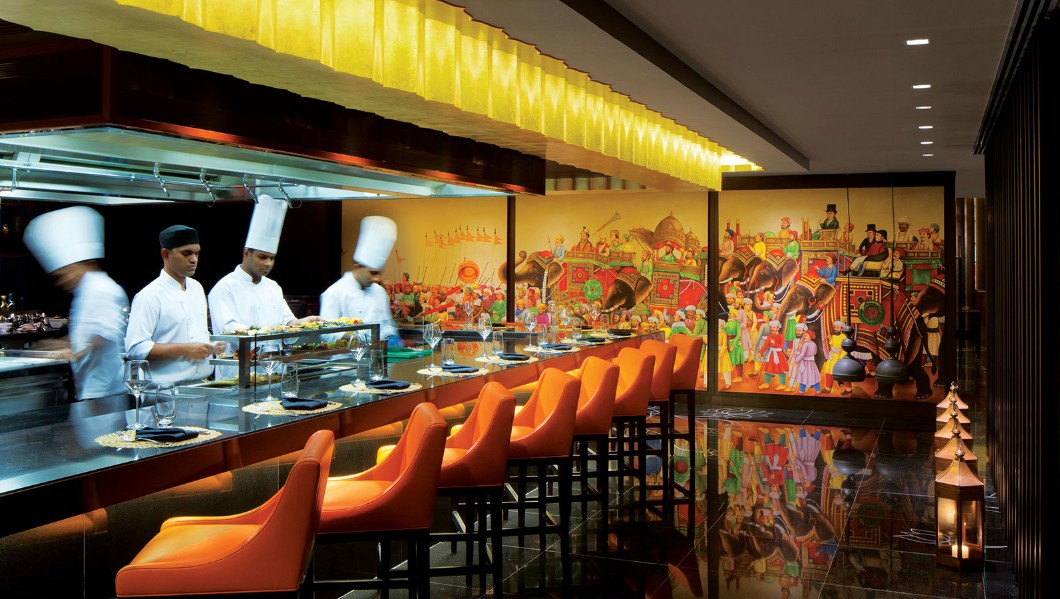 Thankfully, diners here are in very safe hands. Chef de cuisine Ajay Negi joined Taj after a spell in the kitchens of Amal at Armani Dubai, brining with him years of culinary experience and a passion for creating traditional Indian dishes using modern cooking techniques. Although he hails from Uttarakhand in northern India, the offering at Bombay Brasserie covers the full extent of the Indian landscape, with dishes from both ends of the country well represented on the menu.
I take a seat at the far corner of the restaurant, which looks out towards Burj Khalifa and the other goliaths of Downtown Dubai. The restaurant is almost full, which I didn't expect on a Sunday night, and the pleasant hum of conversation fills the air. The menu here is designed for sharing, so my dining companion and I select a handful of starters, which receive the nod of approval from our waiter Ritesh.
First out is the chicken tukra chaat, a refined take on a typical street-food snack that's ubiquitous in Indian cities: tender morsels of spiced chicken cooked in tamarind yoghurt and peppers. The tandoori Scottish salmon tikka is perfectly cooked, with a slightly crisp, chilli-spiced exterior flaking away to reveal the soft pink flesh within. My favourite is gosht pasliyan: a traditional Hyderabadi dish of slow-cooked minted lamb chops and black pepper. They're tender and aromatic; complemented by a cool mint sauce that cuts through the rich meat.
Indian food is big and bold, so Bombay Brasserie's cocktail menu includes a selection of drinks designed to contrast with and complement the powerful savoury flavours. My bright-pink Bombay Blazer – a flaming gin and lemon zest cocktail with rose syrup and pink guava – offers a sweet counterpoint to the food, with exotic flavours bold enough to stand up against the barrage of aromatic spices.
We delve into the culinary traditions of southern India for the main course, with a Cochin lobster curry; pieces of tender lobster steeped in coconut milk and curry leaf that's at once delicate and divine, the silky flavour of saffron lifting the dish up to giddy heights. Chef Ajay reveals his playful side with tari wala murgh, which means Grandma's chicken curry, a deeply spiced home-style dish that warms the soul, and an extra side dish of Punjabi dal makhani completes our culinary tour of India.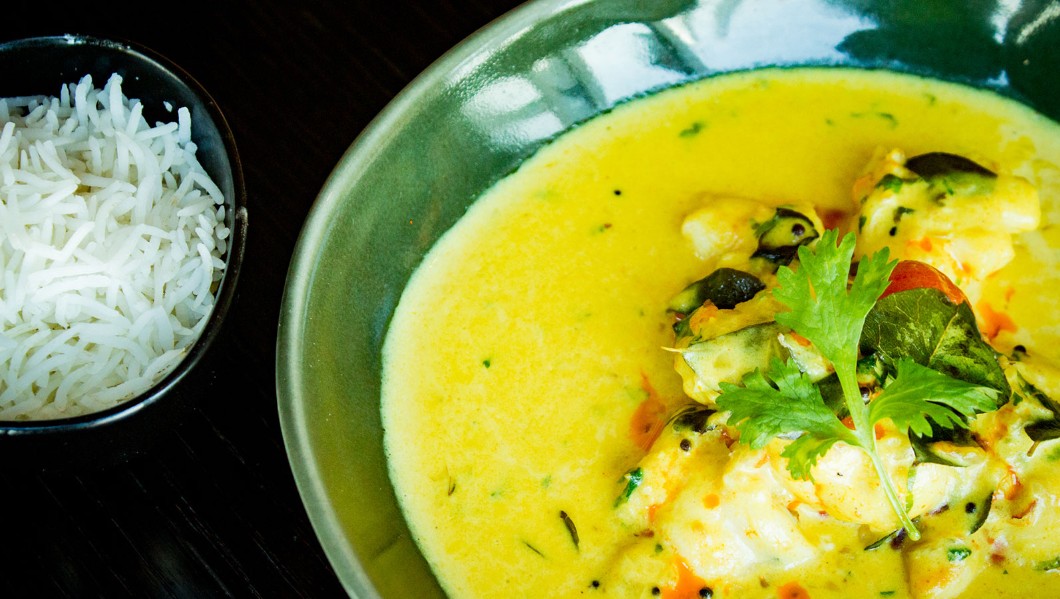 Well it would, but the irrepressible Ritesh insists on a pair of decadent desserts, which look divine. Chenna pyesh is a light and perfumed dish of sweetened reduced milk flavoured with saffron that's served in a dainty, tall-stemmed cocktail glass; and gulab jamun sees sticky dumplings served with rose gel, cardamom syrup and a delicate piece of gold leaf. Both are traditional dishes given the modern treatment, and their presentation elevates the dessert to a truly high-end experience.
Bombay Brasserie sets out to provide a modern take on Indian food in a relaxed and vibrant environment. It does all of that exceptionally well, but chef Ajay and his team have also nailed the art of balancing flavours to perfection, a triumph that will doubtless lead to many repeat visits.