Founded by Sirio Maccioni back in 1974, Le Cirque is something of a legend in New York City, as is Maccioni himself. One of those rare, charismatic hospitality characters, the Italian immigrant charmed New Yorkers when he worked at the Colony Club as a maitre d'hotel in the late 1960s, as has his venerable restaurant, helmed over the years by lauded chefs like Daniel Boulud, David Bouley and Christophe Bellanca. Today, there are outposts of Le Cirque across the globe, from Las Vegas to New Delhi, and judging by the black-and-white photographs of Maccioni with his celebrity pals on the walls of the Dubai restaurant, the legend goes far deeper than food.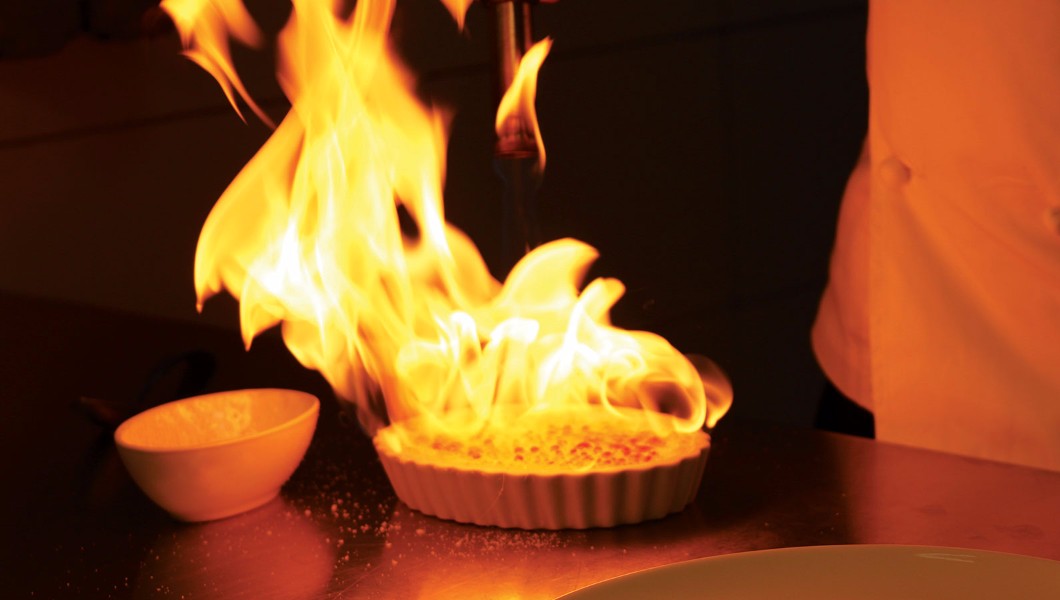 It's only been a few months since Le Cirque's Dubai incarnation opened its doors at The Ritz-Carlton, Dubai International Financial Centre (DIFC), and it seems the perfect fit for the hotel. With high ceilings and full-length windows overlooking the courtyard, a sophisticated palette of grey and white and a mix of tables with banquette and French balloon-style chairs, it's a breezy, light-filled setting that's ideal for a power lunch, though on the day I dine, it's not so suit heavy – more a mix of travelling professionals and finance workers, a voluminously pouted woman here, even a couple or two there.
A grand piano is set up for evening performances though at lunchtime, Le Cirque has a more muted yet elegant ambiance, with servers and hosts milling about clad in waist coats and jaunty red bow ties. It's certainly more chic than staid, and the dining room is given both a contemporary edge and a colour pop thanks to the artwork handpicked by Opera Gallery Dubai, from the neon green and skulls in works by David Gernstein to the splashes of fuchsia in a flower installation by Barcelona-born Lita Cabellut.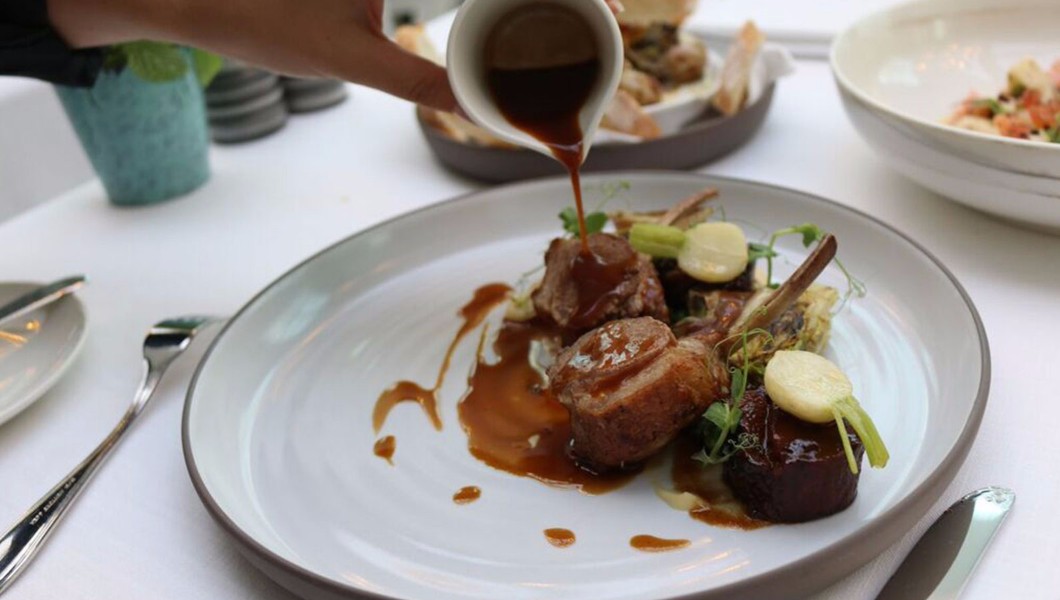 We are greeted and seated swiftly, and are nosing through the menu when the charming Mexican server suggests letting the chef do the choosing for us. At Le Cirque, it's dubbed "Déjeuner avec Le Chef" and we readily agree with just two requests: grilled entrecôte as a main and scorched scallops, sweet potato and coconut as an entrée. It's not long before tableware appears, the pink and grey floral ceramic plates so pretty, I can't resist flipping one over to see who designed them (Singapore-based producers, Luzerne). The plates look even better once the scallops, seared ever-so-slightly, are deftly served up, with wafer-thin sweet potatoes and a sweet coconut cream fused with ginger, vinegar and just a hint of chilli. The chef's choice of entrée is tomates au fromage de chèvre – with smears of goat cheese, a sweet, charred onion chutney and sprinkling of edible flowers, the heirloom tomato tart features at least 20 tomatoes of varying sizes, all perfectly peeled, I'm gripped by the urge to salute the kitchen, for anyone who has ever peeled a tomato knows just how fiddly and maddening the process can be – yet worth it a hundred times over for that uninhibited burst of juice.
There are two low points in the dining experience. The first is when I discover Le Cirque's attractive bar is churning out an even more attractive cocktail menu – and I have driven my car. The second is when my French Riviera mocktail appears to go AWOL; though when it finally arrives, any ill feelings are promptly defused with a joke ("We were out picking the oranges"), and defused some more once the fresh orange and passionfruit juice dosed with elderflower syrup starts tangoing on my tongue. For my non-driving dining partner, the sommelier recommends a Chianti, and it's an ideal choice paired with the entrecôte, the succulent, fat-of-the-land ribeye sliced and served with Café de Paris. Tout de suite, we're tucking into it with with abandon along with risotto d´asperges, with both white and green asparagus, and purée de pommes de terre, the creamy mashed potato spooned onto the plate, it's a beautifully apportioned and classically French meal.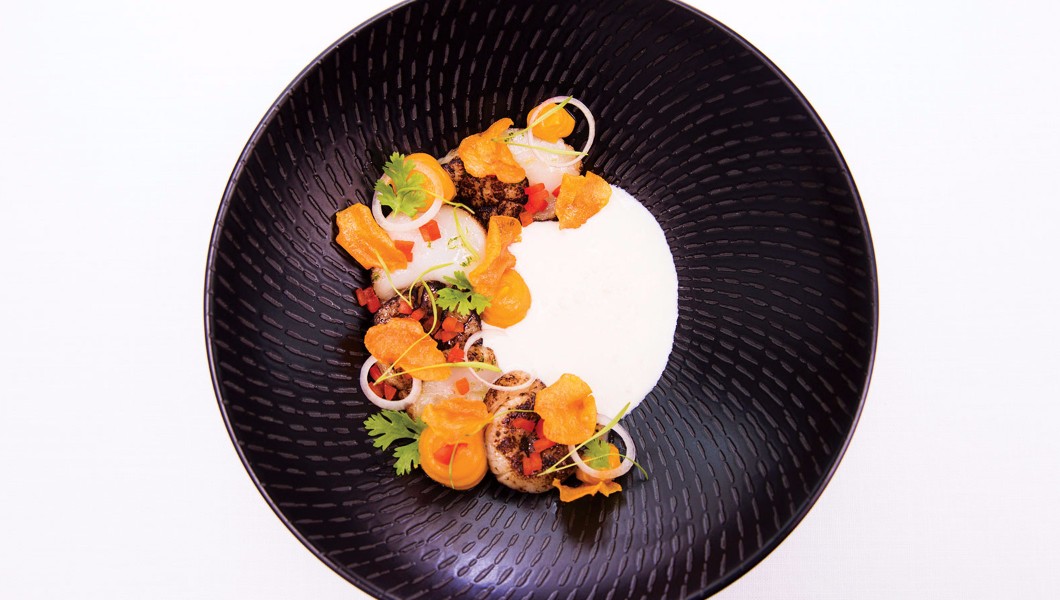 Le Cirque's dessert menu is not for anyone hoping to practice restraint, and we certainly don't when the tarte fine aux pommes (apple tart) appears, topped with cinnamon ice cream and a toffee-style caramel sauce. The crème brûlée, its copper-coloured shell encasing the vanilla wonderland below is another standout. Our server cocks her head conspiratorially as she tells us the recipe for the dessert will be revealed once we reach the base of the ceramic ramekin, which sounds like permission to lick the plate (if only!). Instead, we vigorously scrape with spoons until Le Cirque's famous recipe appears on the bottom.
By 3pm, there's only a table or two left of lingering diners, so we decline coffee and stroll out, admiring more art, nodding at the warm farewells from the staff, and unanimously agreeing upon a return. Classics with gravitas, sophistication without the pomp, zero attitude and the lustre of polished service, Le Cirque Dubai lives up to the legend.
The Important Bit:
WHAT: Le Cirque Dubai
WHERE: The Ritz-Carlton,
Dubai International Financial Centre (DIFC)
PRICE: AED 125 per person for "Déjeuner avec Le Chef" excluding tax and drinks
TEL: +971 4 372 2444