The City of Angels is a polarising place. For many, Los Angeles' perma-sunshine and the elusive promise of glamour and fame are a huge draw to the concrete jungle.
For others, as they heave through its vast, sprawling neighbourhoods, traversing the infamous traffic troubles, the pull is less magnetic. But this new flock of SoCal angels will surely help tip the balance for LA visitors.
The hotel scene is heating up, which is evidenced by a host of new updates and openings. The new year welcomed The Ace Hotel Downtown Los Angeles, which now occupies the restored 1927 United Artists building.
The Downtown property holds 166 rooms and 16 suites, offering the Ace Suite as its most luxe pad, neatly complementing the rooftop pool-bar vantage point. But the highlight is the 1600-seat auditorium dating back to the 1920s, which now used for musical and theatrical performances as well as corporate events.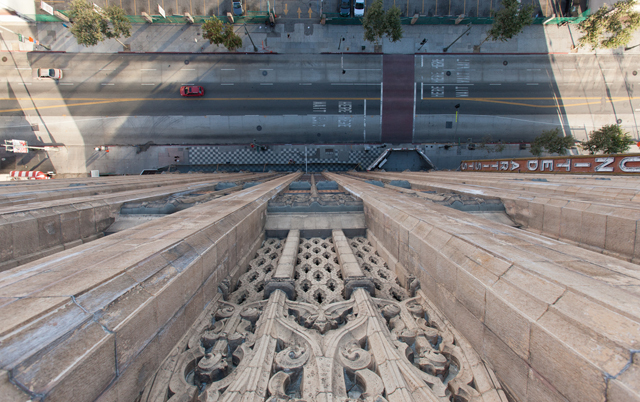 The dizzying view from Ace Hotel Downtown Los Angeles
January also welcomed The Line Hotel, just a little further west in Koreatown. The boutique property had sustainability-focused designer Sean Knibb on board to manage the hotel's aesthetics, and food truck fanatic Roy Choi has since opened Pot, focussing on Korean family-style dining, as well as veggie haven, Commissary. What's more, the hotel recently hosted the first-ever official Hello Kitty Con 2014, which wrapped up November 2. Tickets reportedly sold out very quickly.
The city's Korean influence will continue in the form of a new InterContinental hotel, slated to nest between Wilshire Boulevard and Figueroa Street in a property owned by Korean Air. The original Wilshire Grand Hotel dated back to 1952 but was demolished by the airline in 2011 to clear space for the new skyscraper. And, a little further in the future, The Edition West Hollywood is expected to debut in 2017. Marriott snapped up the property on Sunset Strip, where it's planning a 190-room hotel with its own restaurants, nightclub, rooftop pool and bar.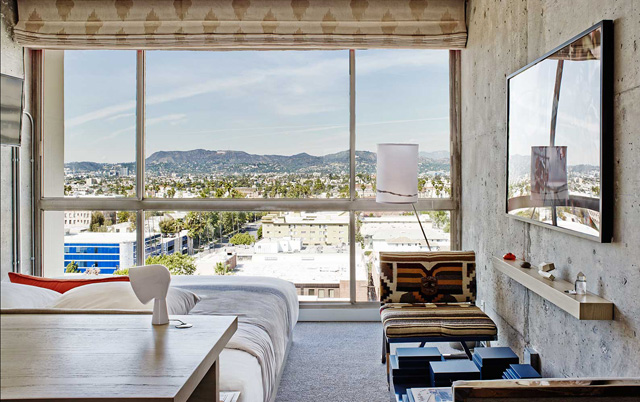 A suite view of LA County's rolling hills from The Line Hotel