All sports have their die-hard supporters. The fans who bus across the country for away games, sit through hail storms on ice cold bleachers and spend vast sums of money on up-to-date replica jerseys – all for the love of the game.
Then there are events that transcend even the sport itself – such as "Mayweather-Pacquiao". It's not just a boxing match, it's the world cup; it's geo-politics; it's the pride of nations; and it's most certainly the zeitgeist.
That's why it's no surprise the numbers match furore surrounding the legendary bout, which sees two of the sports finest multi-division champions meet at welterweight (up to 67 kg / 147 lbs) for a chance to hold gold and elevate their position in the annals of boxing history.
Emmanuel "Manny" Dapidran Pacquiao
Current WBO welterweight champion and the world's first eight-division champ
Wins: 57
Draws: 2
Losses: 5
KOs: 38
Born: December 17, 1978 - Kibawe, Bukidnon, Philippines
Age: 36
Height: 1.69 m
Net worth: $120 million (est.)
Floyd "Money" Mayweather, Jr.
WBC, WBA and Ring welterweight champion, and the WBC Super, WBA, and Ring junior middleweight champion
Wins: 47
Draws: 0
Losses: 0
KOs: 26
Born: February 24, 1977 - Michigan, USA
Age: 38
Height: 1.73 m
Net worth: $280 million (est.)
$141,000
The price offered for some of the seats on May 2
1,000
The number of tickets supposedly made available to the general public, though none have officially gone on sale yet
$1,000
The cheapest seats that were supposed to be on sale, though many are being resold by ticket touts
6,852
The number of rooms currently not available at the MGM Grand Las Vegas, where the fight is taking place (none are available)
150,000
The estimated number of hotel rooms currently sold out in Las Vegas according to various booking sites – that's almost every room in the city
100
The size of Manny Pacquiao's entourage – at least half of whom are believed to be extended family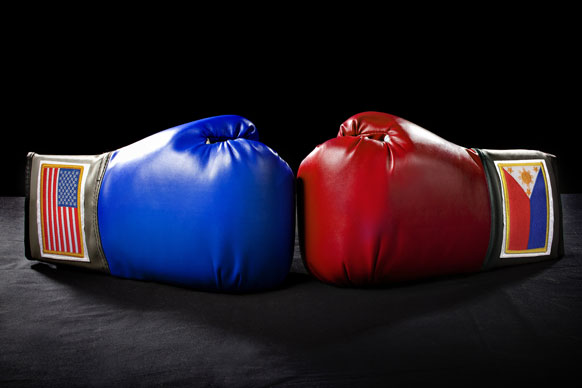 $2 million
The estimated hotel and transport bill for Manny's large entourage during fight week
$2.25 million
The value of sponsorship on Pac-Man's shorts – split between six companies
Eight
The weight in ounces of the gloves used by both fighters – typical sparring glove is 14oz
$100
The price of the fight in HD via pay-per-view (PPV), making it the most expensive boxing PPV ever – standard definition will cost $90
3.8 million
The number of PPV television buys predicted
300
The number of Las Vegas fire fighters on standby – the city has 2,500 police offers, most of whom are on alert