No one likes being sent to bed early, but that might not be the case for junior jetsetters lucky enough to sleep in one of these enchanting beds from Portuguese furniture maker Circu. Let the little ones' imaginations soar with this fantastical collection, which is guaranteed to fuel the fantasies of budding travellers and provide a good night's sleep in preparation for the day ahead.

Junior explorers will love the Bun Van, a gorgeous recreation of Volkswagen's iconic camper van containing a sumptuous bed, storage compartments in palisander wood veneer, a built-in TV, mini-fridge and a sofa, making it the ultimate den for independent tots.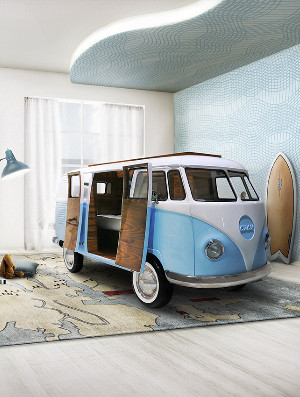 Every young prince and princess dreams of exploring the world in a hot air balloon, and there's no better way to make that fantasy come true than the magical Fantasy Hot Air Balloon, a bed and sofa that will be the show-stopping centre piece of any bedroom. The snug interior can be reconfigured as little ones grow, transforming from a small bed for little dreamers to a day sofa for teens, and the wicker base has plenty of storage to hideaway their travel trinkets.

There's a Little Mermaid bed in a giant seashell for water babies, featuring built in lighting and a playful circular mattress, and future astronauts will love the Rocky Rocket armchair, with light and sound system to help imaginations lift off to infinity and beyond.