It was clear from the start that Uber would never be satisfied with merely being a convenient alternative to cabs. Over the past few years we've seen the Silicon Valley start-up mushroom into a global phenomenon, offering the likes of Autobots, speedboats and the ultra-luxe UberChopper.
The software company is now expanding its technical expertise, it seems, having secured a patent on December 24 for a service that would be used to plan entire trips, as revealed by Business Insider and others. Uber Travel does not have an online presence as yet but this revealing diagram has been logged by the US Patent and Trademark Office.
Once a potential traveller has entered a desired start location, date and time, the new platform will recommend an itinerary – apparently with a touch of "magic". The patent reveals how the new service will take the trip information, suggesting flight, hotel and (of course) an Uber to get you from point A to B and beyond.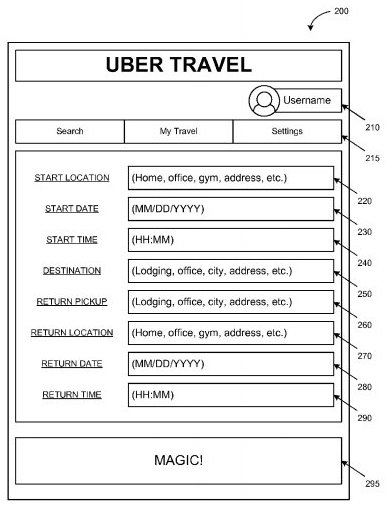 One of the diagrams Uber has filed with the US PTO
In very dry English, the patent document explains in a little more detail: "A system and method are provided which obtain a travel itinerary for a user, the itinerary identifying a trip, including a scheduled flight to a destination. A scheduled flight is monitored to detect when the scheduled flight arrives at the destination.
"Upon the scheduled flight arriving at an airport of the destination, one or more notifications are sent to a mobile computing device of the user. Information can be provided with the notifications for an on-demand ground transportation service," it continues.
While the patent isn't proof of a business plan, it was no doubt a nice Christmas present to Expedia, TripCase and others that there may soon be another player entering the travel booking game. DOTW News has reached out to Uber for a comment and will update this story when more details are available.