What do you love about the job?
The best part for me is just making people happy – the children and the parents. Seeing how excited the children become when they receive our child activity packs or little gifts I make them is very sweet. These little things make a huge difference for the parents as well because it keeps their children entertained, creating a better travelling experience for the entire family.
What are some of the most memorable interactions you've had with mini passengers?
I made a pilot hat for a little boy once and he loved it! He wore it the entire flight and was walking around the flight telling the rest of the passengers that he was the captain – it was very cute! I also once had two brothers travelling without their parents on a flight, so I made sure to give them my special attention and they were so polite. They were a little shy to ask for anything, so I made sure to make them feel comfortable and made them little gifts and they were very happy. At the end of the flight, they asked to take a photo with me to show their parents, it was very sweet.
When and how do you offer assistance?
Once I see a family that has boarded the aircraft I go over to them and introduce myself. I also let them know that I am there for them if they need any assistance during the flight. If they are travelling with an infant, I will offer to put up the baby bassinet for them, help them secure the infant seatbelt and ask if they would like baby food. If there is a family with small children I will take the meal orders for their children first to ensure they get something they will like. If there is a parent travelling solo with their children I will stay with them if the parent needs to go the bathroom or stretch their legs for a bit. I also assist with placing luggage in the overhead storages for families that need an extra hand to help.
Can you share any tried-and-tested tips and tricks to defuse a meltdown?
At some stage in the flight it is definitely possible for a child to have a meltdown –especially if it's a long flight. A lot of children have a meltdown about fastening their seatbelt – I find smiling to them and telling them how "cool" it is to wear their seatbelt works very well. Being stuck in a seat can be very boring for them so if I notice a child being very restless I will ask the parents if I can take him or her to the galley. Once there we strap them safely into a crew seat and will let them draw, colour or paint their face. I also teach them how to make little animals with the supplies in my Flying Nanny kit.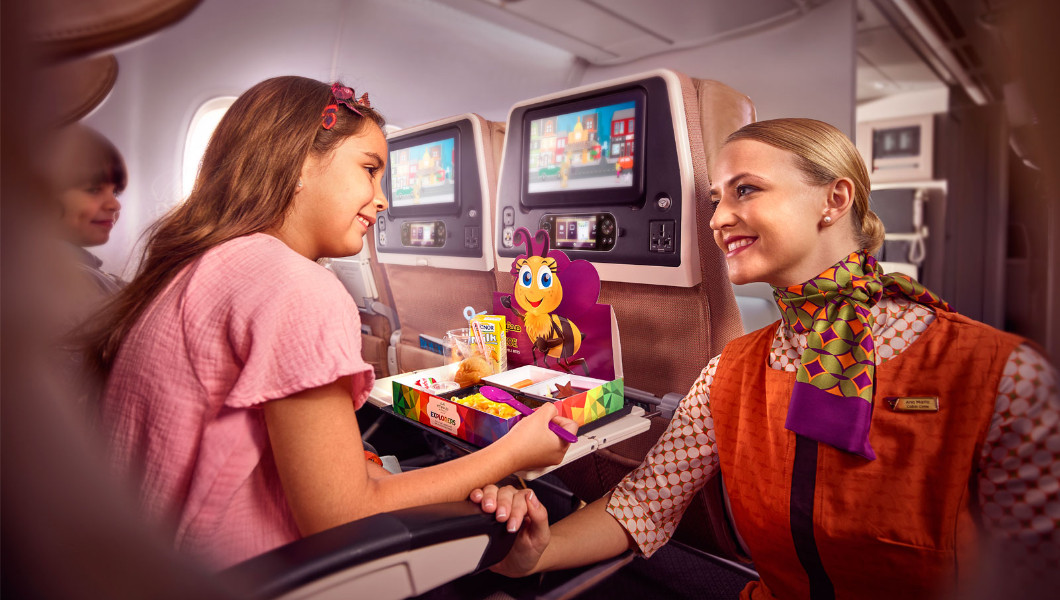 What advice can you offer to parents daunted by the prospect of a long-haul flight or those travelling with children solo?
Traveling solo with children can definitely be a challenge. I would tell parents not to be afraid to ask for assistance. Flying Nannies are there for parents and children and will assist in any way that we can. I would also advise to bring some things from home to keep their children entertained for the long flight, and some snacks from home because they might be hungry at different times from when crew do the meal services.
Is it better, in your experience, to board the plane first or wait until last?
I think it is better to board the plane first. If a family has lots of bags it will be easier to get everything in order before the aircraft is crowded and there will be more room in the storages. Boarding can be quite exciting for a child because it is like the whole aircraft is theirs and can make them feel special!