Whisking passengers on round-the-world journeys that cost in excess of US$100,000, the Four Seasons Private Jet isn't your average private jet. And unsurprisingly, its privileged passengers are far from ordinary, too. The brand's converted Boeing 757 caters to a new breed of "super-elite" travellers, according to Simon Casson, President, Hotel Operations, Europe, Middle East and Africa, Four Seasons Hotels and Resorts. Casson was on board leading Destinations of the World News on a private tour of the sleek, black jet, which touched down in Dubai this week for the first time as part of the 19-day Four Seasons Private Jet Cultural Escape itinerary.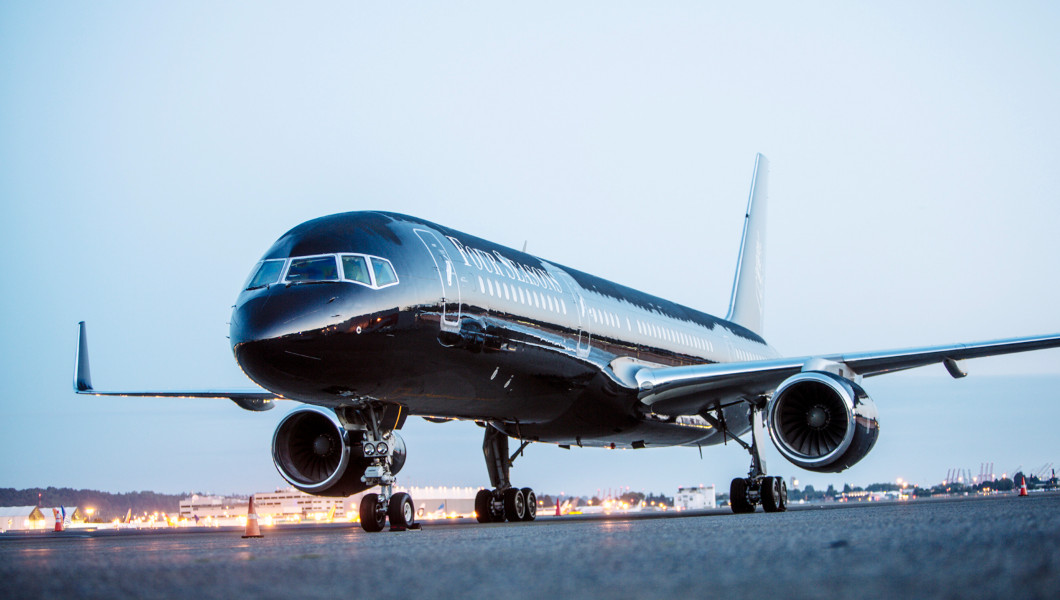 The jet arrived at DC Aviation Al-Futtaim Dubai South – the only fully-integrated VVIP lounge and hangar facility in Dubai South. The private terminal, with luxuriously appointed private lounges, is a joint venture between the German group, DC Aviation GmbH, and Al-Futtaim, and is the fastest way to arrive in or depart Dubai, with waiting limousines parked directly in front of the hangar. Guest are stopping over in the emirate for three days before continuing on to the Seychelles, the Serengeti and Florence, staying at Four Seasons properties along the way.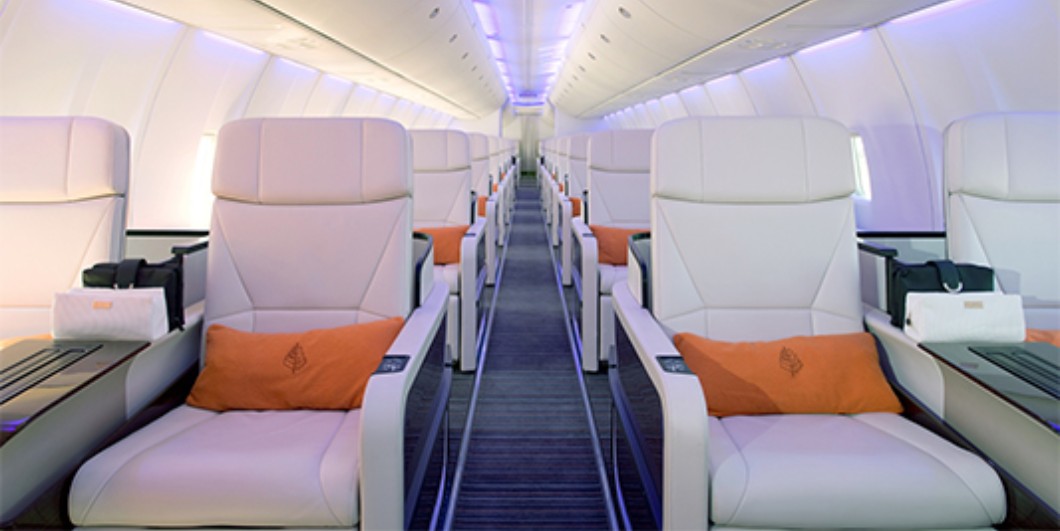 They have already enjoyed a number of once-in-a-lifetime experiences – including a stopover in India, where the jet landed at a military airbase next to the Taj Mahal, allowing passengers to explore the monument on a private tour before heading back to the plane. It's an itinerary that's nothing less than extraordinary, and paired with the brand's legendary service and on-board camaraderie, it's little wonder that most journeys end with passengers (and crew) shedding tears and exchanging hugs.

"The Four Seasons experience is much more than private jet travel," says Casson. "It's really a holistic experience where we create memories, and unforgettable experiential travel. Everything is seamlessly guided with very unique, indigenous experiences, from a private viewing of Michelangelo's David in Florence to a private cocktail on top of the Burj Khalifa this evening."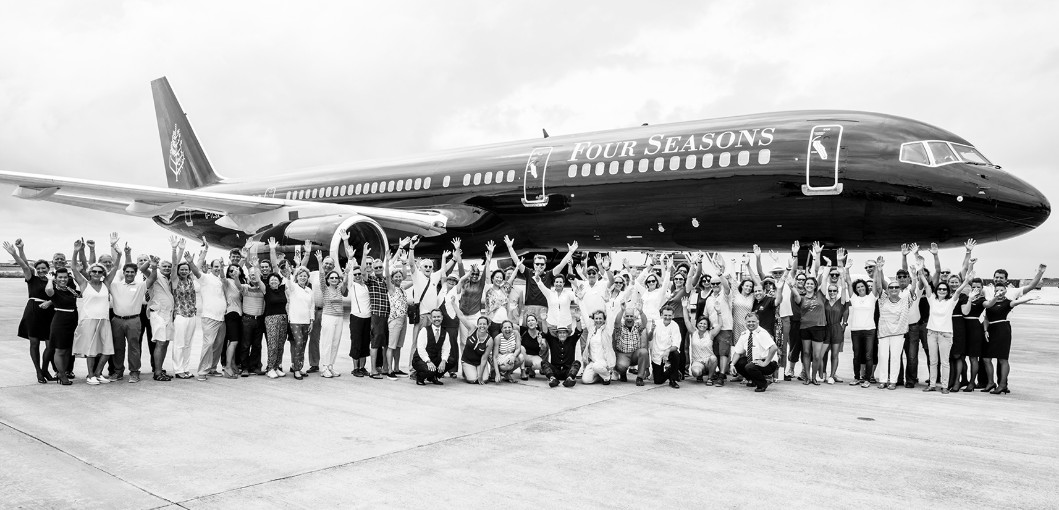 FIVE-STARS IN FLIGHT

After undergoing a multi-million dollar conversion, from the outside, the retrofitted 52-seat, Boeing 757 is striking to say the least. White is the preferred hue for most jets, not simply for aesthetics but due to weight. The sleek black livery on the Four Seasons jet makes it weigh an extra tonne, I'm told, though as 757s usually seats some 233 passengers, weight isn't a concern. There are also no baggage restrictions imposed on passengers.

Inside the jet, it's a subtle palette, with violet and white LED lighting, hand-woven woollen carpet and bespoke white leather seats by Italian craft studio Iacobucci. The seats fold seamlessly into flat beds at the touch of an electronic button, with plenty of space to stow belongings. There are also high-thread count sheets, mattresses, and bright orange-hued Mongolian cashmere blankets on hand to ensure a sound sleep at 35,000 feet – though according to director of Guest Experience and Onboard Concierge, Javier Loureiro, passengers won't have the chance to test a night sleep: "We only fly during the day to make sure our guests are at a hotel each night sleeping in a Four Seasons bed."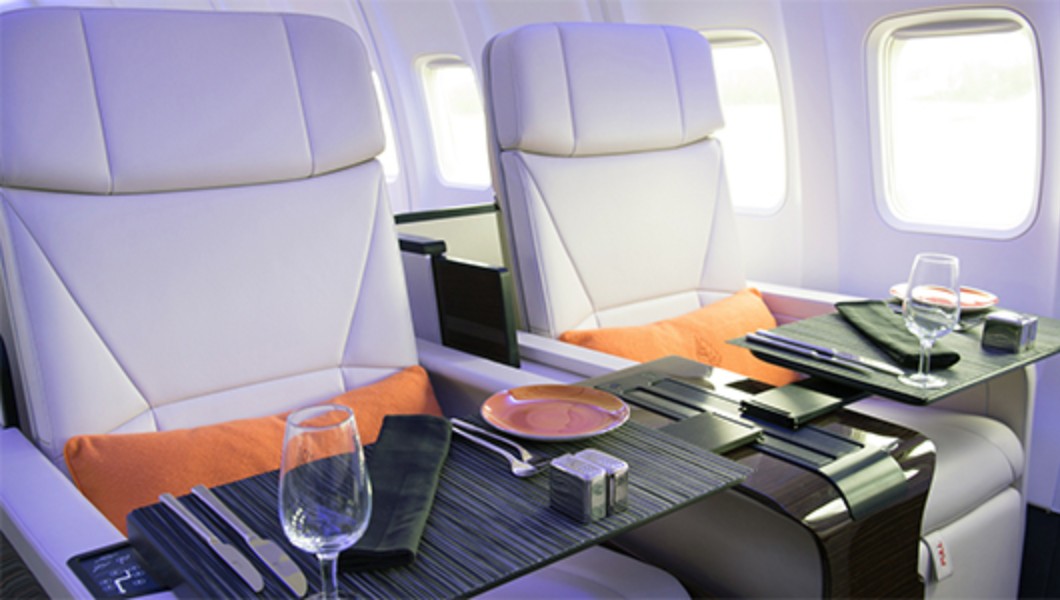 Along with Loureiro, the in-flight crew totals 22, and includes an executive chef, sous chef and global guest services manager. There's even an on-board physician, should passengers require medical assistance. Spoiling guests – who are on average, in their 50s and mostly North American – begins even before they leave their homes. Each passenger is delivered a beautifully packed box containing an iPad, which is pre-programmed with in-flight entertainment, and theirs to keep.
Guests are also gifted a stylish grey shoulder bag packed with flight essentials, including noise-cancelling Bose headphones (also theirs to keep), a generously packed Bulgari amenities kit and leather Moleskin travel diaries.Hampers from Fortnum & Mason – including one entirely dedicated to chocolate fiends – are on board should passengers become peckish between their gastronomic experience courtesy of chef Kerry Sear, who ensures the "chicken or fish?" experience is more "champagne or caviar?"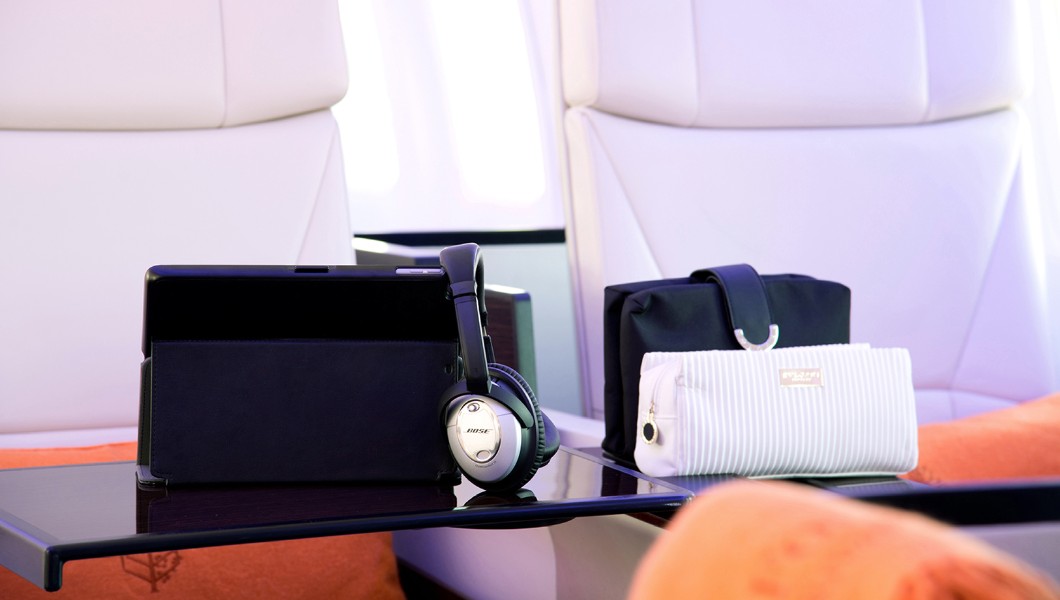 Along with free-flowing Dom Pérignon, no request is too great – or too small. There might be two espresso machines on board, but one female passenger missed her Starbucks coffee so much, the crew arranged to pick one up at the next stop."We listen to what passengers say they like and try to surprise them," explains cabin crew member Lana Reynolds. "We might hear them say that they love a particular type of ice cream so we'll try to get that on board, or have it sent to the next Four Seasons hotel they are staying at."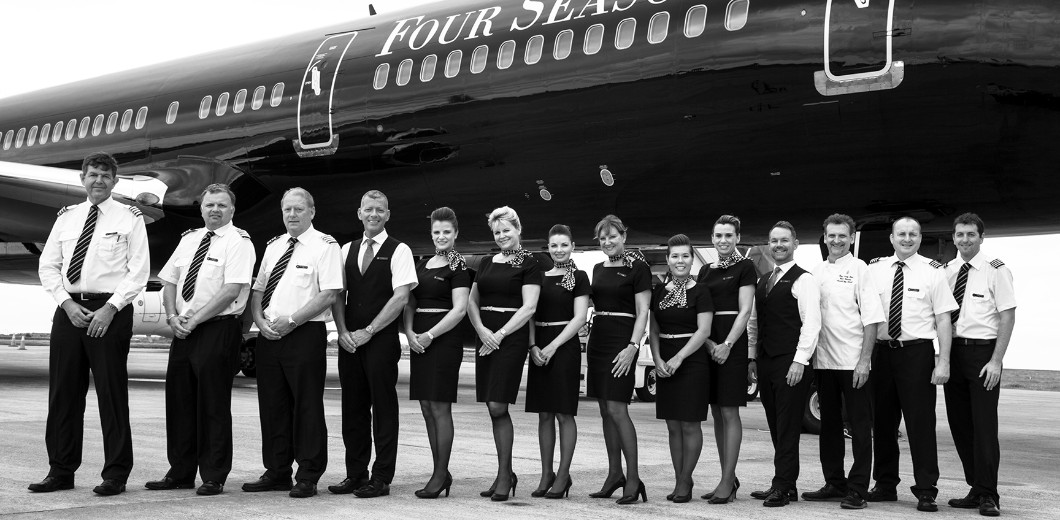 VVIP ACCESS

One intriguing thing to note about the jet passengers is that many, if not most, according to Loureiro, are already private jet owners. So why, I ask, would these guests choose to join other passengers on a Four Seasons Private Jet Experience? "It's because of the access," he says, without missing a beat. "And the social aspect. By the end of the experience, guests have formed friendships. They are like family."

Even for the "super elite" jet set, it's not hard to understand the allure of the VVIP access. Take next year's "Culinary Discoveries", a first-of-its-kind journey developed by Four Seasons in partnership with one of the world's best restaurants, Copenhagen-based Noma, and personally curated by chef René Redzepi. Along with jetting to the world's most exciting gastronomy destinations, the experience includes a personal welcome from Redzepi and a private foraging experience with the Noma team. And who can forget The John Legend Experience?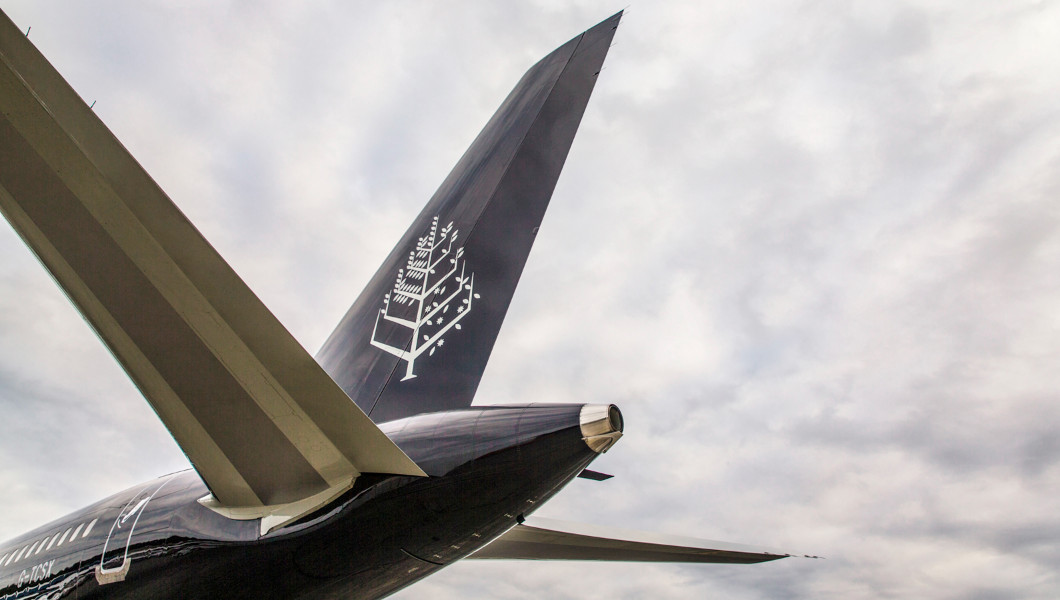 A money-can't-buy experience – with a $US135,000 price tag.