TIME TO FLY
I'm very rarely early for a flight – and almost never on time for anything if I'm being completely honest. But for once I'd made a concerted effort to go beyond being punctual. Abu Dhabi International Airport is a hive of activity round the clock, and the midnight hour ahead of my check-in is certainly no exception, but it was a matter of moments before I'd breezed through the eGate and reversed my derriere into a plush armchair, beverage in hand.
I was in the Etihad Airways Premium Lounge in Abu Dhabi. Thanks to Air Seychelle's affiliation with the UAE national carrier, your holiday now starts even earlier, and with a regal buffet, fridges bulging with 'cold ones', and ample serving stations for everything from cappuccino to chow mein. It's always hard not to fill your proverbial boots in an airport lounge, but I was mindful of my upcoming in-flight dining experience – and the soporific effect of too many indulgent buffet swoops.
I could have freshened up with the on-site shower facility but opted to pick up a copy of Destinations of the World News from the magazine rack as I sauntered over to the gate and made my ascent to the aircraft.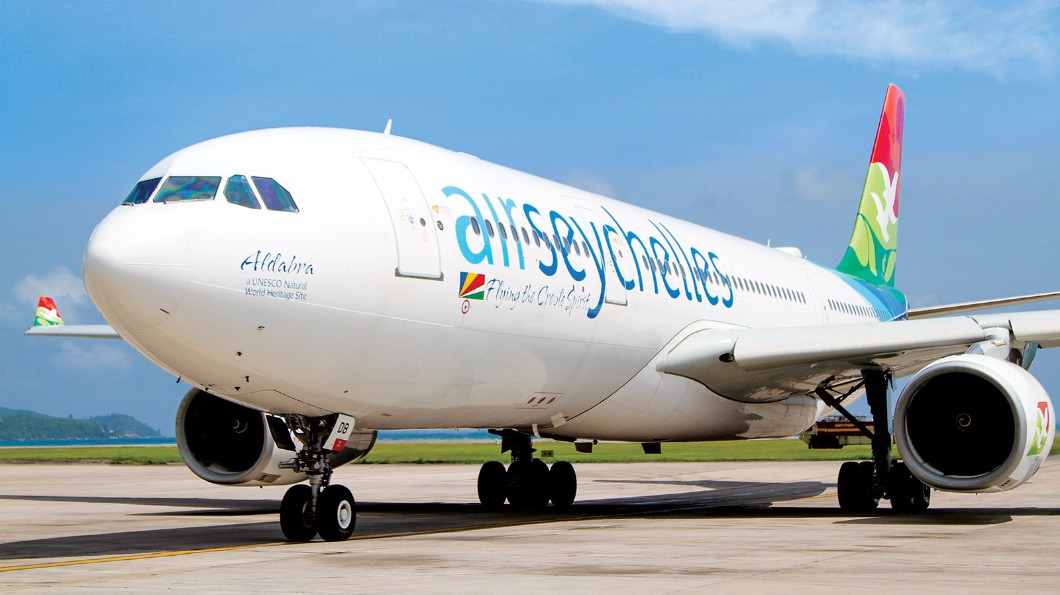 ON-BOARD
The modest-sized A320 aircraft allows for four rows of four – pairs of seats across the aisle – in the cosy Business Class section, which adds a little to the feeling of exclusivity that seems apt for a break in the Seychelles. By the time I've slipped my hand luggage above the seat I'm back in another sizeable seat, but this time with a piping hot towel draped over my face.
I only re-emerge from the refreshing towel to eye the choice of welcome drinks, opting for a hydrating coconut water, instead of OJ or bubbles – a bit of a "when in Rome" moment, and the first of many coconut drinks on this particular trip. It's a short wait until we're nose up and off the tarmac.
IN THE AIR
For starters, there are a couple of obvious mentions – but neither are as notable as they first seem. As a self-confessed screen junkie I was surprised at the lack of in-flight entertainment, but given this was a 2.40am "red eye", I was reluctantly relieved to not have that distracting glare in my face while I had the chance for some real relaxation. That said, most routes feature personal 10.4-inch touch screen TVs, with a wide selection of films, shows, documentaries and games.
Secondly, unlike Air Seychelles' Airbus A330-200 flights from Beijing, Paris and Johannesburg (selected), these hefty Business Class seats didn't recline to a flat position. But it simple wasn't an issue. I'd been handed one of the most deluxe blankets I'd ever come across on a flight, and was immediately fighting with the sandman to stay away for my (incredibly early) "breakfast".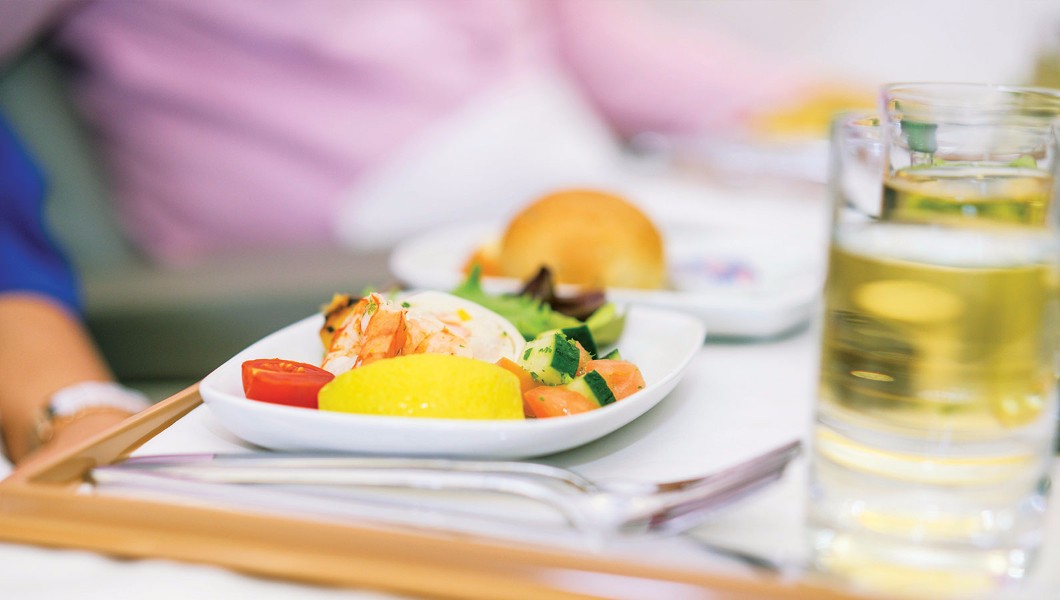 THE CATERING
The menus, inspired by traditional Creole cuisine, were fully revamped early last year thanks to the culinary mastery of the airline's catering team. Highlights include an appetizer of seared tuna with spicy mango salad, main courses of grilled king prawns in Creole sauce and fish coconut curry, and a rich walnut and carrot cake for dessert.
Since I had the pleasure of both the outbound and return experience, the latter is where I'll elaborate. Despite gorging on the Seychelles' fruits de mer during my long weekend, I was still trying to savour whatever seafood options I came across. So, after a fast-vanishing appetiser of octopus salad and prawns, the grilled jobfish fillet with steamed basmati rice, turned veggies and Creole coconut cream sauce was just the ticket.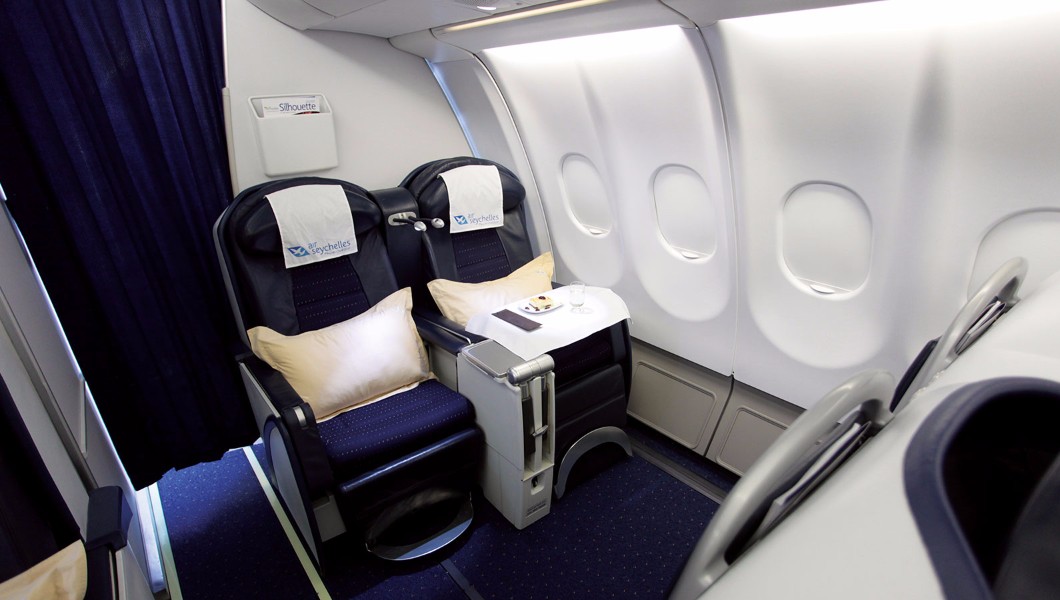 THE AMENITIES
Not much of a sweet tooth, my dessert consisted of a frothy amber drink straight out of Mahé – Seybrew. The locally brewed beer was the last ingredient to help calibrate my "sense of place" while hurtling at 30,000 feet and shortly before reaching for the snug night mask in my amenity kit. Rifling through the little red bag (now my go-to toiletry pouch), quickly freshened up with the toothpaste-toothbrush combo and kicked back with my comfy flight socks before succumbing to a heavy pair of eyelids.
THE ARRIVAL LOUNGE
Alighting back on terra firma, I'm greeted by name to enjoy a leisurely arrival at Seychelles International Airport's luxury arrival lounge. A brisk stroll past the bustling arrivals queues and I'm quaffing coconut water yet again, and touring the colonial-esque arrival villa just adjacent to the main airport building. I would say I didn't have to lift a finger, but I was handed a pen to fill in my boarding card, but that was about as taxing as the experience got.
The décor in the building's elegant "suites" is quintessentially Seychelles-luxe, with simple but elegant furnishings and more chances to freshen up, with comprehensive shower facilities. But my driver was prompt and ready, so I decided to forsake bathing once again (apologies) and continue my onward journey, rested, nourished and fully pried to savour the Seychelles.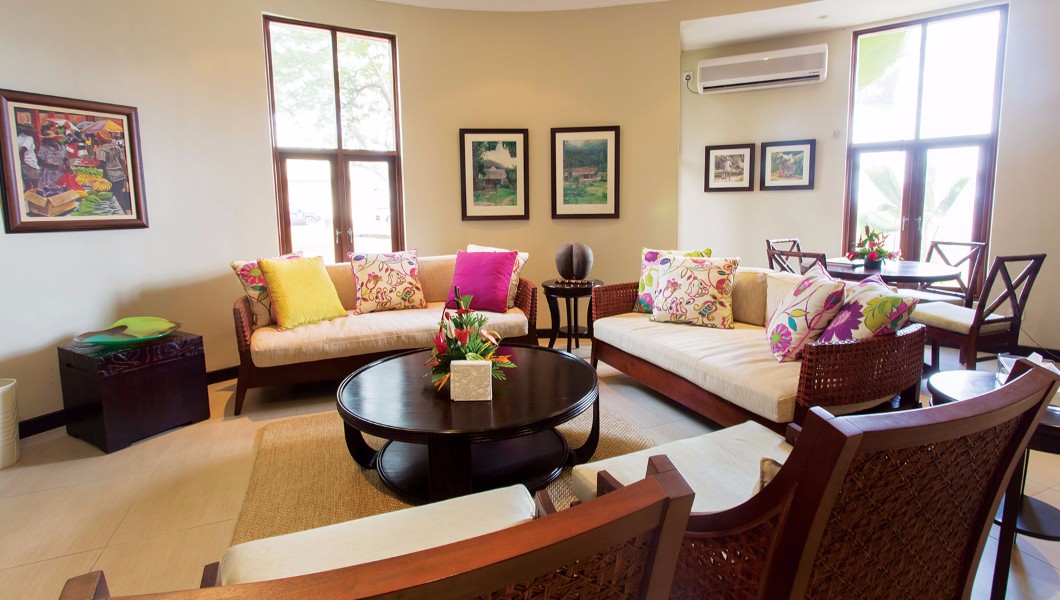 SALON VALLÉE DE MAI
It would be remiss, however, to not mention the airport's departure lounge. Named Vallée de Mai after the UNESCO protected site and nature reserve on the island of Praslin, the lounge is a fitting portal for a cool and calm transition back to the real world. Replete with dark woods and earth-tone fabrics, the lounge is complimentary for Business Class travellers but also accessible for US$40 – a worth investment for any traveller seeking some respite before their return leg.
With yet more Seychelles snacks and refreshing goodies in the buffet arrangement, as well as special 'rainforest' showers to freshen up in a tropical fashion. It's also the perfect place to whip out your phone and consume the WiFi guilt-free, since you're about to – oh-so-reluctantly – return to the real world.
Air Seychelles offers international flights to Abu Dhabi, Antananarivo, Durban, Düsseldorf, Johannesburg, Mauritius, Mumbai and Paris. The Abu Dhabi service runs daily with Business Class fares from 5150 USD, inclusive of taxes and surcharges. www.airseychelles.com