Named one of the world's best airlines at the recent Skytrax World Airline Awards 2017, I can only tip my hat to Cathay Pacific. Despite recent belt tightening, the Hong Kong-based airline has made improvements in other areas – such as its airport lounges – which can be the cherry on top for frequent flyers facing a long layover.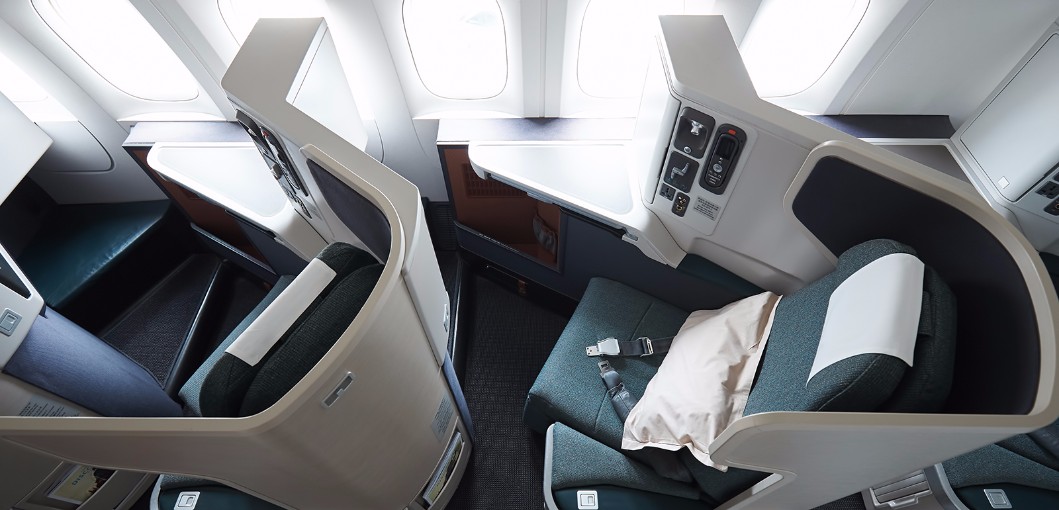 I hadn't flown Cathay in years so I was interested to see how the carrier stacked up, and it was so far so good on my flight between Dubai and Hong Kong. Boarding the A330-300 was swift and my 15K window seat spacious and private, with excellent storage, including a side table beneath the window, a compartment with a netted pocket, and a close-and-latch style compartment with headphones. The cabin crew, though friendly, seemed somewhat hurried for the first half of the flight – perhaps due to the caterer being unable to print menus – and after taking orders via an iPad, dinner was served, with a choice of breads including piping-hot garlic bread, hummus and labneh, my main – chicken kung pow with vegetables and rice, cashews and chilli – followed by dessert, an apple crumble with vanilla sauce.
Enjoying the density of my blanket, once I reclined my wide, padded seat, I snuggled in to watch a film. The screens was very responsive, with a great selection of movies and shows including some with full-season series. The one flaw? The screen cannot be tilted. Prior to falling asleep, I fossicked through my amenities kit, encased in a pouch designed by Seventy Eight Percent and filled with Jurlique products, such as a rose-water mist, a herbal serum and lip balm, along with toothbrush and better-than-average socks.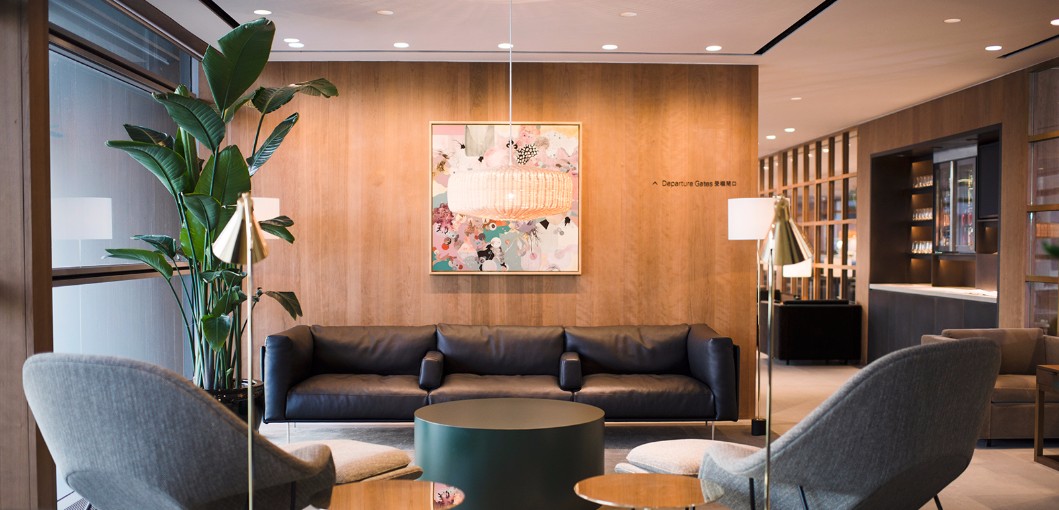 The Pier Business Class Lounge
Hong Kong airport before daylight hours can feel soulless, with most boutiques and eateries closed, but The Pier Business Class Lounge, the airline's newest incarnation, is exemplary, with a design concept meant to evoke the feeling of a contemporary, luxury apartment with terrariums of tropical greenery, cherry wood and leather and mohair upholstered furniture. I headed straight for the showers; immaculate with limestone tiles, a spacious suitcase area, and plentiful Aesop products – even facial cream and toner – along with pristine white towels and decent hairdryers.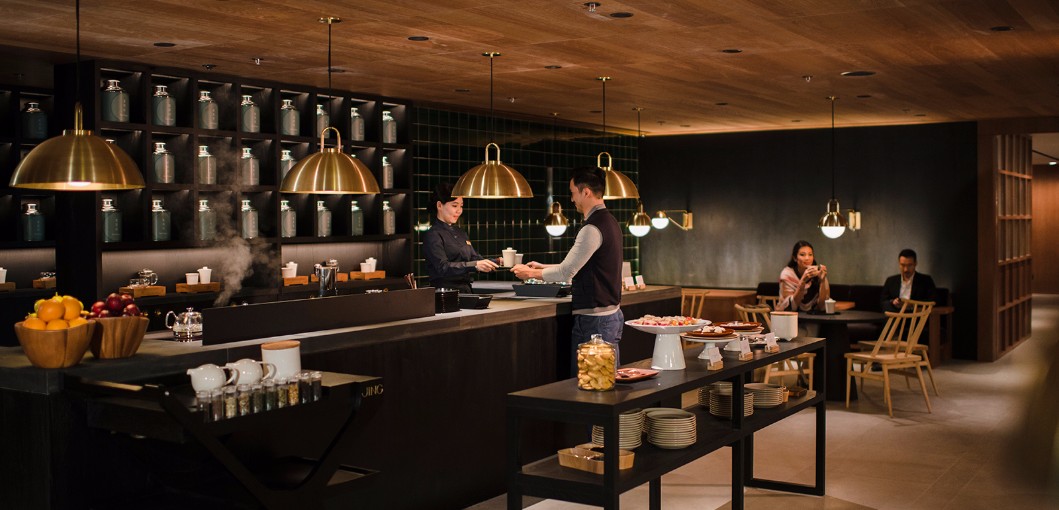 Post-shower, I checked out the lounge's Tea House; with forest-green wall tiles and bronze wall lights, it serves an excellent range of tea, from puerh to Japanese sencha, along with gelatinous Chinese desserts. Along with a bar, more substantial meals can be had at Noodle Bar, an airy restaurant with private booths to wolf down made-to-order rice noodles with fish balls, steamed pork buns, congee, pork dumplings and the like. A Food Hall with an Illy coffee cart and a bakery spruiking all kinds of pastries from Portuguese custard tarts to croissants is alongside that, and after coffee, there are quiet, carpeted areas where you can put your feet up overlooking the concourse or snuggle into dark green high-back lounge armchairs. This would ordinarily be wonderful ambiant, were it not for travellers bringing their food in. It surely should be prohibited – the sound of a person slurping their noodles is an ambiance killer.
Between Hong Kong and Shanghai, the 2-2-2 configuration of sister airline Cathay Dragon flight featured rather retro upholstery, but the planes were spotless, and my centre seat wide and reclined so well, I fell asleep on both routes and scarcely registered much of the flight – though I woke for breakfast service and noticed that the crew were quick to aid less capable passengers, doing so with a genuine smiles.
On the way to Dubai from Hong Kong, in 15A, I enjoyed service from excellent hosties offering extra pillows, personal introductions and the airline's signature drink, a kiwi, milk and fresh-mint concoction called Cathay Delight.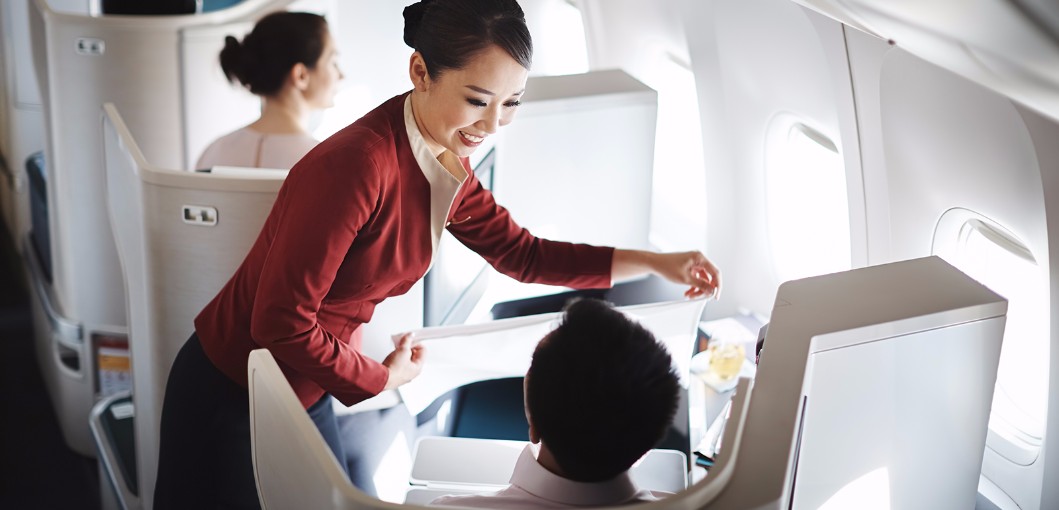 This time the menu was printed and meal service began with cured salmon and fennel and crème fraiche to start, and a choice between rigatoni with spinach tomato and Café de Paris sauce; stir-fried halibut with shallot black-bean sauce and broccoli steamed jasmine rice, or grilled-beef tenderloin with spinach, carrot, potato and thyme sauce. I opted for pasta, ogled the beef as it went by on the trolley, and finished with cheese (wheeled on a trolley and sliced to order), a mix of bleu d'auvergne, taleggio and somerset brie.
Would I recommend Cathay Pacific Business Class? Without doubt. Faultless service – save for a tech glitch – great seats, and just how often can say you genuinely hope your route includes a long layover?
Cathay Pacific operates twice daily from Dubai to Hong Kong. From the Hong Kong hub, Cathay Pacific and sister airline, Cathay Dragon, operates 12 daily flights to Shanghai. Return Business Class fares from Dubai to Shanghai from AED6,770 (US$1,843), inclusive of taxes and surcharges. www.cathaypacific.com