What better way to toast a new era of commercial space travel than with a spacey cocktail?
Virgin Galactic is preparing to fly beyond our atmosphere next year but has just this week announced a new promotional partnership with Grey Goose with "exclusive sponsorship activity" planned at the Virgin Galactic launch location at Spaceport America, New Mexico.
For those who experience the commercial space flights, the two brands have concocted a pair of topically titled cocktails to mark their endeavours.
The Grey Goose Galactic Martini Cocktail is thrown four times for a "dramatic, Virgin Galactic inspired ritual" and contains Noilly Prat dry vermouth, Alsatian framboise eau de vie, three peppered raspberries and a lemon twist.
The Grey Goose Beyond The Clouds Cocktail has a 125 ml pour of raspberry juice, water, a pinch of cracked black pepper and a few drops of food grade Ethyl Formate – chilled with a single ice ball.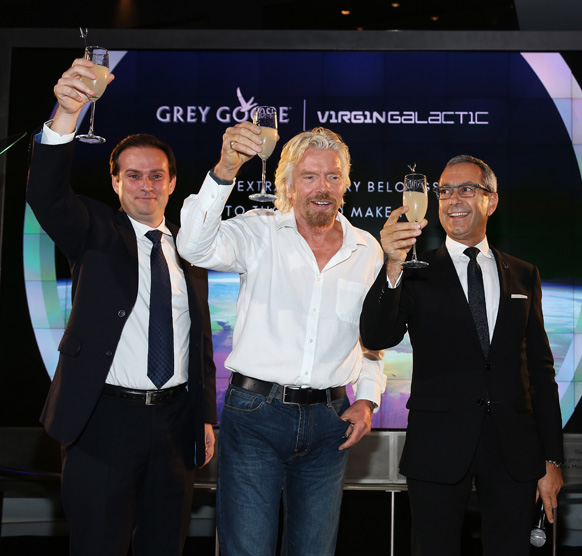 The partnership was announced at the Rose Space Center and Planetarium in New York by Virgin Galactic founder Sir Richard Branson, Virgin Galactic CEO George Whitesides, Bacardi's global category director for premium white spirits, Ben Farlow, and Grey Goose creator and Maître de Chai, François Thibault.
Sir Branson also introduced Virgin Disruptors, a thought leadership series supported by The Virgin Group. A new panel of "disruptive minds" has been put in place to debate the future of travel, looking at innovations and creative ways to shake up the travel industry.