The team at Spain's Zero2Infinity are inviting intrepid travellers to enjoy views of 1,400km in diameter, from a height of 36km (22 miles), transported by helium balloon.
The extreme near-space elevation of "Bloon" allows four pod passengers and two pilots to view Paris and Rome at the same time. The concept is similar to World View, which was revealed just a few months ago.
"Imagine you are flying near space through the ozone layer and beyond till the edge of our atmosphere, bluish and thin—a delicate protection from the harshness of the Cosmos, but all caring for it," the Zero2Infinity website explained.
"The most amazing views of our planet in her true glory from the edge of our world. Imagine the change to see how the stars and Sun blaze day and night."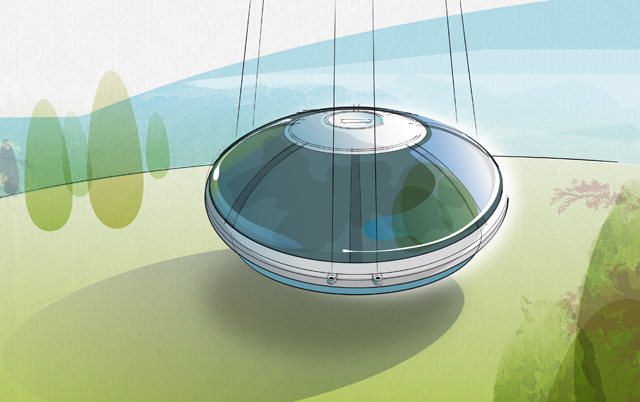 An artist's rendition of the Bloon pod
Bloon uses inert helium gas for the ascent, with no combustible fuels on board. And with full portability and no noise or pollution, take-off can occur from almost anywhere. In vertical transit, guests are free to relax and enjoy dinner.
The private near-space experience will cost around US $651,770 and pre-bookings are now available for 2014 and 2015. Flight prep takes around for hours, prior to a one-hour ascent, with two hours at maximum elevation to take in the views below.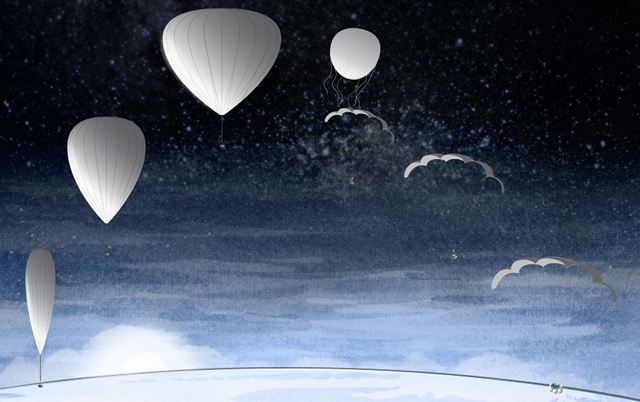 The flight path of Bloon