If Hollywood was an accurate predictor of the future then we just entered the year of the hoverboard.
We all saw Marty McFly journey back to the future and arrive in 2015 to set the space-time continuum straight – and watched with awe as he commandeered a floating skateboard. That was science fiction – but science fact could be even more entertaining, thanks to the Martin Jetpack.
Imagine island hopping by jet pack or taking a more thrilling trip to work through the air. This could soon become a reality, given that New Zealand-based Martin Aircraft Company has now begun taking orders for its sleek-looking single-person jet pack, which can be seen in this in-flight video.
In development for more than three decades, the jet packs have been flown for years in the form of various prototypes, but the firm has continued to tweak the design, controls, handling, stability and safety.
The Martin Jetpack can soar for up to 30 minutes at a time, cruising at speeds of 35 mph at 3,000 feet above the ground. Powered by a two-stroke V4 engine, the devices have a high power-to-weight ratio to give a fly-by-wire sensation, akin to modern personal drones.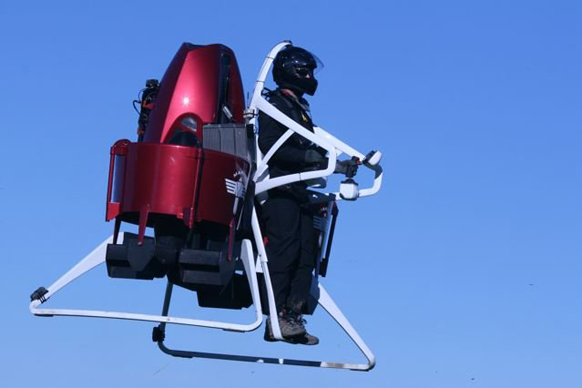 An integrated parachute is equipped for safety, but pilots will soon be able to ready themselves via Martin's upcoming jet pack training simulator, which will be available in 2015.
The jet packs themselves are expected to go to market in 2017 by which time Martin will have unveiled its Jetpack Experience, combining the simulator with expert tuition and test flights, overseen by an instructor.
The devices are expected to retail for at least US $200,000 and could become the new en vogue mode of transport for island hopping or could even become for a commuting method for thrill-seeking businessmen.
This particular piece of apparatus isn't the only one in the works. Just two years ago, aerial stuntman Troy Hartman completed a successful test flight of his own jet pack device - as per the video below.