The weather outside is frightful, if you're in the midst of England's scorching heat wave. But thankfully Roofnic is quite delightful. The new venue is perched on the fourth floor of London Marriott Hotel Park Lane and has emerged after GBP 40,000 of funding to transform the space.
"Roofnic is a new rooftop pop-up located in the heart of Central London," the venue's website reads, describing it as an "offering a peaceful retreat from the crowds of Oxford Street below, perfect for after work drinks, sunny lunch breaks and picnic set against the backdrop of the city's rooftops. "With a secret entrance tucked away at the far end of Oxford Street near Marble Arch, guests will be led up a staircase to discover a hidden rooftop oasis," it continues.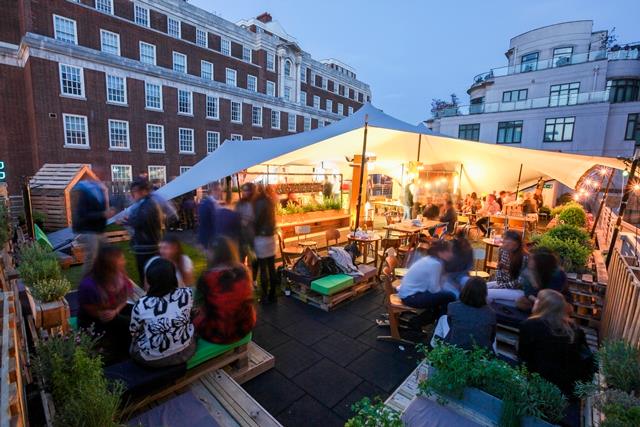 Guests arrive via a 'secret' entrance at the far end of Oxford Street near Marble Arch, and tackle the staircase up to the 100-capacity roof terrace pop-up. Surrounded by AstroTurf flooring, bright retro furniture and rustic wooden benches, the communal seating areas are hemmed in by herbs and flowers, while light bulbs hang from a marquee – just in case the English summer takes a turn for the worse.
The menu consists small plates, designed for the perfect picnic, with pulled meat tacos, beef rendang sliders and the manwich, for the gluttons. Lighter dishes are available, such as the butternut squash salad with honey, wasabi lime and scorched sunflower, and burnt broccoli, chilli and feta. Those with a sweet tooth can choose from peanut butter jelly cookies, Butterfinger cookie dough cheesecake and the pudding cup, made from salted caramel, smashed Oreos, chocolate crumble honeycomb.
Stay hydrated with healthy juice options, such as Dirty Beets; beetroot, apple, carrot, ginger, and the Big Bang; carrot, pear, turmeric, ginger, spinach, matcha root. Summer cocktails include the Lady Garden; gin, botanicals, strawberry, ginger, and the signature Roofnic Swizzle; 42 Below; passion fruit, honey and lime, with wines and Prosecco also on offer.