Once upon a time, the pinnacle of cutting-edge service was the ability to order an Irish coffee at 3am. How times have changed. Excellence is de rigueur at any self-respecting five-star hotel, but today's affluent travellers expect more bang for their buck.
That's why Marriott Hotels has come up with its new VRoom Service – an all-new service that allows guests to order inspiring virtual reality experiences, all from the comfort of their room. The technology comes via Samsung and is a first in the travel industry, following on neatly from its neat Teleporter campaign.
Guests at New York Marriott Marquis and London Marriott Hotel Park Lane are now able to call for a dedicated VRoom Service extension or use Marriott's Mobile Request app to request a Samsung Gear VR headset and accompanying headphones. The two hotels are being used for the initial trial, but more properties will soon be equipped.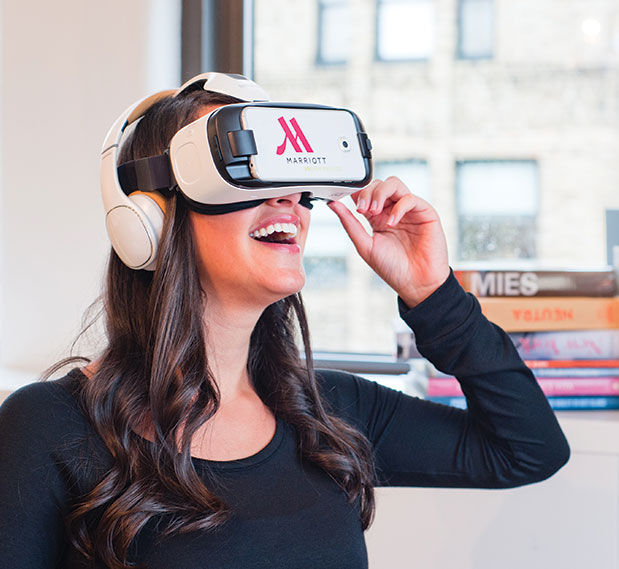 What's more, Marriott's new "VR Postcards" endeavour has been launched simultaneously so guests can share "intimate and immersive" travel stories that can be experienced in 360 3D. Viewers are immersed in the destination and hear the travellers' personal stories about why travel is important to them.
The first three VR Postcards were shot in the Andes Mountains in Chile, an ice cream shop in Rwanda and in the bustling streets of Beijing – as per the behind-the-scenes video below. Almost as good as actually getting out of your hotel room… right?
"Travel expands our minds and helps push our imagination," said Marriott VP Matthew Carroll. "Our guests want to be in inventive spaces that help foster their creativity and thinking. VRoom combines storytelling with technology, two things that are important to next generation travellers."
We may soon see other players step up their virtual reality game, given that 2.5 million virtual and augmented reality devices are expected to be sold this year. If that sounds like a large number, industry analyst CCS Insight reckons 24 million such devices will be shifted each year by 2018 – a mere three years away.
Despite Google Glass seeming to be a flop, virtual reality still has huge potential, which has been evidenced by the likes of Facebook, who purchased Oculus VR for $2 billion not so long ago. Other firms are in hot pursuit such as Sony (Project Morpheus) and HTC, which is partnering with gaming giant Valve.