As affluent palates become ever more discerning, hotels are turning to increasingly creative methods to keep customers guessing. Whether it's a US $4,000 cocktail at the "seven-star" Burj Al Arab, the introduction of Hilton's half-ton chocolate Santa, or a bite of the world's most expensive cupcake at The Palazzo Las Vegas, there is no shortage of inventive options for the world's elite.

The most recent addition to this list of weird and wonderful culinary trends is Fragrances at The Ritz-Carlton, Berlin. Brainchild of mixologist-cum-perfumier Hennig Heissen, the soon-to-open bar has done away with standard menus, stuffy décor and – perhaps most impressively – redefined creative cocktails.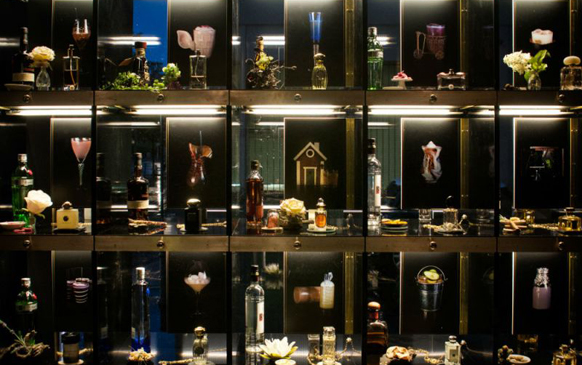 The visual menu at Fragrances
In a twist of innovation, guests are ushered to a "visual menu" on entry, which shows numerous perfume bottles lined up alongside cocktail ingredients. After sampling the various designer smells – which range from Yves Saint Laurent to Annick Goutal – and choosing your favourite one, the cocktail will be mixed.
Heissen went through a number of trials to perfectly emulate the smell of the perfume in the drink, as well as ensure that the taste reflects that smell. Priced at around US $20 per cocktail, we think that this is a must-try if you are in the bohemian German capital – a one-of-a-kind olfactory extravaganza not to be missed.
Alternatively, if you have money to burn and are travelling a little further east, you could always visit The Ritz-Carlton, Tokyo – known for offering one of the most expensive cocktails in the world. The 'Diamonds are Forever' cocktail not only comes with a US $22,600 price tag, but also, quite appropriately, comes with a one-karat diamond.

www.ritzcarlton.com