What is FootGolf?
According to the American FootGolf League, the sport is played with a regular size five football on a golf course facility, with shortened holes and 21-inch 'cups'. From then one, the rules are much more akin to golf, but minus the clubs. Players simply have to 'tee off' as if they were taking a free kick in soccer and whoever tallies the fewest number of kicks to reach each hole is the winner. Simple, right?
Is this a real sport?
FootGolf (also written as 'foot golf') is played all over the world in various forms, and is now considered a bona fide sport, regulated by the Federation for International FootGolf (FIFG). It's not (yet) an Olympic sport – but then neither is golf. Coincidentally, regular 18-hole golf will be making a comeback to the Olympics in Rio next summer following a 112-year hiatus.
Where can I play?
Here's a handy list of all the courses across the USA, where the game is most popular - but it looks like the UK is also a major foot golf hot spot. The sport, however, is making gains elsewhere and has even reached Dubai. Dubai Creek Golf Academy organised its first ever "Creek Kicks" FootGolf event last year to coincide with the FIFA 2014 World Cup. Over 20 players turned out to compete over the 9-hole par 3 course at Dubai Creek – the first event of its kind in the UAE. For more information check out the links below.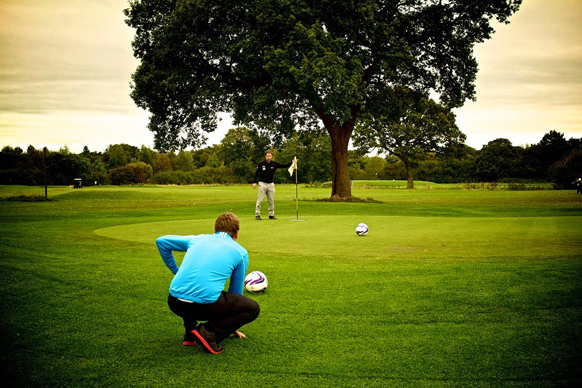 FootGolf at Styal Golf Club, UK
Hotels are also jumping on the bandwagon. Orlando World Center Marriott, home of Hawk's Landing Golf Club, recently announced the addition of foot golf for just $25 for adults and $12.50 for under-18s – complete with a golf buggy. In the words of the club's director: "We're excited to further enhance the offerings at Orlando World Center Marriott, and Foot Golf is a great way for locals and guests to experience our golf course in a fun and approachable way. This activity is family-friendly, perfect for group team building events and is entertaining for players of all levels."
What do I wear?
To borrow the words of a Guardian editor, foot golf attire is somewhere between golf-pro and 'Dickensian orphan'. Standard football boots are typically paired with Argyll socks and (for reasons unbeknown to us) flat caps are often par for the course. It looks like these Manchester United players flaunted the dresscode when they went head-to-head last year. FootGolf Illinois helpfully placed this handy uniform guide on their website.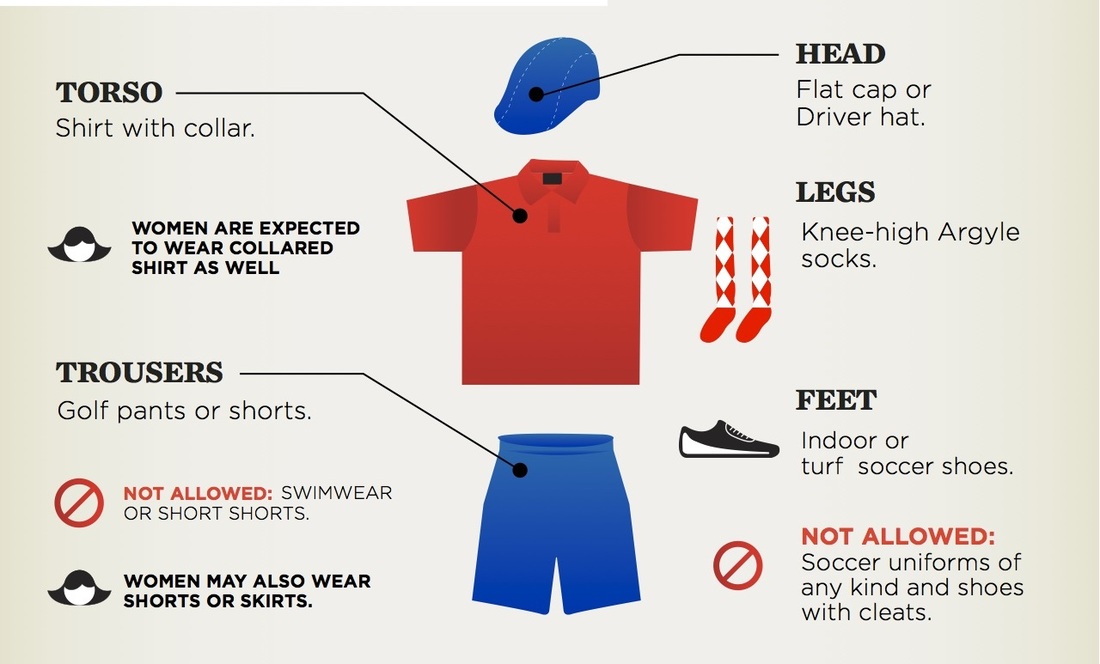 A new era:
Just last year, the PGA commissioned a special task force to grow the game of golf by non-traditional means. PGA of America president Ted Bishop specifically stated that the rise of foot golf could be a great new avenue to help grow the game.
"The interest that I'm already getting from the soccer community on the sport is unbelievable... I think the thing that excites me, is that you've got the chance here to bring people in who are soccer-crazy and to give them the opportunity to go to the golf course, experience some things at the course and I think it would be ludicrous to think there won't be a percentage of those people that might say, 'Hey, you know what? I think I'd like to try and play golf.'"
---
Helpful links:
- Federation for International FootGolf
- European FootGolf Federation