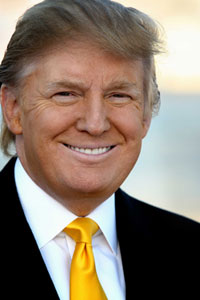 Many say the American Dream is dead, but it seems to be alive and well. Why has the economic crisis ignited a new fondness for entrepreneurship?
I don't know if it's a fondness for entrepreneurship more than a necessity for entrepreneurship. When there aren't many jobs, someone has to come up with something that will create jobs. It's fertile ground for entrepreneurs to be created and hopefully to flourish. My recent book with Robert Kiyosaki, Midas Touch, is about the importance of entrepreneurs and their contribution to the economy and society at large. It's a matter of practicality, not flamboyance, in this economic climate to have people who will think creatively and move forward with their ideas.
Trump hotels embody the idea of timeless, aspirational luxury. Which hotel brands have won your loyalty over the years?
I very much like the Beverly Hills Hotel and was a frequent guest there. It's not only beautifully decorated but the service is amazing; professional, courteous and comprehensive. My hotels strive for and achieve the same attributes. A great hotel makes you want to return again and again, knowing the standards will be the same each time. We receive many letters from guests who rave about their visit, and they come back.
How do you ensure that Trump the man and Trump the brand remain in tune?
That is very simple, as I represent the gold standard and so does my brand. Staying in tune is like having a Steinway grand that is taken care of impeccably – it will be in tune. Always.
Your three adult children have all graduated from the Trump School of Life—did you give them a hard time as teenagers to ensure they were following the path to success?
They did well as teenagers and were disciplined. They saw how hard I worked, so I set the example. I didn't have to be hard on them and I think our lives were well balanced between work or study and family time. One important lesson was the importance of family and another was an emphasis on education. It was stressed that you have to have passion for your work or success won't come easily. I wanted to make sure they would love what they were doing.
You have dabbled in politics and until recently we expected you to run for US president. Why did you bow out of the 2012 runnings and when will we see you return to the political stage?
I love what I'm doing and would prefer to keep at it. I'm concerned about this country, however, and would like to have a positive impact, so that's one reason for my interest and contribution to the political arena. If I can be of help behind the scenes, that's fine with me.
When do you plan to hand over the keys to the Tower to your children and retire from the business world?
My father always said that "to retire is to expire" and I agree with him. My work gives me great energy and satisfaction.
What do you remember about the first time you told someone 'You're fired!' for real?
I don't remember. Actually, I don't like firing people. I've had people who have been with me for over 30 years