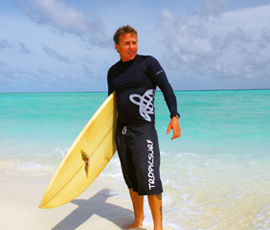 How did you end up working as a surfing guru for Anantara?
My background was as a professional lifeguard and fitness trainer, but I had some friends working as surfing instructors who convinced me that I could be good at it. I was lucky to get a start with my company, Tropicsurf , in my home town of Noosa and after a year teaching surf lessons the opportunity to come here presented itself. I had already done some boat trips in the Maldives and I knew Anantara was one of our most popular surfing destinations, so I didn't have to think about it for too long.
What is your average working day like?
There are no average days working as a surf guide in the Maldives, but I generally spend half an hour looking at the waves with my morning coffee then check three different websites to get a good idea what the day's surf will be like. I then head to the water sports centre where. I may have a beginner lesson in the lagoon, where we teach all the fundamentals. I may also do a waterman session, which involves breath-holding techniques to improve water confidence. Other days may involve speedboat or seaplane adventures to more remote waves. At sunset we sometimes do a stand up paddle around the lagoon to finish another perfect day.
What is the most satisfying part of your job at Anantara Dhigu?
Seeing surfers improve and push themselves to new levels is tremendously rewarding. Also the thrill of sharing the holiday of a lifetime in perfect Maldivian surf is something that's very special. I joke that I have now been on dozens of honeymoons but never been married!
What attracted you to the Maldives?
The colour of the water is unlike anywhere I have ever been and has amazing coral and marine life. The other day we had a baby whale shark come up to the back of the boat. And the climate is perfect for surfing. The night sky is amazing; almost like the Australian outback.
If you could work anywhere else in the world where would it be?
Tropicsurf operates in some amazing places around the globe and while I think the Maldives is the jewel in the crown, we have some new spots in Mexico and Brazil that are exciting in terms of the location and the cultures.