To some degree, we all have dreams; how we would like to see the world, how we envisage ourselves achieving incredible accomplishments – and realising our wildest dreams are rare and unlikely. It's why the story of Jetman – two ordinary men flying through the sky with jetpacks strapped to their bodies – is so unique and compelling.
Growing up in a village in Switzerland, Yves Rossy had always dreamt of flying. His life revolved around reaching for the sky: he flew fighter jets for the Swiss military, piloted commercial airplanes, skydived, kite-surfed and tried his hand at any aero sport he could access. But it was never enough. In his unfailing pursuit of the art of flying, his knowledge of mechanical engineering led him to start developing a jetpack.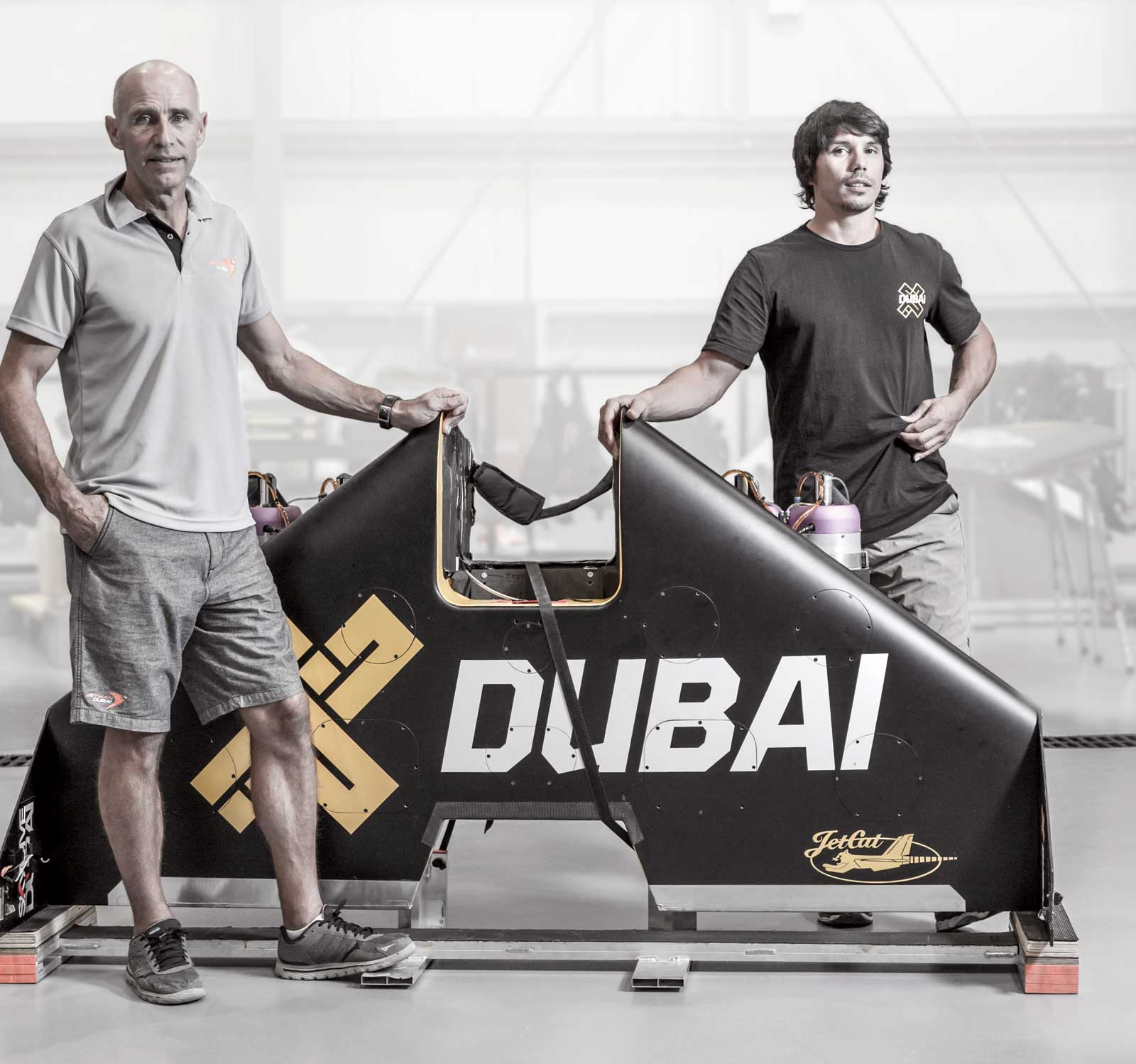 The Jetman team: Yves Rossy and Vince Reffet
Initially tinkering away with friends in his garage (where most groundbreaking ideas begin), Rossy's jetpack eventually became a reality, but not without a series of obstacles. His maiden voyage in 2008 across the English Channel from Calais to Dover was a flight he describes in no uncertain terms as "a bad one". "It was unstable on approach," he recalls. "Everyone involved said: 'You shouldn't have been able to fly'."
Fast-forward to 2009 where, through mutual friends, Rossy met his first student – and eventual partner in flight – Vince Reffet. Born and raised in France by a family heavily involved with skydiving, Reffet is a world-champion skydiver and professional base jumper sponsored by Red Bull. Although he hails from a background of professional extreme sports and never once piloted a plane, Rossy recognised his passion for flight, and the pair began training that year.
"For a long time, Yves was the only one in the world flying the jet," says Reffet. "No one wanted to try – they were either scared, or it just seemed too difficult. When he approached me, I immediately said yes, but it took me some time to build up the strength to even wear the wings – they were so heavy."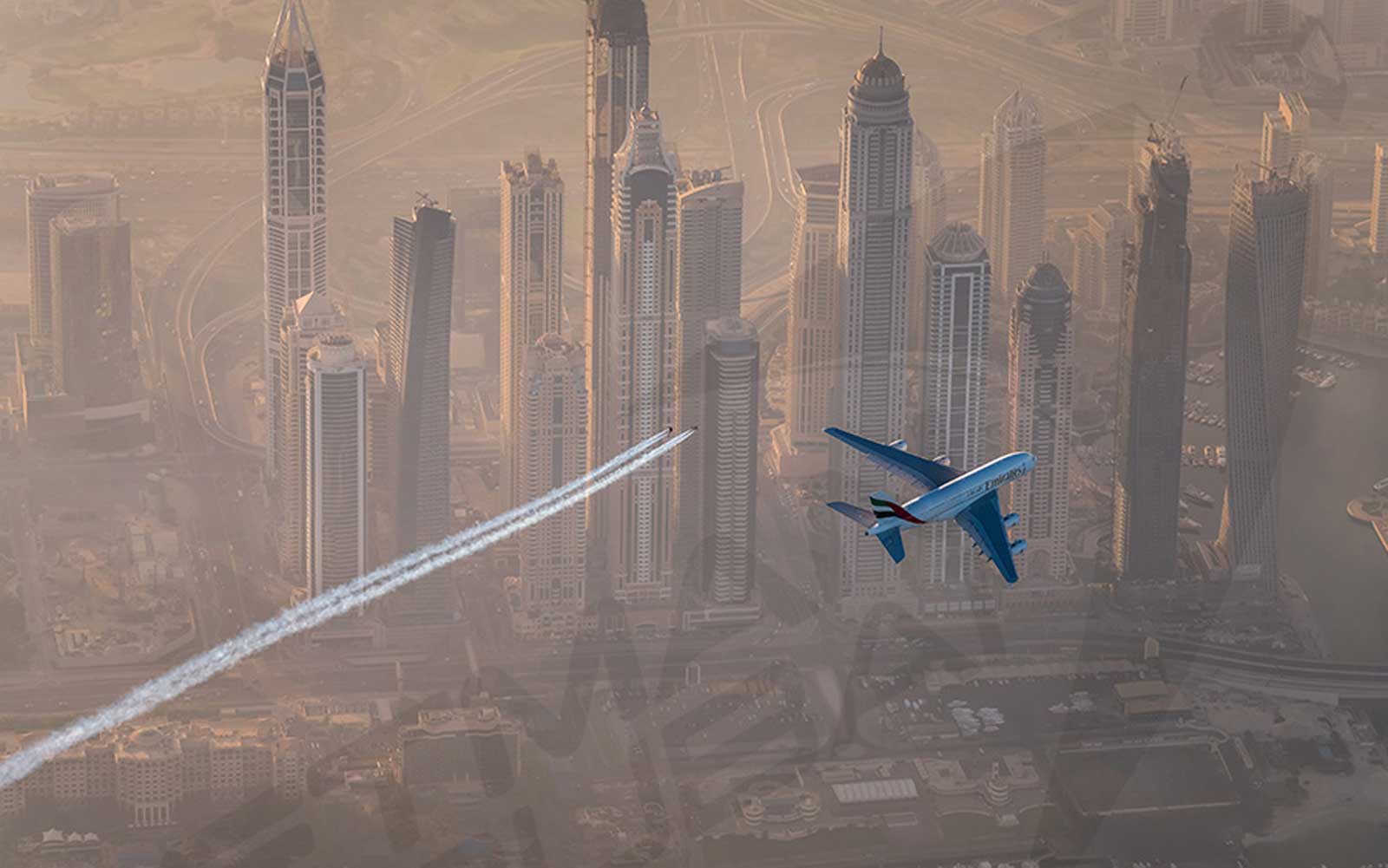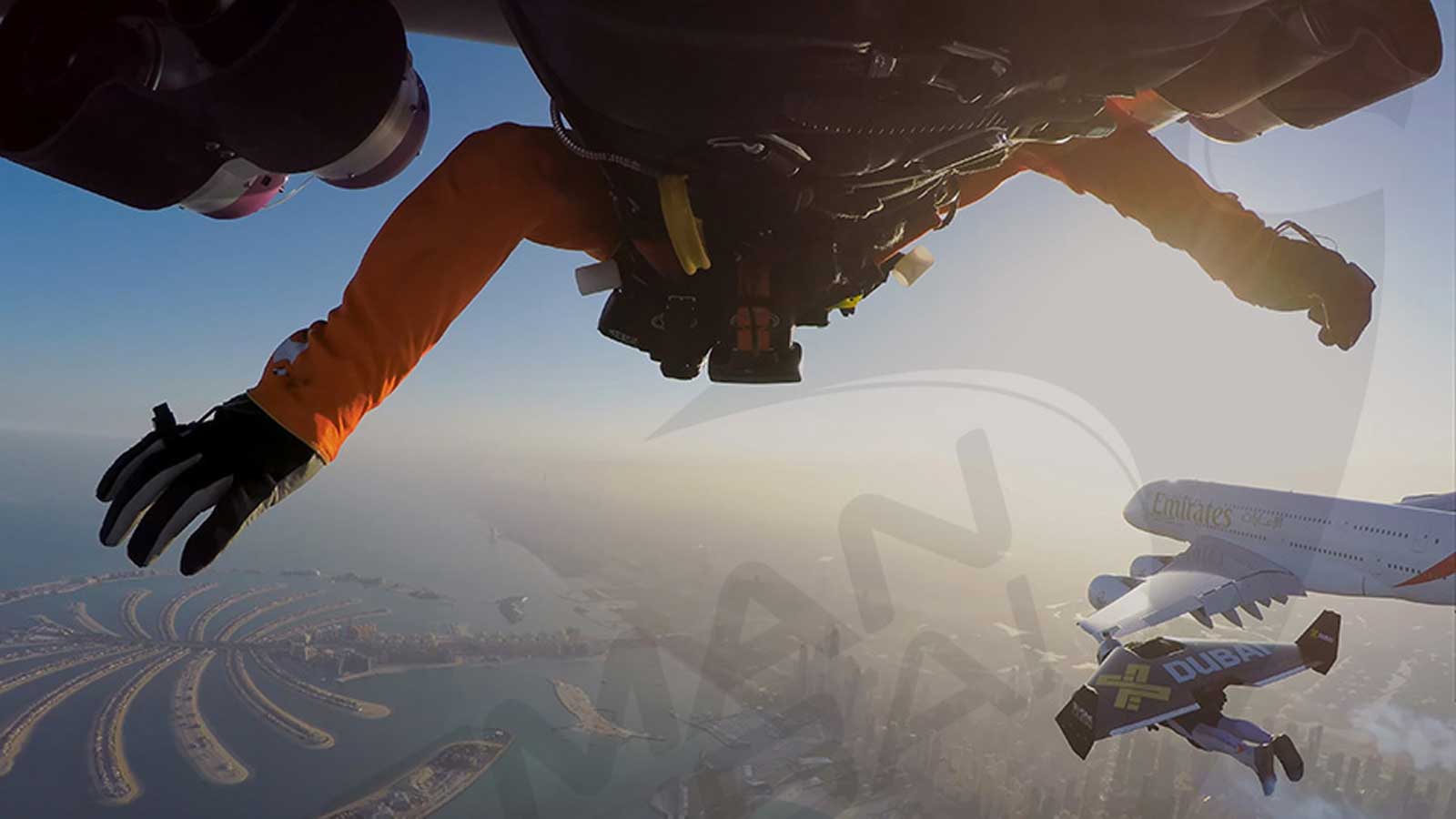 In hot pursuit of an Emirates A380 aeroplane over Dubai
Today, the weight of the wings is no longer an issue, according to Rossy. "The jet is flexible in design and we continued to evolve," he says. "The physiology of an airplane is rigid, birds are adaptive and humans are somewhere in-between."
Both Rossy and Reffet have also evolved. When visiting the duo at their hangar in the Dubai desert, their faces light up as they reflect on how surreal their reality has become.
"In the beginning we dreamt of having this kind of support – a hangar, a full-time team, a helicopter to practice flying," says Reffet. "I used to say to Yves: 'Could you imagine?' Suddenly, we are here and the support has been incredible."
It took years of struggle and erratic sponsorships before the pair finally found a home in the Middle East; the future of Jetman propelled to new heights when the Crown Prince of Dubai, HH Sheikh Hamdan bin Rashid Al Maktoum, asked the duo to perform a test flight and was pleased with the pair's innovative aspirations.
Today, Rossy and Reffet are constantly developing new break-the-internet-worthy stunts around the UAE under sponsorship from XDubai, the city's initiative to promote extreme sports within the region. This includes last November's memorable stunt in collaboration with Emirates airline: a tandem-formation flight alongside an Emirates A380 Airbus, the largest commercial airplane in the world.
Soaring over sights like Palm Jumeirah and the seven- star Burj Al Arab hotel, official footage from the YouTube video shows Sheikh Hamdan peering out from a first- class cabin window in the A380, watching as the Jetman team casually cruise alongside the plane like mosquitos accompanying an eagle.
By definition, the two men are professional travellers: Rossy spent years as a captain on the now-defunct Swissair, carrying passengers to the far-off lands of Hong Kong and India. Reffet has base jumped everywhere from Mont Blanc to Brazil, with plans in the pipeline to jump from Venezuela's Angel Falls, the world's tallest uninterrupted waterfall.
When asked about their bucket-list destinations, they each answer in classic Jetman style. Rossy says Mars, and Reffet would like to go to the moon. When I ask for an Earthly destination, the response is unanimous: the Himalayas. "I'd also like to fly the jetpack through the 'floating mountains' [Zhangjiajie National Park] of China," Reffet adds. "That would be absolutely beautiful."
As for Rossy, there are many other places on his wish list, but for now, he's focused on Jetman. "Time is a collateral effect of passion," he says with a smile. "When you're consumed by your passion, there's not much free time. Jetman has always been my dream, and it is my priority right now."