As you would expect of someone running one of the world's top luxury luggage brands, Jerome Griffith is an expert at the art of travel packing. He's on the road for most of the year, consequently finding himself blurring the lines of work and play — every destination is an excuse to multi-task; every experience a chance to develop both life and business skills. With a career spent in England, France, Hong Kong and, now, the USA, as CEO of Tumi, Griffith likes to think of himself as a global citizen.

Not content with staying in one place for too long, when Griffith isn't at home in New York, he is flying his plane to weekend destinations along the East Coast of the US, or planning another overseas adventure to somewhere exotic. Here, he reveals his secrets to a work-life balance, memorable travel experiences and, naturally, a few packing tips.
---
How did you get involved in luxury luggage?
I've always been in the fashion business. I did 10 years at Gordon Taylor, 10 years at Gap, four years with Tommy Hilfiger, then seven years with Esprit. Tumi hired me five years ago because of three points in my resume. Firstly, I am a retailer, so I understand how to manage brands. Number two is my international experience; I've lived around the world and Tumi is a very international company. And thirdly, I have women's experience — almost half the customers we have today are women.
Of all the places you've lived, where has been your favourite?
I've lived in London, Paris and Düsseldorf, and then in and out of Hong Kong. Then I lived in Boston and Washington and NYC. I have never lived in any place that I don't really like. It's funny, I grew up on a dairy farm and I remember telling my parents that I would never, ever live in a major city. But where I live today is where I am most comfortable. New York is an incredibly international place. My wife and I have the best of both worlds — a place in the city and a place outside of the city, where we can go to decompress, and it's a very good balance. I am very open-minded about where I am. I feel like I'm a citizen of the world.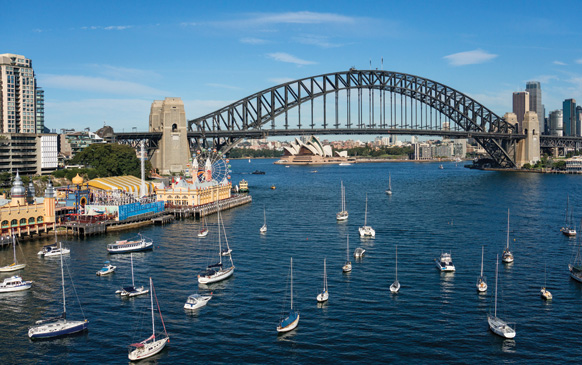 What is it about New York that appeals to you so much?
You know that saying, 'If you can make it in New York, you can make it anywhere'? It is really true. NYC is 100 percent busy all of the time. My days usually start at 6 am and they end at 10 pm at night. There are constantly things going on and there's a real buzz about the city. Really, any other place around the world moves at a slower pace.
Where do you like to take visitors to the city?
They have to see the High Line; it's just beautiful. It's a park made out of an elevated railroad. Another must-do is the observation deck at the top of One World Trade Center. It's not open yet but I've already been there, because we're putting a store at the base of it so they took me to the top when I visited recently. And another must-do is the Circle Line around Manhattan, because it just gives you a different perspective of the city.

Any top restaurant picks?
Woah, that's really hard because there are so many great restaurants; too many to name the top ones. You can't get a bad meal in New York. Well, I guess you can, but you really shouldn't because there are too many great places to go.
Although you're based in New York, you're on the road for much of the year, correct?
Between 100 to 200 days.
It's fair to say you're well-versed at the art of packing, then.
Yes, I am a professional packer.
---
What are your top packing tips?
Everyone has packing tips, like rolling shirts or folding your clothes a certain way, and they're all good, but nothing beats planning. Planning is probably the biggest thing. Plan what you are doing so you don't over-pack or under-pack. That also includes knowing what the weather's going to be like. I pack everything away with packing cubes. That way I know what I need on what days, and know exactly where it is.
Do you heed your own advice or are you a last-minute packer?
I can pack for a three-week trip in half an hour, no problem. I pack last-minute, but I do plan. You just can't overlook what the weather will be like or how many outfits you need.
Which is your go-to piece of Tumi luggage?
I go with the Alpha 2 Continental Carry-on. There's another tip you should know: always carry-on. Do not check in luggage. It's faster. If you can get away with carry-on, carry on.
What are your other travel essentials?
I always have a travel adapter with me, and my iPad. I do everything on my iPad. We are getting close to a paperless office; I file everything on my iPad or upload to a USB stick.
How does travel affect your job?
Mostly along the lines of efficiency. We're a big company, with over half a billion dollars in sales and a presence in 70 countries. There are only so many hours in the day, so you need to prioritise, just as you would when travelling. When you are getting from point A to point B, you try and get there in the most efficient way possible. When it comes to my work, I always work out how I can get the most done in the least amount of time. For example, I have a trip to Asia coming up — my wife and I are going on holiday — so I packed in two business meetings, an investor conference, a fashion show and vacation all in the one trip. You want to be as efficient as possible and get the most you can done with the least amount of effort.
Favourite holiday destination?
Probably Sydney, Australia. I think it is the most beautiful city I've ever seen. Just before I started at Tumi, I did a Harley Davidson trip up to the Gold Coast in Queensland. I have to tell you, it was gorgeous. Everybody is friendly, every place is laid-back and every meal is wonderful.
And your most memorable travel experience?
It was in the Hunter Valley region of New South Wales. For our anniversary, my wife got me a ride in a Russian training plane. I went up and the pilot asked me if I wanted to do some acrobatics, and I wasn't sure because I was afraid I would get sick. We did it anyway and it was amazing. When we landed, I told my wife she had to go up and my pilot says, "My buddy has a plane just like this, why don't I call him and you can both go up and we'll do a dogfight?" Of course, I said "Yes." It was the best experience I have had anywhere on a vacation. Since then, I've got my pilot license and I fly a small plane. I fly to see my brother and sister, between New York and Long Island, which is great.
So, where does Jerome Griffith go to get away from it all?
Anything that starts with 'Aman'. It's difficult to say which one, as I haven't been to all the Aman Resorts yet, so I will reserve judgment for a little while longer. We're going to Bhutan soon, so I will wait until we've been to the one there. After that I want to drive my Harley across America. I have seen more of the world than I've seen of the States. It's next on my list.