Of course, when you're the carbon copy of one of the most successful models of all time it's only natural that stardom comes quickly. With three million Instagram followers and counting, the 16-year-old Kaia Gerber has already emerged as a master of the social media universe and there seems no stopping her from fulfilling her destiny as the world's next great supermodel. During the past year, Gerber enjoyed a stunning catwalk debut, strutting the runway for Prada, Fendi, Saint Laurent, Miu Miu, Prada, Moschino, et al. She's also signed lucrative contracts as the face of Marc Jacobs Daisy, Alexander Wang, and Miu Miu to put her on the fast track as the hottest young model since Cara Delevingne. But in marked contrast with Cara's surly manner and ambivalent attitude towards the industry, Gerber is a remarkably pleasant and level-headed young woman who takes a relaxed approach to modelling and worries more about homework than eye shadow.
"I go to school every day, and that does come first," she says. "I use my free time for work, but because I love it so much, it doesn't feel like work and I still have fun with it. I don't really have days where I can sit and do nothing!" Blessed with a lanky, long-legged frame, the 5'9" Gerber (she's exactly the same height as her mum!) is a both a genetic marvel and a grateful daughter who listens to her mother's advice while following in her footsteps.

"My mom is very much about 'less is more'," she says. "She showed me how to use makeup to enhance your beauty, but not to change your face, which I think is important. Also, she never really had rules about makeup when I was younger She let me wear as much makeup as I wanted, which I think was good, because she let me make a lot of mistakes. And now that I'm older, unless I'm working, I won't wear makeup."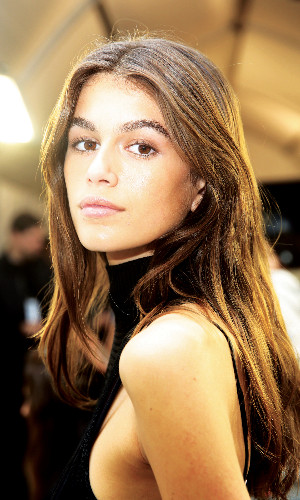 For her part, Cindy Crawford has no qualms about her daughter's fledgling modelling career which is taking off at the time most girls enter the business and is more concerning over Gerber's debut as a driver than a catwalk debutante. "In some ways, I wish I could have pushed it off a year or two, said Crawford. "But she's 16. That's how old I was when I started, which is young, but in fashion that's kind of the normal age when people start." "My daughter just got her driver's licence. I'm a lot more concerned about her driving by herself than her entering the world of modelling." What sets Gerber apart from other aspiring models is that she has had her mother to guide her in all aspects of the fashion world. Her father, Rande Gerber, is also on hand to assist her the business side of things, having enjoyed a successful career as a restaurateur, entrepreneur, and co-founder (along with good friend George Clooney) of Casamigos Tequila, which he recently sold for a cool $1 billion. One of the benefits of growing up with famous parents is that Gerber isn't overawed and won't be overwhelmed by her sudden celebrity status.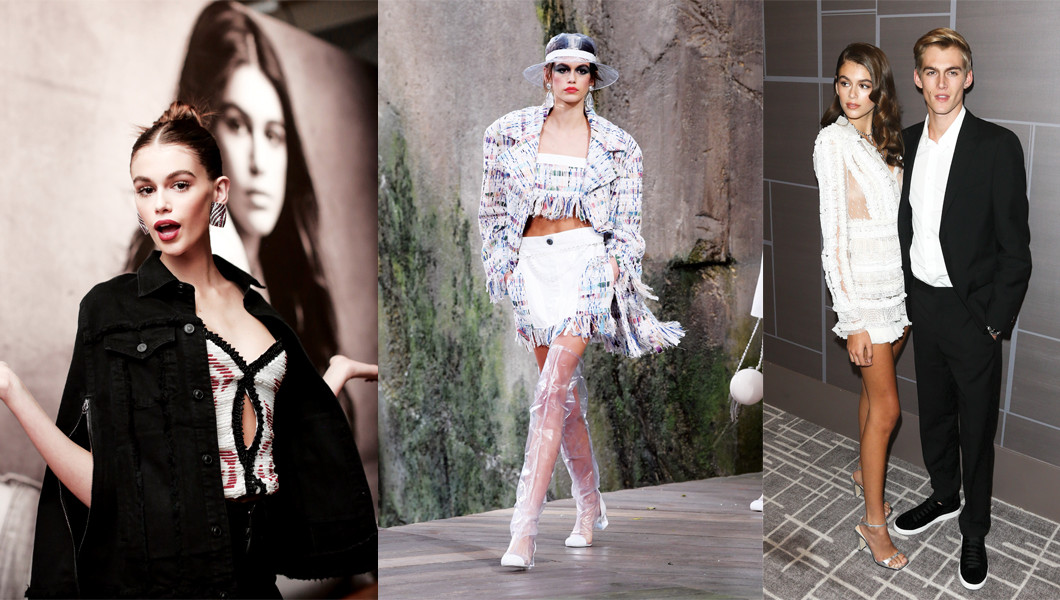 "My parents have always taught me to be myself and to follow my instincts," she reveals "They also say that you should never let what other people do affect what you want to do. It changes everything when you accept who you are, and you don't try to change yourself." Staying "true to herself" is the leitmotiv that best characterises Gerber's philosophical take on her nascent celebrity. She gives the impression of being a "good girl" who takes after her mother Cindy's highly professional and disciplined work ethic. Crawford, during her reign at the top of the modelling world in the 80s and 90s was noted for generally avoiding the hard-partying ways of her profession and leading a healthy lifestyle that was part of her overall image as the fittest of the first wave of so-called "supermodels." That natural, clean-living attitude has been passed down to Gerber although the teenager prefers to sports-related exercise to doing weights or Pilates.
"I don't go to the gym everyday like most people," she states. "I prefer to do fun activities like dancing, boxing or walks in Malibu...I like to feel fit and healthy, but I would rather stay active than spending a lot of time doing fitness routines." Gerber's introduction to modelling was jump-started when Donatella Versace, a friend of Crawford's, saw something in the then 10-year-old Gerber and did a photo shoot with her for Versace's junior line, Young Versace. "We allowed her to do it because it was with a great team," explained Crawford. "She loved shooting for Donatella Versace with Mert and Markus. I chaperoned her, and I knew besides getting great pictures, she would have fun." Seven years later, Gerber found herself sharing the runway with her mom at Versace's spring 2018 show during Milan Fashion Week this past September. Interestingly, Crawford had no idea that her daughter would be working at the same show, which was held as a twentieth anniversary homage to Donatella's late brother Gianni Versace who was murdered outside his Miami home 20 years ago.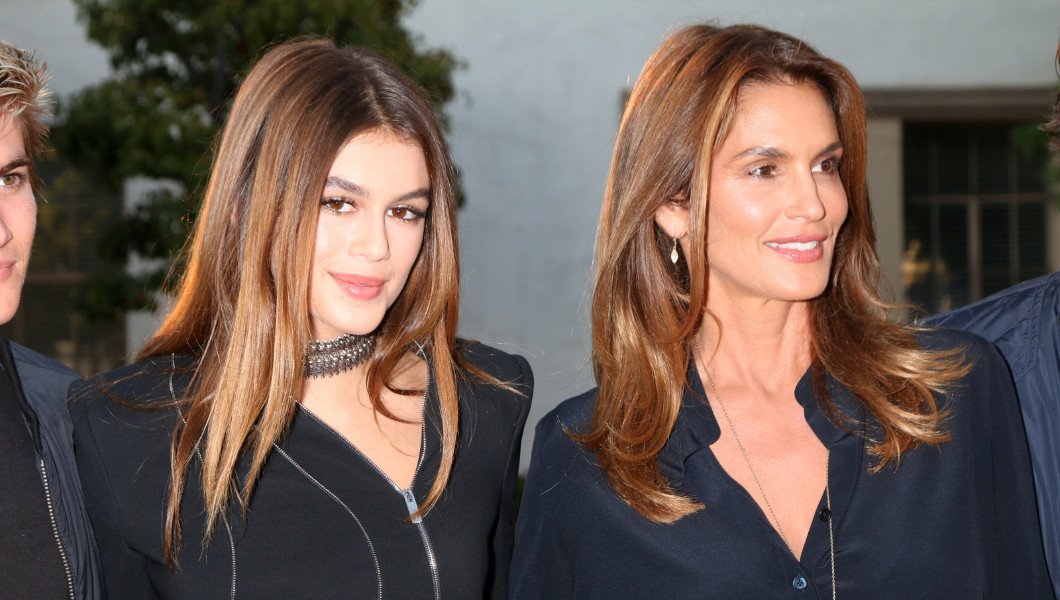 "I didn't know my daughter was doing that show," revealed Crawford. "The models themselves don't really get booked until the day before or two days before. And finally Kaia got booked for it, and I said, 'You know I'm doing that show, right?', she's like, 'Wait, do we have to walk down together?' I said, 'No. I don't even want to walk down with you. I'm going to walk down with the ladies that are my age. You can go with the girls that are your age!'" Gerber's sudden emergence as a rising star in the modelling world has been a "wonderful" surprise for her although she has long dreamed of emulating her mother. "I think it was always something that I knew that I wanted to do," says Gerber. "But I would never have thought that I'd be doing Daisy Marc Jacob.... My favourite thing about being a model is the people that I meet. I don't think there's any other job where you get to learn so many things about so many different people."
She signed her first modelling contract with IMG Models at the age of 13 - three years before her mother signed with Elite at the age of 16 - and landed her first solo cover shoot when she was just 14 for LOVE magazine (photographed by Kendall Jenner, who has since become a friend and mentor to Gerber). Said Gerber at the time: "I've been so lucky to work with such incredible people so early on in my career and I hope it's just the beginning. My goal is to continue down the same road, work with even more amazing people and build lasting relationships." In December, Gerber and Kendall, 22, were spotted in matching midriff-baring T-shirts while heading for lunch at the Nate'n Al Delicatessen in Beverly Hills prior to doing some Christmas shopping together. Photos of the them in their matching crop tops went viral on the internet shortly afterwards and is likely to spark a new teen fashion trend in the months to come.
Hanging out with Kendall, her best friend Gigi Hadid, and other members of their "squad" will help Gerber expand her presence in the social media universe that has similarly propelled the careers of other models in addition to pop stars. Gerber is currently focussed on building her portfolio and her brand by working as many major fashion shows as she can squeeze into her schedule. Her mother has advised her not to lose the rhythm of her daily life with family and friends by taking on too many modelling assignments and photo shoots. Whenever she does work, however, she sticks to her mom's basic rules of professional conduct: "She tells me to do basic things to be on time, be nice to anyone – which would apply to any job, really - but just seeing how professional she is, makes me want to be as professional as I can be."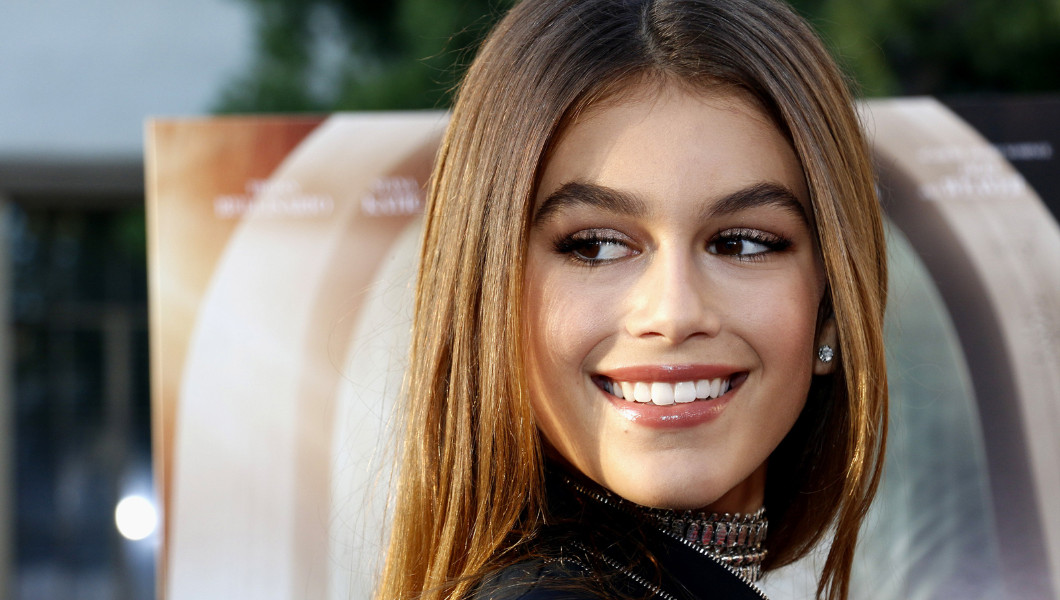 Gerber is also sticking with her thick eyebrows that she inherited from her mom and which she feels is part of the more natural look that defines her. "I love how natural beauty is becoming big again," she enthuses. "I have really thick eyebrows, so I love how that's coming in and makes me want to embrace them. I'm inspired by people embracing their feminine power and just being who they truly are, and not afraid to express themselves." As comparisons between Gerber and her mother Cindy will continue to follow her as she makes her way into the top ranks of the modelling profession, the teen sensation is quick to suggest that she's not as straight-laced as her legendary mom. "I'm a bit more of a rule-breaker than my mom," she admits. "She's very sweet and very worried. She was valedictorian. I think I got a little bit of an edgier side from my dad. I'm inspired by other people, but I don't really try to look like a certain person or anything. I kind of just do what I feel like doing. I think that shows in my makeup because sometimes I'll have a bold eye and other times, I'll be wearing no makeup. I think that's the fun part about it."
In the meantime, Gerber is staying footloose and scandal-free with no signs of any wayward model behaviour or all-night clubbing adventures in New York or Paris. She's reportedly dating Patsy Palmer's son Fenton and thus far she's doing her best to remain discrete about her private life for as long as she can. According to her closest friends, Gerber is indifferent to the limelight and "not really worried" about the kind of massive public exposure, which she knows "comes with the job." Though her mother may have been one of the most path breaking models of her time and helped set the standard for multi-million-dollar cosmetics deals and other commercial endorsements, Gerber belongs moreproperly to Kendall Jenner's generation and the current era of models as brand ambassadors and self-styled business moguls. "I really admire Kendall Jenner, for her professionalism and the way she manages her career," she says. "I feel like a new generation of supermodel is just beginning to emerge and I hope I can be a part of it."