A quick glance at Mary Elizabeth Winstead's resume will tell you that she's very partial for roles that are, shall we say, a little different. With all the acting chops, looks and charisma, she's an effortless A-lister, though it's clear Winstead prefers to select scripts that are truly of personal interest. You may have seen her as the elusive, purple-haired Ramona Flowers in Scott Pilgrim vs. the World; the scared but determined rescuee in 10 Cloverfield Lane; or perhaps as the lead in the new and quirky political sci-fi series, BrainDead; but you won't have seen anything quite like her latest indie hit, Swiss Army Man.
The starlet may have minimal dialogue and screen-time but the outrageous plot (without giving too much away) largely hinges on her elusive existence – an object of desire and borderline fantasy who inspires the stalkerish Hank (Paul Dano) to get through immense hardship. It's no secret that one of the protagonists, played by the versatile Daniel Radcliffe, is seemingly and entirely deceased but, somehow, that doesn't deter him and the equally pining Hank, from having quite a remarkable adventure. We sat down with the rising star to find out more about this particular project, her musical passions and finding the right level of fame.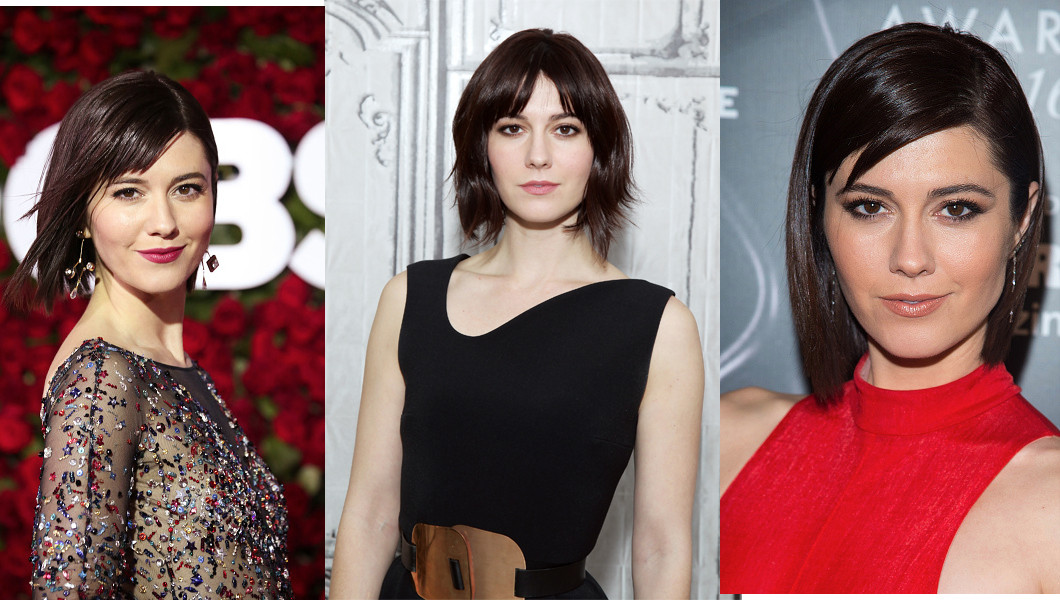 A lot of your roles have been quite alternative, or even edgy, so is that what drew you to get involved with Swiss Army Man?
I think in general, in the past couple of years, I've been really drawn to people who are making things that are different and that have voices that stand apart from the crowd. I was familiar with the Daniels' work [writers and directors Dan Kwan, Daniel Scheinert] already. I had seen several of their music videos and short films and I thought they were all so great and completely unique, and just the idea of them doing their own feature film was incredibly exciting to me and I knew I wanted to be a part of it, whatever it was. So I was already in before I even read the script, and then I read it and thought it was the strangest thing I've ever read! I jumped in just for the experience alone, then I found out who else was involved and it all just came together to become really profound, in a rather strange way, and I thought that was really special.
A lot of the story involves (almost) slapstick physical comedy but the film touches on what it means to be human – what was the filming process like?
The first thing we did for the project was to create a backstory and photos that Hank [Paul Dano] would find of her [Winstead's character, Sarah] and discuss things that she would hide from her husband. Then I went away and they [the Daniels] went and starting shooting the major chunk of the film, and then I came back it was like, well that's changed. It was still a fun thing to get to do, in terms of getting to know the directors and talking about the character and figuring out who she is; we decided her favourite band was Creed! That was her secret, favourite band and she didn't tell anyone that. Even though none of that ended up in the film it still informed me on who the person is and there was that connection there to Hank, even though she was really freaked out by him in the end – as she should be, because the scenario was so ridiculous.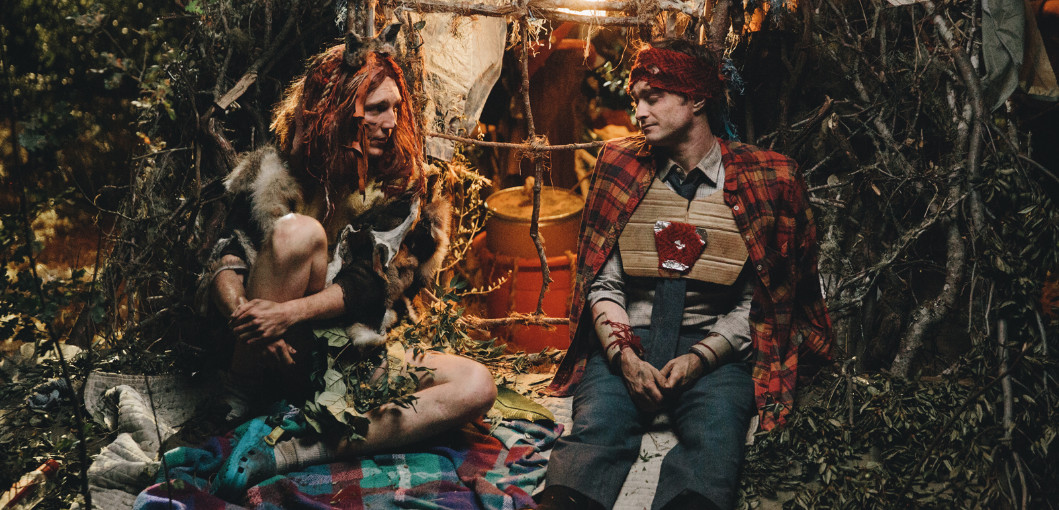 Swiss Army still: Dano (mimicking Winstead's character) and Radcliffe share a moment

You were convincing at being incredibly freaked out. Were you able to draw on any real-life circumstances or was it pure acting?
A lot of women can relate to being in that position where someone has created a fantasy around you and someone has built you up to be something in their mind and you have to let them down by showing them that's not the person you really are. I think that Hank does that with Sarah in the most extreme way and she doesn't even know who he is, so how could she be that person? While I can relate to being creeped out by his character and what he's doing but also seeing, from a place, there's something in there about what it means to be a man and a human.You also have quite the voice, and are touring and recording with your band "Got a Girl". Tell us about that and how you divide your time. It's definitely more of a side project; I love it so much and it's so much fun but it's a bit secondary and I don't get to do it as much as I'd like to. I've known Dan [musician and producer Dan the Automator] for over five years now. We've made an album, played some shows and did a mini tour last fall. It's just a fun, different facet of my personality I can show. The tour took us to San Francisco, LA and there were also a couple of shows in New York.
Was that a completely different travel experience to going on location for your acting career?
Dan I decided to stay in hotels, rather than do the tour bus thing [laughs] so it was, I would say, a more luxurious version of being on the road. I had never stayed in Seattle before and that was a great experience and Dan lives in San Francisco so I stay with him and he knows all the best places to go out. In the band we sort of play different characters and it felt appropriate for those characters to stay in nice places.
You're also now filming a major TV project, BrainDead, where you discover that alien parasites are eating the brains of politicians. Can you tell us about the show – is it comedically similar to Swiss Army Man?
We just finished the first season five weeks ago. I was in New York shooting that for five months and I just got home to LA. [The projects] are connected in the sense they're both so odd and I like people doing weird, unusual and different things. Just the other day I was just in awe that the show creators were doing whatever incredible thing popped into their imagination, and then they just made it happen. That's very similar to what the Daniels do, even though they're very different projects.
To refer back to an obsessive "fan" like Hank, what are your thoughts on fame – and do you value anonymity in your career?
I think for the most part I've sort of turned away from [fame]. I wouldn't say I was turning down opportunities but I certainly haven't been chasing that type of fame or that type of success. You're always told you have to reach a certain level of fame if you want to continue working, but I'm in a wonderful place right now where I can choose to do work that I love, but I can also still ride the subway. I think, and it's taken me a long time to get to this place, I have the experience and maturity to handle the "fame" that these roles bring.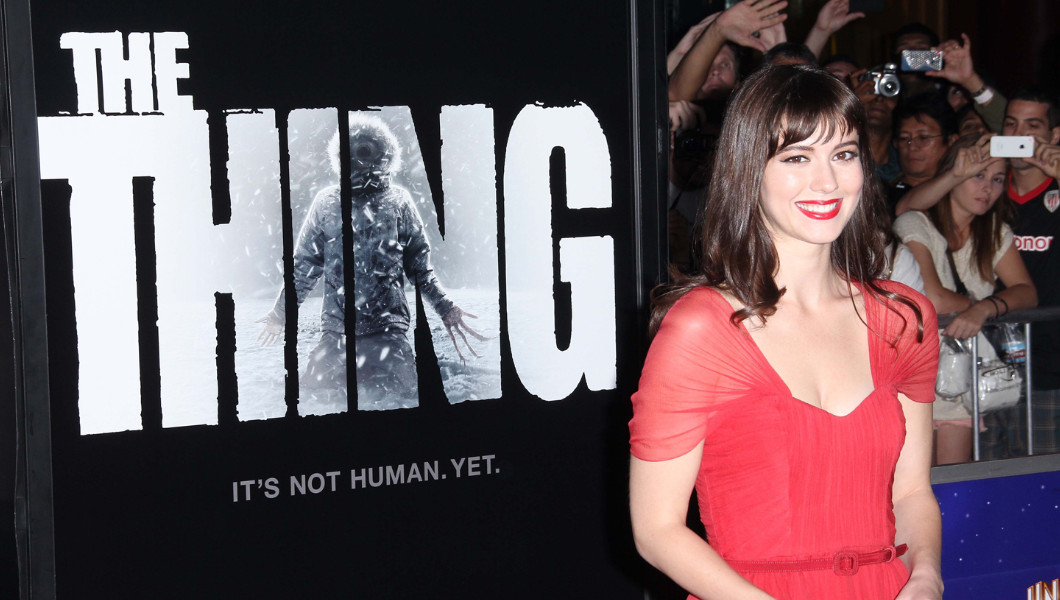 Winstead at the premiere of The Thing (2011)

In terms of travel, what are the most interesting locations or destinations where you've been able to shoot?
For The Thing [2011] we shot most scenes in Toronto, which is a great city, but maybe not exotic, but for some scenes we shot on a glacier in Norway, which was a really unusual and great experience. I have also been able to travel to Budapest, which was wonderful but it was only for a few days. Most of my work has been in the US and Canada. I would love to spend some time in France – I hear there's often wine on set and three-hour lunch breaks…that's just what I hear. That sounds like heaven to me, so I'm very open to that experience [laughs] if anyone wants to come calling.
What about any travel tips – do you have any pearls of wisdom, or maybe even a ritual, for when you fly or stay in a hotel?
I think for me, I'm all about being as stress-free as possible, which means I pack extremely light. I just take what I need and nothing more, and I try not to overthink it. I try to just throw some things in a bag and get where I need to be, and if I forget anything I can figure it out. I try my best to enjoy the experience in front of me without stress or over-planning, and that's really worked pretty well for me so far.