With a whole continent on their doorstep, what inspires wealthy travellers from the Americas to visit other parts of the world?

Young Mexican affluents are ready to spend, but so are many new generations across the Americas. They are eager to explore new horizons, share experiences with their friends instantly via social media, shop 'til they drop, as well as create unforgettable memories to share in detail on their return.
Who are the biggest spenders in the Americas?
Brazilians – they come to stay for a long period of time, they always travel private or premium, they travel with their families and therefore can often be found to take the best inter-connecting suites etc., and they typically spend within a hotel. They shop, they eat, they spa: the perfect luxury travelling guests.
What are the big issues that affect high-end travellers in the Americas?
Airlift from South America is still a challenge, as is the distance of travel to reach long haul destinations. Equally, the length of holidays in North America is a challenge for those travelling on long haul holidays. It is difficult to justify travelling so far for a relatively short period of time. Family friendly destinations are increasingly popular on a global basis, but there is a perceived lack of choice for large families travelling from South and Central America. Finally, the security of destinations is top of the agenda for those travelling from North America, as well as those from Mexico and Brazil, for example.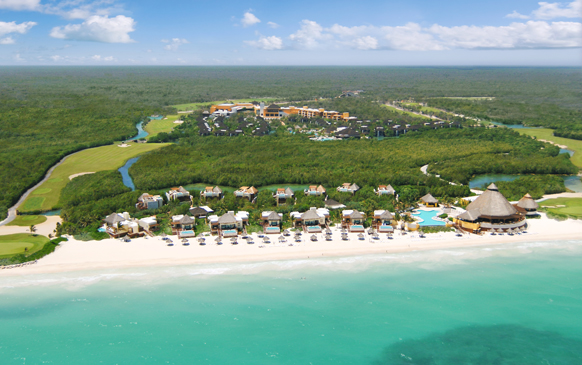 ILTM Americas will be held at the Fairmont Mayakoba in Mexico later this year
To what extent do events like the ongoing civil war in Syria affect people's decisions to travel to other countries in the region e.g. the UAE?

North Americas are definitely more sensitive to security and political unrest, but for Latin Americans such as Brazilians and Mexicans, heightened security is a reality and part of their daily lives so they can be said to be less sensitive to these kinds of issues.
Argentina is going through another financial blip at the moment – have you seen any impact on their thirst for travel?
One of the things that we learnt from Travelweek São Paolo was that when a country is going through difficulties, as Argentina is currently, its nationals really want to travel. The impact on their domestic economies means that it is simply not an option for consumers of luxury goods to spend at home, so increasingly, they will travel to places like Dubai or Miami to shop.
Last year, Brazil, Mexico and Panama were the fastest growing outbound markets in the Americas. How has that changed in the last 12 months?
Outbound spending on travel from Brazil has grown from US $22 to $25 billion. As Latin America's second-biggest economy, Mexico is experiencing a luxury boom, courtesy of a young, affluent middle-class ready to spend. Home to ILTM Americas for the last two years since the event launched in 2012, Mexican outbound tourism spending is expected to reach $7 billion by 2017. In a list of the countries set to create the most millionaires in 2014, a 7% increase is expected in Mexico alone.
---
What is ILTM Americas?
ILTM Americas is returning to Mayakoba on the Riviera Maya, Mexico from 22 - 25 September 2014. The event will once again create the definitive opportunity for global luxury travel suppliers to develop business with buyers from high spending markets across North, South and Central America, including Mexico, Panama, Chile, Colombia, Venezuela, Brazil as well as across the US and Canada.
ILTM Americas 2013 was a real introduction to some incredible examples of Mexican hospitality for many of these buyers. Riviera Maya and the Mexican Tourism Board will seek to build on these experiences at ILTM Americas 2014 to an even greater extent. The event will welcome up to 275 elite travel suppliers from across the world and host up to 275 VIP Buyers for their exclusive benefit.
With such high standards of hospitality and such a stunning environment, ILTM Americas 2014 will once again create significant opportunities to build luxury travel business and luxury travel communities. Up to 69 pre-scheduled appointments between each buyer and supplier will take place during the four-day event in 2014, as well as the detailed programme of social networking activities that was so well received in 2013.
Last year you expected 300 buyers from around the Americas – what were they looking for on behalf of their clients?
New destinations, new openings and inspiration and this year it will be more of the same exciting discoveries for our guests. The Peninsula Paris, opening in August is just one of the hot new properties that will be showing for the first time since the property opens in August. Equally, Hotel Faena will open in Miami in December and they will also be able to reveal more details at ILTM Americas 2014.
Can you put a value on the amount of business done as a direct result of companies taking part in ILTM Americas last year?
The value of business created at ILTM Americas 2013 is hard to quantify but we understand one hotel company secured a single booking worth US $1 million dollars at ILTM Americas 2012. At ILTM Americas 2013, Eden For Your World reported that they were able to charter a yacht for a group of 18 in the Galapagos in 2015.
What Middle East exhibitors have signed up for ILTM Americas so far?
Jumeirah Hotels including the Burj Al Arab to date but we welcome more applications from this popular region for the Americas luxury traveller.
What are the big buzz words in luxury travel at the moment?
ILTM seems to be the word on the lips of most people at the moment.

---
For further information regarding taking part in ILTM Americas, please contact Simon Mayle at simon.mayle@reedexpo.co.uk or visit www.iltm.com/americas.