Sporting a rather Biblical-era beard is hardly unusual for Mel Gibson, a devout Catholic and the director of The Passion of The Christ (2004) amongst other films. Looking fit in a black polo shirt and blue jeans, the outspoken movie star/filmmaker is seeking redemption of sorts after his fall from Hollywood grace following some ill-chosen comments he made in the course of a roadside arrest and a nasty divorce battle. Still sharp as ever and displaying his familiar brand of nervous energy while sipping on his morning cup of coffee, the 60-year-old Gibson gives the impression that he's paid for his sins ("I feel worked over") and is ready to return to action. His new film, Hacksaw Ridge, is Gibson's fifth film as a director. Based on the true story of Virginia farm boy Desmond Doss and his heroic participation in World War II, the stirring tale is as much a classic anti-war drama as it is a tribute to faith and selflessness.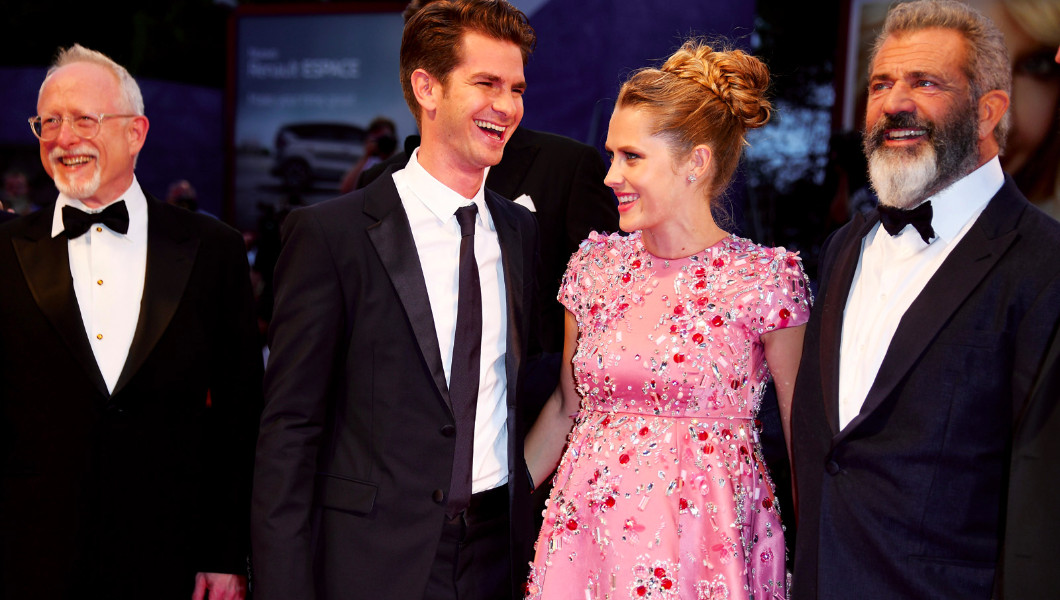 Starring Andrew Garfield (Spider-Man) as Doss, the film earned a 10-minute standing ovation at its premiere during the Venice Film Festival. Shot almost entirely in Australia, the film co-stars prominent Aussie actors Sam Worthington, Teresa Palmer, and Luke Bracey, as well as Vince Vaughn and Hugo Weaving. A pacifist and conscientious objector, Doss refused to bear arms or otherwise engage in killing. However, he found a way to join the front lines by serving as an army medic who rescued many dozens of soldiers under enemy fire and would later be awarded the Congressional Medal of Honor for his bravery. It's precisely the kind of story that appealed to Gibson's personal sensibilities and ideals relating to heroism and faith.
"Desmond Doss was a singular and extraordinary man," Gibson says. "He's an ordinary man who does extraordinary things in a difficult situation. He just didn't do it once or twice but he did it over and over again. He had all the earmarks of the classic hero. He stuck to his faith and convictions and did what he had to do. And the ultimate sacrifice that anyone can make and the greatest act of selflessness is to offer your own life in exchange for someone's else's." Apart from Hacksaw Ridge, Gibson, whose last screen appearance came in The Expendables 3 (2014), will return to acting duty in the crime thriller Blood Father. Andrew Garfield, who plays Doss, had this to say about Mel Gibson and his style of directing: "He's passionate and loving and nurturing. A good director is like a good mother. And he's a really good mother. He's very gentle and compassionate. He trusts you as to where you need to go as an actor and how to get there and he keeps it light when it needs to be. He has this nervous tick when things get too serious and that's when he comes up with the gallows humour."
Mel, what drew you to this story?
As a storyteller, I'm fascinated by selfless heroism and the kinds of behaviour that comes from faith and belief in principles. I wanted to celebrate a real hero in a world of superheroes in spandex suits. This was an extraordinary and true story about a man who stands firm on his religious principles and refuse to carry a gun or kill. But Desmond Doss was the kind of man who would have the courage to go and rescue 75 guys in one night while under the heaviest fire imaginable (in Okinawa) while others backed off under those conditions. This is the kind of bravery and pure heroism that feeds myths and legends and that tells us about the best we can be as human beings.
How did you come across the story?
Someone brought it to me and as soon as I got into it I knew I wanted to make the film. I would read about how Doss would crawl in the mud to rescue his buddies without any thought for himself. He had such incredible faith and bravery and he never once thought about his own safety or how his life was more valuable than that of his fellow soldiers. How many times do you ever hear those kinds of stories?
Doss had to endure a great deal of abuse while serving in the army, didn't he?
They put him through hell. He was beaten up by his fellow soldiers, he was called a coward, he was ostracised in the military, and nobody would even talk to him. He was willing to endure all that, though, because he wanted to help his fellow man and wasn't afraid of risking his life to do that. He spent the entire war in the worst combat zones in Japan, in places like Okinawa, and also in Guam and the Philippines and kept on saving lives without hesitation. And he did that over and over and over and over again. There are very few men like that.
What in your view makes someone a hero?
A real hero is often someone who is willing to sacrifice and act selflessly. In the case of Desmond Doss, here you have someone who went into battle, who faced the worst artillery fire imaginable without any weapon in order to save people. Heroism is also about the altruism of someone who is willing to help his fellow man and never wanted anyone to think of him as being heroic. While he was alive, no one could ever convince him to give the rights to his story. It was only the (Seventh Day Adventist) Church he belonged to which did that after his death (in 2006). If he were alive today, he wouldn't go see the film. But I would hope that he would be reluctantly happy about the way his story has been told.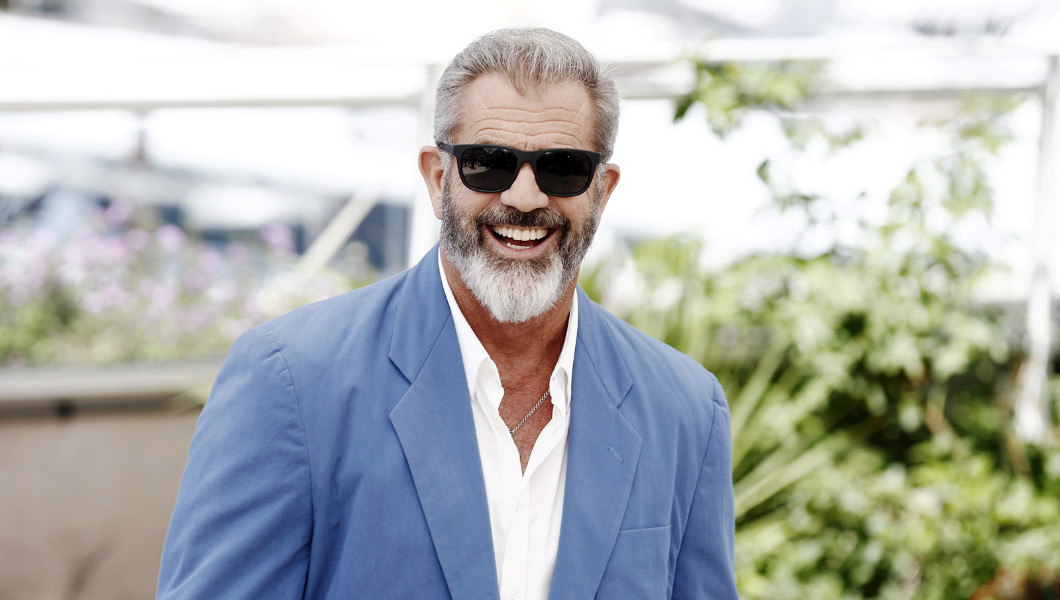 Is this film your way of making a statement against war?
It's an anti-war film. I hate all wars and I believe that there are no just wars. I hate war but I love the warrior. I believe that it's important to love and honour our warriors and pay tribute to those who fought and sacrificed their lives on the front lines. I hope my film does that. We also need to show compassion towards those who went to war or those veterans who are still suffering from their experiences in combat.
You came close to being drafted yourself during the Vietnam War when you were living in the U.S.
My father wasn't a big believer in that conflict and when I was 17 he moved our family (from New York) to Australia. I would have been drafted when I turned 18 although as it turned the war ended before that would have happened. So I think about that and I appreciate the honour and sacrifice of those who did go to war and lost their lives or came back damaged and disillusioned.
You made this movie with a lot less money than most directors get to make war movies. But the battle scenes seem extraordinarily powerful and sweeping. How do you approach creating those moments like you did in Braveheart?
I see my job as trying to visualise the battle and be clear in how you shoot it even though it looks like chaos. You want to create the sensation of terror and chaos but without confusing the audience. If the audience doesn't understand what's happening or have some idea of the progression of things, then those scenes lose their impact because people can't follow the battle. You have to try to create that kind of hell and make the public feel the horror of war even though the reality is even worse.
How did you discuss those scenes with Andrew Garfield and the other actors?

I wanted the actors to be able to have a sense of the danger and chaos. I needed them to be able to have an idea of what the experience of being in a combat situation must be like, at least to some small degree if possible. My goal in shooting those scenes and creating that environment is to be able to explore the area between the man and the bullet.

Have you shown the film to war veterans?
We've shown the film to veterans from Korea, Vietnam, Iraq. They found it cathartic, and a bit difficult at times, but it was also therapeutic. That made me really happy. There was also this kid Damien with whom Andrew worked and who lost his legs in Afghanistan. He came to the audition and did a great job on the set.

What do you want to say about religion with this film?
I think any religion worth its salt has to be based on love. There are lots of religions and often religious beliefs are translated into concrete actions. There are those that allow you to kill yourself and others. But Desmond Doss has put into practice his belief based on love. He carried out his convictions in the worst possible conditions. He risked his life to save his brothers. That's what counts.