I'm in the Maldives, pedalling along a sandy pathway on a white bicycle, the startling blue hues of the Indian Ocean shimmering through the palms – but instead of piña coladas and sunsets, I've got New York on my mind. In particular, the glamorous Gilded Age and the Astor family, the so-called "landlords of New York". It's been more than a century since John Jacob Astor IV opened The St. Regis New York, and how times have changed. Back then, the preferred summertime escape for the city's elite was the glamorous Newport on Rhode Island, where the Astors, the Carnegies, the Vanderbilts and the Rockefellers et al would hobnob at posh Gatsby-style parties while staying in their marble-clad "cottages". It seems wildly improbable to imagine the Gilded Age set, in all their feathered finery, jetting off to holiday in barefoot in the Maldives, but at the newest St. Regis incarnation, they would certainly have discovered the same level of luxury and attentive service they'd grown accustomed to in New York.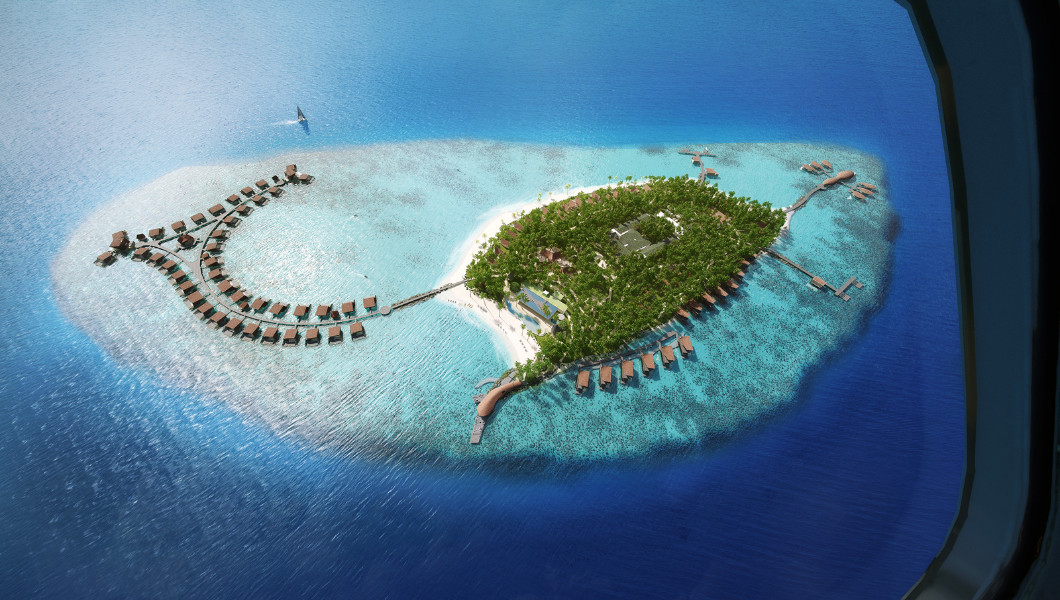 The resort opened in December on Vommuli Island in the far-flung reaches of the Dhaalu Atoll in the Maldives, and from the moment I'm greeted at Malé airport, it's clear I'll want for nothing for the next three nights. I'm ushered into a car and swept into The Great Room, the St. Regis's lounge at the seaplane terminal, where it's a well-orchestrated symphony of chilled drinks and cold scented towels, which no doubt matriarch Caroline Astor would have used to dab at her forehead. Once seated and refreshed, I'm handed an iPad. The Astors might have been aghast at the prospect of meeting their butler through a pre-recorded video message but I'm instantly won over by the earnest face of my 24-year-old Maldivian butler, Adam. Charming and courteous, he's a slight young man who has worked in hospitality since he was 18. Dressed in linen, he's waiting for me at the jetty when I disembark the seaplane, with a spiced vanilla passionfruit punch in his hand and a smile. After a few moments, he's driving me in a golf buggy toward my sunset villa along a bone china-white sand pathway, raked to perfection each morning, with thick tropical foliage and coconut palms creating a canopy above. Vommuli is so "postcard" I'm tempted to think it a mirage, and at just 22 acres, it's so small, that en route to my overwater villa we are "lapped" by a couple jogging around the island.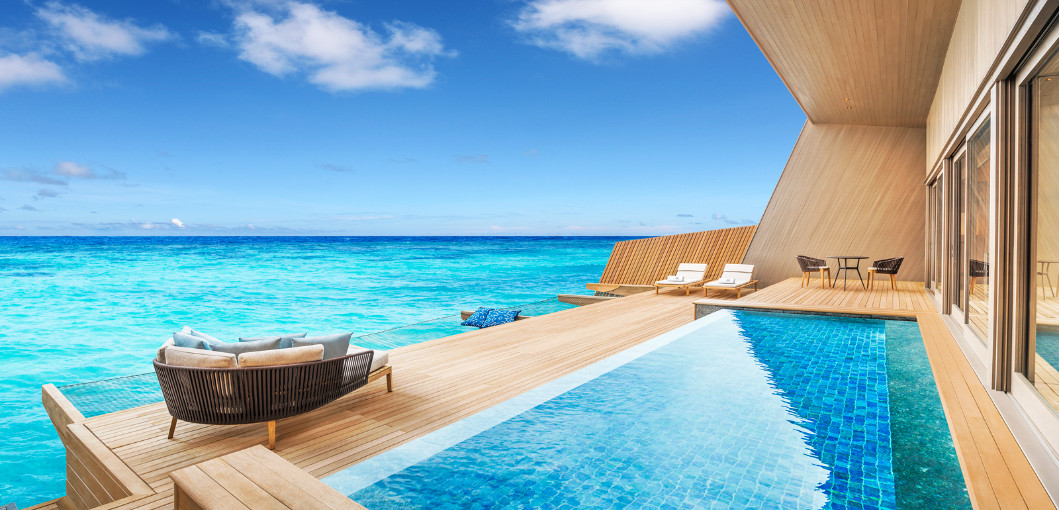 My sunset villa is one of 77 island and overwater villas conceptualised by Singapore-based architect Chiu Man from WOW Architects and Maria from Warner Wong Design. Inspired by the manta rays that swim in the lagoon, lovers of space, symmetry and texture will find it difficult to resist exclaiming (and touching) everything. From furniture design to lighting and art, no detail has been overlooked, with colour, textures and patterns reflecting the marine environment, from the headboard, made with recycled glass beads that mimic water drops, to the sofa fabric, inspired by ripples of water. The seamless transition between indoors and outdoors means you can move from bed to pool and plunge into the rippling Indian Ocean within moments, or zone out in numerous outdoor areas – on a daybed, a sun lounger or even nets, which, suspended over the water from the terrace, act as hammocks. There is blissfully little to do, though watching fish leaping in the distance with a glass of prosecco in hand and sighing at the pastel sunsets never becomes humdrum. Indoors, it's difficult to shift the eyes elsewhere but the sea, though the television, which swivels on demand to suit your position (all operated by an iPad) can even be configured to stream Netflix. A glass cabinet features complimentary handmade chocolates, a trolley-style bar is equipped with everything required for a DIY cocktail, and with a showpiece eggshell-shaped bathtub (lined with Laboratoire Remède products, a St. Regis signature), there's no real reason to leave.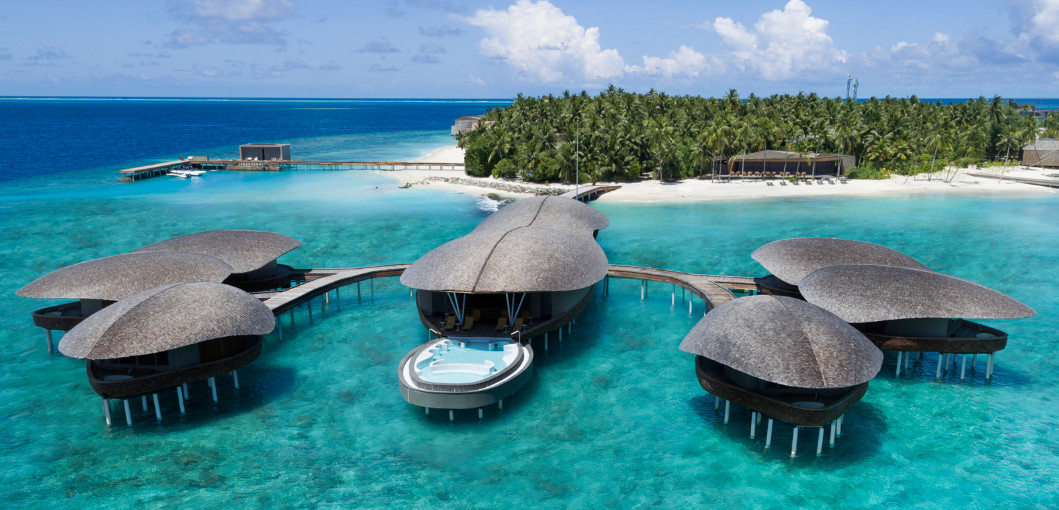 Despite its size, there's plenty to explore on Vommuli. I have my wonderful butler Adam on speed dial and a fleet of buggies at my disposal, but I mostly choose to pedal everywhere on my villa bicycle. I glimpse fish and stingrays darting in the shallows beneath the boardwalks on my way to breakfast at Alba, where a mimosa is virtually obligatory, along with pancakes served with a gauntlet of tropical jams, and what seem to be all the pastries from France. I even pedal to the overwater Iridium Spa, all timber, beads and curves, the design inspired by sea urchins and lobsters, where prior to a massage, I make time for a dip into the Blue Hole, a saltwater hydrotherapy pool inspired by the deep sink holes found in reefs. Afterward, I park my bike outside the spiral sea shell-shaped library, where book consultants from Ultimate Library have curated an apropos selection of intelligentsia literature mingled with photography, luxury yacht and lifestyle titles, which guests are free to borrow. The more active also have Vommuli House in the centre of the island, its design inspired by a large banyan tree, home to a kids' club and teens' area, a gymnasium, and even a studio for aerial yoga and sunset meditation.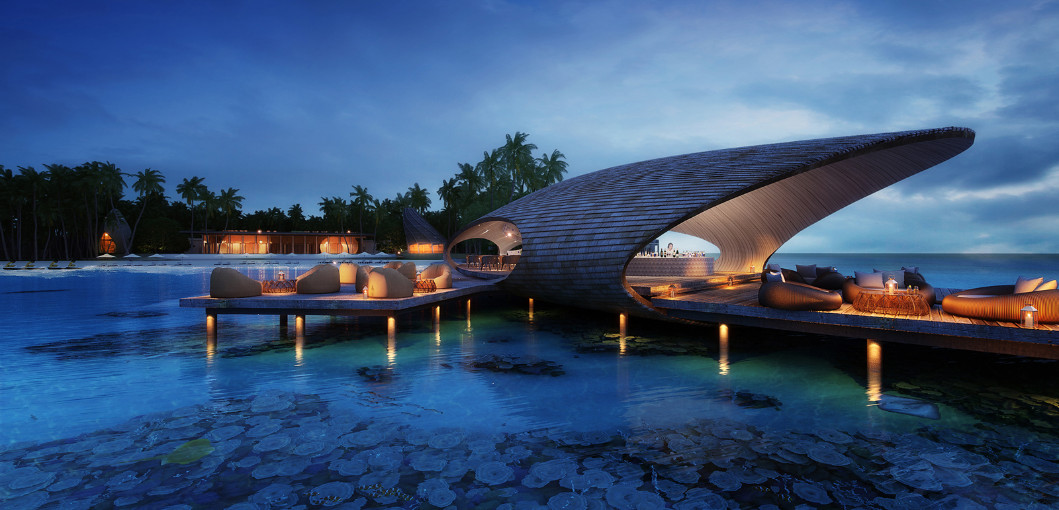 As expected, the food too, on Vommuli is haute cuisine, from breakfast and lunch at Alba – where I order another spiced vanilla passionfruit punch with a prawn mango salad and dine beneath ceiling fans and beaded lamps made from recycled shell – right through to dinner at the beachfront Orientale, where I savour cuisine from Asia as palms sway overhead. There's also a feet-in-the-sand pizza joint called Crust, while Cargo is among the more curious dining spots on the island, inspired not by the life, but by the death of John Jacob Astor IV, who went down in the Titanic in 1912. The battered shipping container transforms into a pop-up restaurant at night where I dine one evening on Arabic cuisine among tropical foliage, as plumes of lavender mist are sprayed into the air to keep insects at bay. Oenophiles too, can venture to Decanter, the resort's underground wine cellar, where among the US$3 million dollar collection, there's a very special bottle of 1755 Sercial Campanario, a Portuguese wine that's priced at US$33,233, no less.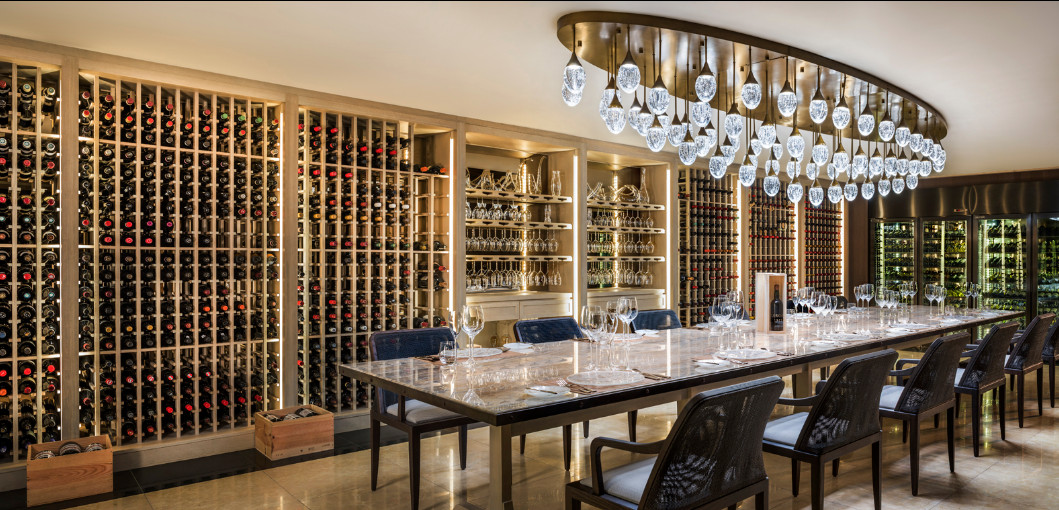 Aside from guzzling wine and seafood, and pedalling between villa and island, the Indian Ocean is the ultimate aquatic playground. I don't have to snorkel far from my villa to witness abundant marine life, though one day, I join a Coral Gardens excursion. After zipping across the ocean in a speedboat, we arrive to a Dhaalu Atoll reef, which rather amusingly, is simply referred to as "number 22", where clown triggerfish, moorish idols and brilliantly coloured parrotfish dart between soft corals. The second reef stop is just alongside Rin'budhoo, a local island home to some 200 Maldivians. It's Friday, and as children splash in the shallows, we walk barefooted onto the island, where veiled women lean in the doorways of single-storey houses made from coral, smiling shyly. With a school and preschool, a post office and mosque, we stroll sandy streets lined with coconut palms while snacking on stone apple – an indigenous, tart fruit plucked from the trees – and slowly return to the boat, stopping to chat to two men squatting on the sand skinning an octopus. The reef, just metres from shore, is magnificent; I shake my head in wonder to think of Maldivian school children being able to snorkel when the bell rings, just steps away from their classroom. It's another kind of paradise – a simpler, wholesome kind of wonderful. It's how we grew up," laughs the captain when I share my amazement, and I feel a pang of envy.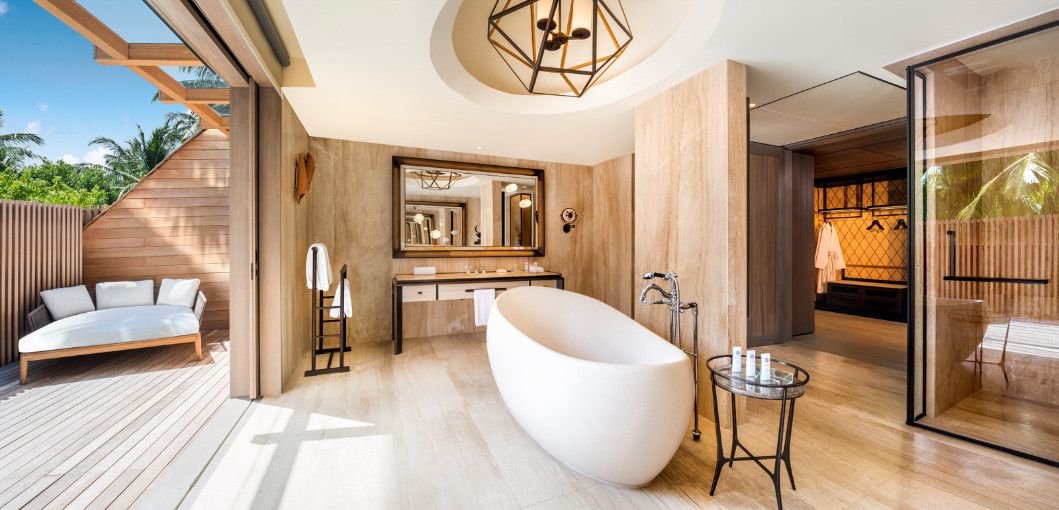 That pang still lingers in the evening as I watch the sun dip into the horizon from the Whale Bar. The marine animal – so loved in the Maldives – was the inspiration behind the showpiece bar at The St. Regis Maldives Vommuli Resort with an extraordinary design that mimics the extended jaws of a whale shark floating through the tropical waters to take in as much plankton as it can. It's here, at sunset, where the views out to sea are at their most beguiling, and where an evening tipple is even more so, especially when it's a version of The St. Regis's signature Bloody Mary that many believe was conceptualised at the original New York hotel. Vommuli's "Island Mary" is much the same, save for the addition of celery bitter and white vermouth, and it comes served in a nautilus shell lined with kala namak salt. As the sky transforms from peach to mauve, and with the memories of the tropical marine life seen that day front of mind, it couldn't be a more fitting vessel for the drink, I muse. In a sense, I am holding in my hand a very drinkable symbol of the evolution of not only the Bloody Mary cocktail, but The St. Regis brand – from New York City to the Maldives. I'm positive too, that once they'd recovered from the long journey and acclimatised to the heat, the Astors would all certainly approve.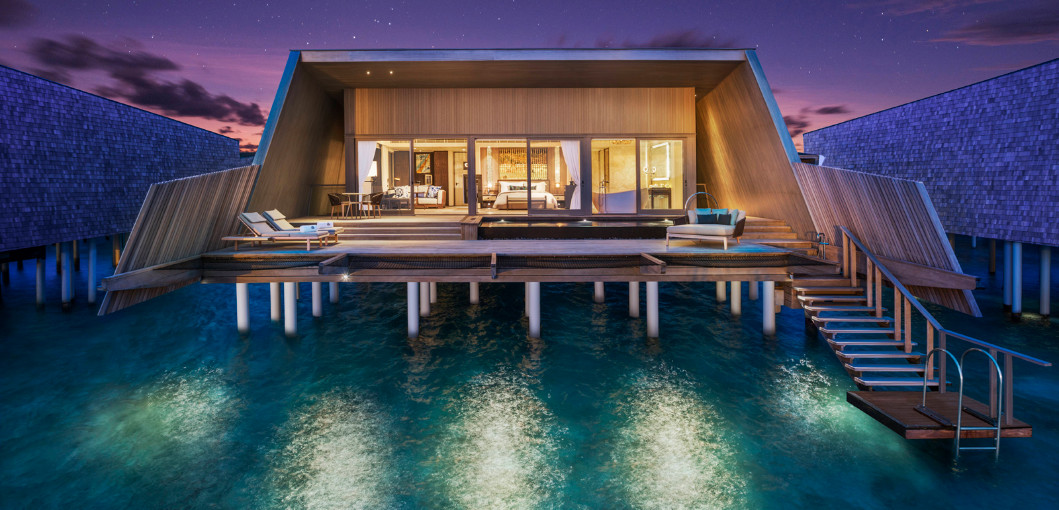 Stay:
The St. Regis Maldives Vommuli Resort

+960 676 6333