There's no real hierarchy of travel destinations – no official ranking, scoreboard or league table. One man's paradise is another man's purgatory, and when it comes to luxury travel, our palettes are uniquely primed for all the stimuli on the spectrum. We can all too easily stereotype and simplify our expectations, especially when it comes to the option of an Indian Ocean escape, with our mind's eye conjuring visions of shabby-chic cabanas, swaying palms and the like – and rightly so – but the Seychelles has expanded its offering. The archipelago is famed for its main trio: Mahé, Praslin and La Digue, while the remaining 112 islands are a combination of granite and coral lumps that range from resort islands like Frégate all the way to the miniscule Moyenne, a 0.099-square-kilometre reserve whose sole inhabitant passed on in 2012. Yet there is another island that is arguably more unique than any other.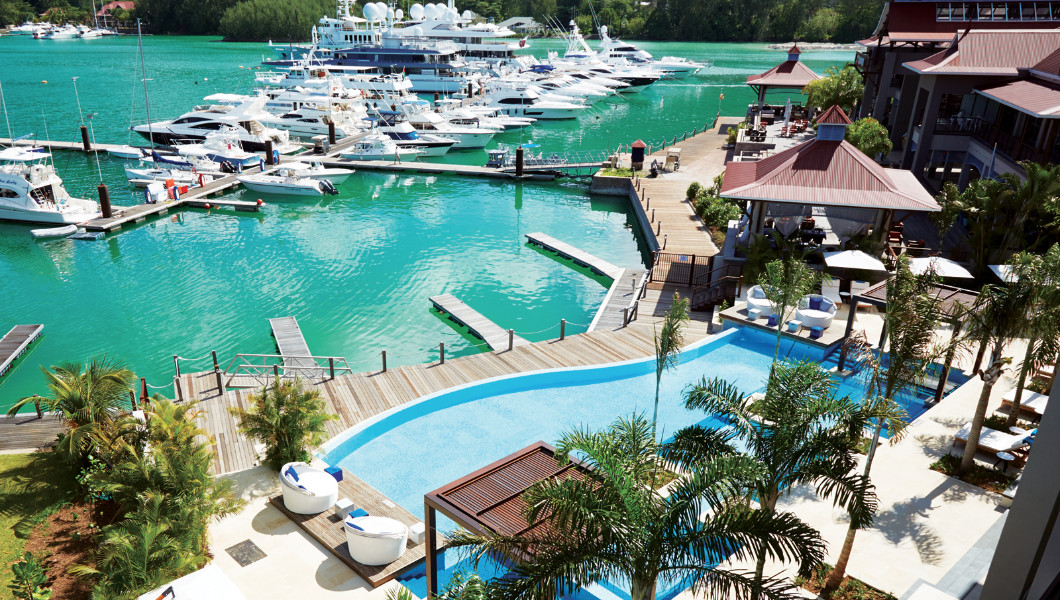 Discovering Eden
Unlike its ancient brethren, Eden Island was built on reclaimed terra firma after El Niño weather patterns tragically decimated the local coral population, and in the early 2000s the new tourism hotspot emerged thanks to a little help from Dubai, when the emirate's dredging apparatus was imported after giving the UAE coastline a facelift. Roughly equidistant between the diminutive capital, Victoria, and Seychelles International Airport, the island offers something unique to the nation; a bourgeois destination composed of a small port, marina, luxury residences, designer retail, fine-dining restaurants and the magnificent Eden Bleu Hotel.

For many among us, the idea of immersing ourselves in a poolside villa for a few days gets very old rather quickly, and there's something rather refreshing about the Eden Island aesthetic. The hotel's catch of the day, the "bourgeois" (a meaty and delicious snapper), was the prophetically-named original occupant of the coastal waters, which gave up its habitat to an entirely "bougie" setting. Outside the hotel, young couples splay themselves like starfish on day beds, ladies carry shopping bags between boutiques and children whirl and twirl on the marina boardwalk while business meets casual over mojitos.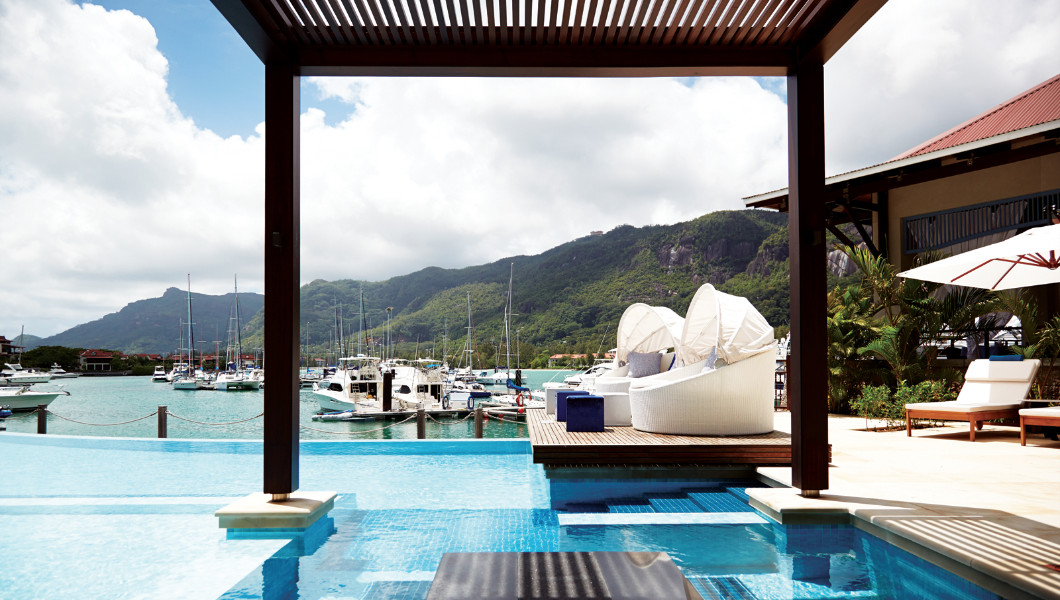 Eden Bleu describes itself as a hub and that's certainly one of its strengths; an ideally located vantage point for island-hoppers, business travellers and bon vivants of all descriptions. The proximity to the airport lends itself well to an active, shorter stay that has typically been an unusual proposition in the Seychelles. A long weekend could easily comprise several fine-dining experiences, day trips to experience the culture and beauty of nearby islands, shopping, fishing, spa treatments and more. The hotel is also a specialist event space, with the fastest Wi-Fi available in the Seychelles, AirPlay connectivity for Apple devices and a conference area with the largest television in the entire African continent. Quite an endearing claim to fame.

The low-rise property has a truly spacious feel, with a sprawling open-plan reception, lobby and dining area that flows together and onward to the pool and boardwalk, facing the marina and the adjacent, verdant hillside. That sense of space, however, is trumped upon arrival at the hotel's sole Presidential Suite, a capacious offering on the third and highest floor, and my address for a long-weekend sojourn. The landing is connected to the lobby, which soars to share a ceiling with the upper floors and upon entering, the most notable revelation is (rather bizarrely) the amount of seating that's available. From the large banqueting table fit for a Game of Thrones small council meeting, to the main lounge, divided in two by quads of couches, I count a total of 27 seating options. And that's not including the discreet office cubby, the pair of chaise longues in the bedroom and both high-tech "thrones", complete with Japanese-style remote controls.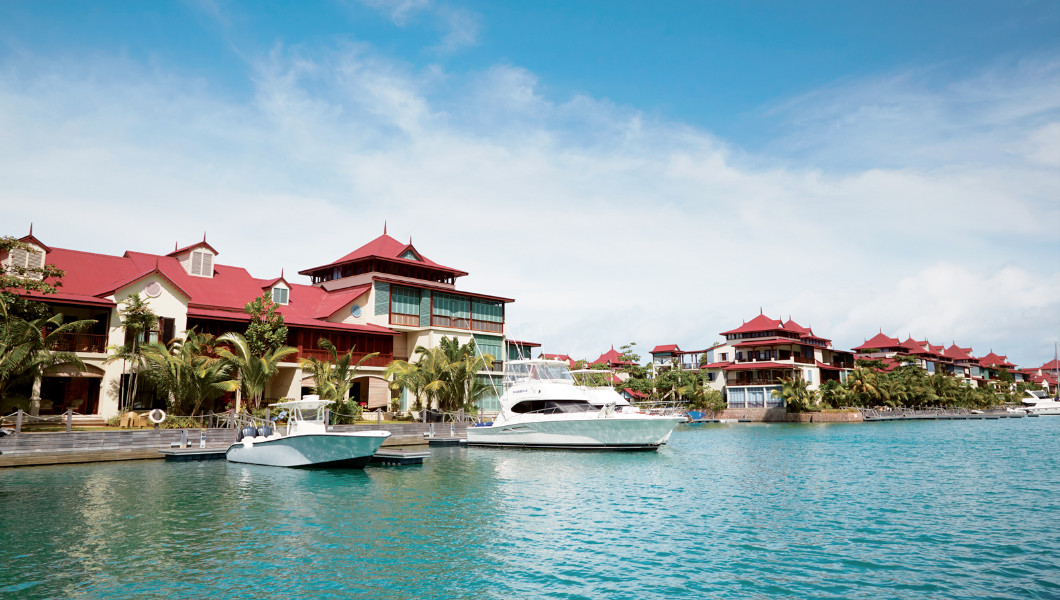 I'm told, with a whiff of apology, that there's no balcony in this particular suite, but am assured the floor-to-ceiling bulletproof glass is fit for purpose. Good to know. This truly is a suite designed for dignitaries, but with stunning marina views, sliding-screen dividers and a comprehensive kitchen right out of the IKEA catalogue, it's also a stellar option for families, with the option of another interconnecting one-bedroom suite. Once you've soaked in the Adriatic-esque marina views, it's time for a splash in the colossal rain shower, which is probably a shade larger than some Hong Kong apartments. Once I de-lather from the Bulgari bodywash with the power of both vertical and horizon rain, I make sure to get in some pensive robe time and even contemplate trying to sample every seat.

Hops and haute cuisine
Since that seemed suspiciously like exercise, it was time to descend and explore the plaza level. While the resort has no direct beach access, Eden Island's immense private real-estate complex has a host of private man-made beaches, mini marinas and family play areas, which are typically restricted to guests, though there remains a score of made-to-measure villa plots available for anyone with aspirations to make a home in paradise. The properties do allow for a residential visa, though working permits are notoriously hard to gain. For hotel guests there are regular shuttles to a very enticing nearby beach, but I'm more curious to meet Vladimir.

It may be apparent from his name, but Vlad is a relative newcomer to Mahé; a Ukrainian expat that has been perfecting his craft beer recipe for years and has now put two of his tipples on tap. A valiant rival to the pre-existing SeyBrew lager, 1770 Brewery (+248 281 6757) may just be the most unintentionally hipster craft joint in the world, with the most simple set-up imaginable. Just make sure to pop a squat and sample both the black and pilsner varieties – both pleasantly hoppy with a low-enough alcohol content (around 3.5%) to ensure they're entirely quaffable and super-refreshing in the breezy shade. Extra marks go to Vlad's better half for supplying homemade and ridiculously addictive roasted-coconut chips – easily another cottage industry up for grabs.

Thankfully I had only had an hour spare before my appointment at Eden Holistic Spa (Eden Plaza; +248 434 6663), which neighbours the plaza's extensive gym offering, otherwise I may have passed out on the massage table. In fact I almost did, but that's just what an hour of gentle pummelling and essential oils will do. Neither the spa nor the gym belong to the gym per se, but the open flow of the plaza means they're essentially part of the same complex, and the concierge at Eden Bleu Hotel will be able to book treatments and training sessions whenever they're desired.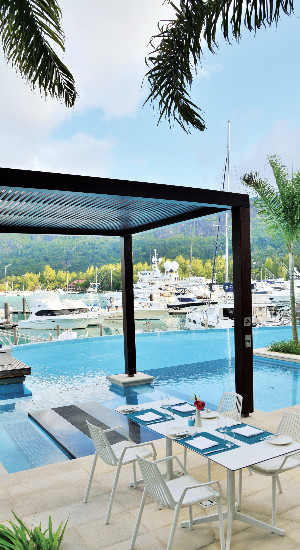 When night falls, if you're not passing by Vlad's bar for sundowners, there's a gang of restaurants to choose from, including Indian and Cuban options in the form of Maharaja and Havana Club, respectively. But for Creole options and sumptuous seafood, the hotel's own Marlin Bleu restaurant has everything you need. Designed by South African celebrity chef, Luke Dale Roberts, the eatery is the perfect partner to the Bourgeois Bar (there's that word again), overlooking the marina, with its own menu of light fare, international wines and signature cocktails.

East of Eden
If you're planning on using Eden Island as an island-hopping hub, be careful not to get too merry – a booking to join a day trip to Praslin and La Digue will mean a 6.30am pick up, but it's worth sacrificing the extra snooze for the guided tour, which comprises a heritage experience on La Digue, where coconut oil is still processed via traditional methods and gigantic 200-year-old tortoises sleepily stomp around. Nature lovers will especially enjoy a walk among the palms in Praslin's Vallée de Mai nature park, a UNESCO World Heritage Site where the famous "love nut" fruitfully abounds. The coco de mer, to give it its proper name, is easily bigger than the average pumpkin – and be aware that your guide may not be able resist some awkward innuendo, which seems entirely unavoidable when you see the shape of both the male and female components.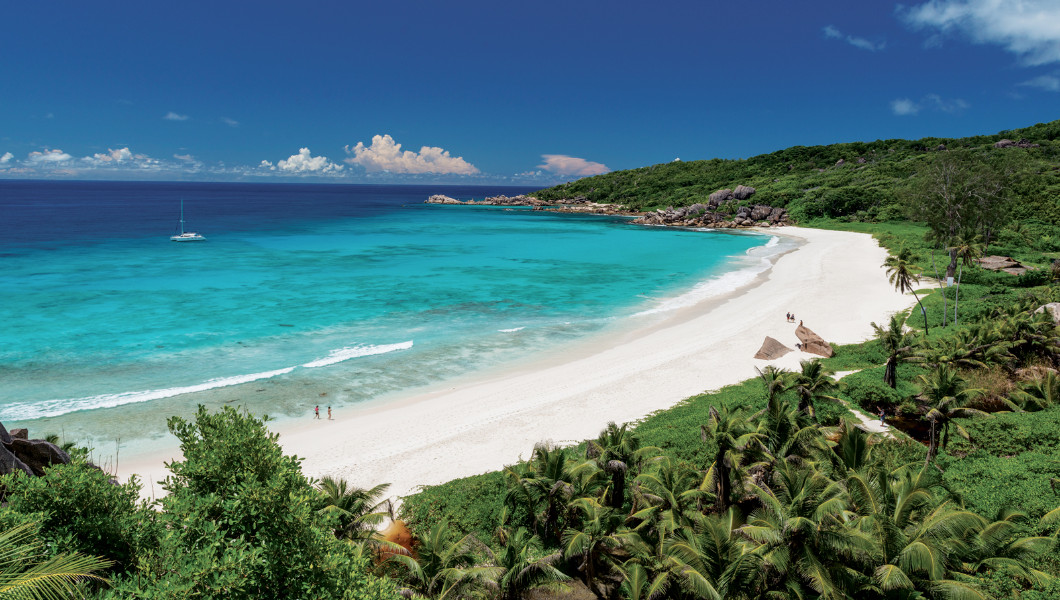 Grand Anse La Digue, Seychelles

Sadly, nobody can guarantee clear sailing on the high-speed catamaran back to Mahé, made clear by the readily-accessible paper bags at every turn, but a luxurious air-travel experience certainly makes your island experience all the more magical. For upscale travel, Air Seychelles VIP is a must. The main terminal's Salon Vallée De Mai, an ode to Praslin's national park, is a quaint and comfortable lounge experience, but the airport's VIP offering takes luxury to the next level, thanks to a special partnership between the national airline and Abu Dhabi's Royal Jet airline, which specialises in private aviation and VVIP service.
The VIP facility is set apart from the main terminal building in the form a quaint colonial-style annex, which houses four tasteful and relaxing lounges, catering and even a private "snooze room" with two beds and a private washroom and shower. With access for arrivals as well as departing guests, the full extent of Creole hospitality is on display with a super-attentive hosting team available to help with each and every request. To put it simply, it's an entirely hassle-free experience. Not only does the VIP team provide airside transfers to your jet (in my case commercial, I'm saving up for my Gulfstream), the staff will completely lighten your load, dealing with transfer arrangements, luggage, et al.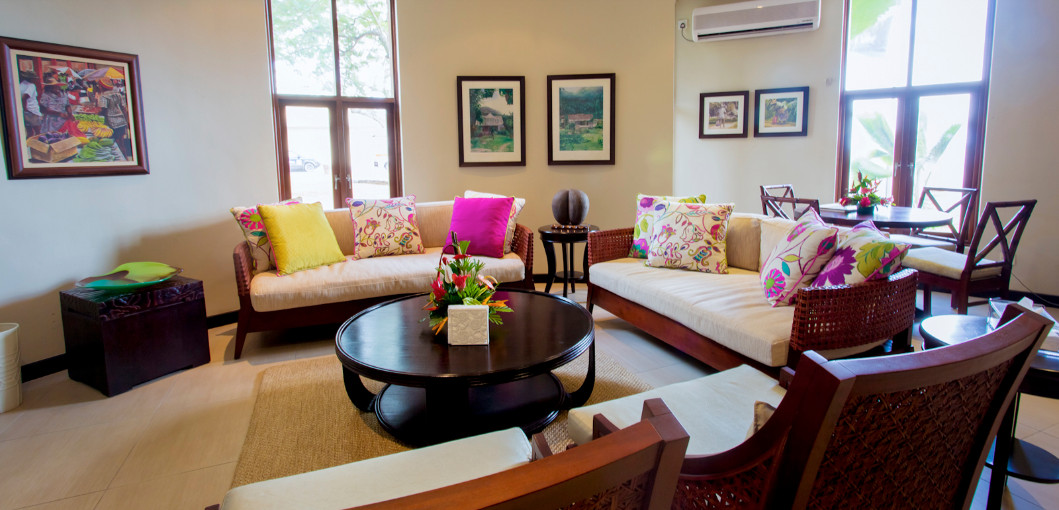 Beyond the ever-refreshing welcoming towelette, the comprehensive buffet options are halal, which can't really be said of the well-stocked bar. Since the facility has a special connection with Eden Island, many hotel guests can gain access to the understandably-named Eden Lounge, whereas the others relate to your rank or profile; evidenced by the Minsters Lounge being given over to guests of the Ministry of Foreign Affairs – including sheikhs, diplomats and other luminaries that may be passing through for business and pleasure. When it's time for departure, a dedicated buggy ferries guests back to their plane, however I stretch my legs one more time on the short walk between the facility and the aircraft before an easy ride north back to Abu Dhabi airport. Thanks to a special partnership between Air Seychelles and Etihad, there was time for one last serving of spicy seafood, this time via the airline's ample menu. It may not have been the aforementioned variety of snapper I'd sampled at the hotel, but it certainly went beyond the bourgeois experience.