Growing up, the Maldives always seemed like a distant fantasy to me – a far-flung tropical idyll seen on postcards with a completely non-tangible allure, so far was it out of my reach. Then, aged 16, a two-week family holiday catapulted me from ice-cold England to a remote palm-fringed island in the Indian Ocean, where I learned to dive, drank fresh coconut every day and fell in love with the beauty of laid-back island life. Since then, I have been fortunate enough to visit the archipelago another five or six times, each trip bringing renewed appreciation for this Indian Ocean enclave.
This trip is no different and I promise you, this sense of Robinson Crusoe escapism never, ever gets old. When you're flying over 2,000 islands in a seaplane waiting to land to claim one as your home, how could it?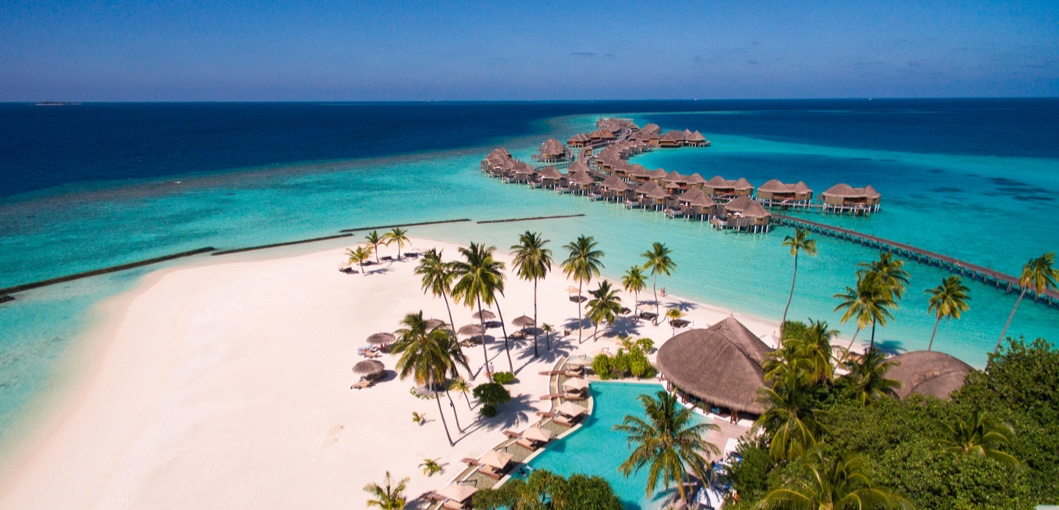 The beauty of this particular trip is, firstly, the ease. Malé is just a four-hour flight from the UAE, and Constance Halaveli just an additional 25 minutes by seaplane from the mainland, meaning paradise is less than half a day away from Dubai. With Covid-19 sticking its nose where it's not wanted, a few additional health and safety checks are required and, at the time of going to press, means a PCR test before departing Dubai, requesting approval from GDRFA to return and filling in a health declaration form for the Maldivian government. But it's quick, painless and worth the extra steps. Something additional that Constance adds into the mix is a further PCR test in its private lounge at Malé pre-seaplane flight. While some may feel this is excessive, what it means is that every person holidaying on Halaveli is certified negative, allowing guests to remove their masks and walk around the island freely and safely. It doesn't feel a step too far when unmasked freedom is so within reach.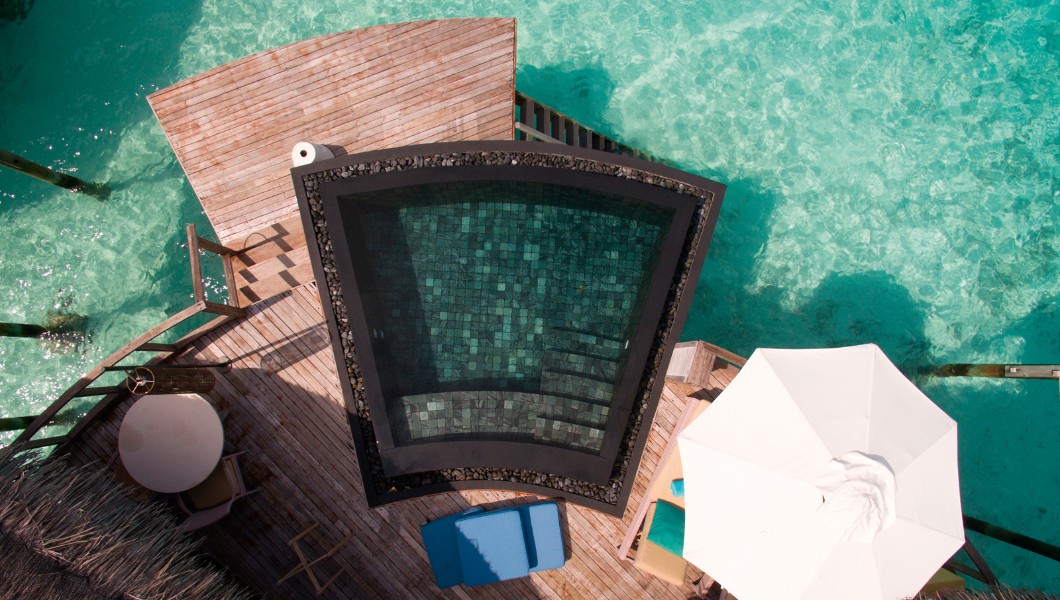 While some people prefer to stay closer to Malé to ensure their resort is accessible by speedboat, for me there is something so exhilarating about taking a seaplane over this turquoise expanse that is blanketed with islands, that I would choose a more remote resort just for the thrill of the view. And so, with our noses gently invaded, cappuccinos served and drunk in the rustic luxury of Halaveli's private lounge, we board the Trans Maldivian Airways seaplane. It's a loud, warm but intoxicating flight; everyone's eyes stand on stalks peering through the tiny windows to what lies beneath. A layer of aquamarine – so otherworldly blue it deserves its own pantone – interrupted only by white horses surfing the coral wave breaks. Then, Constance Halaveli is in sight – 
a island enveloped in palm trees and white sandy beach. The plane circles, teasing us as it finds its spot, and then we land, a flurry of frothy waves rising as if in crescendo.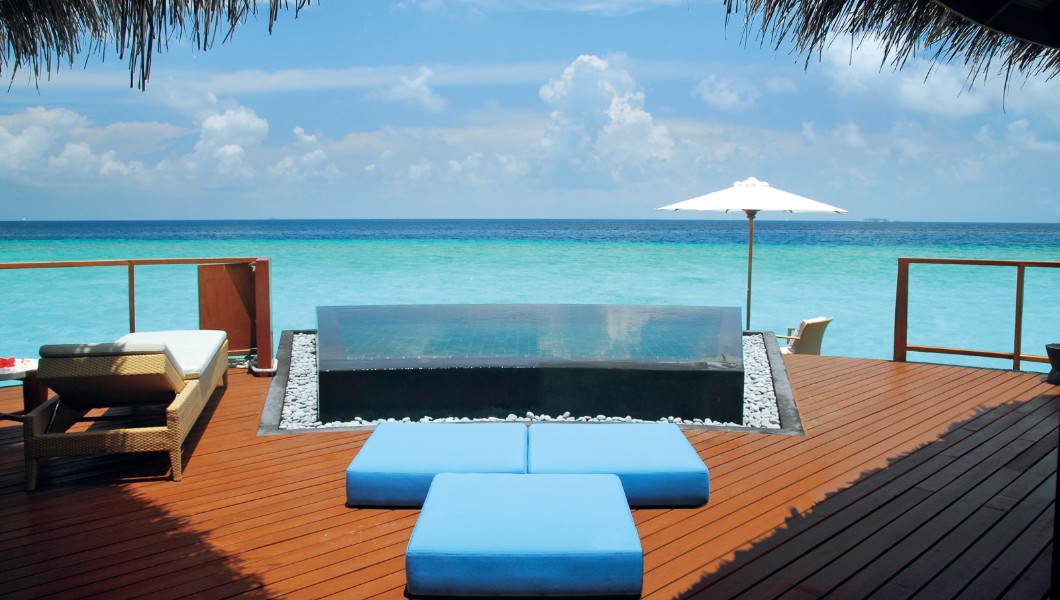 Halaveli's check-in is informal, unhurried – 
a precursor of what's to come. Shoes are kicked off, watches set to Halaveli time (one hour ahead of Malé) and we sip a tropical island welcome drink out of kitsch pineapple-shaped jars all gathered round a driftwood table on the beach. And that's it... check-in done.
The island is small (I later learn it takes just 10 or so minutes to walk around), but the jetty on which our water-villas will be found is almost a kilometre long and warrants a buggy on this occasion. Whether you walk or hitch a ride, just make sure you take in your full 360 surrounds. The further you go along the jetty, the smaller the island becomes, truly cementing that deserted island impression. Yes, you really are in the middle of nowhere. And yes, it is utter bliss.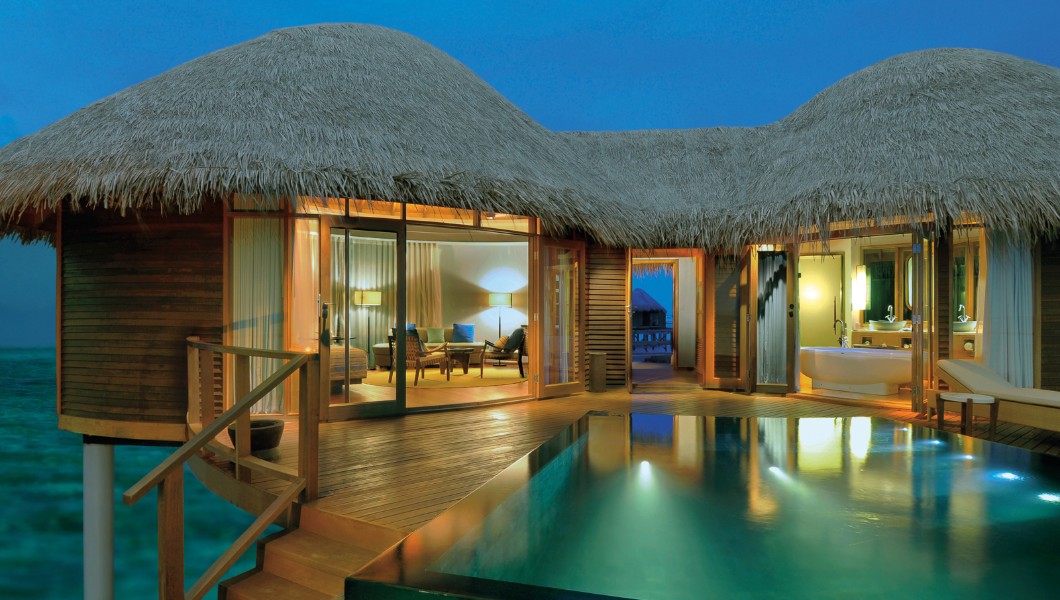 My villa, No.41, is half-way up the jetty – far enough to ensure privacy from beachgoers on the island, but without the need of a buggy to return me to the resort. Halaveli is home to just 57 water villas, 28 beach villas (one-bed, family and duplex) and a grand-spanking Presidential Villa that claims 700sqm as its own. And while different accommodation appeals to different guests (especially those with kids) this little over-water oasis is 100sqm of unbridled brilliance. 
It's a Jack 'n' Jill style layout, meaning the bedroom and lounge are off to the right, the bathroom to the left and, the jaw-dropping showpiece of the over-water terrace and infinity pool, straight ahead as you walk through your door. The view goes like this: foyer, terrace, plunge pool, miles and miles – and miles – of Indian Ocean. Trust me when I say this is a panorama I'll never tire of. The high-rafted wooden ceilings, dark wooden furniture all contrast against the brilliant blues outside, and the marble bathroom Ω replete with a standalone bath with floor-to-ceiling Indian Ocean views Ω gives everything a chic, beachy vibe, while the bathroom products smell like summer in a bottle.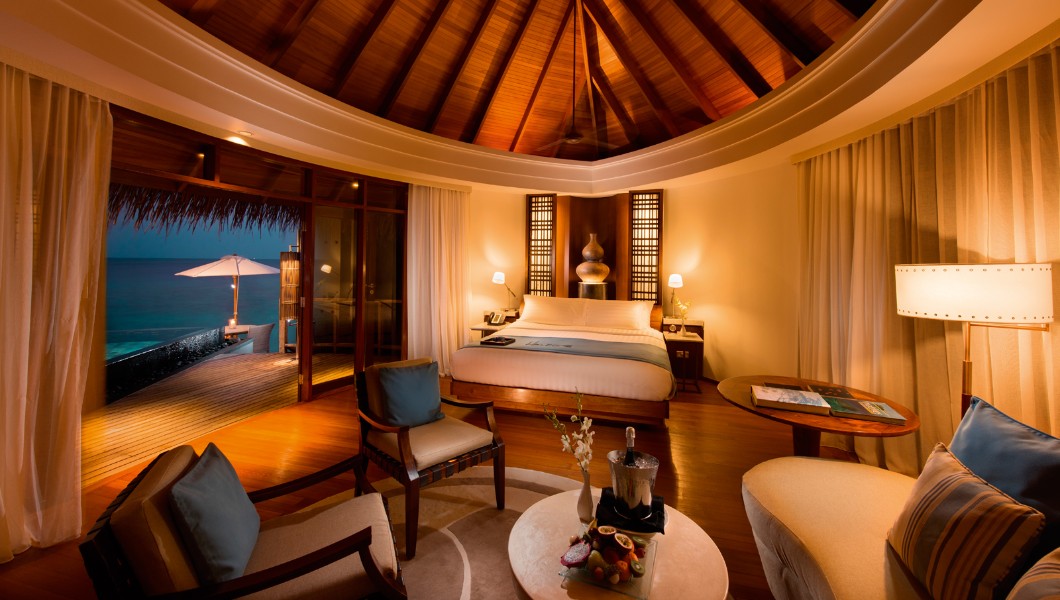 Like most things, Covid-19 has played havoc with travel and indeed island life in the Maldives, and while for hotels that are only now slowly able to invite guests back, there is a definite positive effect. A silver lining, shall we say. The island is so serene and existing guests so socially-distanced on many occasions I feel as if I have the whole of Halaveli to myself. For example, on one afternoon, I stroll around the boundary beach, and see no souls bar one family in the sea and one staff member busy raking stray palm leaves off the beach. The privacy and tranquillity seem like 
a money-can't-buy reward for having survived such a turbulent 2020.
Days here indulge my secret lazy alter-ego – they're long, languid and dreamily devoid of timetables. Everything a desert island holiday should be. In fact, there are so few decisions to be made, that you could manage a whole day without the need for commitment of any kind. Heaven, right? Room service is available around the clock, so you can eat when you're hungry without subscribing to a kitchen schedule, and everything around the resort is tailored to you and what you want and, perhaps most importantly, when.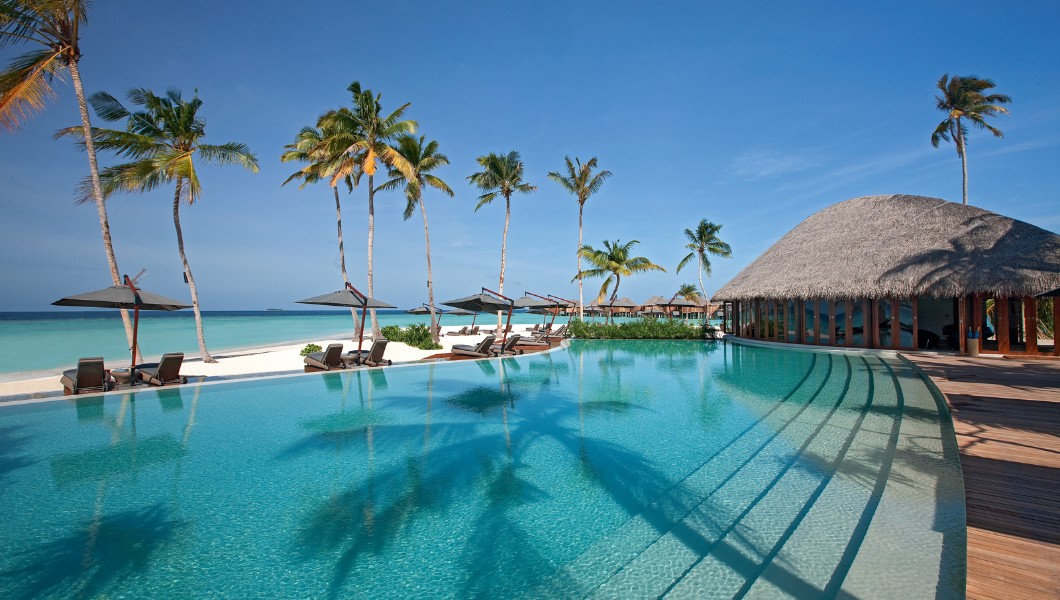 One day, I slink down my villa sea steps in snorkelling gear to spend the morning on the brink of the coral reef, where white sand cascades down into deep blue nothingness. There's just me, an infinite number of indescribable fish and some friendly reef-tip sharks. I am a guest in their home, and it genuinely feels a privilege to bear witness to their underwater world. I've snorkelled and scuba-dived in the Maldives many times, but like the impact of the archipelago itself, I am always rendered speechless by the sheer magic and magnitude of what lies 'just' below the surface. In fact, so much so that the last time I snorkelled in the Maldives, seven years ago I believe, I swore never to eat fish again so impacted was I by the beauty of the blue planet.
In the Maldives, the real treat here is that you don't actually need to scuba-dive, as the fish Ω the ones so colourful and intricate as if painted by Monet or perhaps Kandinsky Ω spend most of their time socialising just under the surface, close to the sun and the coral. Left alone here, with just my air bubbles and the sound of cracking coral as the fish nibble and chew, is a true tonic for the soul after the chaos of the last few months.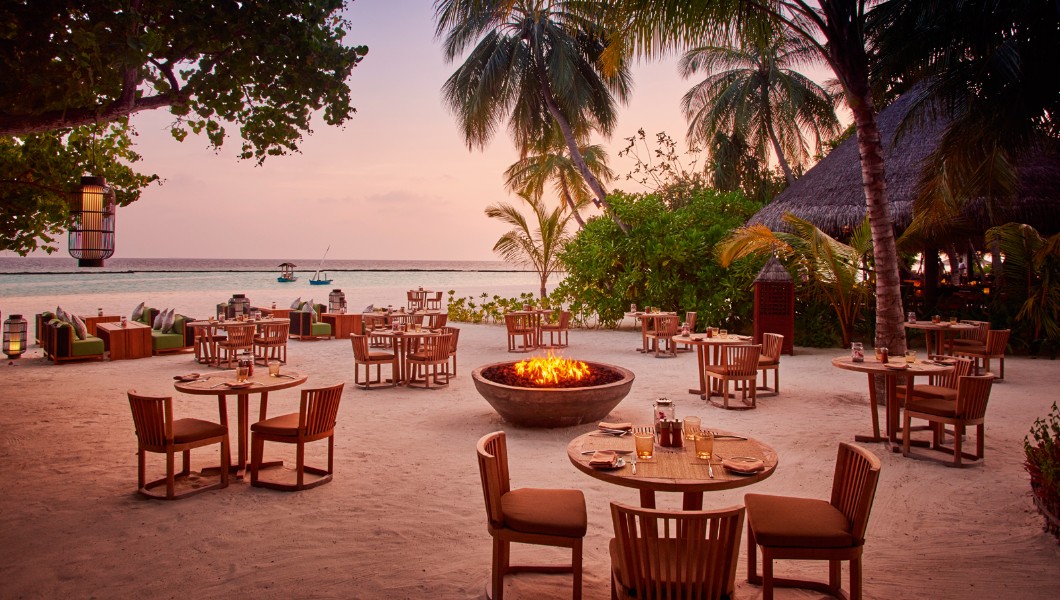 The same day, after lunch at Jahaz of Greek salad, Mahi Mahi and French Fries (I felt like I'd earned it), there is a flash storm Ω it's the tropics, so it doesn't last long and breathes new life into the air. The verdant colours of the island grow richer as the sky turns a tumultuous stormy grey, only for the clouds to part, just 10 minutes later, to make way for a rainbow. It showcases the rawness of nature, its fickleness, and its power.
Villa 41 demonstrates its prime positioning once again later as the sun sets. I linger in my infinity pool, watching the last light fade as bats swoop over head and fish disappear into the night, the sun a fiery blaze across the horizon. It's quite the show.
Whilst schedules are a no-no, there is something I'd suggest you set your alarm clock for. Sunrise. Again, there's no need to go anywhere bar my infinity pool, because I've been gifted 
a front-row seat. The shadow play and reflections the new sun and early morning clouds cast across my pool are like a watercolour painting. I take photos that I'll delete later, because I feel almost disloyal showing people such a muted down version of the real deal. But, speaking from experience, moments like this will be etched in your memory forever.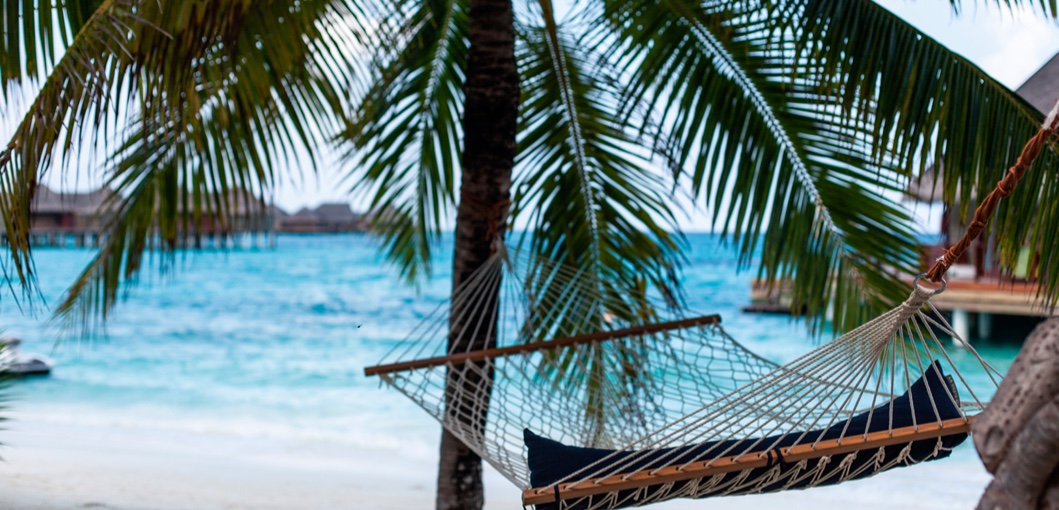 I quickly get used to my barefoot breakfast in Jahaz each day. While isn't a specific 'no shoe' rule, who needs flip-flops in paradise? Pineapple, dragonfruit and watermelon provide a colourful side dish to a freshly-made omelette and orange juice. Sunglasses are advisable, because with 
a backdrop of the cobalt blue ocean and sand so white the sun bounces right off it, your eyes will be grateful for a more distilled view.
A poolside cabana is the perfect post-breakfast bed space for digestion, or the hammock, beckoning seductively as it sways in the breeze next to Jahaz Bar. I sit here one morning for an hour, doing nothing bar listen to the criss-crossing of palm fronds and bird chatter in the trees. If you fancy venturing a little further, walk to the end of the island closest to the Presidential Suite, and you'll find a wooden platform resting in 
a cocooned bay – a sea swing if you like. It is here that I find my inner peace on Halaveli – away from others, just me, the sea and the sky.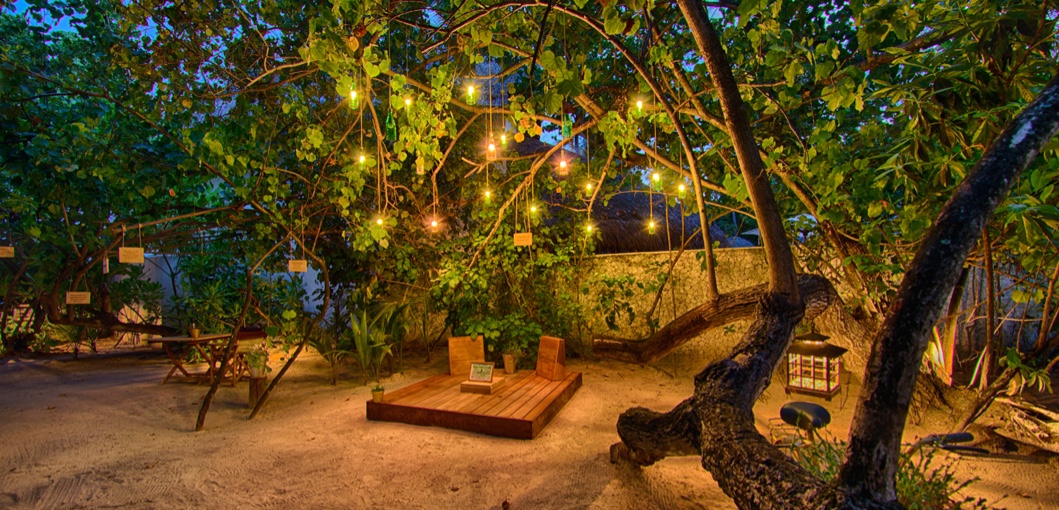 One particular afternoon, on return from a snorkelling trip when the sun hides behind clouds, I take a walk around the centre of island, and end up at 'Secret Jewel', the island's Meditation Garden. Quotes and words of wisdom hang from trees and there's a wooden seat, flanked by palm, beach hibiscus and Indian almonds trees, that whispers 'sit here and think of nothing'. I do what I'm told, and it is incredibly restorative. With an invitation to 'reconnect with nature' Ω or play a little chess on the oversized board Ω it's a little haven of calm that I'm certain only the inquisitive stumble upon.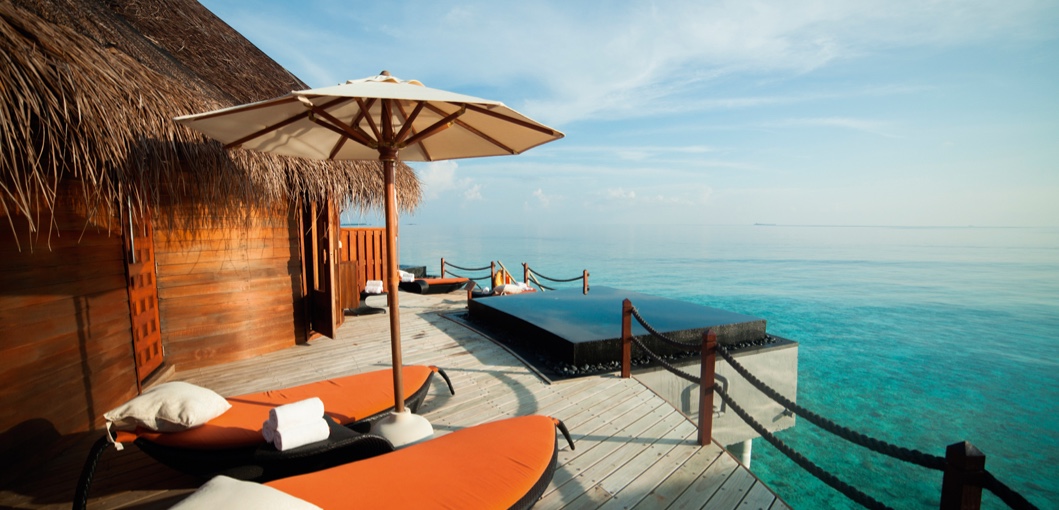 That said, if you really want to put your mind to rest, U Spa by Constance is another place worthy of your time. There are nine overwater treatment rooms Ω meaning sting rays and reef-tip sharks often announce your arrival Ω including Ayurvedic and Thai treatment rooms, as well as cold and hot plunge pools, and a steam and sauna. I find it very cathartic watching the ocean beneath through the glass-bottom room, as rolling waves lull me into a blissed-out stupor while my masseuse works her magic. Time your treatment perfectly, and you'll also be rewarded with killer sunset views from the indoor/outdoor relaxation room. While you might not fancy the 'long' walk post-pampering, make sure you venture to the furthest end of the jetty one evening where, interrupted by nothing at all, the sunset lays itself completely bare. As the roaring flames hit the horizon, you're in the best possible position to drink in the very last of the blazing golden sun. Even walking back, with the jetty all aglow from the last light, feels special. There is, I also discover, a swing perched half-way up the jetty Ω the perfect resting place for those needing a break, or just simply a spot to sit and commit to memory your surrounds.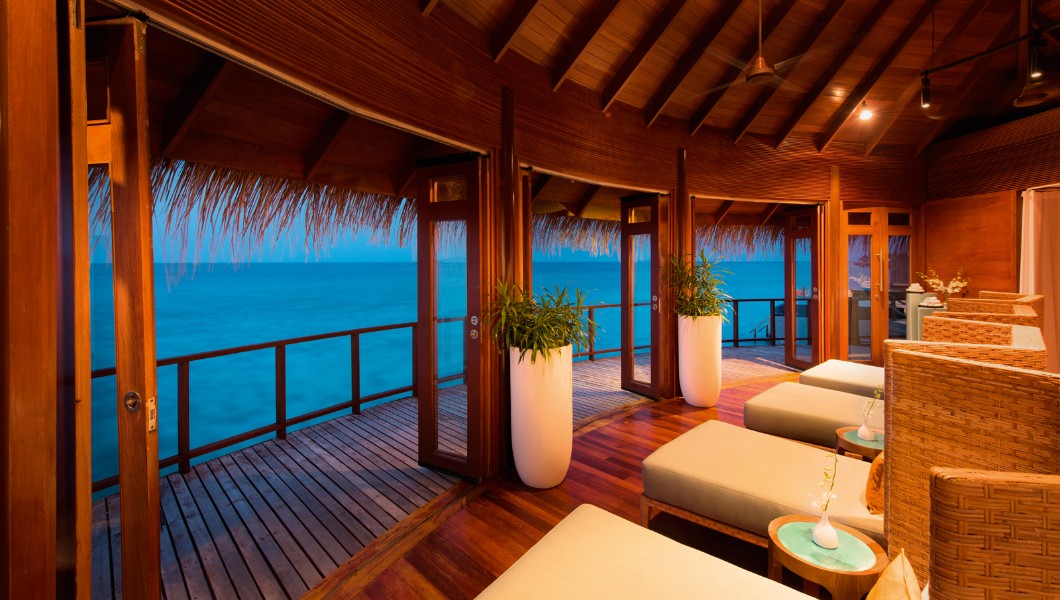 Come night, dinner switches between themed buffets at Jahaz served on the beach to under-the-stars dinner on my terrace. The food, 
as with lunch, is experimental and varied, with the freshest ingredients only making their way to your plate. While I'm still on my no-fish new way of life, my friends devoured the sushi, sashimi and prawns at the seafood buffet, while steak was cooked perfectly another night. For me, there's a Maldivian paneer butter curry one evening, charred aubergine with halloumi and a vegan burger the next, and pasta whenever I want it. And I'm promised, whatever I ask for, they will do their best to provide. I don't really put the chef to the test, but the offer feels incredibly genuine, as pleasing guests is simply part and parcel of both Maldivian and Constance Halaveli culture.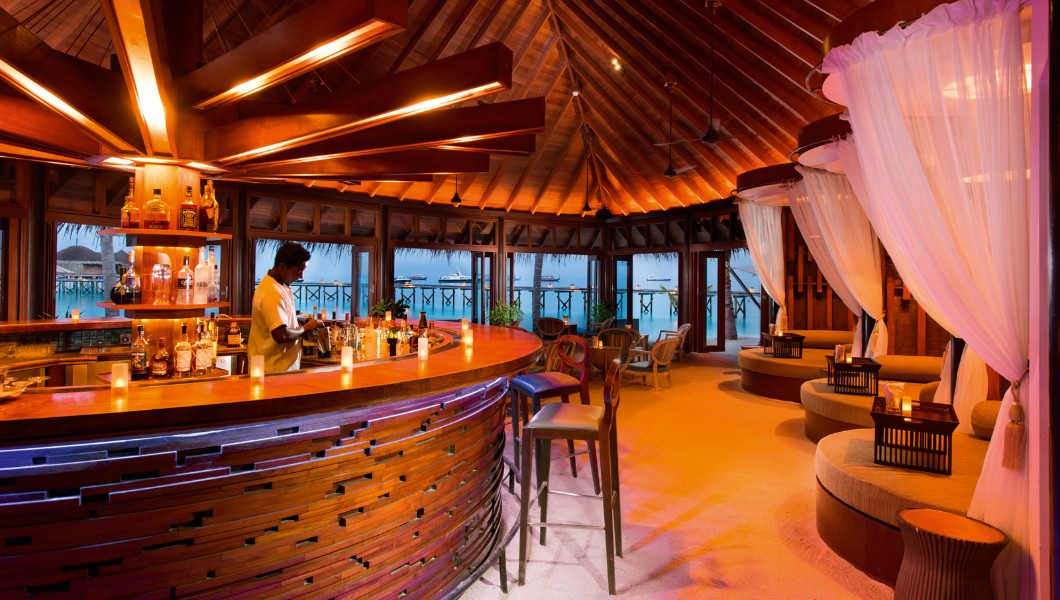 Later into the night, I retire to the comfort of Jahaz Bar's daybeds, where we curl up as shisha smoke gentle snakes around us and ice clinks against tumblers filled with Amaretto, Frangelico and other divine after-dark liqueurs.
Late night strolls along the shoreline reveal one of the brightest moons I'm sure I've ever seen. It's as if the night's sky, with its coruscating stars, casts a spell over the island, it's that easy to become mesmerised by the Maldives.
I lose time here on Halaveli, and when my three days comes to a close, I realise I haven't yet done a sunset cruise, played tennis, dolphin watched, snorkelled with whale sharks or visited one of the local villages Ω all things that I feel deserve a repeat visit. I'm definitely reluctant to leave, as if the three days only scratches the surface of the levels of nirvana I want to reach, and I could do with so many more. But I'm aware that all good things Ω especially things this good Ω must come to an end and I don't want to appear greedy.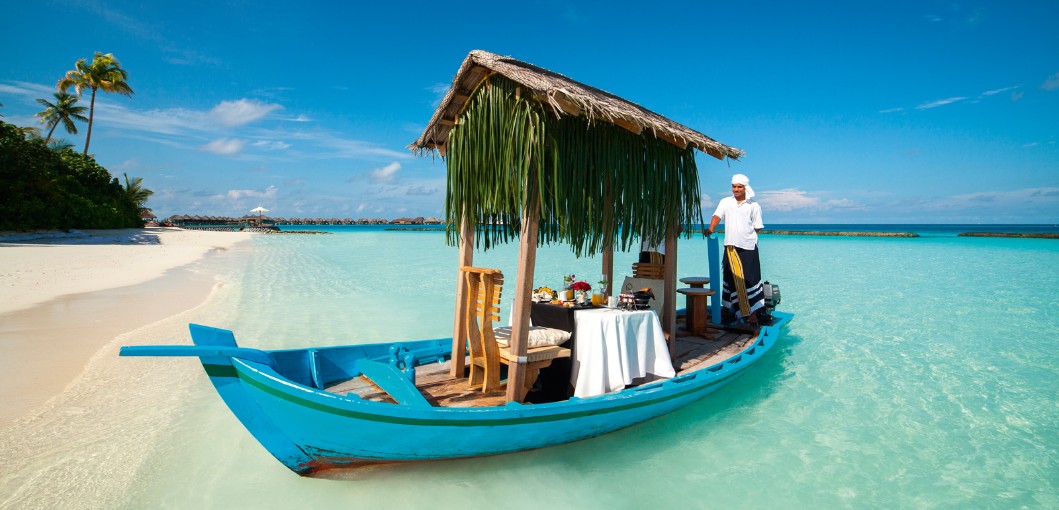 The blow of leaving is lessened with the knowledge that Constance Halaveli will only ever be half a day away. And as the team waves us off from the jetty, uttering the words "Don't be strangers", I have an inkling that one day I will return.
The return trip to Malé is as easy as the arrival and, having had the PCR done on the island the day before, with the results collected at the airport before immigration, our departure is pretty seamless. As the seaplane ascends to altitude, the Halaveli becomes speckles on a blanket of blue. Disappearing from view but never from memory.
Stay:
Constance Hotel
+960 666 7000