It feels a little tacky to describe Bahrain as "more than meets the eye" but sometimes a cliché, no matter how well worn, just so happens to be true. And I can prove it to you in the time it'll take to read this next sentence. Did you know that Bahrain is technically an archipelago? Typically known as one large Arabian Gulf island, the Kingdom of Bahrain is in fact a modestly-sized arrangement of 33 natural islands, with a rapidly increasing number of land reclamation projects – recent estimates put the number at 84.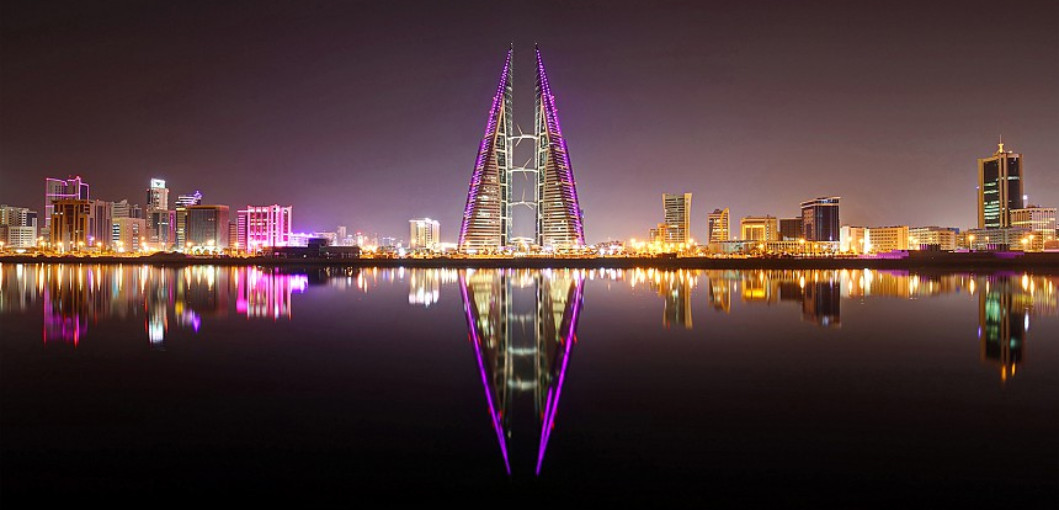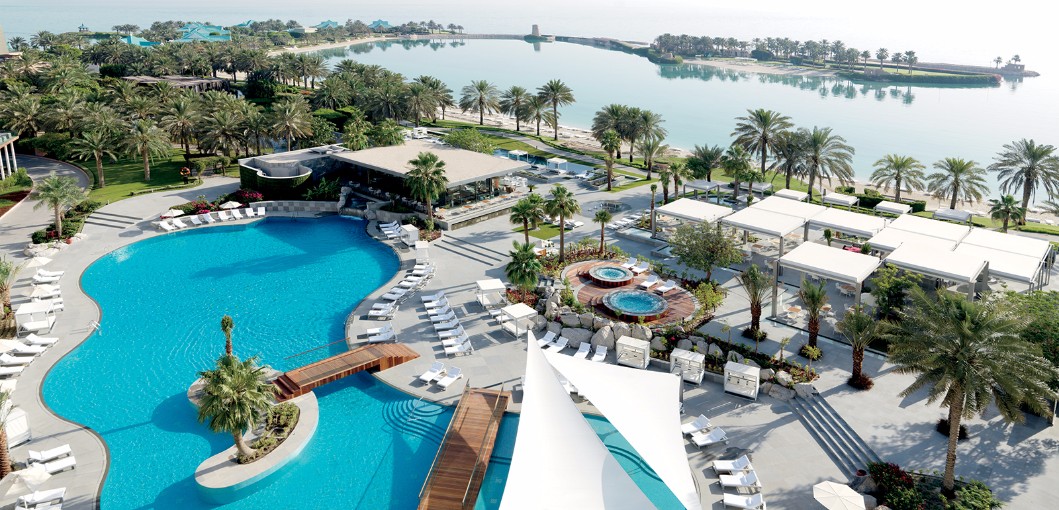 Dip into the pool, relax on a sun lounger, stroll the beach – there's a distinctly Maldivian vibe at The Ritz-Carlton, Bahrain
As I drive from the northerly Muharraq Island airport to my destination, geography isn't on my mind. The whole purpose of a weekend away is to distract from the mundane, daily grind, and a hotel transfer in a white Rolls-Royce is enough to melt any one's blues away. The pristine Phantom takes just half an hour to reach my destination, The Ritz-Carlton, Bahrain, though I confess, it was probably the first time I have ever prayed for a traffic jam,simply to enjoy the ride. Wanting time to slowdown quickly becomes the theme of my trip.
The VIP arrival sets the tone for my getaway, and I realise how lucky I am to experience the car, given I'm arriving only a week before the Saudi equivalent of "spring break". The hotel's decadent-sounding Royal Escape Stay Package includes a door-to-door chauffer-driven experience from anywhere within a three-hour radius, and with the Rolls-Royce as the chariot, it's particularly popular with Bahrain's well-heeled neighbours across the 40-kilometre King Fahd Causeway.

An oversized soaking tub and luxurious Asprey brand bath amenities are some of the features in the bathrooms of the villas at The Ritz-Carlton, Bahrain
It's not hard to see why. This unique corner of Bahrain Island is reminiscent of another archipelago, packing a Maldivian vibe courtesy of its immaculate white sands, calm lagoon and abundance of tropical greenery. That ambiance continues throughout the exclusive Royal Beach Club – a major leisure facility embedded within the resort, with popular Gold and Platinum packages giving members year-round access to a comprehensive range of facilities. Platinum members, eligible to bring the whole family, pay up to BD 2,300 (US $6,100) per year. From the traditional hammam to the plush spa and sporting facilities, the club is a resort within a resort.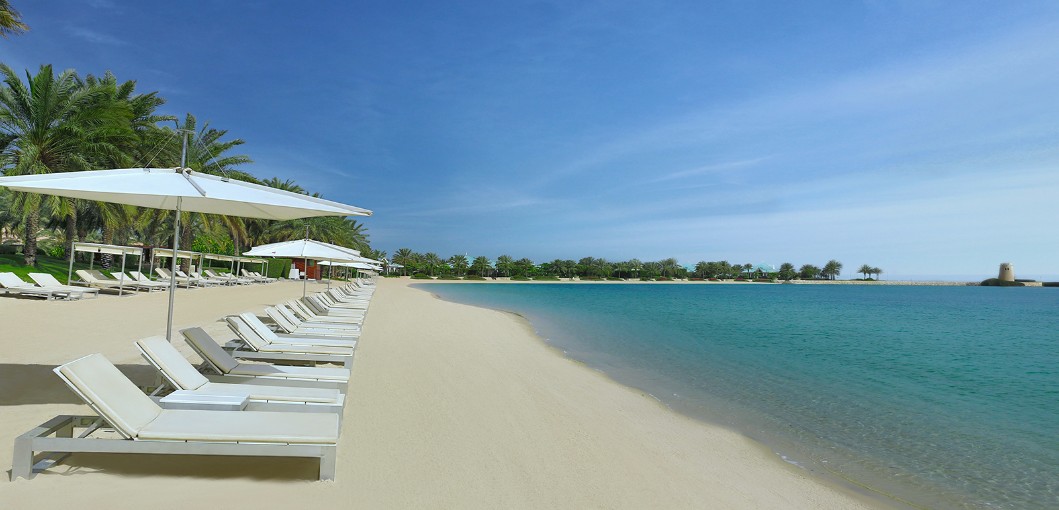 The Ritz-Carlton, Bahrain resort's idyllic white-sand beach
Forsaking the squash court for the steam room and spa, I put myself in the hands of Gigi, a 20-year veteran of Thai massage who diagnoses a dodgy hip within mere seconds of applying hands to body. Let me say this; there are massages and then there are massages. What's on offer at the Ritz's health club is excellence, and within an hour I feel as though I've transcended time and space. No surprises then that one of the other popular offers is the Luxury Spa Escape Package. Formerly available just to ladies, groups of friends and couple are invited to immerse themselves in 105 minutes of massage and facial treatments before a healthy lunch at the poolside La Med restaurant – followed by a free run of all the resort's facilities, including the indoor and outdoor pool, gym and the 600 metres of white sandy beach – once again, accessible via a Rolls-Royce – with prices from BD 385 (US$1,021).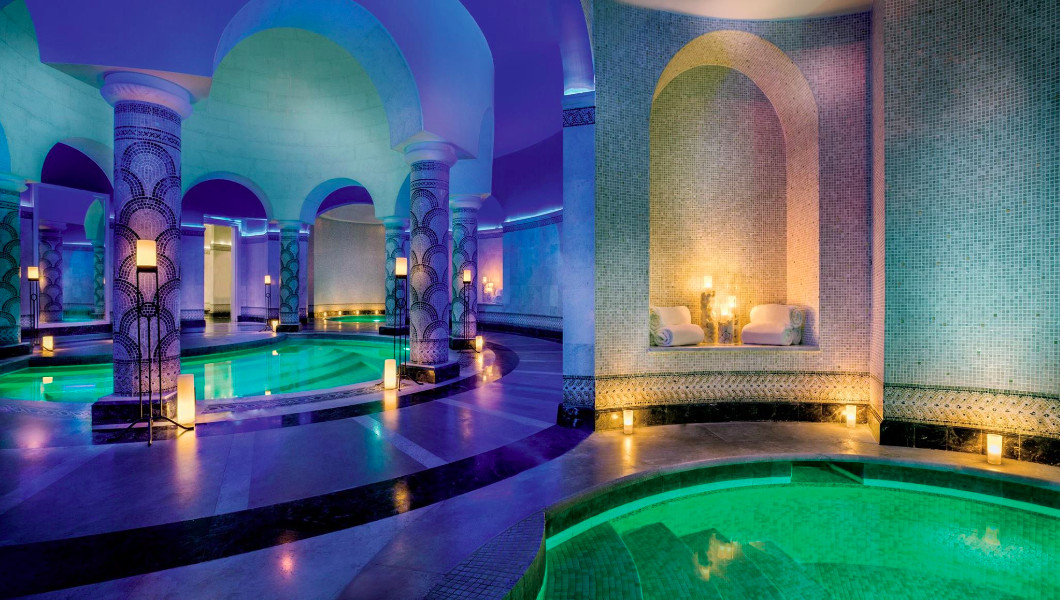 Retreating to my plush, modern and spacious club-level accommodation, I'm delighted to find an array of confectionary, a fruit platter and even a welcome balloon – but it all comes as no surprise. The level of service throughout the hotel is world-class, with attention to detail on par, best evidenced by the spectacular Latino team at the new Cantina Kahlo restaurant. Named after iconic Mexican painter Frida Kahlo, the interior-design dream is predominantly staffed by Mexican expats, with Mexican avocados to boot. Already one of the most coveted dining destinations on the island, the authentic eatery is the latest jewel in the hotel's culinary crown, with a total of 11 venues to choose from. The standard of service continues to the Club Lounge, a cosy and calm space, replete with food and drink, work spaces and views over the main outdoor pool and lagoon.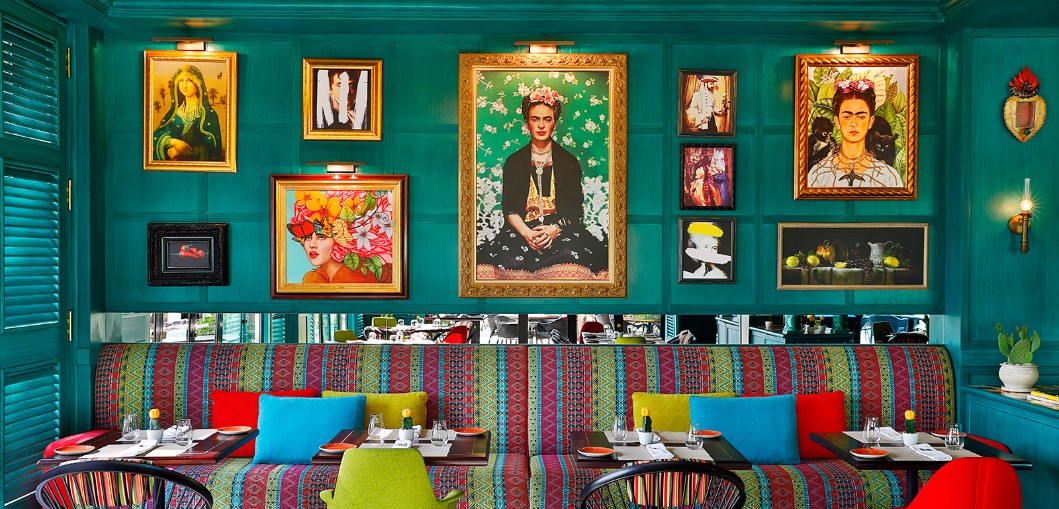 The new Cantina Kahlo restaurant at The Ritz-Carlton, Bahrain takes its name and design cues from Mexican painter Frida Kahlo
The following day, however, my perception of luxury somewhat shifts. In spite of the hotel's array of suites, including two 158-sqm Royal Suites complete with panoramic views, the foremost accommodations are the 23 lavish villas. Separate from the hotel, the two- and three-bedroom cottages have a colonial-era appearance, but the interiors carry a surprising Polynesian aesthetic that neatly pairs with the on-site Trader Vic's venue. With private plunge pools and access to a secluded private beach – and bear in mind some new Bahrain five-stars don't have any beach access – the villas are popular year-round, whether as serene retreats or party venues for friends, inclusive of complimentary airport transfers (so fingers crossed there's a Rolls-Royce available).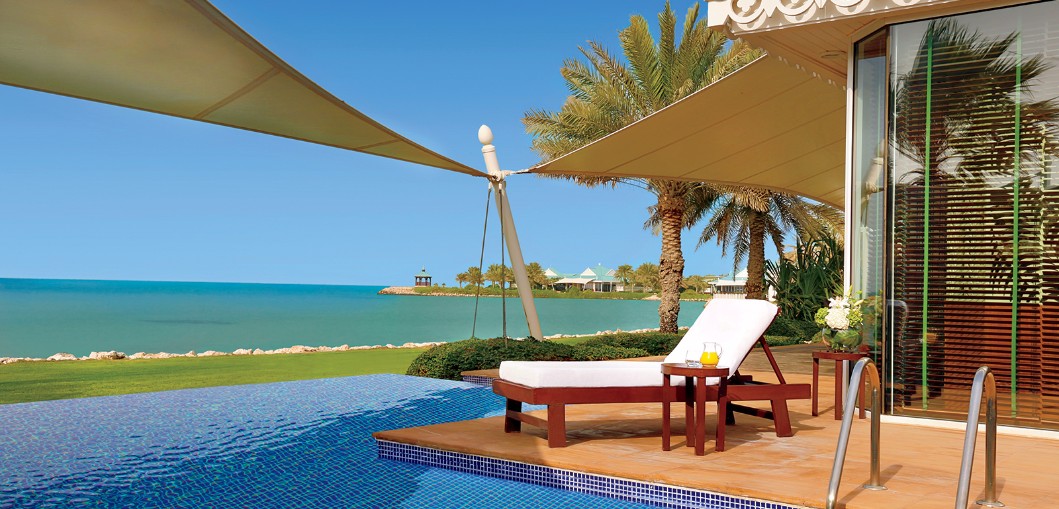 With each measuring more than 400 square metres and at least 20 metres apart from the next, the villas at the hotel offer spacious seclusion and private pools, and are ideal for up to six adults
Despite the innumerable draws to stay in the resort, The Ritz-Carlton, Bahrain is now vaunting itself as a launchpad for boat trips. Two bespoke packages are available for 4-8 guests at a time to escape the bustle even further with the option of a dolphin-watching trip or a spectacular excursion to one of the kingdom's best-kept secrets, Jarada Island. The "Sand Bar Beach Package" takes you to the tidally accessible spit, 14 kilometres off shore, with the golden sands and crystal-blue waters of an Indian Ocean atoll, complete with picnic for all you hopeful romantics. Or guests can simply choose one of the local island-hopping experiences – a 45-minute ferry-ride from Al Dur Jetty to Hawar Island for a fun escape.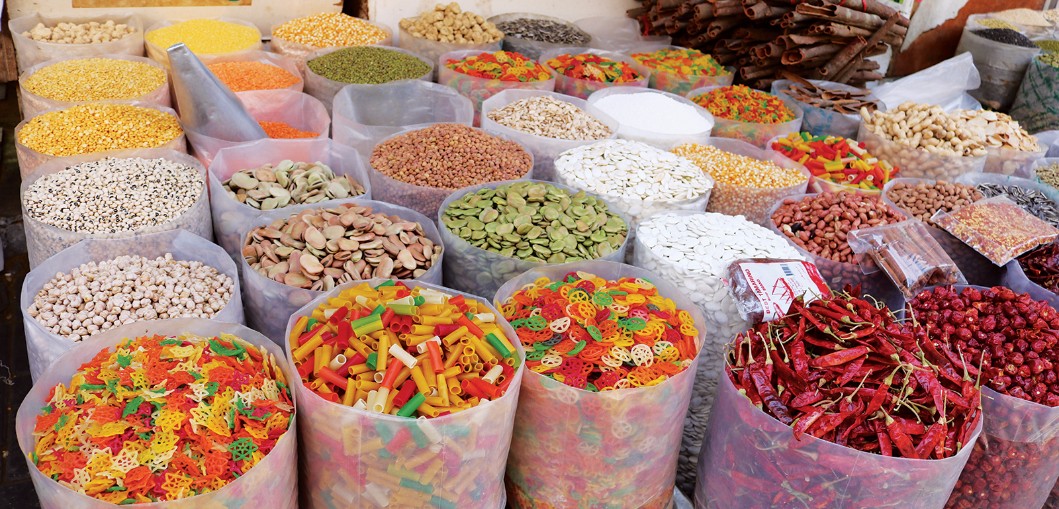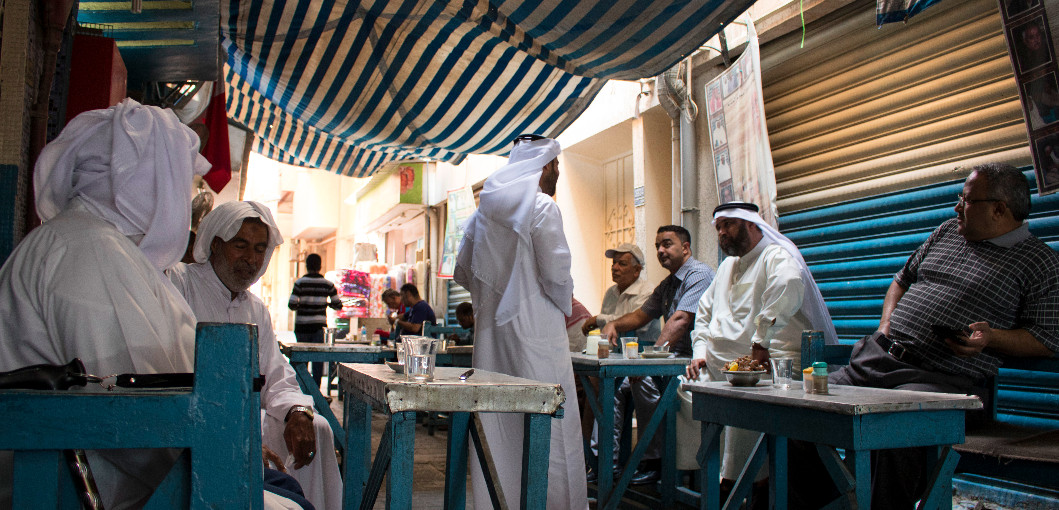 Rustic and endearing, Manama Souq is a warren of historic alleyways, pearl hawkers and spice traders
Previous trips had taken me to the ancient Qal'at al-Bahrain fort, just minutes from the hotel, as well as the phenomenal Bahrain National Museum, sure to bring out your inner geek with tactile tales of the pre-Islamic Dilmun civilisation, but the centre of Manama is also a must. Rustic and endearing, Manama Souq is a warren of historic alleyways, pearl hawkers and spice traders. Even the local "mall" blends seamlessly with the (relatively) more historic setting, but it doesn't quite compare to some of the religious heritage. Bahrain is a famously tolerant society, with a full roster of mosques – obviously – as well as Christian churches, Hindu temples and even a synagogue, although it's fallen into disuse. Paying a visit to the 200-year-old and very much in use Krishna Temple, I am welcomed with Indian sweets and a tour of the meeting place, decked in iconography of Lord Shiva, Brahma the Creator, and many others – including a two-storey tall fresco in the courtyard (pictured below).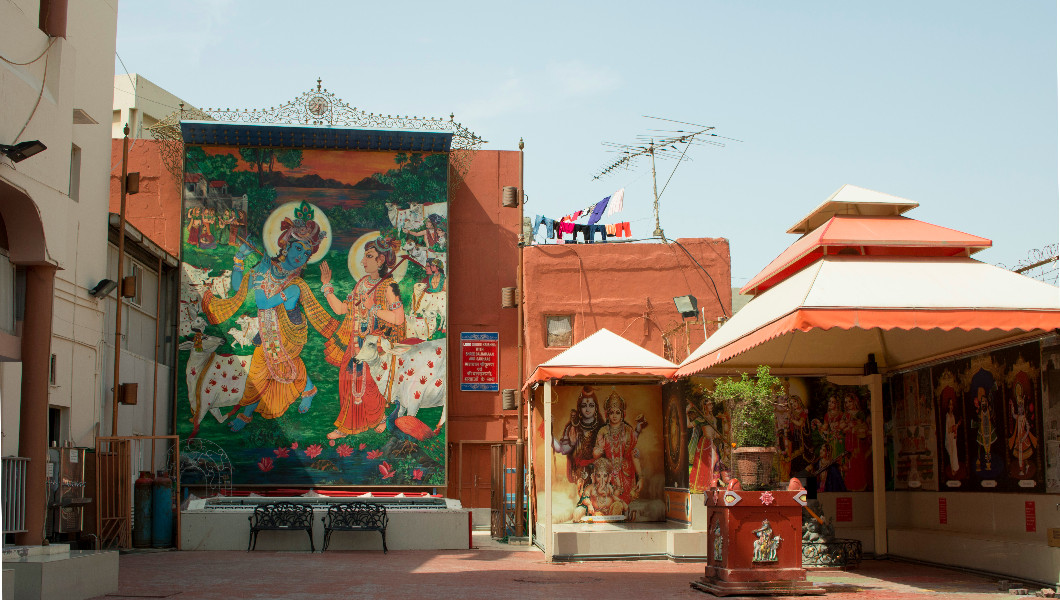 This wasn't the Gulf I had seen on television, but it was one I could get used to and, incidentally, the Indian theme continues at the hotel where a buzz is building about a landmark occasion. Preparations were already being discussed for an epic Indian wedding, set to take over the hotel's entire private island, villas and the majority of rooms with an estimated 750 guests. The fact that two Indian families had selected the Ritz as their venue of choice, despite having no prior connection to Bahrain, certainly speaks volumes and may set a new precedent for lavish Indian weddings in the Gulf. And if anyone asks me to recommend a weekend away in the region, I have a pithy answer at the ready: I've been four times, and I'm already planning my return.
Stay:
The Ritz-Carlton, Bahrain
+973 1758 0000