In that perfumed country, sun caressed… rich greenery of every sort along the coast breathed over several leagues a delicious odour of flowers and fruit." This evocative description of Mauritius by French poet Charles Baudelaire might date back to the 1800s, though it's as apt as ever today.
Driving across the isolated African island east of Madagascar where the dodo bird once roamed, with the window down and the breeze in my hair, I'm already feeling a little intoxicated by the view: thunderclouds hanging low over volcanic mountains, leaves glistening from recent rains, and colourful Hindu temples and crumbling sugar-mill chimneys peeking between what seems to be endless fields of sugar cane.
Sugar was one of the island's most prolific industries, especially in the 19th century, and it's possible to get a taste of plantation life at Château de Labourdonnais (Mapou; +230 266 95 33; www.domainedelabourdonnais.com), a lovingly restored former sugar estate, where I'm infatuated by the wide, tiled varon (a veranda that wraps around the entire structure), in awe of the immaculate dining room with a Baccarat crystal chandelier, amused by a shelf lined with porcelain bedpans and horrified at the thought of trying to sleep in one of the estate's four-poster beds, designed so that ladies could recline – not lie down – to ward off disease and protect their elaborate up-dos.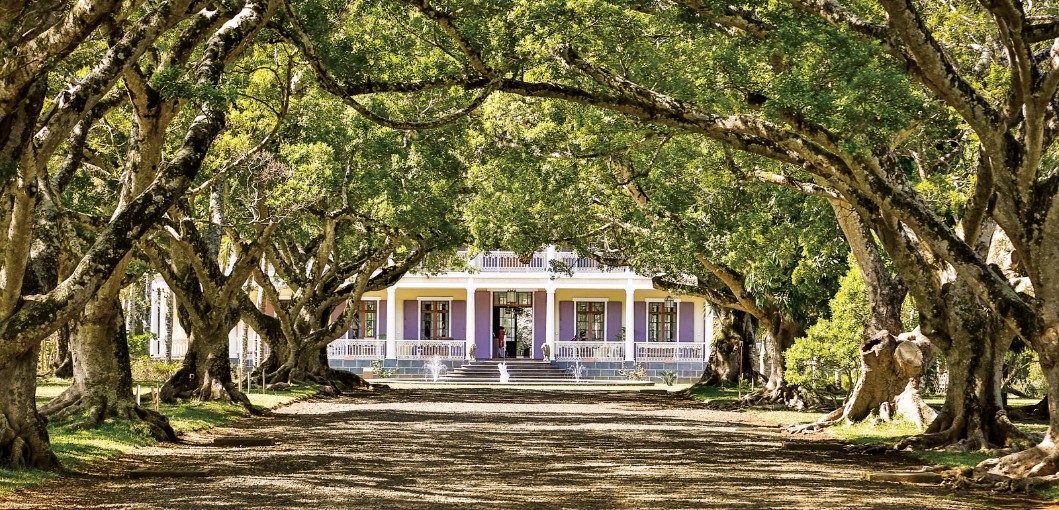 Today, the estate's grounds are open to the public, who can lunch at La Table du Château, sample drops from the rhumerie (rum distillery), or peruse beautifully maintained gardens that include an avenue of banyan trees and extensive orchards, where cloves, mandarin, paw paw and sweet-fleshed mangos all grow in abundance. I barely raise an eyebrow when I hear there are some 26 species of mango growing here; Mauritian soil seems so fertile, it's as though you could put a stick in the ground and it would sprout to the sky the next day.
At outdoor food markets in Port Louis the following morning, I get a closer look at the weird and wonderful produce growing on the island like the corossol, a knobbly surfaced fruit that melds the tang of strawberry and pineapple, baskets of cute-as-a-button dwarf bananas called banane zinzli, and chouchou – a squash-like vegetable. I'm exploring the colonial capital accompanied by a bright-eyed, charming guide, Shakti Callikan, the co-founder of homegrown tour company, My Moris (+230 572 31 755; www.mymoris.mu), which aims to reveal the lesser-known side of Mauritius to travellers, most of whom visit the island and scarcely leave their resort. The more adventurous might venture out on boat expeditions to tiny, uninhabited islands for a spot of scuba diving (the wrecks and coral reefs are astounding), or perhaps hike through the waterfall-laden Black River Gorges National Park and precipitous volcanic mountains like Le Pouce, but the reality is, few make it beyond the island's beaches. Considering the beauty of the iridescent waters of Grand Baie in the north right down to the raw, wild sands of Le Morne, the reluctance is understandable, though it would be remiss not to escape the beach towel for a day to explore Port Louis.
At the confluence of Asia, Africa and Europe's maritime routes in the Indian Ocean, the port city is one of the best places to immerse in the ethnic diversity – a mélange of people who arrived in the 17th and 18th centuries, from French colonial settlers and African slaves to Indian workers and Chinese merchants. Proclaiming independence from Britain in 1968, today the assortment of migrants from far-flung parts of the world has resulted in people who exemplify the term metisse – an ancestral fusion of cultures and ethnicities, with tolerant religions that often borrow from one another, a patois based on French, English, Dutch and Creole producing fabulous, whimsically named towns such as Fond du Sac (bottom of the bag), Sans Souci (without worries) or Flic en Flac, drawn from the Dutch fried landt flaak (Free and Flat Land). The diversity has also resulted in culturally layered cuisine, laden with seafood, spicy caris (curries) and chutneys, and bredes, a mixture of green vegetables. There's even a street-food scene, which is on the agenda for today's tour.
After ducking into simple food stores run by the fifth-generation descendants of Gujarati merchants, stacked high with bags of spice and salted fish, Shakti leads me to a vendor cooking up a storm from a bolthole in a faded French colonial building. The sole menu item? Deep-fried parcels of gato pima, considered one of the stars of Mauritian street food. Stuffed with spring onion, chilli and coriander, the piquancy apparently depends on the vendor's mood, and as for finding the location? "This place doesn't really have a name," laughs Shakti. "We would just say, 'Oh you know the one, just down from the bus station, down that street'."
At an outdoor food market, we pause to chat to Amina, an elderly Indo-Mauritian cooking roti, Indian-style "crêpes", rolled up with cooked vegetables, a green brede sauce and a secret ingredient: orange and apple. At a dumpling restaurant in the city's Chinatown, squeezed in a narrow corridor between two shops, I have my first taste of Miss Yong's legendary boulettes (steamed dumplings in a broth), which are now considered part of the mainstream cuisine according to Shakti. There's more Chinese delicacies, albeit with a Mauritian twist, at a Chinese bakery in a city laneway, where I sample chewy balls of gateaux zinzli (sesame), stuffed with black lentil instead of red-bean paste.
Along with street food, Shakti also points out unique architectural characteristics: lava-rock bricks used in some of the older buildings; a handful of stately old French-colonial homes – now a rarity in the city; the Jummah Mosque, a beautiful blend of Indian, Creole and Islamic architecture that dates back to 1850. We meet some of the city's characters, like a third-generation Mauritian man who has, quite literally, spent his life in his family's street-front warehouse – he was born upstairs – and continues to run the family business, selling sacks of rice, sugar and powdered milk. There are also dozens of artisans in Port Louis who continue to ply their trade, and we duck into one true vestige – a 40-year-old letterpress run by a typographer named Kadress, who painstakingly handcrafts letters and punctuation models to print menus and letters for the French embassy, and even My Moris business cards, using a vintage Heidelberg machine. At one point, we take an elevator for a view over the city, where a Chinese clan has built a sky-high pagoda dedicated to Quanti, the god who represents merchants.
By the end of the tour, I bid Shakti goodbye and hop into a car bound for Le Morne Peninsula, a beautifully rugged landscape on the island's south-west, where runaway slaves sought shelter. It's an hour-and-a-half journey, just enough time to reflect on the tour, the people of Mauritius and the cuisine, with the cinematic landscape of the island through the window. Thankfully, I have some "popcorn" for the show – some leftover gateau zinzli.