The rains may come and go but there's never a bad time to visit the Seychelles. Tropical showers are sandwiched by seemingly perma-sunshine and the temperatures never seem to soar beyond "beach please" – and my-oh-my is there an embarrassment of riches when it comes to pristine sandy shores. The Seychelles has the most mind-bendingly beautiful beaches I've ever seen; namely Anse Source d'Argent on the island of La Digue and Anse Lazio in the northeast of Praslin, the archipelago's second island in terms of both size and population.
BEACH PLEASE
But you don't have to stray far to locate a coastal haven. There are sandy gems strewn all over Mahé, a stone's throw from Seychelles International Airport, but it's worth a quick 25-minute drive via Victoria to reach Beau Vallon Beach, a curling crescent of powdery white perfection and a hot spot for diving and snorkelling thanks glassy blue waters and healthy coral reefs. In addition to a range of boutique stays, there are a few major hotels around the bay; namely Berjaya Beau Vallon, Coral Strand and Le Meridien Fisherman's Cove – the site of the oldest hotel on Mahé, dating back to 1943 but refurbed several times over, with the Coral Strand predating government restrictions on hotels erected directly on the shore.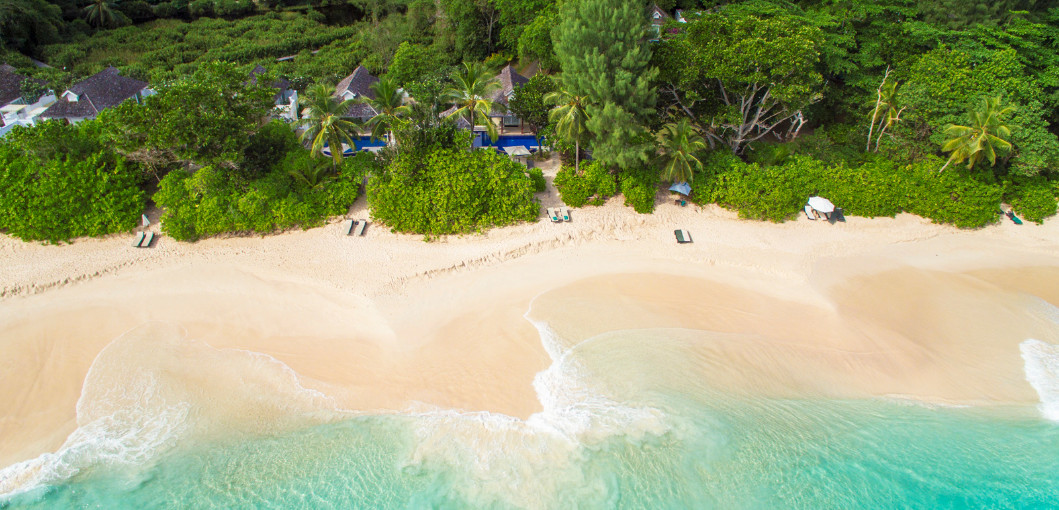 Beau Vallon also hosts a variety of restaurants including the iconic white building of La Plage, also directly on the beach, as well as the popular pizzeria Baobab. Not far to the north is Hilton Seychelles Northolme Resort & Spa where I stayed on my previous island outing but, despite perfect weather, I wasn't content to flop on the beach this time around. With the assistance of Bernard, a local Seychellois, handy driver and veritable raconteur, I was more inclined to take a zig-zagging road trip across the mainland, taking in Mahé from coastline to hillside and back again.
HELLO VICTORIA
Aside from paying a little visit to the Seychelles Carnival several years ago, I hadn't really taken in Victoria, Seychelles' capital city, despite the unmissable Victoria Clock tower, gifted from the UK in 1903, six years after its big brother, Big Ben, was erected in London. In my defence I was a little distracted, gawking with delight at the endless procession of floats on the high street. The "city" is really more akin to a medium-sized town with a smattering of government buildings and within a brisk 15-minute stroll you've essentially circumnavigated what equates to a central business district – but there are a few highlights where it's worth lingering. The Arul Mihu Navasakthi Vinayagar Temple, a Hindu place of worship, stands as a testament to the Indian influences in the captivating mix of Creole identity present on the island.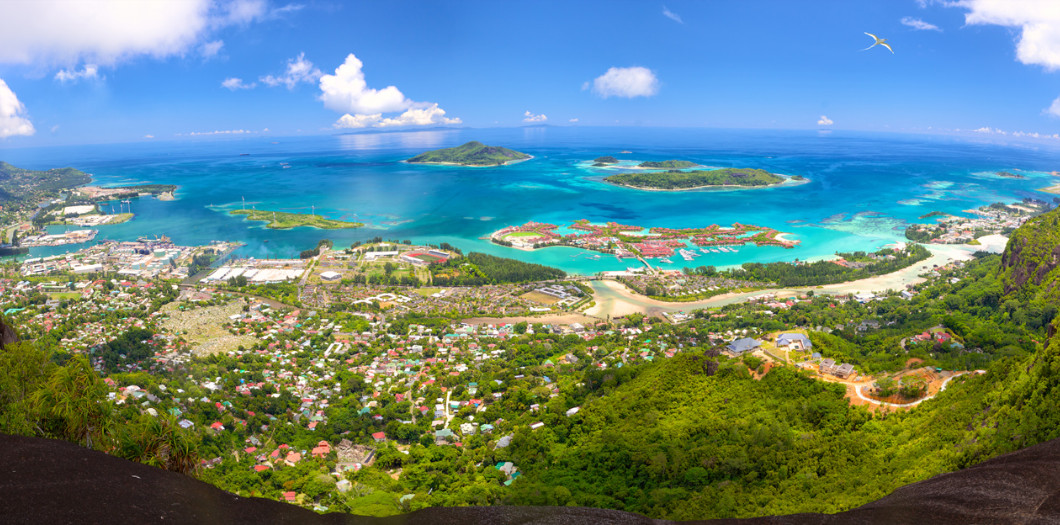 Roughly adjacent to Sheikh Mohamed bin Khalifa Mosque – named after its primary sponsor, son of the current UAE ruler whose family also owns the ultra-luxe hillside Four Seasons Resort Seychelles – the colourful temple overlooks the fascinatingly named Sir Selwyn Selwyn-Clarke Market, a hub that extends beyond trading and serves as a weekly meeting place for locals who want to yap the weekend away. The bustling, colourful marketplace is probably the fastest way to get a feel for the Seychellois way of life. Standing since 1840 and renovated in 1999, it remains the true heart of the capital and definitely the best place to buy fresh fruits, fish, vegetables and spices – unless you go direct to the source.
DOWN BY THE BANYAN TREE
Not so far from Victoria, the lush, single-lane Intendance Road winds far away from rural hamlets and culminates at Banyan Tree Seychelles, an all-villa escape on the lower-west side of Mahé island. Hectares of dense woodland press the main buildings of the quaint colonial resort against the sweeping bay of Anse Intendance, where guests convene to dine and imbibe when they aren't seeking refuge in their private domains.
This secluded plot of land, once co-owned by George Harrison and Peter Sellers, is now home to 60 villas dotted along the cove and across the rocky hillside, all of which command stunning views of the teeming cerulean waters, just a stone's throw away. The Beachfront Pool Villas are a short stroll from the lounge bar, which is decorated in tribute to the late, great men, and a fleet of buggies is on hand for a leisurely ride to your door.
As you enter the lush and secluded Bay View Pool Villa compound, it may take a moment for it to sink in; this is all yours. Stepping through the modest doorway is like entering the Tardis of Eden, with a spacious deck looking out over Intendance Bay, infinity pool, capacious cabana and a bubbling Jacuzzi, all of which are hemmed in by dense hillside foliage and the villa itself.

Slide open the floor-to-ceiling glass doors and you'll be welcomed by an arrangement of rose petals scattered on the inviting white cotton sheets. Study the welcome letter before cracking open the complimentary bottle of Takamaka Rum, distilled, aged and blended at the Trois Frères Distillery. There's even a handy cheat sheet on how to blend the perfect mojito – the ideal tipple for a balmy afternoon out on the deck.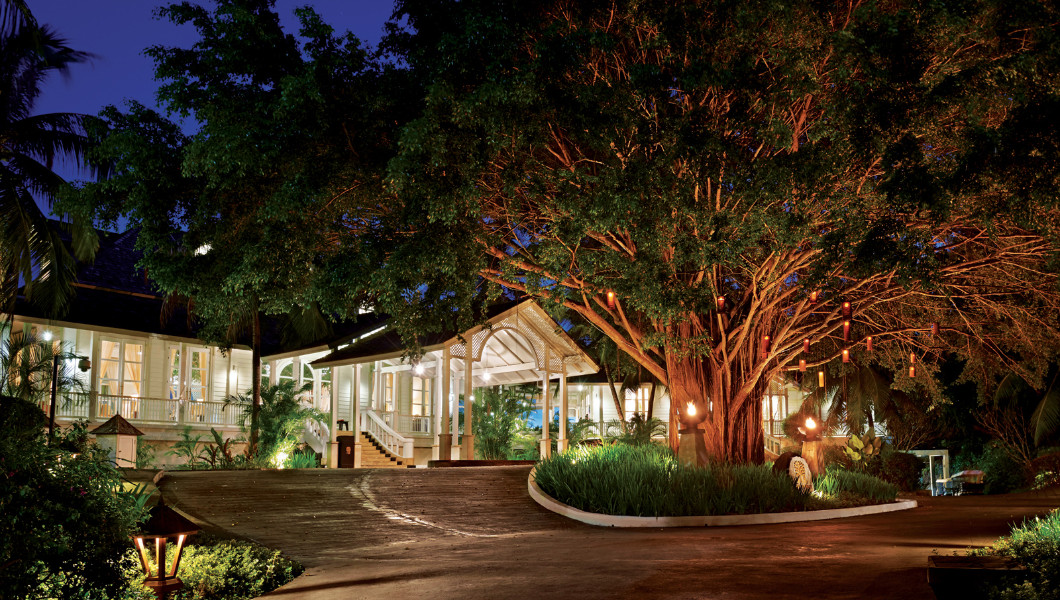 There's also plenty to keep you occupied in your abode. The space is cosy, but that's no code word for cramped. The front area of the lounge-bedroom combo is furnished with a TV and bookshelf, and a large desk, but the whole room is dominated by the centrepiece; your plush double bed. At the rear, you'll find his-and-her basins, replete with every conceivable toiletry, and an oversized steam and shower room next door. It would usually feel perturbing to have a whole clear glass shower wall looking out into the garden, but in this case you are shrouded in complete privacy.

When you do need some attention, you can beckon an attentive staff member to arrange in-room dining or any other service you desire. The entire space is classy and elegant, with white fabrics, floral patterns and hard woods underfoot. And though the TV isn't exactly the latest model, it should be fairly redundant as it hardly rivals the picture postcard views from your doorstep.

As one would expect from a high-end resort on picturesque Indian Ocean island, Banyan Tree Seychelles is a true beachside sanctuary, bursting with natural beauty and home to one of Mahé's most spectacular beaches. The only thing likely to prise you away from the golden sand is your stomach. If you're not yet eager to rub shoulders with your neighbours, the resort's extensive in-villa dining menu is available around the clock and the concierge can even arrange an outdoor barbecue within your own personal haven.

DINING DESTINATION
Despite an enticing and varied in-room menu, don't miss out on the fine dining opportunities around the rest, particularly at Saffron; Banyan Tree's signature Thai fusion restaurant, a colonial-esque outpost perched on a marshy wetland a short trek via wooden walkways (or quick buggy ride) from the heart of the resort. Chef is on-hand to prep authentic Thai dishes and traditional recipes, spliced with the spices and fruits de la mer of the Seychelles.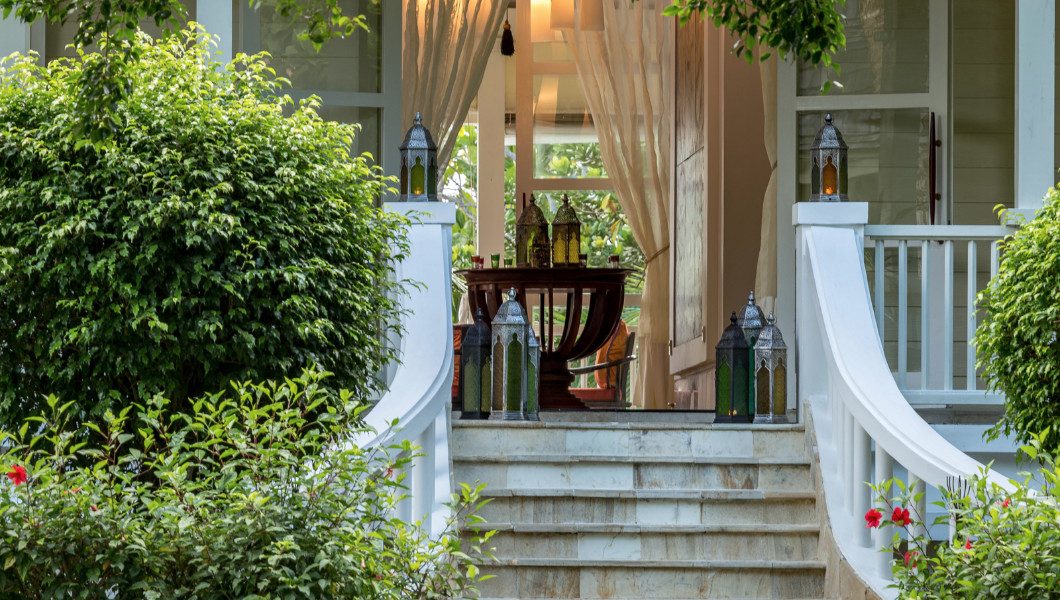 Chez Lamar is a favoured spot for more classic Creole cuisine. The resort's crack culinary team provides varied international fare, but the weekly Creole food night is by far the most popular dining option. The Creole-style red snapper, which happens to be the chef's favourite, offers a melange of onion, garlic, pepper, saffron and curry, which infuses the meaty fish with profound flavour after it is cooked on a scorching skillet. Given the whole nation has a population of around 90,000, roughly the size of Austin, Texas, and is primarily spread over three main pint-sized islands, it's all the more remarkable that the cuisine packs such a distinctive punch and consistently wins over the taste buds of transient wayfarers.

SOARING WITH AIR SEYCHELLES
Departing from Abu Dhabi International Airport, Air Seychelles' fleet of A320 aircraft allows for several rows of fully reclinable seats in the cosy Business Class section, which adds a little to the feeling of exclusivity that seems apt for a break in the Seychelles. By the time I've slipped my hand luggage above me I'm back in another sizeable seat, but this time with a piping hot towel draped over my face. I only re-emerged from the refreshing towel to eye the choice of welcome drinks, opting for a hydrating coconut water, instead of OJ or bubbles – a bit of a "when in Rome" moment, and one of many coconut drinks on this particular trip. It's a short wait until we're nose up and off the tarmac.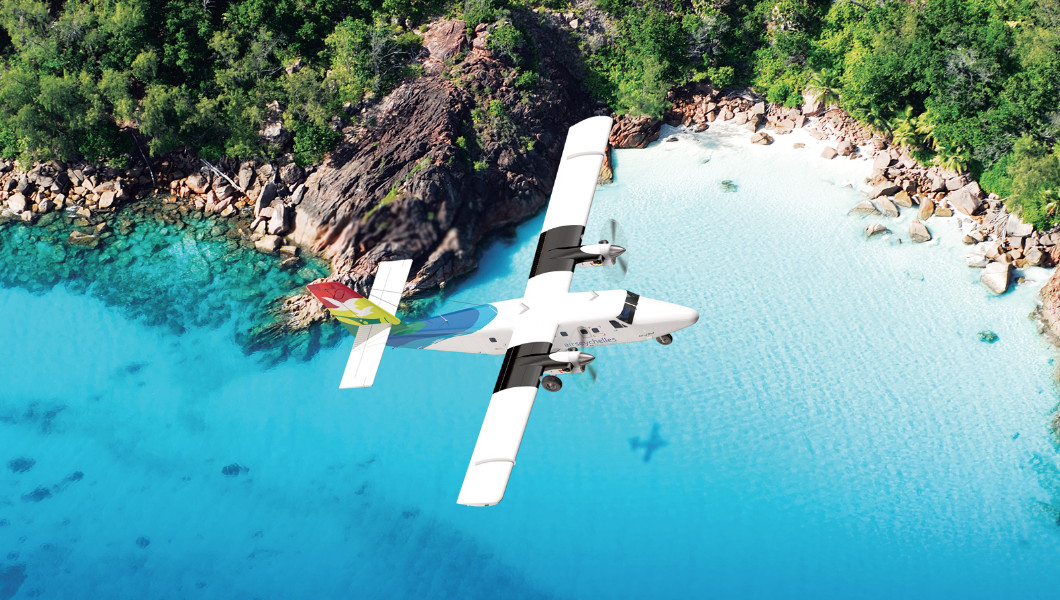 Most routes feature personal 10.4-inch touch screen TVs, with a wide selection of films, shows, documentaries and games but, unlike Air Seychelles' Airbus A330-200 flights from Beijing, Paris and Johannesburg (selected), the comfy Business Class seats between Mahé and Abu Dhabi don't recline to a fully flat position. But it simply wasn't an issue. I'd been handed one of the most deluxe blankets I'd ever come across on a flight, and was wrestling the sandman while necking some cold amber nectar; Seybrew. The locally brewed beer was the last ingredient to help recalibrate my "sense of place" while hurtling at 30,000 feet and shortly before reaching for the snug night mask in my amenity kit.

And it would be remiss to not mention the airport's departure lounge, Vallée de Mai, named after the UNESCO protected site and nature reserve on the island of Praslin, the lounge is a fitting portal for a cool and calm transition back to the real (read: more mundane) world. Replete with dark woods and earth-tone fabrics, the lounge is complimentary for Business Class travellers but also accessible for US$40 – a worth investment for any traveller seeking some respite before their return leg. Air Seychelles offers international flights to Abu Dhabi, Antananarivo, Durban, Düsseldorf, Johannesburg, Mauritius, Mumbai and Paris. The Abu Dhabi service runs daily with Business Class fares from $5,150, inclusive of taxes and surcharges.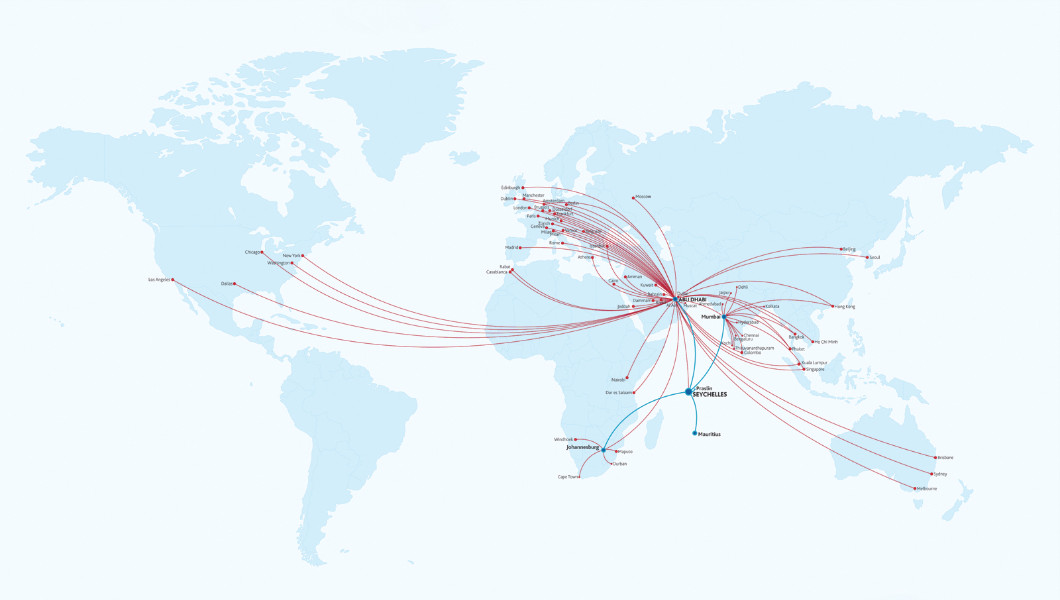 Stay:
Banyan Tree Seychelles
+248 4-383-500